Europe Travel
GOP Target Companies Paying Employees Travel Costs for Abortions
A number of Republicans are continuing to speak out against companies who said they would provide financial support for their employees who seek abortions out of state after the Supreme Court overturned Roe v. Wade.
Some of the biggest companies in the U.S., including Apple, Disney, Nike, Starbucks and Meta, have confirmed plans to extend their health care benefits or provide additional support offering to pay for necessary travel costs after the landmark abortion ruling was thrown out on June 24.
Leading financial institutions such as CitiBank, JP Morgan and Goldman Sachs also vowed to provide travel benefits for their employees to have abortions in states where it remains legal.
"We will continue to provide benefits that support our colleagues' family planning choices wherever we are legally permitted to do so," Citi's head of human resources, Sara Wechter, told employees in a memo on Friday.
In response, GOP figures representing states where hugely restrictive abortion laws have been implemented after Roe v. Wade was overturned criticized the corporations' plans to bypass the abortion laws by helping workers get the procedure elsewhere.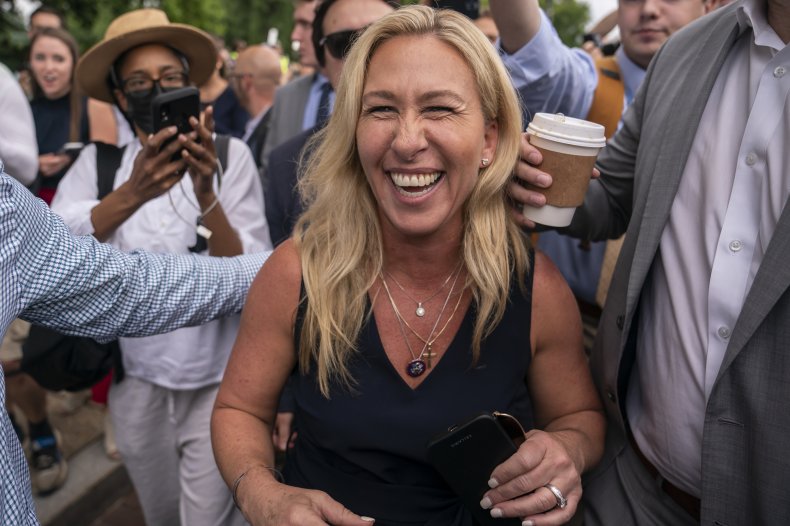 "If corporations are paying $4,000+ to their female employees to kill their baby, they should pay them the same to celebrate life when their employees become mothers," tweeted Georgia Representative Marjorie Taylor Greene.
The state of Georgia is expected to ban abortions after six weeks except in certain circumstances following the Supreme Court vote.
J.D. Vance, the Republican Senate candidate in Ohio, another state which banned abortions after six weeks, said: "If your worldview tells you that it's bad for women to become mothers but liberating for them to work 90 hours a week in a cubicle at the New York Times or Goldman Sachs, you've been had."
A number of other GOP figures have already been discussing their hopes for not only abortions to be outlawed in their respective states, but anyone helping to ensure people get the procedure where it is still legal also be prosecuted.
In Texas, 14 GOP lawmakers, led by state Rep. Briscoe Cain, have said they intend to introduce laws which will penalize companies that facilitate out-of-state abortions.
The plans were confirmed in a letter addressed to Lyft CEO Logan Green after the ride-share company confirmed the day Roe v. Wade was overturned that it would reimburse travel costs if an employee travels more than 100 miles to get an abortion.
"The state of Texas will take swift and decisive action if you do not immediately rescind your recently announced policy to pay for the travel expenses of women who abort their unborn children," the letter signed by the Republican state representatives states, reported The Texas Tribune.
Texas is set to implement some of the strictest abortion laws in the country, banning the procedure if cardiac activity is detected in a fetus, something which can occur after just six weeks into pregnancy and before many women know they are even pregnant.
In May, Florida Senator Marco Rubio also introduced a "No Tax Breaks for Radical Corporate Activism Act" which would prohibit employers from deducting expenses related to their employees' abortion travel costs as well as gender-affirming care for their children.
"Our tax code should be pro-family and promote a culture of life," Rubio said in a statement. "Instead, too often our corporations find loopholes to subsidize the murder of unborn babies or horrific 'medical' treatments on kids. My bill would make sure this does not happen."
In a concurring opinion, Supreme Court Justice Brett Kavanaugh said it would be unconstitutional for a state to impose travel restrictions to stop those wanting an abortion across state lines.
"For example, may a State bar a resident of that State from traveling to another State to obtain an abortion? In my view, the answer is no, based on the constitutional right to interstate travel," Kavanaugh wrote.
Source link
[gs_pinterest id=1]