Hiking News
Ross Dam Trail Hike Provides Access to Some of North Cascades National Park's Best Features
It's easy to almost forget that Whatcom County is home to the
North Cascades National Park. The drive through Skagit County to reach this
part of Whatcom County can feel far away, but the reality is this national treasure
is right in our own backyard. North Cascades National Park has grown in
popularity in recent years as travelers discover its incredible views, an
abundance of wildlife, seemingly endless amounts of trails, and fewer crowds
than other national parks.

The sheer number of trails in the North Cascades system can make
deciding where to go a daunting task. The visitors center in Newhalem has maps
and park rangers to assist in making this decision based on the desired length,
difficulty, and what you hope to see.
A low barrier of entry excursion is the Ross Lake Dam hike.
Located between mileposts 134 and 135, this out and back trail is approximately
1.6 miles round trip, depending on where you choose to turn around. The large
parking lot is easy to spot, and the trailhead has pit toilets. This trail is
right before the gate closure on Highway 20, making it accessible year-round.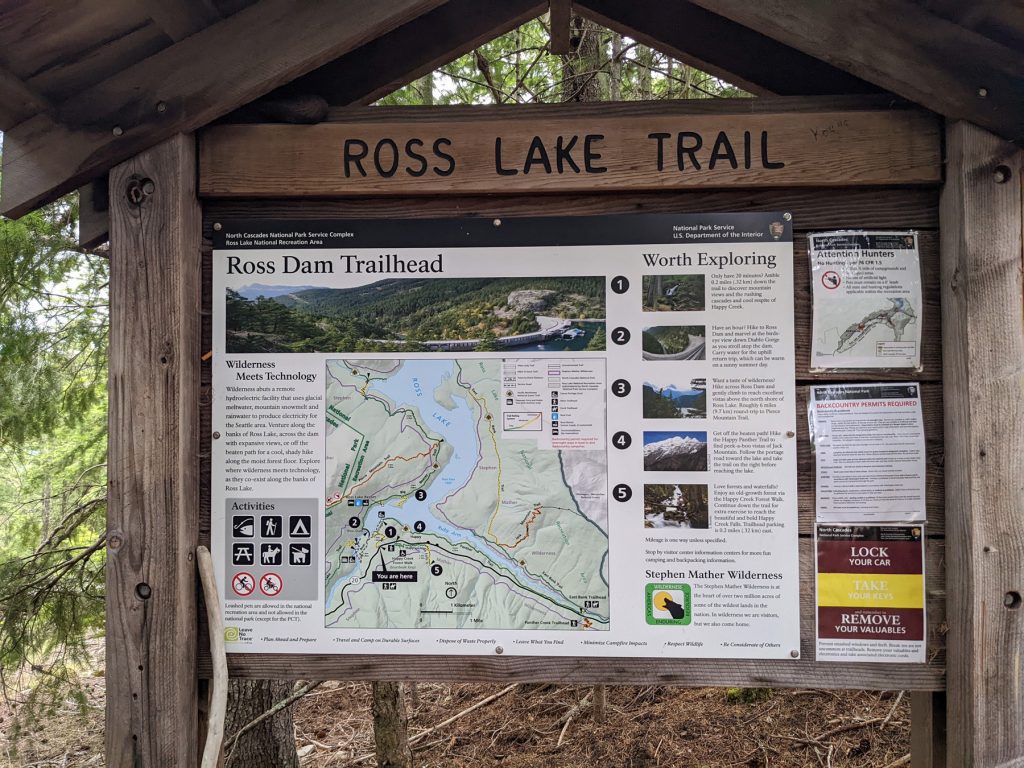 Heading down the trail you will begin by winding your way through
the North Cascades forest and will quickly be greeted by an impressive
waterfall. On our hike, in early July, the water was still gushing down the
mountain, making the drive worthwhile in minutes. As the waterfall heads off on
your left, the tree density wanes, and you're greeted with a view of the
mountains across and Ross Lake below. At multiple points along the trail, you
find viewpoints where you can have a bird's-eye view of the dam.
This portion of the trail can be a little slippery as you walk
on loose rock, and there are some modestly steep portions. My daughter bloodied
her knee on a slip, which allowed me to finally put my survival kit in a can to
use after carting it around for years. Band-aid applied, we continued on with a
little more caution.
The end of the trail rewards you with access to the Ross Dam. This engineering
marvel began construction in 1938 and was completed in 1948 by Seattle City
Light. Named after the superintendent of the project, James Ross, the dam is
1,300 feet in length and, on its downstream side, drops a stunning 540 feet to
the Skagit River below.
Walking across this massive concrete structure brings on both
excitement and anxiety. The mind-blowing views are accompanied by the
realization that you're standing on a man-made structure that holds back the
enormous amount of water that is Ross Lake.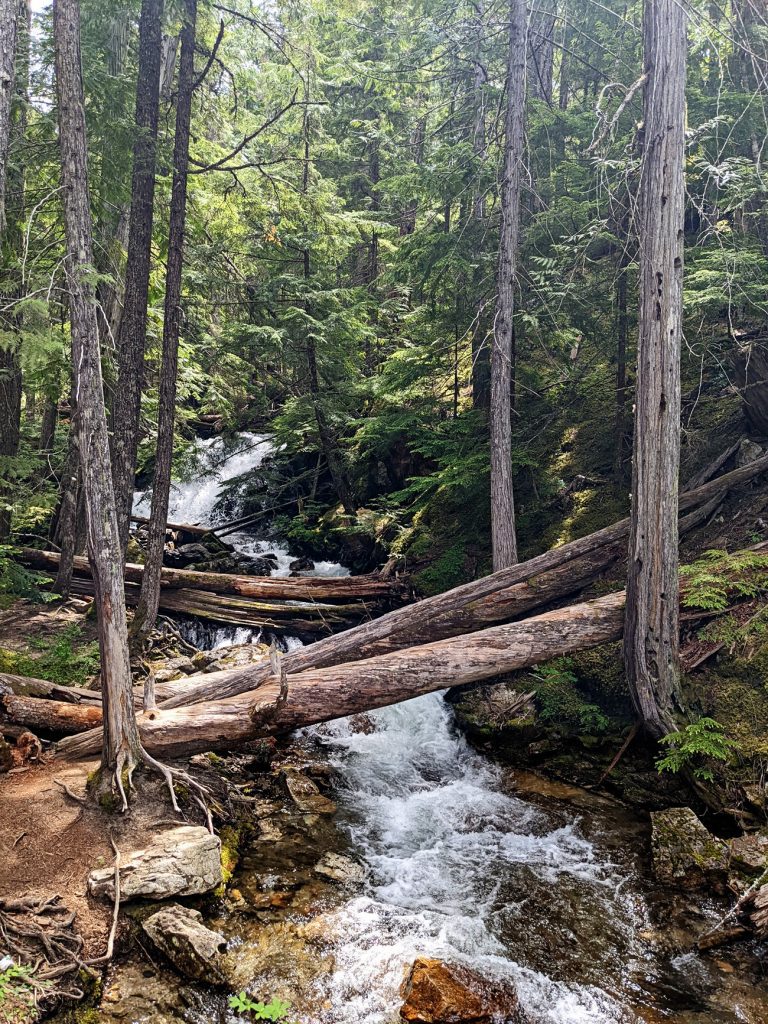 Across the lake is access to more trails that take you further
into the National Park and provides access to the famed Ross Lake Resort. Only accessible by
hiking in or by boat, the cabins perched over the water can be seen from the
dam and are an outdoor enthusiast's dream, where people can fish and paddle
right from their temporary home. Reserving one of these highly sought-after
spots requires persistence and a little luck, but they are available to rent.
Even though this is a relatively short hike, it's important to
remember that it's out and back — with the challenging part being the latter
half. The approximately 500 feet you descended to reach the dam will now be
your obstacle when returning to your vehicle.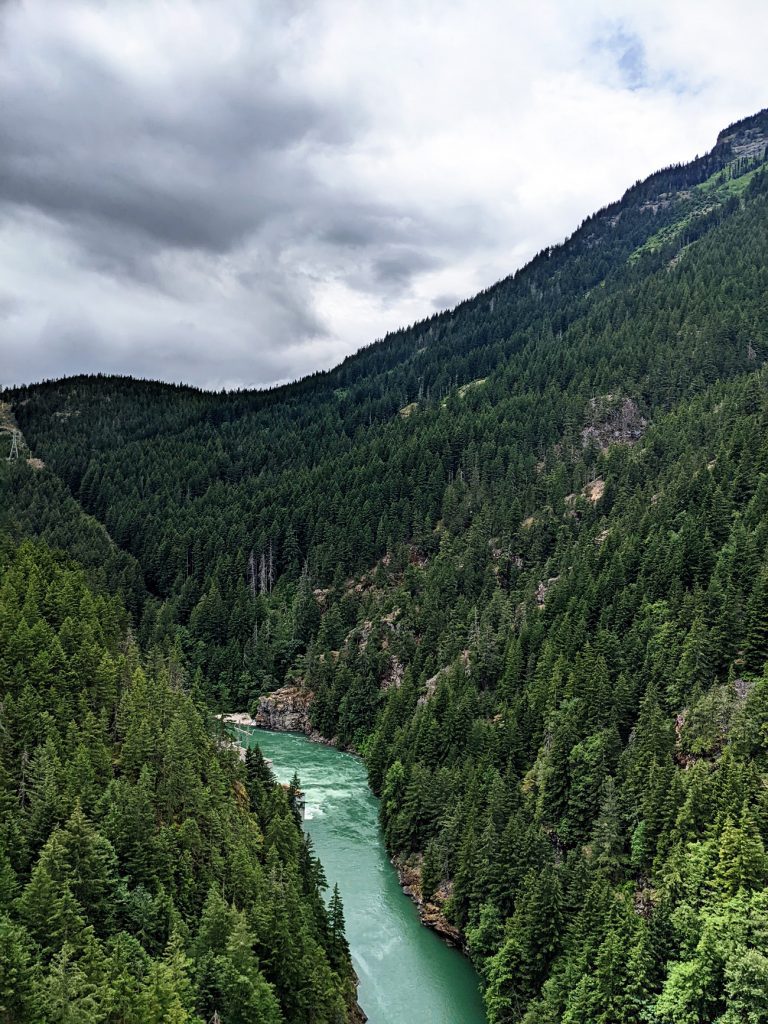 On warm days, remember to save some water for that push up the
hill. If you happen to be out in one of Washington's less-desirable weather
patterns, be sure to bring warm clothing. The tree canopy provides shade and shelter
for part of the trail, but for much of it — and on the dam — you are fully
exposed to the elements.
Whether it's a beautiful summer day or the trail is covered in
snow, you'll likely encounter people on this hike, as it's a popular one for
both its views and easy access. On our trek up, we followed some horses and
mules accompanied by park trail workers who were returning from doing trail
maintenance deeper into the park. The mules and horses are transportation for
people and materials to access hard-to-reach places inside the park.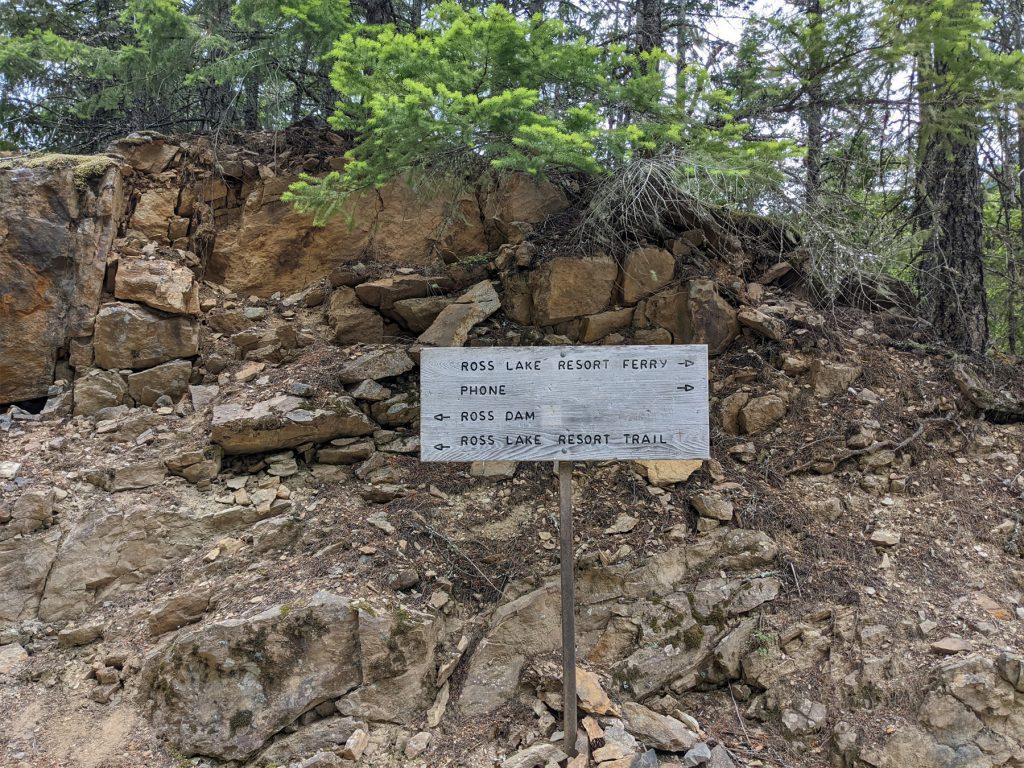 Upon completion, you'll be near many more trails that offer
views of mountain peaks and gurgling streams. One of my favorites is the Thunder Knob Trail. North Cascade National Park is
fee-free and has an abundance of trails that do not require a permit, allowing
for spur-of-the-moment adventures through one of our nation's most scenic
landscapes.
Source link
[gs_pinterest id=1]