NEWS | FEATURES | PREVIEWS | EVENTS
originally published: 08/18/2022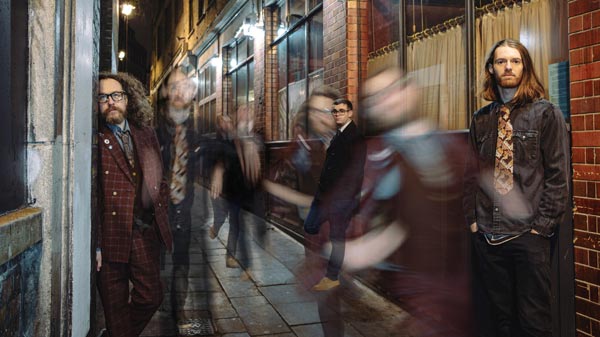 Clarence Oddbody is a band from Depford, East London.  They say they're like a 60s/70s rock band with a hint of blues, funk, Motown and a splash of Americana – something for everyone. The Penguin Rocks presents this interview with Paul Claxton of Clarence Oddbody.
How long has the band been around? We formed in 2017, unfortunately as a result of Covid, Cliff, our old bass player and his family had to relocate to Switzerland. So in stepped Jasper, bass and keyboard player. Jasper already knew the songs as he mastered all 5 EP's for the band. And both him and Tom(Drummer) have been in and out bands together since being teenagers.
Is there a story behind the band name? Our name comes from the 1946 film, It's a Wonderful Life. Clarence Oddbody is the name of the angel who saves George Bailey (James Stewart's character) and then grants him his wish of him never having been born.  It's one of my favourite films of all time, everyone always goes on about it being a nice Christmas film but, I really feel at times it has a very dark undertone.
Who are the members of the band and what instrument do they each play? Clarence Oddbody is: Paul Claxton (Vocals & Guitars); Jasper Osborn (Bass,Keys & Bv's); and Tom Chittock (Drums & BV's).
Tell me about your latest record. What songs are you most proud of on the record? We are so proud of every song on our new album,  "Who Loves You, and Who Do You Love?"
Advertise with New Jersey Stage for $50-$100 per month, click here for info
---
We recorded our debut album last November. We recorded 10 tunes in a day just like The Beatles… all live mostly going with the 1st or 2nd take. It was probably my finest day spend in a studio… Ever! It didn't feel like we were recording, felt we were just jamming no pressure. All the stars aligned. Also it help when you are in a band with better musicians than yourself.
If you enjoyed listening to the album as much as we enjoyed making it….we could die happy men. It's a proper rollercoaster of tunes, we have put our hearts & souls into it.
How many records, eps, or singles has the band put out in total? How has the band changed over time? From 2017-2021 we have released 5 EP's & a double A-side. This year we have released 3 singles: "Asleep at the wheel", "Just One More Thing" and "My Sentimental Friend" Our latest album: "Who Loves You , and Who Do You Love? was released on July 8th on all music platforms.
And we already booked studio time for October to record a new EP. We are always thinking ahead.
The very first rehearsal with Jasper we became a different type of musical beast we kind of went up a notch.The Drums & Bass were so locked in really tight but at the same time really grooving. It's almost telepathic with Tom and Jasper. In all my long years I have never experienced a rhythm section as tight as these two lads. I have had to raise my game as well… I think as a band we have got tighter but our songs are breathing more, we have definitely got more soul and groove to us.
What was one of your favorite gigs? What made it memorable? I think it was The Troubadour last September it was our first electric gig since March 2020 because of Lockdown also it was our single launch and with the new line up. It was amazing we we're 8 short from selling out the legendary Troubadour in Earls Court.
Where does the band regularly play shows? Where would you like to play if you could? The Gladstone Arms in Borough; The Bread & Roses in Clapham; and Biddle Bros in Clapton.  I think the granddaddy for us is the Royal Albert Hall.
What would be the "next step" that you'd like to see the band take? All we ask is that world likes our new album and maybe some support slots supporting some similar artists as our selves. We are not taking world tours and stadiums gigs. And get booked up for the festival scene in the UK & fingers crossed Europe.
Finally, if the band does any cover songs. What artists do you cover? Who would be an artist you haven't covered yet that you'd like to cover? Yeah we throw in a few from time to time: "Hey Bulldog" by The Beatles; "Reach Out" by The Four Tops; and "Living Without You" by Bad Finger. The covers I would love to do at the moment are, maybe: "Wondrous place" by Billy Fury; "Heatwave" by Martha and the Vandellas; and "Riff Raff" by AC/DC.
You can follow Clarence Oddbody on Instagram, Facebook, Twitter, Spotify, YouTube, and Bandcamp.
---
The Artist Spotlight series features interviews with artists and bands from around the world.  If you would like to be considered for an interview, email info@thepenguinrocks.com and provide a link to your website or socials for us to check out.  There is no cost to being part of the series.  Interviews run at The Penguin Rocks and NewJerseyStage.com
Advertise with New Jersey Stage for $50-$100 per month, click here for info
---