World Travel Tours
Jazz Saxophonist Candy Dulfer to Release New Album "We Never Stop" on Oct. 28th, 2022
by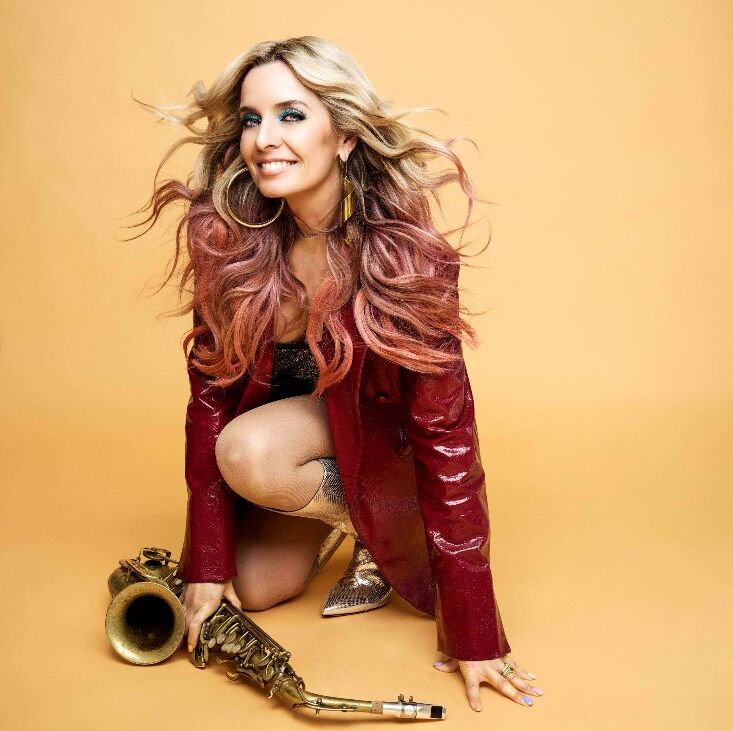 Famed jazz and pop saxophonist Candy Dulfer Announces 'We Never Stop,' her new full-length album, out 10/28
Listen to the lead single "Jammin' Tonight,"
featuring special guest Nile Rodgers
Pre-order 'We Never Stop' HERE
Today, Dutch jazz and pop saxophonist Candy Dulfer has announced 'We Never Stop,' her new full-length album, out 10/28 via The Funk Garage/Mascot Label Group. A party platter of stanky jams, silken R&B, jazz, and pop-funk, 'We Never Stop' features several guest appearances by Chic guitarist, producer, songwriter, and three-time GRAMMY Award-winner Nile Rodgers. Take a listen to the first single "Jammin' Tonight (feat. Nile Rodgers),' a bold injection of party pop-funk with a slick jazz overlay that recalls Rodgers' 1970s "Good Times" finery.
Give the people an invigorating beat, some swanky sax uplift, and watch the pain melt away. That's the funky stuff Prince's former top-choice sax player Candy Dulfer and her band specialize in. A solo artist, a songwriter, and in-demand instrumentalist, Dulfer has worked with some of the biggest names in modern music, including Van Morrison, Maceo Parker, Sheila E., Mavis Staples, Lionel Richie, Beyoncé, Pink Floyd, Chaka Khan, and Aretha Franklin, among many others.
Now, after three decades of superstar collaborations and world tours, and chart-topping and high-selling solo career releases, Candy is living proof of the title of her latest album, 'We Never Stop.' Nothing gets in the way of her making funky stuff. 'We Never Stop' features vocals from Candy's rainbow family of a band with lyrics informed by band dialogues and the culture and health crises of the past two years. These include the toll of the pandemic on the music communities and the race horrors that have galvanized a global Black Lives Matter movement.
"This is a personal album—I struggle with the fact that so many people in this world are hurting on so many levels," Candy shares. "The main spirit of this music is to elevate. It feels like it's never been more important to take a stand and not let the hurt and the pain defeat us. That's why I called this album, 'We Never Stop.'"
Dulfer first rose to fame with her high-profile collaboration with Dave Stewart on the worldwide number 1 smash "Lily Was Here." Her tenure with Prince may be best remembered by his tongue-in-cheek recommendation in the "Partyman" video: "When I want sax, I call Candy." Their collaboration continued over the years with many studio sessions, TV show appearances, award show performances, including the Grammy Awards, and concert tours around the globe, including Candy joining Prince's NPG band as a permanent member for his record-shattering Musicology tour and album.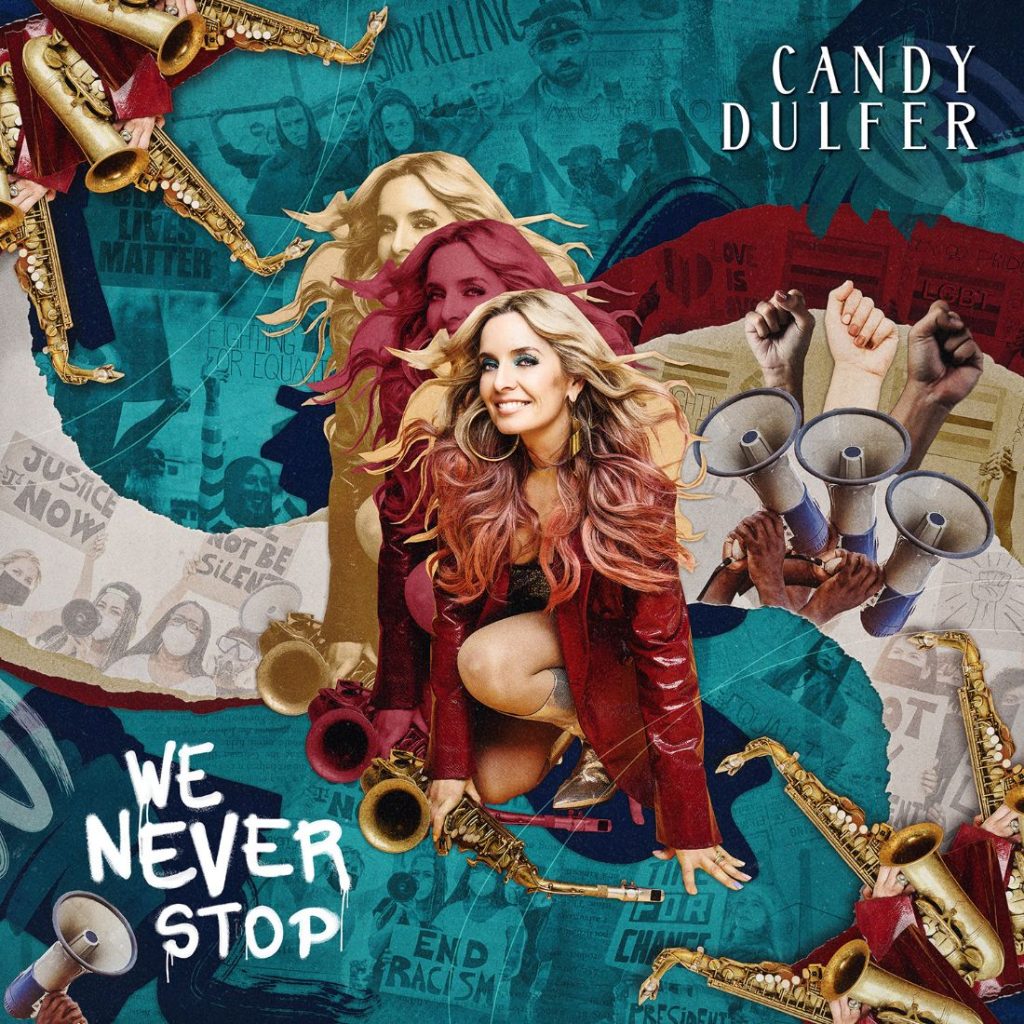 In addition to her superstar collaborations, Candy is a serious lifelong musician with a robust history as a solo artist releasing albums and touring the world for over 35 years. Since her Grammy-nominated debut, 1990's Saxuality, Candy has issued 12 albums. The combined world-wide sales of her solo albums top 2.5 million copies, and she has had several number 1 hits in the USA. In between her solo albums and her high-profile collaborations, Candy still manages to join Dutch female supergroup the Ladies of Soul for their annual sold-out concerts at the massive Amsterdam Ziggo Dome; she is a headline performer on Smooth Jazz Cruises in the USA and Europe; she is an ambassador for the Dutch ALS Foundation; and Candy was a judge on the Dutch version of X Factor.
At the age of 4, Candy's destiny unfolded before her eyes, watching jazz heavyweight saxophonist Sonny Rollins. Her father, Hans Dulfer, brought her to the show. Hans is a well-known Dutch jazz saxophonist who, when Candy was growing up, surrounded himself with legends such as Archie Shepp, Dexter Gordon, and guitarist John McLaughlin. Candy began playing sax at the age of 6, and started her own band Funky Stuff at the age of 13.
Candy soaked up music and life lessons from her father, and the iconic musicians he worked with, but Candy also boldly discovered her own voice as a songwriter and an instrumentalist, finding a home in contemporary jazz and pop-funk. She has worked hard to become an artist on her own terms, inspired by the likes of David Sanborn, Marcus Miller, Michael Brecker, Maceo Parker, Miles Davis, Cannonball Adderley, percussionist Sheila E., and even Janet Jackson. "I wanted to be like her but then with a saxophone; strong melodies, vision and entertaining to a mixed young crowd," Candy says.
Today, her determination and passion remain, but her motivations are different. "These days, I play music to, hopefully, inspire younger people. When I was 12, I didn't have many female saxophonists to look up to, and I want to be that person for the next generation of musicians," she says.
Stay tuned for continued updates.
'We Never Stop' – Track List
1. YeahYeahYeah
2. Mo' Seats At The Table
3. Jammin' Tonight (feat. Nile Rodgers)
4. Deeper
5. Say Something
6. Raindrops
7. We Never Stop
8. The Walls (feat. Marcus Miller)
9. Perspective (feat. Durand Bernarr, Aron Hodek, Philip Lassiter)
10. Since I Found U
11. Afraid For More
12. No Time For This
13. The Climb
14. Convergency (feat. Nile Rodgers)
Candydulfer.nl
https://www.facebook.com/candydulferofficial/
https://www.instagram.com/realcandydulfer/
Twitter: @candydulfer
Prospect PR
MORE News on T.U.M.S.!
Jazz/R&B Sax Icon Boney James to Release 18th New Album "Detour" on Sept. 23rd, 2022 – on Vinyl Jan….
Contemporary Jazz Flutist Ragan Whiteside Releases New Album "Thrill Ride" | LISTEN!
Legendary Soul Singer William Bell Releases New Single "One Day Closer To Home" | LISTEN!
Marvin Gaye's "I Want You: The John Morales M+M Mixes" is Avail NOW | LISTEN!
R&B Singer Jacci McGhee Releases New Single "Riches of the World" | LISTEN!
Gospel Singer Robert Jones Releases Official Music Video For "I Still Believe" | WATCH!
Reggae Singer Julian Marley Releases New EP "The Tide Is High – The Remixes" | WATCH NEW VIDEO!
Saxophonist Charles Lloyd to Release New Project "Trios: Ocean" on Sept. 23rd, 2022 | LISTEN! Announ…
Drum Legend Al Foster Releases New Project "Reflections" | WATCH NEW VIDEO!
Chicago Vocalist Tracye Eileen Releases New Album "You Hit The Spot" | LISTEN!
Jazz Vocalist Carmen Lundy To Release 16th Album "Fade To Black" on Sept. 30th, 2022
MasterClass Announces John Legend to Teach Songwriting | WATCH NEW VIDEO!
Gospel Singer Angela Moss Poole Releases Music Video for "Speak To The Mountain" | WATCH!
NEW VOICES! Soul Singer Lady T Releases New Track "It's All Over Now" | LISTEN!
Singer Lindsey Webster to Release New Album "Reasons" on Sept. 9th, 2022 | LISTEN to New Single "Sta…
Gospel Singer Zahriya Zachary Releases New Single "Simple Ways" | WATCH LYRIC VIDEO!
The Pat Petrillo Big Rhythm Band to Release New Project "The Power Station Sessions" on Oct. 7th, 20…
Singer Stokley Releases New Video for Single "Café" feat. Wale | WATCH!
Trumpeter Al Strong to Release New Album "Love Stronger" on Aug. 19th, 2022 | LISTEN!
Otis Redding Foundation to Host Weekend of Events Celebrating 81 Years of Otis Redding on Sept. 9th-…
Charlie Wilson Reclaims #1 Spot As Billboard's Top Adult Male R&B Artist
Singer Mashonda Releases New Single "Positive Distraction" | LISTEN! New EP "Note to Self" Coming in…
Singer Tanya Nolan Releases New Single "My Best" | LISTEN!
Singer Eric Roberson Releases New Music Video for Remix of "All I Want" feat. Kenny Greene & Intro |…
Saxophonist Tony Exum Jr. Releases Anticipated New Single "Everything" | LISTEN!
The Harlem Gospel Travelers Release New Single "Hold Your Head Up" | LISTEN!
Reggae Legend Beres Hammond Announces "Solid Love Tour" | Kicks off Aug. 12th, 2022
Trumpeter Takuya Kuroda Returns with New Project "Midnight Crisp" on Oct. 21st, 2022 | WATCH NEW VID…
Singer Danielle Ponder to Release New Debut Album "Some Of Us Are Brave" on Sept. 16th, 2022 | WATCH…
R&B Legend Randy Hall to Release New Jazz Single "Langley Ave" on Aug. 12th, 2022 | LISTEN!
Gospel Singer Robert Hawkins Releases Music Video for "Things Will Work Out" | WATCH!
Jazz Guitarist Bobby Broom to Release New Album "Keyed Up" on Sept. 23rd, 2022
Saxophonist Bobby Watson to Release New Album "Back Home in Kansas City" on Oct. 7th, 2022
NEW VOICES! Gospel Singer Jeremiah Nedu Releases New Single "Your Mercy" | WATCH NEW VIDEO!
Saxophonist Boney James Drops 2nd Single "Coastin'" feat. Lalah Hathaway | LISTEN! New Album "Detour…
Marlon McClain Releases New Project "Funky Fridays Vol. II" | LISTEN!
R&B Songstress Stefunie Releases New Single "Anymore" | LISTEN!
R&B Singer L. Young Releases New Single "I Ain't Gonna Waste Your Time" | WATCH NEW VIDEO!
Chaka Khan to Release New Single "Woman Like Me" on July 29th, 2022 | LISTEN!
Reggae Legend Jimmy Cliff to Release New Album "Refugees" on Aug. 12th, 2022 | LISTEN to Title Track…