Tour Deals
Uniworld cruise and rail journeys offer a deeper dive into Europe: Travel Weekly
Cruise and rail combinations are growing in popularity with river cruise lines as some begin to expand their itineraries to include the classic way of traveling.
Uniworld is one of the latest river cruise lines to offer a new cruise and rail program to its lineup of cruise offerings but with an additional caveat: instead of offering a rail journey as only a pre- or post-river cruise extension, the company includes a rail journey as part of the entire trip.
The 12-day Venice & the Swiss Alps itineraries is among Uniworld's first cruise and rail programs to launch in its partnership with Golden Eagle Luxury Trains. The itinerary includes four nights traversing through Western Europe aboard the Golden Eagle Danube Express before ending in Venice, where guests embark the S.S. La Venezia to sail the Venetian Lagoon for seven nights.
The itinerary
This cruise and rail itinerary begins with an overnight stay in Zurich, Switzerland's largest city well-known for being a global financial and banking hub. I wasn't surprised to be reminded of this while in town. Zurich's city center outside of Old Town had an austere nature to its urban landscape — a real concrete jungle. This as opposed to the cozier, more medieval-looking Old Town, which donned a more familiar European look with its aged Gothic church spires, stone bridges stretching over canals and its cobblestone streets filled with pockets of alleyways, open squares and a thriving tourist scene.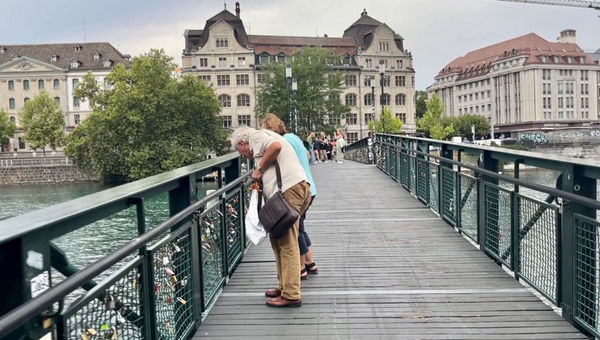 A footbridge to Old Town in Zurich. Uniworld's Venice & the Swiss Alps journey begins with an overnight stay in the city. Photo Credit: Nicole Edenedo
Guests on the Venice & the Swiss Alps itinerary will see the fairytale-esque castles and landscapes of Liechtenstein, the alpine resort towns of Austria and the up-and-coming and tourist destinations of Slovenia. This is the shorter version of Uniworld's initial 14-day Milan, Venice & the Swiss Alps itinerary, which includes two additional nights in Milan plus a day trip to Verona.
But one need not visit the city of Romeo and Juliet to feel the romance of this rail trip, for its beauty lies in the stretches of the journey.
All aboard for nostalgia
Anyone who loves an old fashioned train trip, enjoys the nostalgia of a night in a sleeper cabin rail car or has a penchant for binge-watching good whodunits featuring Alfred Hitchcock or Margaret Rutherford on Turner Classic Movies would love Uniworld's cruise and rail offerings. I've been a fan of all three of the aforementioned pastimes for some time, but I've only had the chance to do two; I had never been on an overnight sleeper train journey before my Uniworld trip, let alone a luxury, five-star one.
And the Golden Eagle is truly five-star, with impeccable service offered by a highly skilled and talented staff, superb cuisine crafted with such precision that it's hard to believe such a detail-oriented chef had the stamina (and the patience) to create such beautifully delectable dishes onboard a moving train three times a day.
Uniworld's cruise and rail program is growing. The cruise line launched two additional itineraries earlier this year with expanded trips into Eastern Europe on the 13-day Castles of Transylvania & Enchanting Danube itinerary as well as a 12-day departure.
Source link
[gs_pinterest id=1]