UK Travel
The coldest day in 100 years in Iceland: How best to travel in Winter
Over the festive period this year, Iceland has received unseasonably cold weather, with temperatures dropping as low as -23 Celsius (-9F) in the capital region. Up on the ice caps, it has been far colder still.
For a country with the name 'Iceland' you might be mistaken for thinking that this is a normal occurrence in the dead of winter. After all, on the 21st of December in Iceland, we are only privy to around 4 hours of direct sunlight. Add in the high latitude of this isolated country (64 – 66 degrees North), being in the middle of the Atlantic Ocean, skirting the edge of the Arctic Circle, and you'd be forgiven for expecting a barren tundra with sub-zero temperatures being the norm.
The reality is quite different.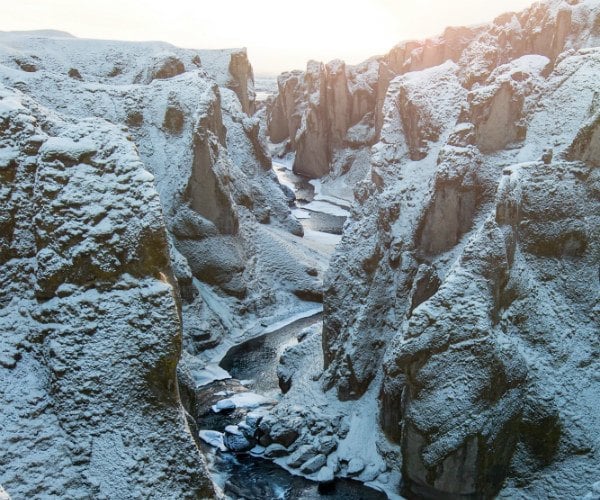 It's not normally this cold
Despite all the apparent doom and gloom, Iceland is surprisingly warm over winter (most of the time). The locals don't just survive during this time, but actually thrive. In fact, the average temperature in winter skates around the Zero Degrees Celsius mark (32 F). This is thanks, in the most part, to the Gulf Stream sending up warm water year round. Without this warm flow of water and air, Iceland would be experiencing cold temperatures like what we've been seeing for the past 2 weeks much more regularly. This level of cold was last recorded in Reykjavík over 100 years ago, in 1918.
Instead, it's not necessarily guaranteed that you'll even get a white Christmas in Iceland, let alone freezing conditions. Don't get me wrong, we get plenty of snow in winter and plenty of cold snaps to deal with, but in the most part it's much more palatable and manageable.
In essence, Iceland provides a wonderful Arctic experience without having to combat dangerous sub-zero temperatures like in the north of Norway, Canada and Greenland.
A normal trip to Iceland in winter could include – mountains topped with snow, reindeer along the sides of the road, glaciers glistening blue, and icebergs rhythmically shifting from side to side with the tides. Oh, and the Northern Lights do make the odd appearance too.
Will the cold front continue?
At the time of writing (2nd of January, 2023), it is still rather chilly but in Reykjavík right now, it's already risen to be above Zero Celsius. A welcome respite. I've no doubt the temperature will drop again in the coming days, based on the forecast, but likely closer to the norms of winter. Thankfully, around the coast of Iceland, especially in the south where many tourists spend the majority of their time, we are generally spared from the worst of the cold.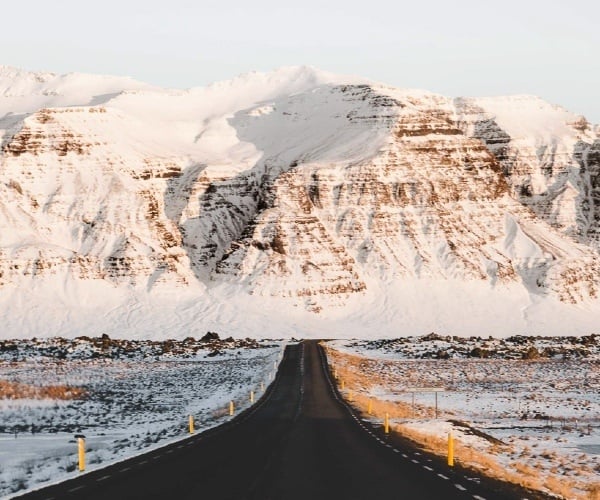 Blue ice caves, snowmobiling and glacier hikes
So with this yo-yoing temperature above and below freezing point you may assume that Iceland's wintery aesthetic is less guaranteed than you immediately thought. And for sure, the roads and towns along the south are not necessarily engulfed in snow and ice all winter long, but thankfully Iceland has one natural resource that guarantees a winter wonderland – the glaciers. They're even accessible in the balmy summer months too.
From November until March (my favourite time of year), the temperature up on the glaciers is cold enough to reduce the melting rate of the ice and give way to empty caverns of blue ice (the ice caves). These are formed from the melting ice in summer carving holes and tunnels into the glacier. When the temperature drops in winter, the rivers of water flowing through these cavities on the glacier disappear, leaving behind unique and temporary structures. For a few choice months, these caves are safe to enter (with an experienced local guide). The hues of blue that emanate in every direction while exploring these icy behemoths should be on everyone's bucket list.
Further up on top of the glaciers, you are welcome to explore the surface by snowmobile. The higher you get in altitude, the more likely you are to experience a thick layer of snow on top of the ice, allowing you to travel at great speeds by snowmobile (again, with an experienced guide).
Even in summer, when the temperatures are closer to 15 Celsius (60 F), you can strap on a pair of crampons (spikes for your feet) and explore the surface on an adventurous glacier hike.
Is travel in winter something I can do myself?
I'm going to contradict myself a little here after all my talk of it being 'not that cold'. Iceland has a temperate climate. This means it's a lot warmer than expected. That part is true. However, it also means you are more likely to encounter dramatic changes in weather patterns from one day to the next. Sometimes even one hour to the next. So the roads could be icy, the winds could be strong, there could be a flurry of snow, and of course there's always the chance of rain too. Don't get me wrong, you can also get beautiful blue skies and a clear dusting of snow across the landscape, the wintery wonderland that you were hoping for.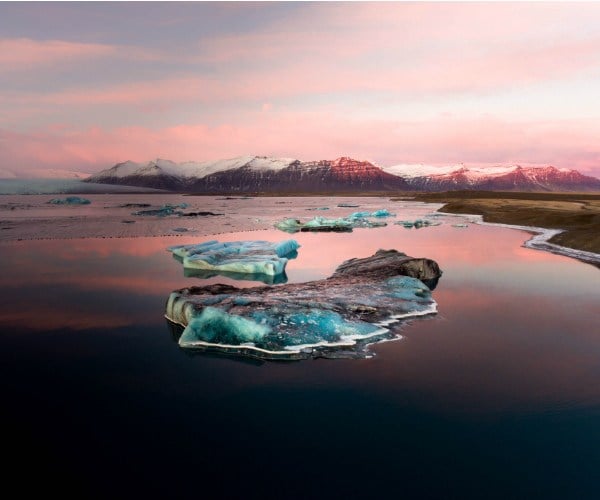 So with all that contradictory rhetoric taken into account, I would suggest that it's better to err on the side of caution in winter. As soon as it hits around mid-October until roughly mid-April, you should hang up your driving gloves and trust the locals to show you around instead. For specialist activities, like the ones mentioned above, it's a necessity anyway, but I'd hasten to add that driving in winter could almost be considered a specialist activity in its own right on some of the days. Thankfully, most guiding companies will be well versed in the nuances of the weather patterns in Iceland, have vehicles designed for winter driving, and employ experienced drivers to keep you safe – not to mention that having a local guide lead you around the sights adds an extra element of immersion that you can't get just from a guide book.
---
IMPORTANT NOTICE:
If you are reading this article anywhere other than on A Luxury Travel Blog, then the chances are that this content has been stolen without permission.
Please make a note of the web address above and contact A Luxury Travel Blog to advise them of this issue.
Thank you for your help in combatting content theft.
---
So why not take the stress of monitoring weather, considering road conditions and checking for closures out of the equation when travelling to Iceland and just focus on the fun stuff, i.e. Northern Lights, Ice Caves, Icelandic horses and the many other exciting things that Iceland has to offer. Sounds like a good idea to me?
See you soon!
Ryan Connolly is Co-Founder of Hidden Iceland. Hidden Iceland specialises in private trips, taking you to some of the hidden gems of Iceland with a passionate and experienced guide.
If you would like to be a guest blogger on A Luxury Travel Blog in order to raise your profile, please contact us.