Travel Experiences
An Immersive Traditional Maldivian Dining Experience – Hotelier Maldives
The traditional flavours of authentic Maldivian cuisine are far from new for travellers to the Maldives. However, the concept of an exclusive Maldivian dinner at a luxury resort, where guests can witness the traditional way of cooking, is a brand-new experience. This is precisely what Amaa's Kitchen offers! LUX* South Ari Atoll is known for celebrating life, and with this new addition, the resort celebrates Maldivian cuisine, culture, and its people–offering a chance to indulge in an experience that is more than just dining.
Typically held on Friday nights, Amaa's Kitchen is straight out of an old Maldivian tale. In Dhivehi, "Amaa" means "mother", and embodying this sentiment, Amaa is a local woman from the neighbouring Dhidhoo island. She comes to the resort to prepare the food, showcase how traditional kitchens are run, and shares many stories about the Maldivian islands. As it is an exclusive dinner, guests are required to book in advance for the unique gastronomical-cultural experience.
Featured Image: Amaa grating coconut 
The experience starts with a knock on your door. Kamana, a lady dressed in a traditional red libaas, will be ready to accompany you to the dining venue. "Kamana" in Dhivehi is a term used to refer to women or girls. At the venue, the Katheeb welcomes the guests. They are ushered to the softly illuminated herb garden to a round wooden table beside a tall banyan tree. The seats are a modern take on the joali (traditional Maldivian hammock). Local snacks are spread out on the table, including theluli bambukeyo (deep fried breadfruit chips), kulhi kaajaa (deep fried spicy tortilla chips), gulha (fried fish balls), bajiyaa (fried fish samosa), and more. Tender refreshing coconuts are prepared for the guests, awaiting to be sipped as the experience unfolds.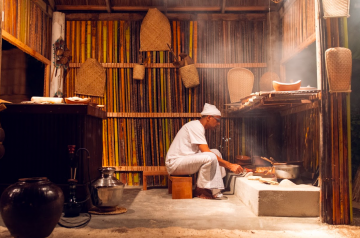 Featured Image: Chef Haneef in traditional kitchen
After conversations about Maldivian tales and tasting local snacks, guests are brought to the designated kitchen area. Located a few steps away, the kitchen resembles an old-fashioned Maldivian hut with a thatched roof made from palm leaves. Inside the kitchen, a large table is filled with local spices and ingredients, while a smaller table is set for preparing dishes. The catch of the day cooks over fire in a traditional style. Along with Amaa and Kamana, a few resort staff and Chef Haneef, dressed in traditional attire, join the experience, explaining local customs and cuisine.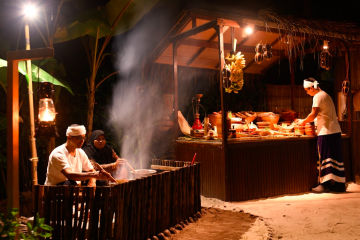 Featured Image: Chef Haneef and Amaa cooking over flames 
Outside the hut, two aromatic curries cook over flames. Amaa stirs the pots and adjusts the flame, describing how food was cooked in generations past. Across the grill, a traditional coconut scrapersits on a woven mat. Amaa demonstrates how coconut is scraped, and guests may try it for themselves. Back inside the hut, more delicacies are prepared.
Once dinner is ready, guests are accompanied to the dining area beneath a tent. The table is filled with colorful, fragrant dishes. The changing menu includes aromatic plain rice, kandu kukulhu (special tuna curry), roshi, three different curries and grilled fish. Rihaakuru (fish paste), smoked tuna, fried moringa leaves and other local sides are served as well. No Maldivian feast is complete without bondibaiy, a sweet treat of rice cooked in sugar and coconut milk.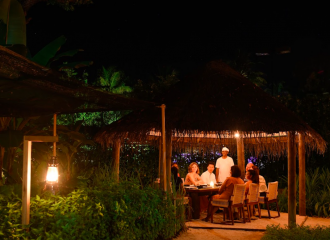 Featured Image: Chef Haneef presents food to guests
As per tradition, after a scrumptious dinner, everyone heads back to the joali area. With a warm cup of tea and a relaxed ambience, the three-hour journey ends with a few more stories before a wish goodnight.
Chef Haneef is a Maldivian chef with over thirty years of expertise in authentic and innovative cooking techniques. With a passion for creativity and food, Haneef's culinary career began in 1990. As Chef De Cuisine at LUX* South Ari Atoll, Haneef's signature offer is the Master Chef cooking class, promoting local cuisine to tourists and guests. Hotelier Maldives had the chance to talk to Chef Haneef about the new Amaa's Kitchen experience.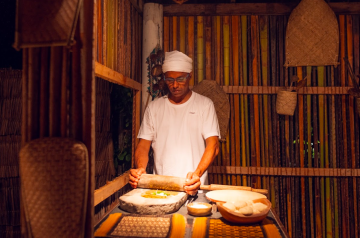 Featured Image: Chef Haneef grinding spices for curry paste
HM: What are your thoughts on Amaa's Kitchen?
CH: Vibrant Maldivian nights are special food and beverage experiences, offered at many properties in the Maldives. However, they usually consist of a themed buffet and boduberu entertainment, leaving a big part of traditional cooking and hospitality behind the scenes. Amaa's Kitchen addresses this beautifully as the guests get to experience a warm local style, home-like welcome and dinner setting, with stories shared on Maldivian customs, history, and culture.
HM: What kind of dishes do you cook?
CH: Fresh fish, herbs, and coconut are pillars of local cuisine, since back in the day the Maldivians were heavily reliant on the vegetables they could grow at home. We try to stick to the same traditions, adding sweet potato, okra, curry leaves, and other greens picked from our own Herb Garden. Guests are also involved in the process: they can try making their own chapati, mix up fresh curry paste and grind fresh coconuts the traditional way, all after a tour around the garden to learn about vegetables and herbs we grow.
HM: What are some of the most notable dishes / most complimented dishes at Amaa's Kitchen?
CH: Some staples cooked in Amaa's Kitchen are the famous Garudhiya soup, Kopee leaves salad, and grilled fish. The most complimented dishes we serve are "Kandu Kukulhu", a traditional curry, and rice pudding "Handulu Bondibaiy", which on the islands are usually made to celebrate special occasions and festivities.
HM: What is one most popular dish among guests?
CH: "Kattala Riha", a curry made with sweet potato and fresh coconut milk, is usually a big hit. It's a unique combination of ingredients and is quite memorable. Guests also love our welcome starters–a mix of vegetarian and non-veg traditional short-eats served with fresh coconut water in the garden's sitting area.
HM: Are there any special/unique recipes that might not be found in another traditional Maldivian kitchen?
CH: Our take on the "Kandu Kukulhu" deserves a special mention. We only use fresh tuna loin and slice it in a signature way to make sure every roll is perfect. The curry paste for the dish is prepared on the spot, using a traditional stone grinder and special ingredients from our Herb Garden. Cooked at an old-fashioned fire setup instead of a modern stove, this dish preserves all precious flavours and showcases Maldivian cuisine at its best. This is also one of the dishes we were invited to demonstrate in our recent "Flavours From The Sunny Side Of Life" cooking show broadcasted on NDTV last month.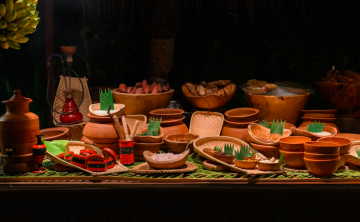 Featured Image: Traditional Maldivian Ingredients 
Source link
[gs_pinterest id=1]