UK Travel
Dior's starry fashion show at the Pyramids of Giza
Christian Dior was a French fashion designer who founded the eponymous luxury fashion house in 1946. He was born in Granville, France in 1905, and after completing his education, he worked for several fashion houses in Paris before establishing his own label. Dior's first fashion show, which took place in 1947, introduced the "New Look", a revolutionary style that featured complete, flowing skirts and a cinched waist, and marked a departure from the utilitarian styles that had been popular during World War II. The New Look was highly influential and helped to establish Dior as a leading force in the fashion industry.
Over the years, Dior has expanded beyond clothing and accessories to include a range of beauty and fragrance products, and the brand has remained a leader in the luxury market. Dior has also been known for collaborating with talented designers, including Yves Saint Laurent, Marc Bohan, Gianfranco Ferré, John Galliano, and, more recently, Maria Grazia Chiuri. The brand's headquarters are located in Paris, and it has boutiques and retail outlets in major cities worldwide.
Dior fashion shows
Dior is known for its elaborate and highly anticipated fashion shows, which are held several times a year to showcase the brand's latest collections. These events typically take place in Paris, but Dior has also held shows in other cities around the world, such as New York, London, and Milan.
Dior's fashion shows are known for their attention to detail and the luxurious settings in which they are held. The brand often collaborates with renowned set designers, stylists, and other creative professionals to create unique and memorable experiences for attendees. In addition to showcasing the latest clothing and accessory collections, Dior's fashion shows often feature live music, performances, and other interactive elements.
Dior's spectacular fashion show in Egypt
Dior staged its men's pre-fall show in front of the Pyramids of Giza, one of the Seven Wonders of the World, on Saturday 3rd of December to cap off a triumphant year. Kim Jones, artistic director of men's wear at Christian Dior Couture, and Pietro Beccari, chairman and CEO, both solidified their positions as leaders in a sector that is in transition thanks to the successful presentation. This is the first time Dior, the French fashion brand, has held a show in Egypt, as well as the first time a major international fashion show has been held in front of the Pyramids of Giza.
"My fascination in ancient Egypt is centered on the stars and the sky," Jones said in the show notes. "In that sense, it is related to Christian Dior, as is his concern with symbols and superstitions, which runs throughout his life and work."
The event celebrated Egypt's rich history and culture while also introducing it to the fashion world. The populace reacted positively, with many congratulating Egypt for organizing such a great, global event that gained international acclaim.
Egypt's Dior fashion show attendees
The 800 attendees included Lewis Hamilton, Robert Pattinson, and K-pop sensation Cha Eun Woo. The event occurred after sunset, with the pyramids lit up in the distance. One of them was British supermodel Naomi Campbell, who expressed her happiness about Egypt's inclusion in Africa. The fact that Dior and Kim Jones have chosen to attend is therefore significant. Cha Eun-woo, a South Korean singer, actor, and model, arrived at the Cairo airport to the chants of his admirers.
At the celestial event on Saturday, the K-pop diva, who has more than 31 million Instagram followers, said to The National, "I was very astonished". He explained that he was "happy" for the attention and "really excited" to be in Egypt for the first time while sporting a sparkly turquoise jumper and matching bag.
Egyptian celebrities, including Aladdin actor Mena Massoud, musician Hamaki, Okhtein founders Aya and Mounaz Abdel Raouf, and rapper Marwan Moussa were spotted enjoying the concert. The exhibition was a striking juxtaposition, with the models walking on the desert sand clothed in Jones' signature bland futuristic costumes.
Before the exhibition, Dior went to the Grand Egyptian Museum, which is still not open to the public, to show a guest collection designed by Tremaine Emor. Denim, plaid, and varsity jackets dominated the collection.
---
IMPORTANT NOTICE:
If you are reading this article anywhere other than on A Luxury Travel Blog, then the chances are that this content has been stolen without permission.
Please make a note of the web address above and contact A Luxury Travel Blog to advise them of this issue.
Thank you for your help in combatting content theft.
---
Dior's Egypt fashion show collection
Before the pyramids and runway were illuminated, the 25-minute fashion show began shortly after 6 o'clock in complete darkness and hush. The models walked in front of the audience as they paraded the collection, first appearing in the distance like shadows.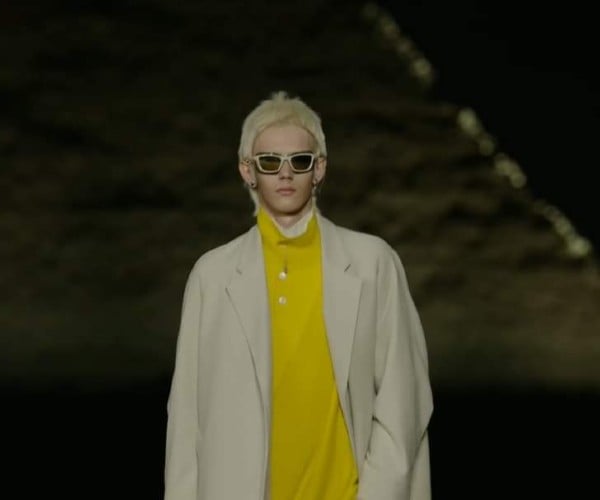 Before the addition of bold pops of yellow and orange, the colors were initially muted greys, beige, and whites. From day to night, with hints of a flaming sunset streaming in between, Jones describes it as a "graduate of greys" giving way to the "palette of the desert."
A sci-fi journey to the moon or "galaxies far, far away" seems to be what the models are embarking on. They adopted a "notion of futuristic armory" by wearing sunglasses, helmets, backpacks, work boots, and mosquito netting.
When it comes to wool demi-kilts, which flowed at the back of trousers, the distinction between masculine and feminine cuts is blurred. The bias pleated skirt of a 1950s bonne fortune dress from the Dior archives served as the inspiration for the design. The "ultimate luxuries" are comfort and practicality, which are prioritized in technical outerwear with couture finishings.
Before leaving the stage in a line in front of the pyramids for the big finale, all 75 models made one final pass through the audience.
The impact of this event on Egypt's tourism
Like its neighbors in North Africa, Egypt is attempting to portray a new image in order to draw in more tourists and customers. playing up its modernism and historical roots. According to media entrepreneur Amy Mowafi, occasions like Dior's "placed Egypt on the map as a new hub for creativity and design" where producers may rely on "seven thousand years of inspiration".
Mostafa Waziri, secretary general of the Supreme Council of Antiquities, attended the show and was enthusiastic about congratulating Pietro Beccari, president and chief executive officer of the Dior Fashion House, and his deputy on holding this incredible show and selecting Egypt and the Giza Pyramids to host this spectacular event.
Pietro Beccari, president and chief executive officer of the Dior Fashion House, expressed his delight at conducting this beautiful event in Egypt and invited all of his friends and those working with Dior to travel to Egypt to explore its tourism and archaeological sites.
Sherif Khalil is Owner of Dunes & Beyond. Dunes & Beyond offers luxury tours, Nile cruises and desert safaris in Egypt.
If you would like to be a guest blogger on A Luxury Travel Blog in order to raise your profile, please contact us.