UK Travel
Some of the world's best seafood is at its best right now, plus the top 15 seafood restaurants in Fjord Norway
The seafood from the coast of Fjord Norway is regarded as some of the best in the world. During winter, it is at its very best, with flavours that will take your visit to Norway to a whole new level.
"It's so fresh and so good that I want to show it off – not hide it. Nothing here needs any camouflage. The ingredients need to shine," says Ronny Kolvik, head chef and driving force behind the restaurants Bro and Bryt, situated on the water's edge in the middle of the narrow and charming Brosundet in Ålesund in Western Norway.
He's standing down by the quay right outside the restaurant as a small fishing boat comes chugging towards us. The dedicated chef has an excellent agreement to have world-class fresh fish and shellfish delivered straight to his doorstep.
"The taste experience you get from such fresh ingredients gives a completely different sensation on the palate. The Norway lobsters are so lively that they sometimes jump out of their boxes. We almost have to let the ingredients calm down a bit before we can use them," he adds.
The small boat hasn't had to travel far. The world's best shellfish, Norway lobsters, oysters and lobsters can all be found nearby. Kolvik shares his enthusiasm for fresh, local ingredients straight from the ocean with seafood chefs and foodies throughout Fjord Norway.
Locally sourced, world-class ingredients
In Øygarden outside Bergen you will find Norway's leading seafood and maritime expertise. Scalmarin supplies ingredients to Michelin restaurants and other seafood restaurants both in Norway and abroad. Manager Knut Magnus Persson says it's no coincidence that the seafood along Norway's west coast is so excellent.
"We are in a unique positioned in this area, and it's all got to do with the climate and the temperature of the sea. The water gets cold but still the fish and shellfish survive. It's right on the verge of being too cold, so it's really pushing it to the limit", he says.
That's precisely why seafood is at its very best in the middle of winter.
"The cold slows down the metabolism of the shellfish, giving it a sweeter and more characteristic flavour. They spawn over the summer, so they have started to develop well physically, and when they enter hibernation they are absolutely fantastic", he continues.
Interest in seafood from Fjord Norway has soared in recent years, and Persson is struggling to cope with the massive demand.
"We deliver to regular and Michelin-starred restaurants in Norway, including to Under, Maemo, BARE, Lysverket, ReNaa and Credo, and also to Michelin-starred restaurants in Sweden and Denmark. We need to focus on expanding in order to satisfy the demand," says Persson.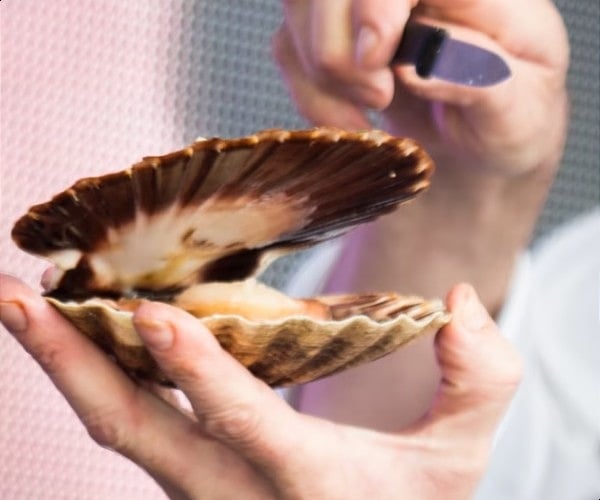 Bacalao! Is it from Norway?
Fresh fish and seafood are signature dishes in many of the restaurant in the villages and towns in Fjord Norway. Seafood has always been part of everyday life among the locals too. In Bergen, the export of stockfish and seafood is the very foundation on which the city was built. In the same way, klippfisk (fish dried on rocks) from the Northwest of Fjord Norway is credited with being the cornerstone of the town Kristiansund and its development into an important Norwegian seafood export hub. For example, Klippfisk from Kristiansund is used as an ingredient in the Bacalao served in restaurants in Portugal, Spain and Brazil. Bacalao and Klippfisk can also be found on menus throughout Fjord Norway.
"Klippfisk is wild-caught fish that is salted and dried on smooth, coastal rocks. It can be stored for several years and therefore became a very popular commodity and formed the basis for a lot of industry in our region. Today we export around 100,000 tonnes of klippfisk worldwide, and it is an important export trade in our region. It is also a sustainable resource because it can be transported without using air transport," says Tore Legernes at the innovation company Vindel in Kristiansund.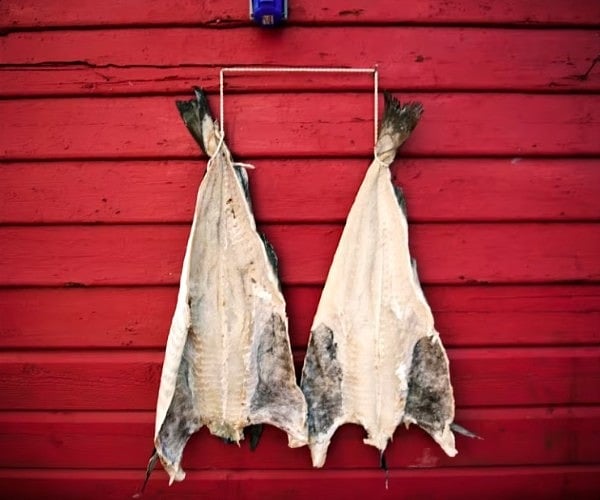 Fish and seafood have also formed many small and attractive local communities along the coast of Fjord Norway. Solund is an island community that grew because of the area's proximity to the sea and fresh seafood. The inhabitants settled out at the ocean's edge to be as close as possible to the ocean's bounty. Nowadays there are guided boat tours in the area and you can find out how seafood and fisheries shaped the local community throughout history.
"Life on the outermost islands wasn't that agreeable, and the advent of motorboats made it possible to live more centrally and still fish for a living. All that's left on the outer islands are the buildings left by the undertakings that were once based there, and those who grew up there have now moved to Hardbakke, which was once just home to a police station, a priest and a school," says Tom Færøy, general manager of Suljet, which organises guided tours and island hopping in the region.
Seafood festival
Throughout history, seafood has been the lifeblood of Norwegian coastal culture, in the same way that is now a major feature of Fjord Norway's gastronomy. This is celebrated each year with a seafood festival in Bergen.
"We celebrate seafood being at its very best with a lively festival in the restaurants in Bergen and seafood activities in the Mathallen food court and at the Fish Market. There are courses, lectures and competitions, and the restaurants serve lunches and dinners using world-class ingredients. There's a chance to experience seafood combined with cider and learn how to make your own sushi at home", says Alexandra Krage Angell, head of Matarena and Bergen Seafood Festival.
This year, the festival will be held from 17–19 February, with local food producers selling produce and specialties from both the sea and land. You can find out more about the food, discover the story behind it, and gain insight into how it is made. Over twenty restaurants are taking part in the festival, all paying tribute to the local, unique ingredients from the sea.
---
IMPORTANT NOTICE:
If you are reading this article anywhere other than on A Luxury Travel Blog, then the chances are that this content has been stolen without permission.
Please make a note of the web address above and contact A Luxury Travel Blog to advise them of this issue.
Thank you for your help in combatting content theft.
---
Top 15 seafood restaurants in Fjord Norway
Renaa, Stavanger
Our focus is on the best products from the sea, fjords, land, forests and mountains in this fertile and generous region.
Sabi Omakase, Stavanger
Sabi Omakase was the first sushi restaurant to receive Michelin status in Norway! Sushi master Roger Asakil Joya creates pieces of art on a plate from Norwegian ingredients. A delight for both the eye and the palate.
Fisketorget in Stavanger, Stavanger
A restaurant with fish and seafood, where the menu is based on today's catch. The Fish Market's enthusiastic chefs offer simple and tasty dishes for both lunch and dinner. They focus exclusively on local produce.
Cornelius Sjømatrestaurant, Bergen
A beautiful boat trip and a unique seafood experience at Cornelius Seafood Restaurant on Holmen island just outside Bergen.
Fish Me, Bergen
Located at the Fish Market, Fish Me offers a large selection of seafood and snacks. Caters for groups and can deliver to cruise ships.
Lysverket, Bergen
Michelin star restaurant Lysverket offers modern Nordic food with seafood from Western Norway as well as seasonal meat and vegetarian dishes.
BARE Restaurant, Bergen
BARE Restaurant is one of Bergen's two Michelin-starred restaurants. The award was a result of our philosophy and love for the raw materials our surrounding nature provides.
Bekkjarvik Gjestgiveri, Bekkjarvik
Bekkjarvik Gjestgiveri is situated by the harbor in idyllic Bekkjarvik in Austevoll, only 50 minutes by boat from Bergen Airport/ Flesland or Bergen city center.
Restaurant Bryggekanten, Florø
Restaurant Bryggekanten is passionate about good food and drinks. We take no shortcuts in pursuit of culinary treasures!
Hjørnevikbua, Florø
In the center of Florø is Hjørnevikbua Restaurant, in what used to be a herring hut.
Knutholmen, Kalvåg
Kalvåg is a large living hotel! Within walking distance around the small bay you will find fishing huts, rooms or apartments, a restaurant, pub, dance floor and meeting rooms.
Kami Skotholmen, Fosnavåg
We welcome you to Skotholmen and the seafood restaurant Kami Skotholmen. A restaurant that splashes at the water's edge just a stone's throw from Fosnavåg and a glance from Ålesund. With a kitchen that follows the season, the sunset and offers the sea and the horizon as a mural in a ramshackle sea mess from the middle of the 19th century.
Bro, Ålesund
Bro invites you on a journey through what we call coastal gastronomy. It is a nordic restaurant, with strong focus on what the local and the Norwegian coast has to offer.
XL Dinner, Ålesund
XL Diner is known as one of Europe's largest bacalao restaurants, and the main focus is to prepare, serve and promote Norwegian clipfish (dried, salted fish). Combined with inspiration and knowledge from several corners of the world and enthusiastic employees, enables XL Diner to offer a menu to most people's taste.
Sjøstjerna, Kristiansund
Sjøstjerna is a fish restaurant located t in the heart of Kristiansund, in the pedestrian area. This is a small family restaurant known for serving good quality food like the traditional bacalao and other fish dishes. Interior is decorated with Norwegian art and old remedies from klipfish production. Open in the summer only. In addition to the famous bacalao, you may also ordered klipfish in small balls; Bolinhos de Bacalhau, or a large piece of tenderloin grilled klipfish in Portuguese way and served withtomato salad and aioli. Try best-seller, cheese gratinated klipfish. Sjøstjerna has 70 seats in the restaurant and a small bar "Star". Outdoor serving in summertime.