Travel Experiences
Ausy Waseem, One of the Industry's Youngest Resort Managers – Hotelier Maldives
Hailing from the southern island of Fuvamulah, Ausy Waseem is making his mark in the tourism industry as one of the youngest resort managers. A modern outlook matched with unique ideas and a brilliant mind, Ausy handles the operations of one of the largest island resorts in the Maldives; Siyam World. Inspired by his father's and other family members' careers in island resorts, Ausy was inspired to pave his own path in the hotel industry.
"There is nothing I do not enjoy about my work. Sometimes it is tiring, but I enjoy every aspect of it. I particularly enjoy going around the island and seeing things working out the way we envisioned them. When you have real achievable goals and you see it happening right in front of you without a glitch, it makes me really happy. You know you have worked hard, put in a lot of effort and your team has put in a lot of effort."
Ausy completed his Bachelor of Business Management, Hospitality and Tourism at James Cook University. He continued his education, acquiring a master's degree in International Tourism and Hospitality Management and a second master's degree in Business Administration from the same university. Ausy began his career as a management trainee in 2017 at Siyam resorts. After a year, he assumed the responsibility of Assistant Front Office Manager at Sun Siyam Iru Veli. He was promoted to Front Office Manager in January 2020 before moving to Siyam World.
Successfully pre-opening Siyam World during the pandemic 
In August 2020, during the COVID-19 pandemic, Ausy oversaw the pre-opening of Siyam World. Despite facing challenges with shortages of supplies and uncertain markets, Ausy brought together a great team to successfully open and operate the resort. Although the past five years have been extremely hectic, Ausy revealed that it was far more interesting and rewarding than the day-to-day challenges.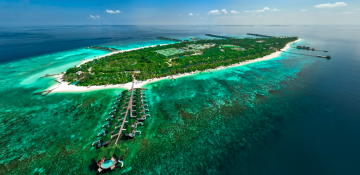 Featured Image: Siyam World
"For a resort of this scale, everything is amplified. It took some time for us, but then we managed to very successfully resolve it all. The scale, later on, did not matter because we adapted," said Ausy Waseem.
Working alongside Sara Siyam, his wife and the Creative Director of Sun Siyam Resorts, the duo brings bold ideas to life, creating unique experiences at the resort. Supporting each other, Sara handles the creative and marketing side of Siyam World and all Sun Siyam Resorts, while Ausy ensures the operations go smoothly.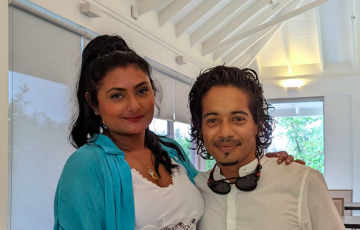 Featured Image: Ausy Waseem and wife, Sara Siyam, creative director of Sun Siyam Resorts
"I think with two heads put together, we are able to bring out a lot of new things. We like to think differently and always try new things. There are no bad ideas, we always throw in all the ideas. We do not necessarily agree on everything, but that is how we end up with something very, very good."
Innovating guest experiences
At Siyam World, Ausy and his team largely focus on innovative guest experiences. Following market trends, behaviours and demands, the team introduces new immersive activities for the new generation of travellers.
"We have had so many repeated guests in the course of one year. They come back and say 'Oh my, this has changed, this is even better!' Even after one year, we keep becoming louder and louder. We have a lot more surprises to introduce."
Upholding the island spirit among the team
Siyam World is home to one of the largest workforces in a single island resort with over 1200 staff. Ausy focuses on creating a positive island spirit. Ausy's philosophy for maintaining a good relationship with staff or islanders, as they are called, is to be honest, open, understanding, and attentive to their needs. As a result, regardless of hierarchy, there is mutual respect and a strong support system among the team.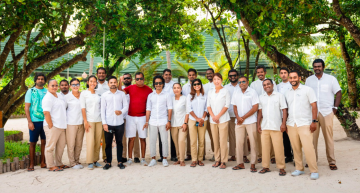 Featured Image: Asuy with Siyam World Team 
"We do not necessarily look at ourselves as an organisation, but as an island and we see each other as family. For me, the relationship I have with the staff is very important. In fact, we have an open-door policy here where we encourage people to come in and talk to their department heads about any of the concerns they have. The openness to converse with people is one of the biggest principles we have been maintaining here."
In his free time, Ausy enjoys football and some water sports. He admits the past couple of years he has not had much time for football, but growing up he was passionate about the sport. When he is not busy with the operations of Siyam World, Ausy looks forward to relaxing and spending time with his wife at the end of the day.
"For me, that is very important. We do not talk about work once we are at home because that time is just for us. It is really nice to work together. If I see something I know that Sara did, it makes me really happy and very proud of her. I do not see her as my wife when I see these things, I see a very successful creative director."
Advice to young hoteliers
Ausy advises young people with an interest in hospitality to be patient. There may be setbacks in your career or things may turn out unexpectedly, but achievement accompanies perseverance and hard work.
"I have seen people who have so much potential give up because it is too hard or they just lack the discipline of working. Some of these kids with high potential waste their time by getting involved in unnecessary things. I wish to see more people working hard with ambition."
Source link
[gs_pinterest id=1]