Aishath Layan Riyaz is a Commis Chef at Cora Cora Maldives, Raa Atoll. 
Originally from the capital city of Malé, Layan grew up in a family that took every opportunity to travel, either to local islands during short holidays or internationally for longer holidays, which ignited a love of travel and making new friends. After finishing her 'O' levels, Layan decided that a diploma in Hospitality and Tourism Management was a perfect way for her to enter a profession that would allow her to continue doing what she loved. Unexpectedly, the diploma opened her eyes to the wonders of the culinary world. Her perspective changed, her loved for cooking and interest in Japanese cuisine began. Hotelier Maldives spoke to Layan about her journey so far and what her aspirations for the future are.
HM: What drew you to the culinary field? 
Layan: Initially, I had no interest in the kitchen and studied the diploma to travel. However, the syllabus included the kitchen and restaurant. I soon realised I enjoyed the kitchen. I loved the rush it gave me, the multi-tasking, and team spirit. It all was exhilarating, so I was hooked. Cooking is something we see every day, but I discovered that, as a chef, you can be creative, inspired and have the freedom to come up with new ideas of making food enjoyable. This really excited me and drew me to pursue a career as a chef.
HM: Where did you learn your skills?
Layan: I learnt the basics during my diploma and my six-month internship at Soneva Fushi. At Soneva, I worked with Chef Soba in the cold and hot kitchen before moving to some of the outlets, including the Japanese one. After my internship, I wanted to learn more about Japanese cuisine so I joined Chef Fatheen at Oishii, the House of Sushi. He taught me everything from the basics up; knife skills, how to fillet fish, how to cut sushi, how to differentiate fish types, and lots of Japanese techniques and methods. Then I learnt about French cuisine, whilst at Huvafenfushi, as the chef prepared everything from scratch. I am continuing to learn now while at Cora Cora Maldives.
HM: Who has had the greatest influence on your career to date?
Layan: A few people have inspired me, especially my parents and my team members. However, one person who really stands out would be Jiro Ono, a Japanese chef I came across when I was researching Japanese cuisine and culture. His story has inspired me to work hard on everything I do as an individual. His words are inspirational: "If you are passionate about your craft, you will enjoy your work and you will seek excellence and perfection. Always look beyond and above yourself. Always try to improve yourself. Always strive for perfection."
HM: Of all the many facets of your role, which do you enjoy the most/ find the most rewarding?
Layan: I enjoy Japanese cuisine as I like the preciseness and clean looking style. One reason, I joined Cora Cora Maldives was to work in Teien®, the Japanese restaurant here. However, the most exciting part about being a chef is meeting new people, serving the food you made and seeing people's reactions.
HM: Did the pandemic affect your career path?
Layan: The pandemic wasn't so bad since I got to spend time with my family. I used the time to research more on different cuisines. I also started studying for my degree in International Hospitality Management at Villa College. The pandemic gave me time to have fun with my little sister, doing home baking and testing out some easy recipes using different flavours like mango and dark chocolate cheesecake with a layering of mango puree.
HM: What do you consider are the key attributes and skills required to become a good chef?
Layan: A good attitude, creativity, and commitment. Moreover, teamwork and the willingness to learn from your fellow team members. Also, a chef must accept that it takes thousands of failed and burnt dishes to make one good satisfying dish. Skills like organising the workstation and multitasking are also important, as they help you stay focused on the work at hand.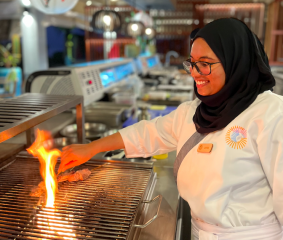 Featured Image: Aishath Layan Riyaz
HM: What do you consider are the greatest challenges to working in a kitchen, especially as a female? 
Layan: Adapting to the environment and the team you work with is key. One of the hardest things is handling the pressure since it's a male dominant environment. Women must work twice as hard to prove our worth. During my internship, I was the only girl, and I wasn't allowed to do anything for a month. It was frustrating, but I learned to ignore the bad vibes and do your own thing. If you're determined enough to show your passion, anything is possible. Since starting my career, I have been incredibly lucky to have really nice and supportive executive chefs.
HM: What has been the highlight of your career to date?
Layan: I have had an amazing year of highlights, including getting second place and a silver medal in the young chef category at FHAM and a bronze medal at Hotel Asia. I also received an accolade award as a young chef in the first Chefs Guild of Maldives Chef awards ceremony held at Kurumba in November.
HM: What do you consider are upcoming food trends in the Maldives and why?
Layan: Plant-based food, and healthy eating. The growth opportunities in plant-based meat substitutes create greater choice for the consumer while mimicking the precise flavour, mouthfeel and texture of real meat. Both vegans and vegetarians can enjoy meals like non-vegetarians.
HM: Tell us a unique / interesting fact about you
Layan: Previously, I wanted to be a lawyer because I enjoy arguing and debating things. But I enjoyed travelling more! I've already travelled solo to Malaysia, Singapore, and Dubai. In addition, I went to the Chefs Congress in Abu Dhabi. I love experiencing new places, cuisines, and making new friends.
HM: How do you spend your free time?
Layan: I read books, the genre depends on my mood. Sometimes I watch documentaries, mostly murder documentaries. I don't have that much free time so I tend to avoid series as I cannot commit to them.
HM: Where do you see yourself in 5 years' time?
Layan: My aim is to develop my skills and get better day by day so I can be the best at what I do. I want to work with more of the top Japanese chefs in the country, like Chef Jameel. In five years, I see myself as the section in charge in one of the leading kitchens either here or somewhere abroad.
HM: What is one piece of advice would you give aspiring chefs, especially females? 
Layan: Be driven, but patient, kitchen hours are tough. You will spend more hours on your feet than you would like to accept. Never stop learning. Don't be afraid to ask questions in the kitchen and stand up for yourself. Most importantly, remember that opportunities are all around you.
HM: What is your favourite ingredient to work with?
Layan: Miso, as it is a traditional food that has supported the dietary life of the Japanese people for over 1,300 years. It's used in a variety of dishes, including soups, glazes, dipping sauces, salad dressings, stir-fries, stews, marinades and more! Miso adds umami, the strong savoury flavour associated with meat and aged cheeses. It is a popular ingredient in many vegetarian and vegan recipes, and it has health benefits too.
HM: Do you have a favourite recipe to share? 
Layan: Yes, Slow cooked rosy ruby fish in sweet butter ponzu topped with crispy leaks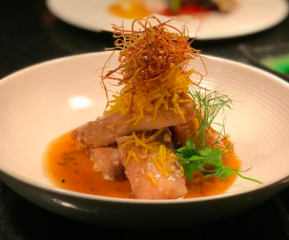 Featured Image: Slow cooked rosy ruby fish in sweet butter ponzu
Ingredients 
1 fillet of Ruby fish
1TBSP of Olive Oil
1TSP of miso paste
For the sweet butter ponzu
2TBSP of soy sauce
2TBSP of Dashi stock
1TBSP of yuzu or lemon juice
1TBSP of rice vinegar
1TSP of mirin
2TBSP of butter (for 4tbsp of ponzu sauce)
1 cup leaks
Oil for frying
Method 
Marinate the fish with a little Dashi and miso paste
Sear the ruby fish in a hot pan until golden brown
Place in an oven-proof dish with the olive oil and cook at 40°C for 15 minutes
For crispy leaks
Trim the leaks, cut in half lengthwise and wash thoroughly
Thinly slice into even pieces, about 2 inches long and pat dry before frying
Place the oil into a small fry pan or pot and heat over medium heat
Using a slotted spoon, lower the leeks into the oil. Fry the leeks for 1 to 2 minutes until they turn golden
Transfer to a plate lined with paper towel to drain
For the ponzu butter
Mix all sauce ingredients: soy sauce, dashi stock, yuzu or lemon juice, rice vinegar and mirin, to make ponzu sauce
Mix a 2:1 ratio of ponzu sauce and butter and bring to a boil
Remove the fish from the oven, add to the ponzu butter mix and simmer for 1 minute.
To assemble
Transfer the fish to the serving plate and add the ponzu butter on top of the fish, top with thinly cut crisped leaks. Usually this dish is served with Japanese plain rice.
Source link
[gs_pinterest id=1]