UK Travel
Why Mashatu really should be on your safari radar
Tucked away in the easternmost reaches of Botswana, nestled between the great Limpopo and Shashe rivers, is the ruggedly beautiful Mashatu Game Reserve. Some 31,000 hectares (76,600 acres) of privately owned, prime safari territory, within the greater Northern Tuli Game Reserve.  The Northern Tuli Game Reserve covers over 71,000 hectares and is itself incorporated into the Greater Mapungubwe Transfrontier Conservation Area, destined to provide 4,782 km2 of free-roaming wilderness.
Mashatu's remote location, obscured in the shadows of Botswana's famous Okavango Delta and South Africa's iconic Kruger National Park, means this area is relatively unknown to most safari enthusiasts. However, as is so often true in life, the path less travelled can yield some of life's greatest rewards. This particular "less travelled path" is no exception.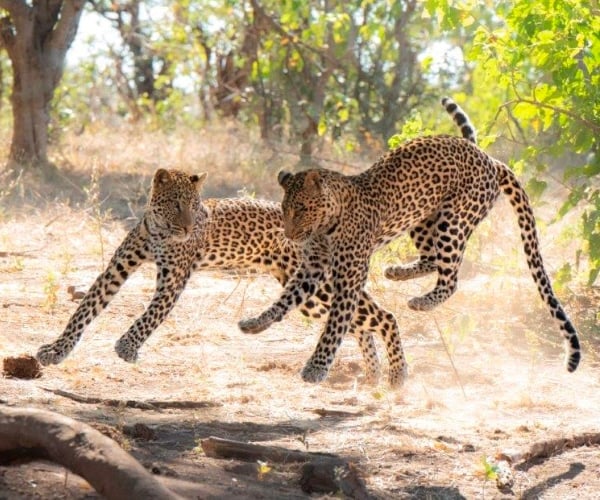 Despite being in Botswana, Mashatu is more readily accessible from South Africa. There is a daily light aircraft service from Johannesburg's Lanseria airport direct to the reserve. These complement regular scheduled services from Johannesburg OR Tambo to Polokwane from where a 2-hour road transfer will take you to Mashatu. Alternatively, why not explore the road less travelled in a little more depth and enjoy a self-drive road trip. The direct drive from Johannesburg OR Tambo airport would be around 6 hours.
Upon arrival in the Northern Tuli Game Reserve prepare yourself for an ancient landscape that has been home to some of the sub-continent's oldest civilizations. Beautiful rock art hidden in the towering rocky outcrops of the reserve pay homage to these early settlements. From the vantage point of these "koppies" you feel like you can see forever as vast grassy plains stretch out to the horizon. The plains scarred by lines of riverine thickets and peppered with majestic Nyala trees.
Reaching up to a staggering 30m high, these Nyala trees, locally called a Mshatu tree, are so synonymous with this land that Mashatu Game Reserve is named after them. The area has become known as the "Land of Giants", and the Mshatu trees sit proudly as part of the pantheon of giants. Perhaps fittingly, the name Mshatu is derived from the local word for python, who seek shelter and hunting opportunities in the trees, and are the undisputed giants of Africa's snakes.
The berries from the tree are a favourite of yet another giant of these parts, the world's largest land mammal, the African elephant. Mashatu is home to the largest free-roaming herds of elephant on private land. However, arguably, it is the giants of African cats that make Mashatu such a draw for safari enthusiasts. Lions, leopards, and cheetahs almost seem common in Mashatu. So much so that the "elusive" leopard is spotted almost every single day.
Not to be outdone on the giant front the world's largest antelope the eland, the world's tallest animal, the giraffe and the world's largest bird, the ostrich, all make the plains of Mashatu their home.
While Mashatu does not have the Big Five, as there are no buffalo or rhino on the reserve, it makes up for this in the abundance of large game that you are likely to see during any visit to the reserve.
Being a semi-arid area means that the vegetation is less dense than many other areas around the sub-continent, the grasses never get too high and the lack of rain makes the waterholes and rivers especially active. All of this makes the area home to some of the best game viewing you could ask for. It also makes it a fantastic year-round destination.
Over the past 24 years Mashatu has recorded an enviable 93% rain free days. This means that when much of Southern Africa is prone to frequent heavy rain in the middle of the wet season Mashatu stays much drier. This makes the reserve a very attractive safari destination to combine with Cape Town for its peak travel months of the January – March/April.
There are two 4* luxury lodges on the reserve. The lovely Tuli Safari Lodge Mashatu offers 8 gorgeous, tented suites in a wonderful setting along the banks of the great Limpopo River, on the parks southern border. Each suite is designed with classic "Out of Africa" safari style, think muted canvas, crisp white linens, billowing mosquito nets and wrap-around decks that allow you to drink in the verdant nature all around you.
Dining is a very serious affair at Tuli Safari Lodge Mashatu where their famous "moving tables" concept means that you will eat in a different location for each meal. This means you could be tucking into a private brunch on your own deck one day and dining out in the bush under the African night sky the next. And talking of night skies, the lodge has its very own star deck taking maximum advantage of very frequent clear skies.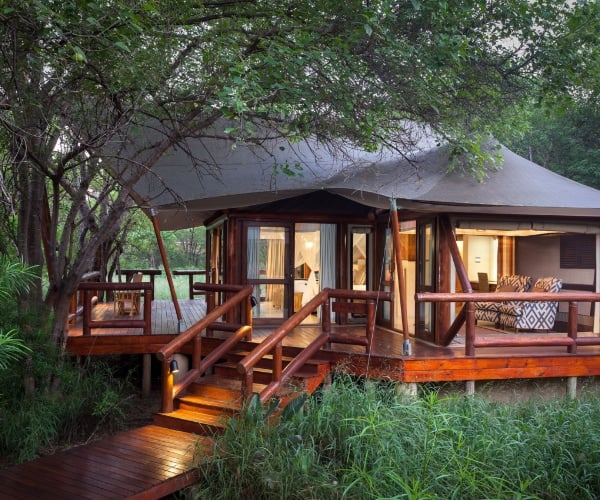 Children of all ages are welcome at the lodge and special children's programmes have been designed with them in mind, as well as a beautiful swimming pool and even a private hide to view the animals from the comfort of camp.
Across the open plains and on the northern side of the ephemeral Majale River lies the original Mashatu Lodge. Here you find 14 luxury suites strung out along the perimeter of the lodge, each with a private deck looking straight out into the African wilderness. Don't be surprised to look up from bed and find game right in front of your unit.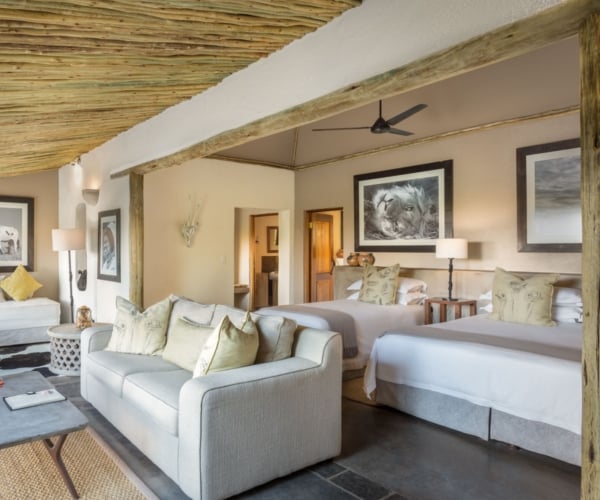 The air-conditioned units all beautifully marry classic safari tones with oversized black and white photography from the surrounding landscape. Sleek design gives the suites a modern feel without losing any of the comfort of a traditional safari lodge.
Children of all ages are welcome at Mashatu Lodge which also offers a special children's programme. While not out with a guide looking for the wonders of the bush the fascinating Discovery Room will keep kids (and adults) enthralled. When all the safari activities get a little too much just retire to the beautiful pool.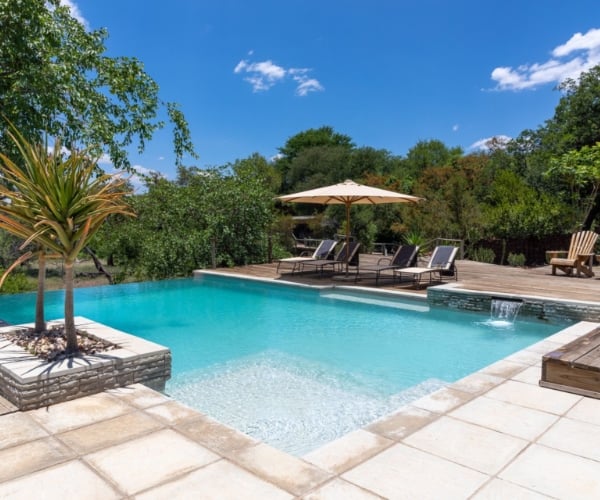 Or maybe just kick back and relax at the lodge's famous "Gin Trap" with views to the waterhole below, you might not even want to drag yourself away on safari. Although the smells emanating from the traditional "Boma" will surely get you out of your comfy chair for a sumptuous meal under the stars.
For those seeking the ultimate Mashatu luxury, head for the recently opened Mashatu Euphorbia Villas. Set atop a towering cliff with sweeping views along the Majale river below and onwards across endless miles of untouched Africa.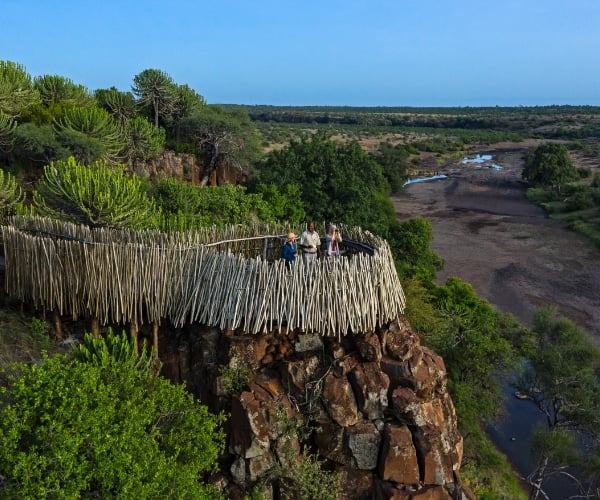 Mashatu Euphorbia Villas has just 8 beautiful villas, inspired in design by the pods of the Mopane tree. Each air-conditioned villa boasts beautifully appointed bedrooms, stylish bathrooms complete with inside and outside showers, and even a second "loo with a view" (with those views why wouldn't you?). All this is finished off with expansive decks and private heated plunge pool, creating your very own secluded safari paradise.
Expansive public areas are punctuated with hidden nooks and crannies allowing guests to be as sociable or as private as they wish. During the day the views from everywhere are spectacular. By night the up lit majestic candelabra Euphorbias draw your attention skywards to the diamond studded celestial show above.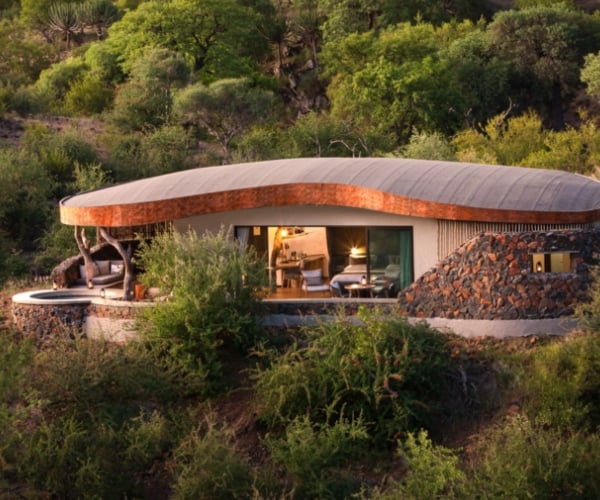 In keeping with the exclusivity of Mashatu Euphorbia Villas safari drives from the villas are restricted to only 4 people per vehicle. At the other 2 lodges a maximum of 6 guests are taken per vehicle ensuring everyone as a "window" seat, although the open vehicles an all-round unobstructed view.
---
IMPORTANT NOTICE:
If you are reading this article anywhere other than on A Luxury Travel Blog, then the chances are that this content has been stolen without permission.
Please make a note of the web address above and contact A Luxury Travel Blog to advise them of this issue.
Thank you for your help in combatting content theft.
---
Safaris from all lodges take place in the early mornings and late afternoons with the animals are at their most active and the chances of spotting game is greatest. This is the classic open-vehicle safari, however, guests at Mashatu have access to so much more than just the open vehicle safaris. There are options to replace your vehicle safaris with walking safaris, which allow you to really get a better feel for the bush, and a chance to stop and see all the minute detail that you miss while driving.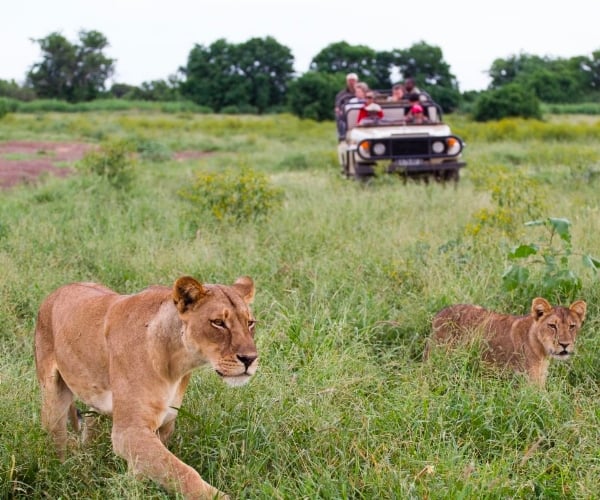 Another way to get close to the action is to visit the PhotoMashatu hide (operational March-November) – a purpose-built hide at eye level to a busy waterhole. This allows guests to get amazingly close to a variety of game, from lions and leopards to eland and elephant, as they come to drink.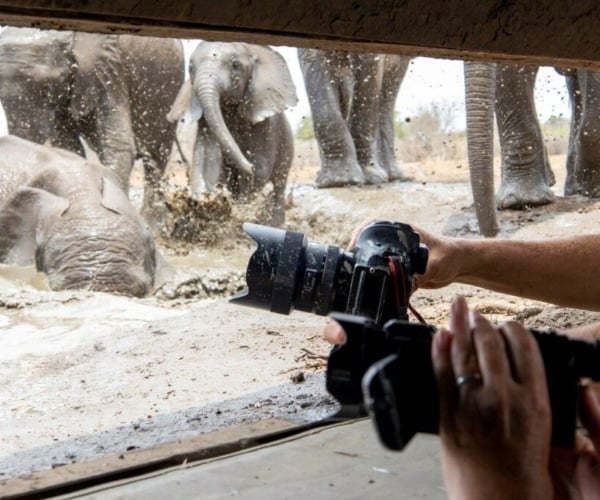 PhotoMashatu not only runs the hide, but they also have a resident professional wildlife photographer based on the reserve who can be engaged on a private basis by guests for private lessons or even to accompany guests on game drives to learn the art of photography (note private vehicle hire may be required).  Want to learn more but don't have the right equipment? No worries. PhotoMashatu also provides a selection of camera bodies and lenses for rental (note these are not available if staying at Tuli Safari Lodge Mashatu due to distance)
If you want to get closer to the action in a different way Mashatu offers two thrilling alternatives. Cycle Mashatu offers guests the chance to get out of the 4×4 and into the saddle of a mountain bike and head off with an armed and specially trained safari guide for a unique experience into the bush.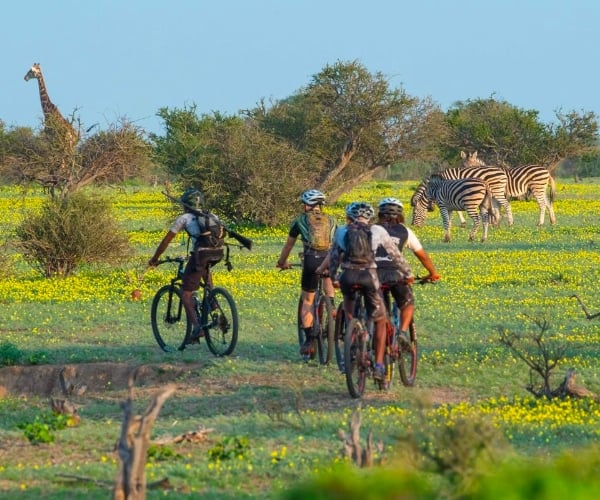 For an adventure on a different kind of saddle why not enjoy the exhilarating experience of a safari by horseback. The horse safaris are run by Horizon Horseback, arguably the most renowned safari horse riding company in southern Africa. This is the ultimate thrill for experienced riders only, as you really are out in the wild.
Let's see now, spectacular landscapes, luxury accommodation, glorious year-round climate, phenomenal game viewing with abundant predator sightings and an array of ways to experience your safari….why on earth would Mashatu not be on your safari radar?
Warwick Blow is Owner of Safari In Style. Safari In Style uses more than 50 years of personal experience to create tailor-made unique journeys through Africa's finest safari destinations.
If you would like to be a guest blogger on A Luxury Travel Blog in order to raise your profile, please contact us.