UK Travel
Visiting Snow Oman – the Middle East's largest snow park
Snow Oman in the Mall of Oman located in Muscat is a winter wonderland that offers light relief from the Sultanate's hot desert climate. If, like us, you're thinking of heading here to cool off this guide includes some handy information about visiting.
My girls had been asking to visit Snow Oman since it opened in December 2022. We saved the experience for the beginning of June when we all needed a break from the 40°C+ heat outside.
Oman's cooler months between October and March seemed a lifetime ago.
Does it snow in Oman?
Oman may be largely a desert country but yes, it does snow in Oman. During our first winter here there was snow on Jabal Shams in the Hajar Mountains.
But don't expect any natural snow showers on the coast in Muscat.
For snow in this part of the Sultanate you'll need to head to Snow Oman in the Mall of Oman.
What is Snow Oman?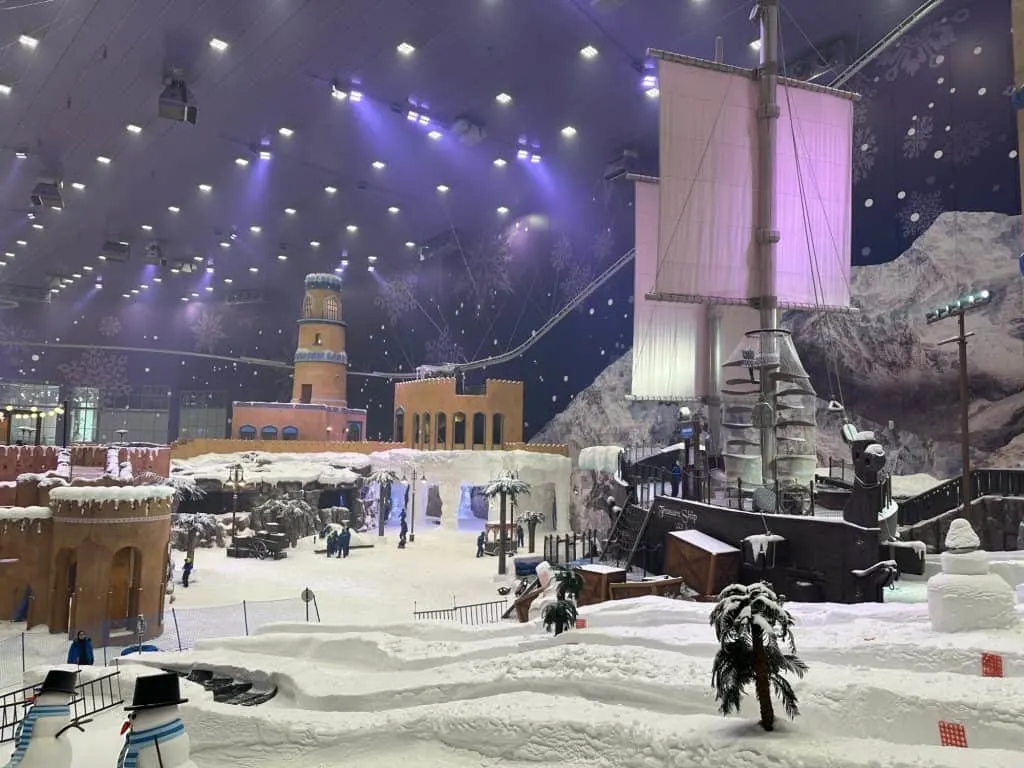 Snow Oman is the largest snow park in the Middle East. It includes 14,830 square meters of the white stuff chilled to a refreshing -4°C.
Inside there's more than 20 activities including ringo runs, zorbs, icy slides, an ice rink, an arial ride and snowy play areas modelled on Omani landscapes. There's a light house, forts and even a frozen Treasure Ship in homage to Oman's seafaring legend Sinbad.
Snow Oman is one of three snow parks run by the same company in the Middle East and North Africa with a fourth opening in Abu Dhabi soon.
Find more things to do in Oman.
How much does it cost?
When we visited in June 2023, admission cost between 12.5 OMR and 19.5 OMR (about £34 and £41) per person depending on the package you choose. There was also a two day pass for 21 OMR (about £43).
Children aged under three-years-old get free entry. They will not be able to go on all of the rides but there are slides and toboggans that you can pull them around on.
You can book in advance and print your micro chipped wristband at the self service machines at the entrance. Or you can buy your wristband on the day.
There's no discount for buying in advance.
Find the most up to date Snow Oman prices on its website.
What's included?
The basic snow park admission price includes a snow suit – a onesie for kids and jacket and trousers for adults – plus snow boots, socks, fleece gloves and a helmet for anyone under 130cm.
You can upgrade to different packages that include the arial Bullet Ride, ice skating, food and drink, water proof gloves and a penguin experience.
If you upgrade to include ice skating all the equipment – skates, knee pads, helmet and skating aids – are provided.
You can also pay extra for professional photos in front of a sign outside the snow park.
What to wear to the snow park
Your snow gear is included in the admission price but it's a good idea to wear long trousers, a long sleeve T-shirt and socks under your snow suit, especially if you feel the cold.
The kids' snow suits come with a hood but the adults' jackets don't, so bring a woolly hat if you want to keep your head warm. Hats are also available to buy in the ski shop by the changing area.
There are free lockers in the changing room where you can store bags and items of clothing that you don't need for the snow park.
There are also male and female only changing areas with private cubicles.
Places to eat at Snow Oman
There are two places to warm up with food and drink inside Snow Oman: the Winter Terrace Cafe overlooking the snow park or the Ski Lodge Restaurant next to the ice rink.
We can recommend a hot chocolate at the Ski Lodge – it's delicious.
You can also exit the snow park to eat at one of the many restaurants in the Mall of Oman and come back to the snow park later. Just put your ski clothes in one of the lockers and use your wristband to check back in.
Snow Oman's penguins
Snow Oman has a colony of six King and six Gentoo penguins, which were bred at Ski Dubai. Its penguins originated from San Antonio in the USA.
If you want to meet the penguins inside their 'penguinarium' you can add this to your package for 7.5 OMR (about £16) per person. Penguin experiences last for 30 minutes.
However, there is a viewing area in the main snow park where you can see the penguins without paying extra. The penguins come into the viewing area every two hours between 2pm and 8pm.
We also saw two of the penguins having a swim in the morning.
Snow Oman Bullet Ride
If you are afraid of heights it's not for you!
I had a go and loved it. You're secured in a harness and pulled up a short incline before coasting down a rail that winds and twists over the snow park.
If you've ever done a zip line you'll know the harnesses can chaff. This one is more like a seat. The harness is cushioned so it is very comfortable.
Be aware there is a maximum weight limit of 100kg for this ride. You're not told this before paying for your ticket so if you do buy 'Snow All Access' entry and weigh over 100kg you will not be permitted to ride.
Ice skating in Oman
The ice rink at Snow Oman is 475 square metres, which doesn't make it the biggest in Oman – Fun Zone at Qurm boasts a 1,100 square metre real ice rink – but it is in the most wintery setting.
All your skating equipment, including skating aids, is provided and there's no lower age limit for children.
What's the best age for visiting Snow Oman?
There is something for everyone to do at Snow Oman but I'd not recommend bringing a baby. It's just too cold for them. Toddlers will have fun in the snow but might also tire quickly.
Everyone aged three and over has to pay for entry to Snow Oman and under 15s must be supervised by an adult.
There's no discounts for children's tickets but if you know your kids wouldn't want to try ice skating or the Bullet Ride save money by buying them a 'Snow Park Pass'.
There are height restrictions for some rides. Our girls, aged eight and 10 and both taller than one meter 20 centimetres, were able to go on everything.
Younger children can play in the Snow Blocks area where you can build igloos and play on snow diggers. There's also a digger ride.
Around the rest of the park there's the Treasure Ship and frost covered play areas set in Omani-style buildings.
How long do you need?
Allow 20 minutes to buy your wrist bands and to change into your snow suits. At busier times this will take longer.
The best time to visit if you don't want to queue for snow suits and rides is at the beginning of the day. The snow park opens at 10am. It starts to get busy from 1pm.
Once inside we spent two hours exploring the park. This is the minimum time you'd should allow. We didn't do everything but had had enough time in the cold by this point.
Younger children may get cold sooner.
Your wristband is valid all day so you can go and come back.
When is Snow Oman open?
The snow park is open from 10am to 10pm Sunday to Thursday and 10am until midnight on Friday and Saturday.
Where is Oman's snow park?
You can find the entrance to Snow Oman on level three of the Mall of Oman. There are viewing windows on Level two and three as well.
We had a blast and would definitely recommend checking it out, particularly over the summer months.
More things to do in Muscat
If you've got more time to explore Muscat we can also recommend visiting the Sultan Qaboos Grand Mosque.
More things to do in Oman
When the weather allows we love days out in Oman's incredible landscape including its wadis.
Check out my post all about the Oman wadis we have visited and my guides to some of the most popular ones:
We also experienced the Hajar Mountains, the Wahiba Sands desert and the historic city of Nizwa during our Oman road trip. Read more about our seven day Oman itinerary and our top things to do in Oman.
Planning a holiday here? Read more about visiting Oman with kids in my comprehensive travel guide for families.
Source link
[gs_pinterest id=1]