UK Travel
Visiting Oman during Ramadan – what to expect
Ramadan Mubarak! Or Happy Ramadan! This is a special time to immerse yourselves in a Muslim country like Oman. But non-Muslims need to do some research if their travels cross over with the Holy Month. It is important to respect local traditions and laws when visiting Oman during Ramadan.
Having travelled and lived in Oman during Ramadan we know that expectations and laws aren't standard across the Islamic world. In this post I'm sharing some specific advice about visiting Oman during the Holy Month so you know what to expect as a tourist.
*This post contains affiliate links*
What is Ramadan?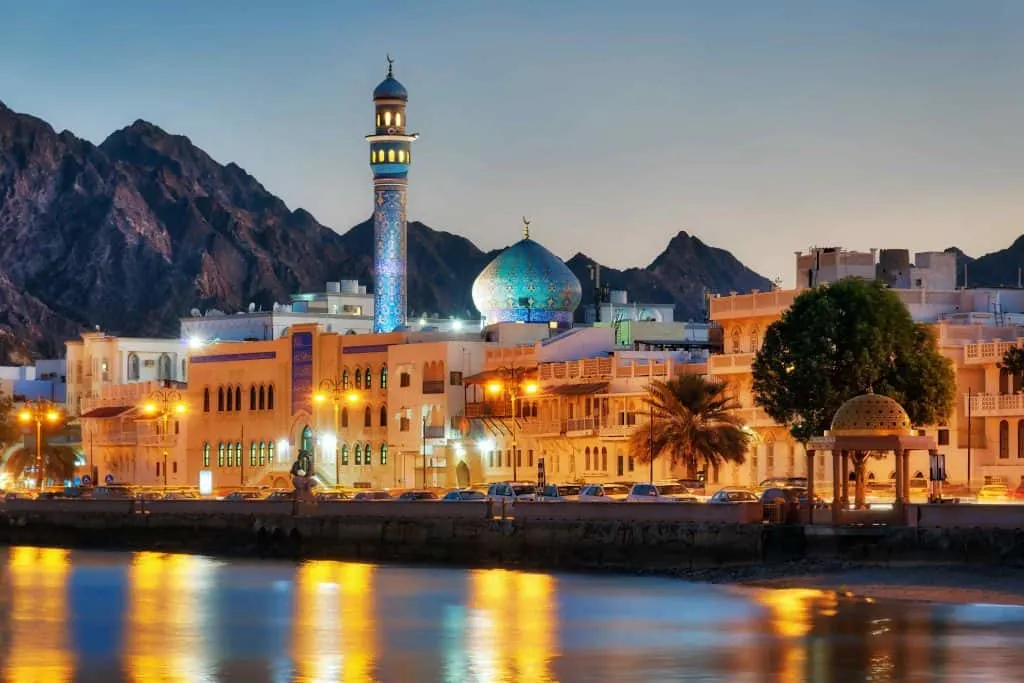 Ramadan is the ninth month in the Islamic lunar calendar and is regarded as one of the holiest months of the year.
It is a time for Muslims to focus on the Five Pillars of Islam:
faith in one God
prayer
almsgiving
fasting
and pilgrimage to Mecca.
The BBC has lots of information about Ramadan and there's some great resources for children on Twinkl.
You can also find plenty of children's story books about Ramadan* on Amazon.
Is it OK to visit Oman during Ramadan?
Yes. But you need to have a think about how much it might impact the kind of holiday or travel experience you'd like to have, especially if you are visiting Oman with kids.
Even non-Muslims we are expected to dress very conservatively and not eat or drink in public during daylight hours. 
So you want to experience Oman's luxury hotels* and are happy to explore in short bursts that do not necessitate eating out during the day then visiting Oman during Ramadan will not be too dissimilar to any other time.
However, if you want to go on all day excursions to Oman's wadis, set off on a road trip around Oman or enjoy a meal while browsing the souqs of Mutrah and Nizwa it might be worth booking to come at another time.
But please read on to find out more about Ramadan in Oman before you make your decision.
When is Ramadan in Oman?
The dates of the Holy Month of Ramadan change annually because the Muslim calendar is inline with the cycles of the moon.
Find out when Ramadan is this year.
If you visit Oman just before Ramadan you'll notice a sense of anticipation.
The shops are busier as everyone buys in their family's favourite foods, prepares their homes to receive guests and picks out new outfits.
You'll also see flags, lanterns and fairy lights decorating shops and malls. It's a big commercial event as well as a religious one.
What is Ramadan like in Oman?
Oman is the first Muslim country we have lived in so we were excited to experience Ramadan for the first time.
During the day everywhere is a lot quieter as people try to conserve their energy after a meal before dawn.
In the afternoon the roads become busier as people take advantage of shorter and staggered working hours so they can return home to break their fast with Iftar – a feast as the sun sets.
If you go out just before sunset you'll spot where people are gathering to break their fast. 
The roads around where we live in Muscat were lined with cars that had brought families dressed in their finest outfits and platters of food to share with the relatives and friends they were visiting.
Families also gather in parks and at the beach if the weather allows.
Even though Ramadan is a month long it flew by for us. In 2023 the Holy Month coincided with the Easter school holidays so we spent a few weeks out of the country and experienced Ramadan during a tour of Egypt.
What's open in Oman during Ramadan?
Most tourist attractions and malls are open during Ramadan, even the Sultan Qaboos Grand Mosque in Muscat. The only difference is some shops may have reduced hours, and cafes and restaurants will be closed until after dark.
Independent and family-run shops will be closed during the day and open in the evenings. The exception is Friday when some may remain closed.
Can you eat and drink in public during Ramadan in Oman?
Not between dawn and dusk. According to article 277 of the Omani Penal Code, anyone over the age of 15 found eating or drinking in a public place during daylight hours could be jailed for between 10 days and three months. 
This applies to Muslims and non-Muslims including tourists visiting Oman during Ramadan. So your sightseeing will be affected if you plan to be out during meal times or in hot weather.
Restaurants and cafes will be closed except in international hotels.
Under 15s, anyone who is ill, elderly or pregnant is exempt from fasting. Women who are menstruating are also exempt. But you won't see these people eating or drinking in public.
My best advice for eating and drinking while sightseeing is to be very discrete. Move somewhere totally out of view, even for a sip of water. If you are booking excursions with tour companies speak to them about food and water beforehand.
If you are seen eating and drinking the best case scenario is that you will cause offence, which no one wants to do when travelling to enjoy a different culture. The worst case scenario is you could be fined or put in prison, which would also put a huge dampener on your trip.
Are restaurants closed in Oman during Ramadan?
Yes. In general, restaurants and cafes are closed during daylight hours in Oman. A few international chains, like Starbucks, open for takeaways only. But they have a limited menu and you need to consume your food and drinks in private (back at your hotel).
Hotel restaurants are the only places that serve food during the day. They may have screened off areas to separate guests who are and who are not fasting.
At Iftar time each day, when people break their fast, restaurants reopen.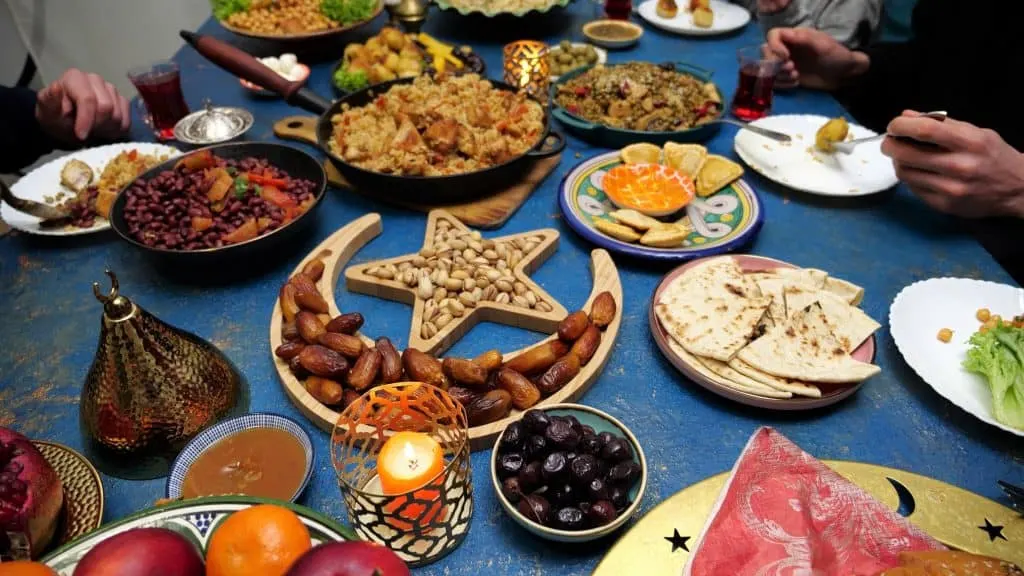 What about food and drink at the airport?
We travelled from Oman to Egypt during Ramadan so found out what Ramadan meant for food and drink in Muscat International Airport.
Once you are through security the food outlets and duty free shops in Muscat's Departures area are open as normal.
Does Oman Air serve food and alcohol during Ramadan?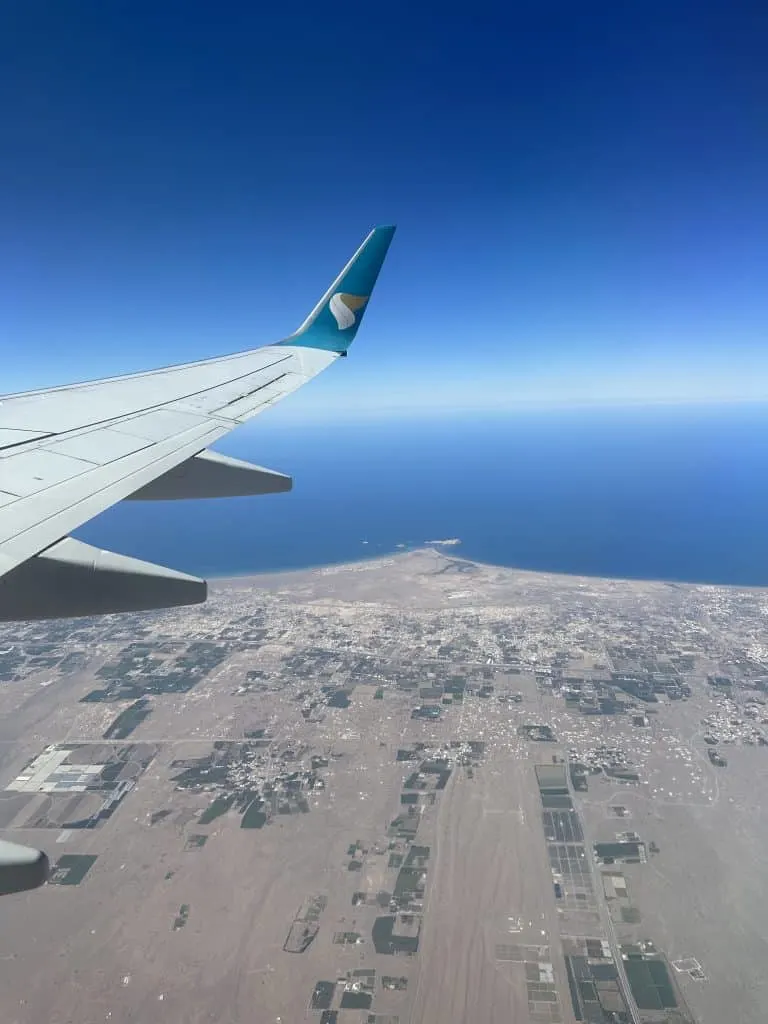 Yes. We took return flights from Muscat to Cairo with with Oman Air during Ramadan.
The flight crew continued to serve meals and drinks, including alcohol on request. We were even offered a meal after taking off from Cairo past 1am. During daylight hours passengers are asked if they are fasting before being offered anything.
If you are flying with an airline based in the Middle East it is a good idea to check their policies on food and drink during Ramadan.
What should you wear during Ramadan in Oman?
In Muscat, you could at least cover your knees and shoulders and not wear tight clothing during Ramadan.
I have gone beyond this since moving to Oman and regularly wear long sleeves, long dresses or trousers. So wearing conservative clothes during Ramadan doesn't feel too different to the norm.
In regions away from the capital, where there is a stronger sense of Omani tradition, more conservative clothing is expected. Come prepared with long sleeves and ankle length skirts or trousers.
We also dressed our children in long leggings and long sleeved tops when going out during Ramadan.
Head coverings aren't necessary for women unless you visit a mosque.
Where to book an Iftar
Something we didn't have time for during our first Ramadan was to go to an Iftar in Oman.
Hotels and restaurants lay on huge buffets where anyone can book a table. Iftars at the Crown Plaza Muscat* in Qurum and Olivos at the Radisson Blu Hotel* at Al Khuwair and Taybat at the Grand Millennium in Muscat* are all recommend venues.
Can you buy alcohol in Oman during Ramadan?
Alcohol is not generally available to buy in Oman's shops or supermarkets at any time. A license is required to visit special off licenses and these are only available to residents.
During Ramadan these off licenses are closed.
It is still possible to buy alcohol at the airport as you arrive in Muscat or Salalah.
Once you step outside the airport it is only possible to buy alcohol in international hotels and some may limit sales during Ramadan. Check with your hotel. 
Final thoughts on visiting Oman during Ramadan
Ramadan shouldn't stop you travelling to Oman but it's important to be aware when it is happening as it will impact your trip.
This is not the case in every Muslim country around the world. We had a different experience when visiting Egypt with our kids to what we saw day-to-day in Oman. Even across the Arabian Peninsular Ramadan plays out differently for visitors.
We have friends who took a trip to Dubai during Ramadan and said they hardly noticed. Only Muslims dressed conservatively and people were eating and drinking in public places.
Something really handy that I bought before we moved to Oman was the Lonely Planet Oman UAE & Arabian Peninsular* guide book. As well as information about things to do in Oman there's loads of great tips about customs and traditions.
Read more about visiting Oman with kids in my comprehensive travel guide for families.
Have you visited a Muslim country during Ramadan? What was your experience? If you're visiting Oman during Ramadan or any other time then I'd be happy to answer your questions. Comment below or drop me an email.
Disclosure: this post contains affiliate links marked with *. If you click on one of these links and make a purchase I mean earn some commission. This does not affect the price you pay.
Source link
[gs_pinterest id=1]