UK Travel
Oman with kids: a travel guide for families [2023]
Thinking of visiting Oman with kids? You've come to the right place for the low down on why this amazing Middle East destination deserves a place on your bucket list.
Within this comprehensive Oman travel guide for families I've included all you need to know to help you plan your trip, what to expect while you are here and the best places in Oman to visit with kids. It's all based on our personal experiences as an expat family living in Oman.
*This post contains affiliate links*
I've written this guide primarily for other UK families as I know they are my main readers. But there's plenty of information here for anyone visiting Oman with kids or without them.
I cover:
the compelling reasons by you should visit Oman with your family
things you need to know and do before you travel including visas, flights and what to pack
where to stay in Oman with family
what to see and do in Oman with kids
handy things to know about visiting Oman including behaviour, toilets and tipping
food and drink
health and safety in Oman
and getting around in Oman.
So let's begin!
Why visit Oman with kids?
If you're thinking a family holiday in Oman is going to be just like neighbouring Dubai and Abu Dhabi with their theme parks and skyscrapers, think again.
Yes, it has luxury resorts. But it is also a country of incredible natural beauty with rolling deserts, incredible mountains, lush gorges and a stunning natural coastline teeming with wildlife.
It's this diverse landscape that is the main attraction of visiting Oman for families alongside its rich cultural heritage dating back further than any other state in the Arab world. This reveals itself the more you explore.
We highly recommend hitting the road for at least a part of your holiday to get the most out of your time in Oman.
It is also a place for outdoor adventure. If your family is into anything from wild camping to canyoning or kite surfing to scuba diving, Oman is a brilliant winter holiday destination.
I'd recommend it more for families with children over the age of five if you want to experience the country's natural attractions. 
There are fun things for babies and toddlers to do but you'll be limited to indoor attractions and beaches to give your little ones some respite from the heat.
What is Oman known for?
I knew very little about Oman before we moved here, which is outrageous considering it has so many claims to fame.
So here's the skinny on Oman…
It was once a powerful empire that spread all over the Arabian Peninsular and across the Indian Ocean into East Africa including modern day Kenya, Tanzania and Mozambique.
As early as the 2nd Century AD Muscat played a pivotal role in the trade of spices, textiles and timber between Asia, Africa and Europe. Waves of merchants, as well as less welcome invaders from Persia, Portugal and the Ottoman Turk empire, have shaped the people and place across the centuries.
The mythical maritime hero Sinbad the Sailor is said to have been born in the Sofar in Oman.
The country's Dhofar region produces the finest frankincense in the world. You'll find this fragrant resin on sale in all Oman's souqs and used as incense everywhere from hotels to shopping malls and even in the airport.
Omani houses are known for their beautiful doors. Whether they are made of wood or metal you'll find them intricately decorated as people want to impress their guests from the moment they reach the threshold of their home.
Oman facts for visitors 
If your kids love trivia here's some facts about Oman to share with them:
Oman's monarch, Sultan Haitham bin Tariq, is also the government's prime minister.
Oman is the oldest established independent state on the Arabian Peninsular.
The Sultanate of Oman has a population of 4.5 million people.
The country covers 120,000 square miles, which is a similar size to Poland that has a population of 38 million people.
Oman shares the world's largest desert, the Empty Quarter, with Saudi Arabia, the UAE and Yemen.
No building in Oman is allowed to be higher than the tallest minaret of Sultan Qaboos Grand Mosque.
Is it safe to visit Oman with kids?
One of the most common questions I was asked when we decided to move to Oman was: 'is it safe?'.
It's a fair question considering Oman has borders with Yemen where there is an ongoing civil war and Saudi Arabia where there is a heightened risk of terrorist attacks. 
However Oman is a very safe country. Crime is low and it doesn't even rank on the global terrorism index for terror events or risk.
The Omani people are also famously very friendly towards visitors.
All of this not only makes it a safe place to visit with kids, it's also good for couples and solo travellers.
My only word of caution about visiting Oman with kids is about the roads. 
The standard of driving here is not what you might expect in the UK. 
Other road users can behave unpredictably. Pedestrians run across six lane highways. And road safety no-nos like tailgating, undertaking and not indicating are the norm.
Find out more in my guide to driving in Oman.
Best time to visit Oman
What you do during your family holiday in Oman will be dictated by the weather. But not like it would be in the UK and Europe. You need to switch your seasonal expectations on their head.
The winter is the time to get outside and explore, while the summer months are the time to find air conditioned activities.
If you want to make the most of your time in Oman I'd avoid the scorchingly hot months from May to August. Even the Omanis switch to an indoor lifestyle at this time of year.
Instead, visit between the end of October and beginning of April.
If you are visiting Oman with kids of school age it's likely you'll be limited to the Christmas, February half term, Easter and October half term holidays.
April is when the temperatures start to edge into the less comfortable early 30℃s peaking in the late 40℃s by June. They don't drop back down below 30℃ until the end of October.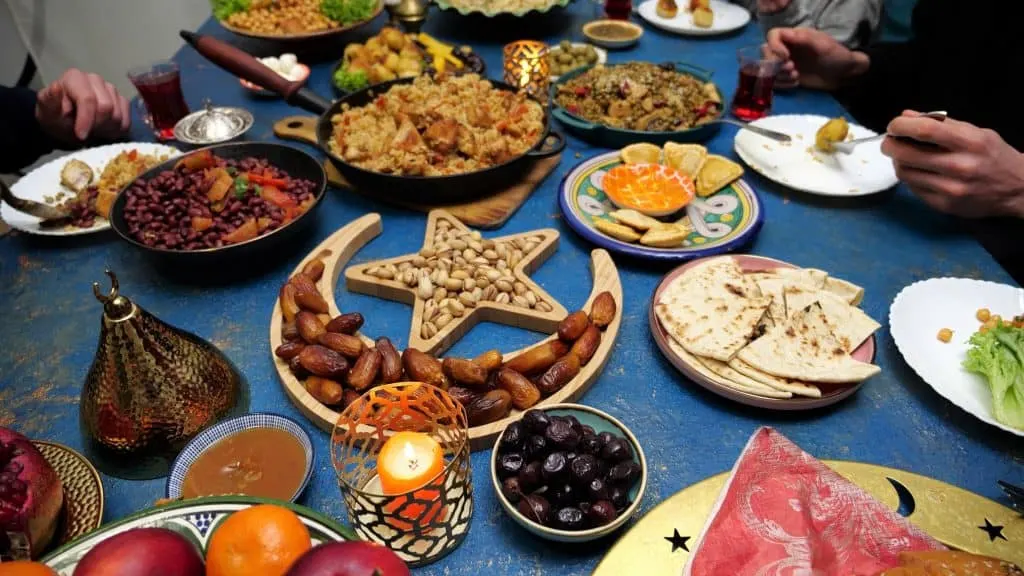 A month you might want to avoid, particularly if you plan to spend time experiencing some of the best things to do in Oman, is Ramadan.
Oman is a Muslim country where eating and drinking (even water) in daylight hours is not allowed during the holy month. It is much more conservative than the neighbouring UAE.
Not being able to eat or drink when sightseeing can make it uncomfortable, especially with children.
Find out more in my post about visiting Oman during Ramadan, including what to wear, where you can eat and drink, and what's open.
Oman travel guide: before you travel
Here's some information to help you plan your trip to Oman with kids:
Oman visas and travel documents
British citizens who travel to Oman for 13 days or less don't need a tourist visa. 
What you do need is: 
Passports – they need to be at least six months in date from the day you arrive. Check the gov.uk website for the latest entry requirements and travel advice.
Bring a photo copy of your passports as you may be asked for these at immigration and it's a good idea to have a copy with you at all times.
Your travel insurance – I always have a digital and printed copy with me.
A copy of your accommodation bookings.
Your return ticket or a booking for onward travel.
You'll be asked to show evidence of all of these for your whole family at immigration. Printed copies are best.
How to get a Oman tourist visa
If you plan to be in the country between 14 and 30 days you need a tourist visa. Your children need a visa to visit Oman too. The application process and price are the same.
You can apply for visas through the Royal Oman Police portal, which is the official visa application website. Other websites will charge you an admin fee.
On the home page select 'Apply for tourist visa', then answer the nationality questions. 
You'll be shown three types of visa. The majority of people visiting Oman for a holiday will want option 26B: Tourist Visit Visa. This allows you to visit Oman for up to 30 days and costs 20 OMR per person. 
The other options are for people who regularly travel to and from Oman.
When you apply you will need to upload a digital passport style photo no bigger than 512KB and a photo of your passport data page.
Visa applications are open to residents in more than 100 counties but the online form is only available in Arabic and English.
There are different rules for residents of Gulf Cooperation Council (GCC) counties.
Flights to Oman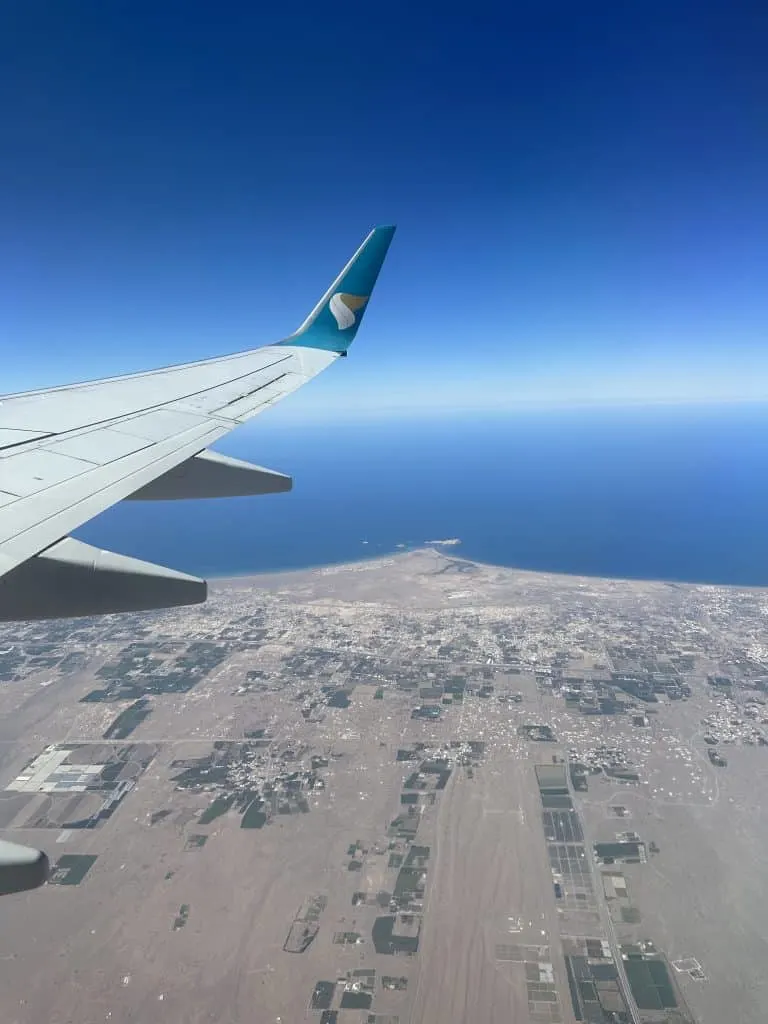 One of the biggest costs of any holiday to Oman, especially if you are coming from the UK, is going to be your flights.
Oman Air fly direct from London Heathrow and there are one stop flights from lots of regional airports in the UK.
The indirect flights via Istanbul, Frankfurt and other Gulf Cooperation Council (GCC) countries tend to be cheaper, but these can take a lot longer so you need to weigh up the savings verses the time you have.
We have found Oman Air to be a good airline with a generous baggage allowance, friendly crews, and good inflight meals and entertainment.
What's the currency in Oman?
Oman's currency is the Omani Rial or OMR.
One Rial was worth £2.06 at the time this Oman travel guide was published. Check the current exchange rate.
The equivalent denomination to the UK Pence (or p) is Baisa. There are 1,000 Baisa in one rial. Common notes include 100 Baisa, 1/2 Rial, one Rial, five Rial, 10 Rial, 20 Rial and 50 Rial. There are also Baisa coins.
You'll find most hotels and restaurants accept cards. But if you are visiting an area where there is limited mobile signal, such as Wahiba Sands, you need cash.
You'll find cash points at hypermarkets, in shopping malls and on commercial streets in the cities and larger towns.
Look out for signs for Bank of Muscat, National Bank of Oman, Bank of Dhofar, Sofar International, Oman Arab Bank, HSBC or Ahli Bank. 
Cash points that are accessible from the street are often tucked away in shelters or lobbies outside banks, so are not immediately visible.
What to pack for a holiday in Oman
Packing for a trip to the Middle East requires a bit more planning than for sunshine destinations in Europe and the Caribbean. A lot of this hinges on what you wear as well as a few items that will make your travels more comfortable.
Oman is a Muslim country where it is expected that you dress conservatively. If you bare too much flesh it will be seen as disrespectful. 
The only exception is if you are in a chain hotel where western clothing is OK. 
In general, strappy or vest tips are a no no and you should should keep knees covered.  
Here's some specific advice on what to wear in Oman:
What to wear in Oman for sightseeing
As I mentioned earlier, covering shoulders and knees is expected when out in public in Oman. 
Long or cropped trousers, t-shirts and shirts made from cotton with robust sandals or trainers are the ideal clothes for exploring. Don't forget your hat and sun glasses too.
Ladies: chub rub style shorts are your friend when wearing dresses in the heat!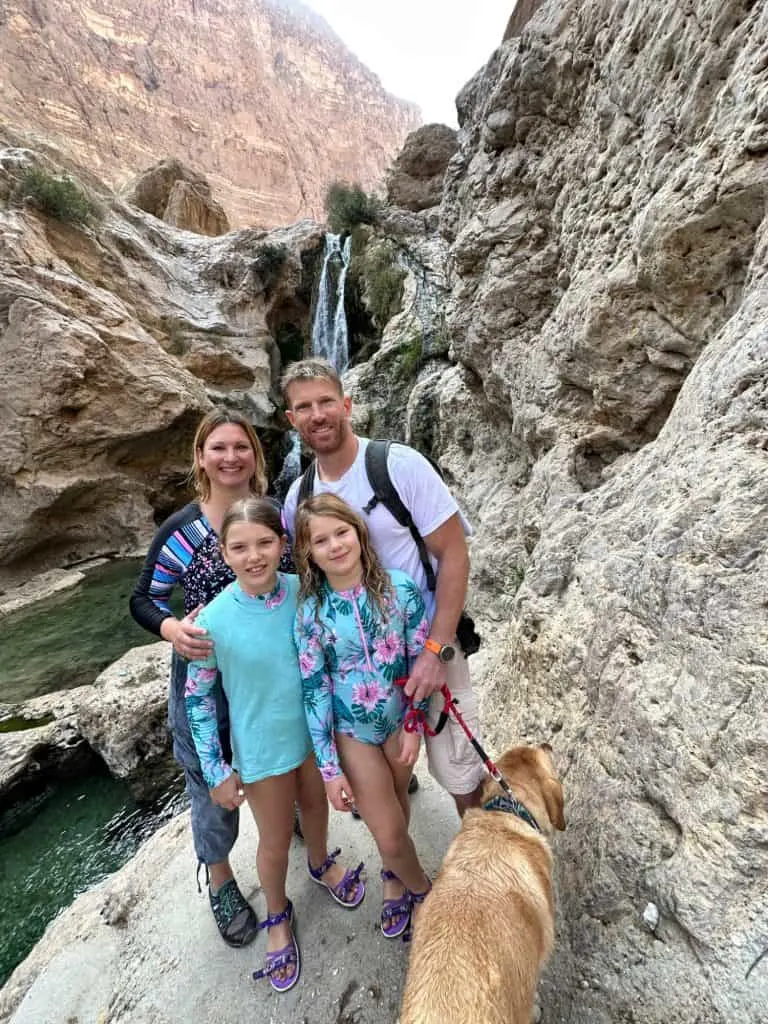 If you are planning on exploring the Sultanate's amazing landscape then you'll want to read my post about wadis in Oman where I provide more detailed advice on what to wear for outdoor adventures.
Long sleeve rash vests or swim suits are recommended.
What to wear at the beach
If you are visiting a public beach then it is expected that you cover up. Swim shorts and a rash vest are acceptable for men and women. 
Long sleeve, UV protective swim suits or rash vests for kids are a must for kids.
If you are at a private beach attached to a hotel you can wear western swimwear unless the hotel has specific rules about attire. 
Be aware that bikinis will draw negative attention as there will be guests from all over the Arabian Peninsular.
What to wear to the Sultan Qaboos Grand Mosque 
The Sultan Qaboos Grand Mosque is an awe inspiring place to visit in Muscat. But in order to step inside its grounds you must be wearing the right clothing. 
Men, women and children need to fully cover their legs and arms. Women must also cover their hair, so bring a scarf.
If you do arrive in clothes that don't meet these requirements you can hire an abaya (for women) or dishdasha (for men) at the entrance.
I'd recommend wearing shoes that are easy to remove. You'll need to take them off to enter the prayer halls. 
Read more about visiting in my full post about the Sultan Qaboos Grand Mosque. It includes lots of facts, things to look out for and a free activity sheet for kids.
What should children wear in Oman
Children under the age of puberty can pretty much wear what they like in most situations (the Grand Mosque is the exception). Just make sure it's practical.
We can recommend short sleeved t-shirts and long cotton trousers to keep children comfortable in the heat.
Hats and sun glasses are also a must.
Medication
If you use over the counter medication bring it with you as you may not find comparable medicines in Oman and leaflets are likely to be in Arabic.
If you take prescribed medication bring no more than a month's supply with you along with your prescription. Some drugs are banned in Oman so it's important to be able to prove what you bring is for personal use if asked.
Other things to pack for Oman
You can buy most things you might forget to pack. In my experience, there's always something that drops off the list!
However there are some specific things I'd advise bringing on your family holiday in Oman:
Packets of tissues and hand sanitiser – you'll need these for trips to public toilets. You buy these here but bring a stash to get you started.
Water shoes – handy if you plan to explore a wadi in Oman and for use at beaches and swimming pools where surfaces get hot.
Factor 50 sun cream – brands we recognise are very expensive here and cheaper alternatives have left us with sun burn.
Face and body creams – I have noticed whitening ingredients in many body lotions and face creams in Oman
Tampons – you can find plenty of sanitary towels in Oman's supermarkets but there are very few tampons available.
Swim shorts and rash vests – not only are these practical in the climate they are also more culturally acceptable.
If you are travelling with a baby then nappies, wet wipes and other essentials can be picked up in supermarkets. They are more expensive than in the UK, so bring some with you to save money.
Things like baby formula and food are available but the ingredients may be different in Oman, even if the brands are familiar. Rules on sugar are more relaxed here.
Also pack Calpol – this is not available in Oman. The alternative here is liquid Panadol and it tastes terrible.
Things not to bring to Oman
Here's some items not to pack in your bag:
Drugs – there are severe penalties for bringing any amount of narcotic drugs or psychotropic substances into Oman.
Do not bring e-cigarettes or vaping products to Oman – they are illegal here.
Drones – don't bring one unless you plan to apply for a license to use it in Oman (it will probably take longer to process the paperwork than you have in the country). Anything that looks like a drone or large camera will be picked up when your bags are scanned at the airport.
Pornography – leave copies of Play Boy and other 'light reading' at home.
Oman with kids: what to see and do in Oman
We are living in Oman for a few years but I think we're still going to struggle to see and do everything we want to in the time we have to explore.
Some of our favourite activities are in the great outdoors: wild camping, exploring the mountains and visiting Oman's wadis. Of course these are all winter activities when the weather is deliciously mild.
In the summer we spend a lot more time indoors and specifically in malls where there are a range of activities as well as shopping. Oman even has a snow park.
What to see in Oman 
The list is long! I've already written about our favourite things to do in Oman. 
But if I was to shorten that to a top five this would be our definitive list of what to see in Oman in kids:
Wahiba Sands
Seeing the sun sink down into the silky ochre dunes of Wahiba Sands is one of the most magical things to do in Oman and not to be missed.
The northern edge of the Wahiba or Sharqiya Sands dunes can be reached from Muscat in two hours by car. 
As well as enjoying the natural beauty of this 12,500 sq km desert you can book dune bashing, nature tracking and camel rides with local guides.
We can recommend staying at a desert camp for an overnight adventure. There are plenty of options from traditional Bedouin camps to sci-fi style domes.
Find Wahiba Sands Desert camps*.
Wadi Shab
If you want to experience Oman's extraordinary natural beauty Wadi Shab is a popular day trip from Muscat. It's about one and a half hours from the city centre by road.
Your visit includes a boat trip across the wadi entrance, skyscraper gorge walls, a fun hike, long clear pools and a cave you can swim inside to find a hidden waterfall.
Read more about why visiting Wadi Shab in Oman is such a special experience.
The Grand Mosque in Muscat
Sultan Qaboos Grand Mosque is one the list of most popular things to do in Muscat. And no wonder. Its architecture, scale and atmosphere are a heady mix that leaves a lasting impression on worshippers and tourists alike.
It took six years to build and when it opened in 2001 it boasted the largest handmade carpet in the world and the biggest chandelier. While the UAE has now claimed both records Muscat's grand mosque is still awe-inspiring.
Allow at least and hour and a half to explore. And make sure you wear culturally appropriate clothing.
Find out more, including tips for visiting with children, in my post about Sultan Qaboos Grand Mosque.
Daymaniyat Islands 
You'd be forgiven for thinking you'd be transported to the Maldives as you approach the vivid turquoise waters around the Ad Daymaniyat Islands.
This small archipelago 16km off the mainland is a protected area where turtles nest and whale sharks come to feed in the plankton rich water in the summer months. 
It's possible to take boat trips from Al Mouj Marina, Seeb Port and Muttrah Marina to snorkel and dive around the islands. Outside of the turtle nesting season (May to October) you can also land on the islands.
I can personally recommend boat trips with Daymaniat Shells.
Nizwa
The city of Nizwa in the Hajar Mountains was once the capital of Oman and a major trading hub.
Today it is famous for its iconic fort, souq and Friday livestock market where you can see people selling goats and cows.
All of this makes it a great place to base yourselves for a few days, especially if you are on an Oman road trip.
Close by you should visit Jabal Akhdar (Oman's 'Green Mountain'), Misfah al Abriyyin and Oman Across the Ages Museum.
Where to stay in Oman with kids
We have our own home in Oman but we have also taken off around the country for a seven day road trip and experienced some of Muscat's hotels.
Alongside this we have plenty of friends who have given us first hand recommendations on places to stay in Oman that we are keen to check out.
So, based on our experience and some hot tips from people we know, here's some accommodation options for anyone visiting Oman:
Where to stay in Muscat
Muscat is a long thin city that sprawls along the coast for around 50km with the Hajar Mountains at its back. Taxis aren't cheap and walking far isn't an option in the Arabian climate. So staying close to the places you wish to visit will save on your budget.
There's plenty of options for places to stay in Muscat* including international hotels, guest houses and self-catering apartments spread out along the length of the city.
Mid range budget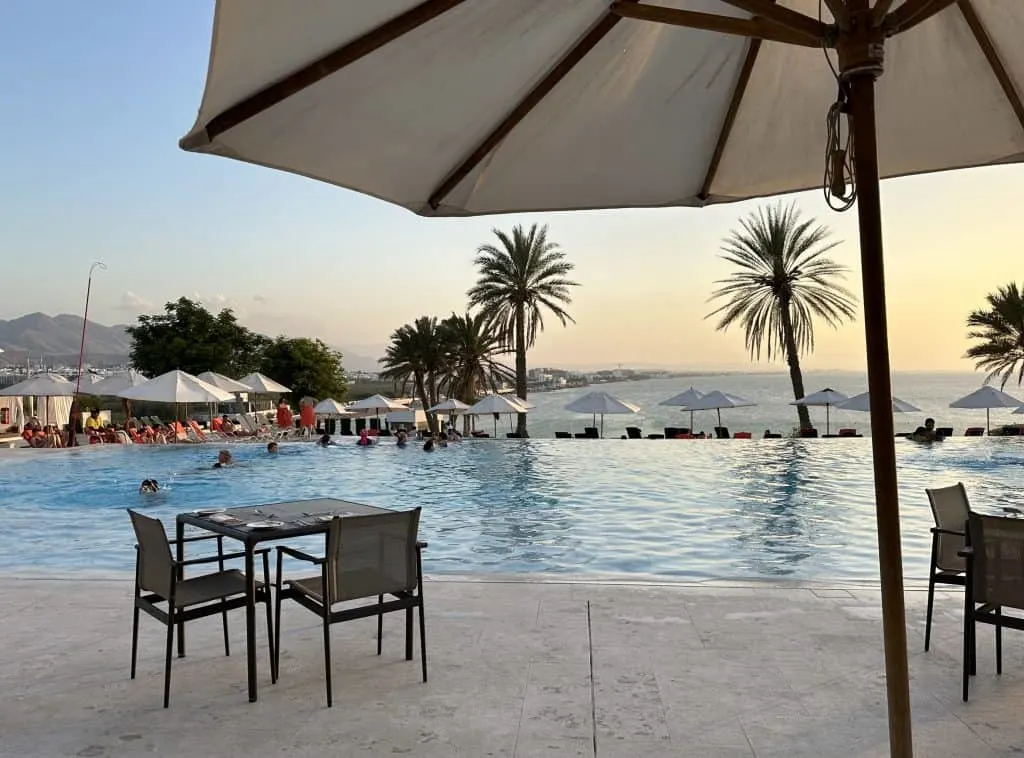 If you want to visit the Grand Mosque we can recommend the Crown Plaza Muscat*. It overlooks the sandy beach at Shati al Qurum and is a short taxi ride from the mosque as well as Muscat Opera House and the Children's Museum.
It also as a tempting buffet of international dishes.
The Sheraton* at Ruwi is a short hop from Mutrah Souq, the fish market, Corniche and port where you can find boat trips. It has mountain views, a great pool and beautiful restaurant serving international and Arabic dishes. 
High end budget
If you want to stay on the seafront the Kempinski* is a luxury hotel in Al Mouj were you are right on the beach. It's within easy reach of the marina where you can find lots of companies offering snorkelling, diving and boat trips.
We know it best for its happy hours at Zale Bar which overlooks the sea.
To the east of Muscat you'll find its most luxurious resorts including Shangri-La Barr Al Jissah, which is home to Oman's only lazy river.
The Shangri-La has two hotels. Al Waha hotel* is the most family-friendly with splash parks and waterslides as well as that lazy river. It's also right on the beach which is one of many places in Oman where turtles make their nests.
Where to stay in Nizwa
We can recommend staying in Nizwa to get the best start for the Friday market.
Valley Cliff Inn* offers two self-catering villas set in lush gardens with private swimming pools. We stayed here during our first visit to Nizwa and loved it. It's a short drive from the centre of Nizwa.
If you prefer a hotel the Antique Inn* comes highly recommended. It's a traditionally decorated hotel with swimming pool and is located just 200m from Nizwa Fort and Souq.
Where to stay in Wahiba Sands
Booking a night in the desert is a must.
For our first stay here we booked Desert Retreat Camp*. We wanted starry skies and huge dunes, and it delivered on both. As a bonus we could also bring our dog.
Desert Retreat Camp is one of the larger camps with an oval of 14 traditional goat hair tents, each with a private open roof bathroom. 
Check out some of the other options*.
Oman travel guide: what to expect while here
Here's some handy tips on what to expect when you are getting to know Oman and its people.
Acceptable behaviour and what not to do in Oman
Western tourists unfamiliar with Middle Eastern customs need to be aware of what to do and what no to do in Oman.
Here are some more tips about behaviour:
Men and women should not hold hands or kiss in public. It's perfectly acceptable to show affection towards your children.
If you are invited to enter someone's home take your shoes off at the door.
Don't show the soles of your feet when you sit down – no mean feat on a traditional Omani floor sofa.
Eat with your right hand. Your left is for cleaning yourself.
Women should only shake hands if they are offered a hand.
Toilets in Oman
When you are staying at a hotel or visiting a shopping mall you will find western style pedestal toilets accompanied by a 'bum gun' and toilet roll. 
Everywhere else you are likely to find traditional squat toilets with a bum gun. Bring your own supply of toilet roll and hand sanitiser if you are exploring more rural areas.
Hold on, what's a bum gun? 
It's not it's official name but it's an appropriate one. 
The bum gun – a hose with tigger activated nozzle – is for giving yourself a clean after ones and twos. 
But be ware, they can be quite vigorous. There's often no toilet roll to dry off afterwards so a miss-placed squirt could give you a more thorough clean than you bargained for.
Obviously, don't let small children play with the bum gun – easier said than done when you're crammed in a cubicle with little ones.
Tipping in Oman
Tipping is not expected in Oman but you can do it at your discretion for good service. 
It's more common to tip staff in hotels and restaurants or travel guides and drivers. Ten percent is a fair starting point.
Plug sockets in Oman
Oman uses British-style 220/240 AC volt three pin plug sockets.
If you have electronics with different plugs bring a travel adaptor*.
Oman events and important dates
Oman holidays are announced by the government in the days before they are due to happen. This means some dates may vary.
On these dates you can expect independent businesses to be closed for all or part of the day:
11 January – Sultan's Accession Day – a national day off
February – Prophet's Ascension – a national day off (the date moves annually with the Muslim calendar)
September – the Prophet's birthday – a national day off (the date moves annually with the Muslim calendar)
18 November – Oman National Day – a national day off
This list does not include Ramadan, Eid Al Fitr or Eid Al Adha. These dates move annually with the Muslim calendar.
Check when Ramadan and Eid are expected this year.
The best souvenirs
If you want to bring home some authentic souvenirs for you and your kids then head to a souq. Muttrah in Muscat and Nizwa Souq are the best we have been to.
Incense and incense burners are a lovely reminder of your travels in Oman. You'll smell frankincense burnt everywhere here.
If you have a bit more room in your luggage then Arabic lanterns or Omani pottery will make wonderful talking points in your home.
A fun souvenir for kids is a kummah – the traditional Omani cap worn by men. They are decorated in colours and patterns to represent different family groups.
If you want a treat then Oman is famous for its silver. It is priced by its weight.
At the budget end of the souvenir market, but piece of Omani heritage no less, baskets weaved from palm leaves are another lovely thing to bring home as a reminder of your time in Oman. Dates and halwa (see traditional Omani food below) are also fun
Oman travel guide: food and drink
Oman's cuisine follows the Arabic style with Asian influences. Traditional menus include rice, spiced meats, flat breads, salad, coffee and dates.
Some traditional Omani food to try
Majboos is a plate of basmati rice with aromatic spiced meat. It's not too 'hot spicy', so our kids enjoy this dish. 
Chicken, beef and lamb can all be used in majboos but not pork because Oman is a Muslim country. You'll not find it served anywhere.
Something else kids will enjoy is mishkak – kebabs. They are marinated in aromatic spices and go well with flat bread or chips. A real child pleaser!
If your kids are at all sensitive to spices ask for a non-spicy dish and the restaurant staff will be able to recommend something. We've honestly found Arabic dishes here are not too spicy.
But, if you do have fussy eaters chips are always on the menu. You'll also find plenty of fast food chains you recognise in malls and at drive-throughs.
Visit Oman between Spring and Summer and you'll see dates growing on palm trees. These have been a staple of the Omani diet for centuries.
Our girls are not huge fans of dates or Omani sweets like Halwa. This is a thick jelly like confectionary often made with semolina, oil, sugar, cardamon, milk, nuts and sweet flavourings. But you've got to try it! 
The food souq in Nizwa has plenty of stalls selling Halwa and they are happy to offer samples.
Something more up our kids' street is a fruit-filled smoothy. These are available everywhere and are a better option than ice cream in more rural areas where power cuts are common.
Can you drink alcohol in Oman?
Who can blame parents for wanting a glass of something refreshing at the end of the day? But if you enjoy wine, beer or cocktails you may be wondering if alcohol is served in Oman.
Drinking alcohol is not illegal in Oman like it is in Kuwait and Saudi Arabia, but there are strict rules about where you can buy and consume it.
You won't find alcohol available to buy in supermarkets like you would in the UK. 
Visitors can find alcohol in Oman's international hotels. It is less likely to be available at independent inns and accommodation with restaurants.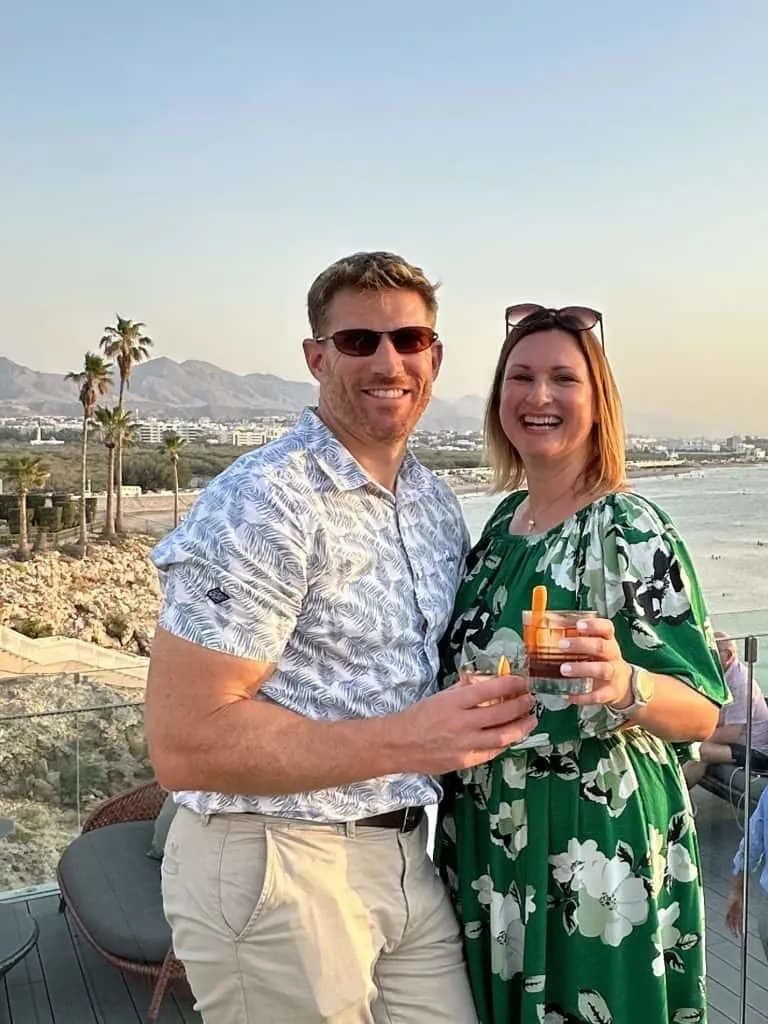 If you want to bring your own booze, you can pack a well wrapped bottle in your suitcase. It's also possible to buy up to four litres per person (over the age of 21) at the airport when you arrive.
Expats and Omanis can buy alcohol from designated shops if they have a license. That's a license for the individual not just the shop. These must be applied for from the government, so is not an option for tourists.
So if you are visiting Oman the only real way to buy and consume alcohol, should you wish, is by buying it at the airport or at an international hotel.
Oman travel tips: health and safety 
I'm not a medical expert but I can point you in the direction of advice about staying well and safe in Oman with kids.
Vaccinations for travel to Oman
We were up-to-date with all of our routine vaccinations before we travelled to Oman from the UK so didn't need anything extra. However things can change.
Find out about the recommended vaccinations for Oman on the Travel Health Pro website.
Drinking water
We try not to advocate plastic bottles, but we find them a necessarily evil in Oman.
Tap water is only safe to drink if it has been boiled. 
But we do use tap water to wash our hands and brush our teeth without worry.
Sun protection
This is a really important point for families visiting Oman. Bring plenty of sun cream from home and apply it often. We haven't found a good family-friendly sun cream here yet.
We have been able to order day glow zinc stick sun block* from Amazon – the kids love wearing this.
Also bring hats, sun glasses and UV protective swimwear for the whole family.
Insect bites
The risk of malaria is low in Oman but there is dengue fever. This flu-like virus is spread through mosquito bites, so use plenty of insect repellant containing DEET. There is no vaccination available.
If you feel unwell during or after your trip seek medical advice.
Snakes and scorpions
Oman has venomous snakes and scorpions, so be aware of this if you are hiking or wild camping. They may be hiding under rocks or, in the case of snakes, basking on top of them.
You are less likely to see scorpions in the autumn, winter and spring as they hibernate in burrows.
However, during the summer they come out to find cooler places to hide including air conditioned places. We had one inside our house a few days before I published this guide, so nasty beasts are at the very front of my mind.
Having said that, I only saw one snake and one scorpion during our first six months in Oman.
If you are bitten or stung seek immediate medical assistance at a hospital. Do not wait for an ambulance if you can make your own way as ambulances are not staffed with paramedics, just drivers.
Wild dogs and cats
There are wild dogs in Oman or 'wadi dogs' as they are called here. But unlike places like Egypt where they are relatively tame and roam almost anywhere, in Oman they are controlled in populated areas. 
If you do find yourselves in the suburbs or a wadi close to a town or city you may come across wadi dogs.
You should avoid them completely as they can be aggressive and carry parasites. 
Cats should not be petted for the same reasons.
Oman travel guide: getting around
Getting straight to the point, we'd recommend hiring a car if you intend to travel beyond Muscat when you visit Oman with kids. 
Public transport is available but you'll find it isn't as frequent or as user friendly as in the UK, Europe or Asia.
Here are each of the options for getting around in Oman so you can work out what's best for your family:
Taxis
Taxis are a convenient option for getting around urban areas. But in the capital Muscat there is a lot of city to cover, so they can get expensive.
There are several licensed taxi services in Oman and they all have booking apps. If you plan to use taxis regularly during your stay then its worth downloading one of these apps.
The taxis you'll see most are orange and white Otaxis and blue and white Marhaba taxis.
All orange and white taxis in Oman are metered, so make sure your driver is using their's before you set off. Other on demand taxi services will offer a set price. Confirm this in your taxi app and with the driver before you start your journey.
If you want to get a taxi from Muscat International Airport you can find them outside the main terminal building. 
Public transport
There are no trains, trams or subways in Oman yet (plans are in the offing) but you will find buses in the cities and coaches travelling between them, including coaches that connect Oman with the UAE.
Oman's public transport is run by Mwasalat. You can find and book a coach on the Mwasalat website.
For bus services in Muscat use the Moovit app to find routes.
There is also a bus service in Salalah.
Hiring a car in Oman
Unless you're a family on a slow travel adventure you're probably limited for time. This is why we recommend hiring a car if you are visiting Oman with kids.
This will give you more freedom and allow you not to be tied to timetables. You'll also be able to see more of the country.
You can hire vehicles of all sizes from Europcar, Enterprise, Dollar, Budget and Alamo at Muscat International Airport and Salalah International Airport.
To hire a car you'll need your UK or home country drivers license, your passport, a credit card and your Oman Visa. You don't need an international driving permit.
You can drive on a UK license for three months, so that's more than enough for a seven or 10 day road trip.
If you are headed to the mountains you will need a 4×4, even if you don't intend to go off road. 
The main mountain roads are steep and windy, and there are police check points at the bottom where they stop you to make sure your vehicle is fit for the journey.
Have a read of my guide to driving in Oman for more information and tips about getting behind the wheel here.
Compare prices* and find the right vehicle for your family.
Child car seats in Oman
If you're visiting Oman with kids under the age of four it is a legal requirement for them to have a car seat in private and hired cars as well as taxis. 
If you are hiring a car you can check with the rental company whether they can supply a seat.
However I'd strongly advise you to bring your own, especially for children over the age of four. As these are not a legal requirement in Oman they are not widely available for older children.
Airlines will allow you to bring a car seat per child for no additional charge. Buy a car seat bag for some extra protection. 
We can recommend the Roam and Rove car seat bag*. It has ruck sack style shoulder straps so you can carry your seat hands free at the airport.
More essential reading before visiting Oman with kids
As well as reading my blogs about Oman I can recommend buying the Lonely Planet guide* to Oman, UAE & Arabian Peninsular. I bought this before our move here and found it invaluable as an introduction to the country and culture.
Disclosure: this post contains affiliate links marked with *. If you click on one of these and make a purchase I may earn some commission. This does not affect the price you pay.
Source link
[gs_pinterest id=1]