UK Travel
Driving in Oman: what you need to know
Let's get straight to the point: if you're thinking of visiting Oman we'd recommend hiring a car to fully immerse yourselves in this incredible country. But what is driving in Oman like? In this post I'm sharing what you need to know based on our experience living here.
*This post contains affiliate links*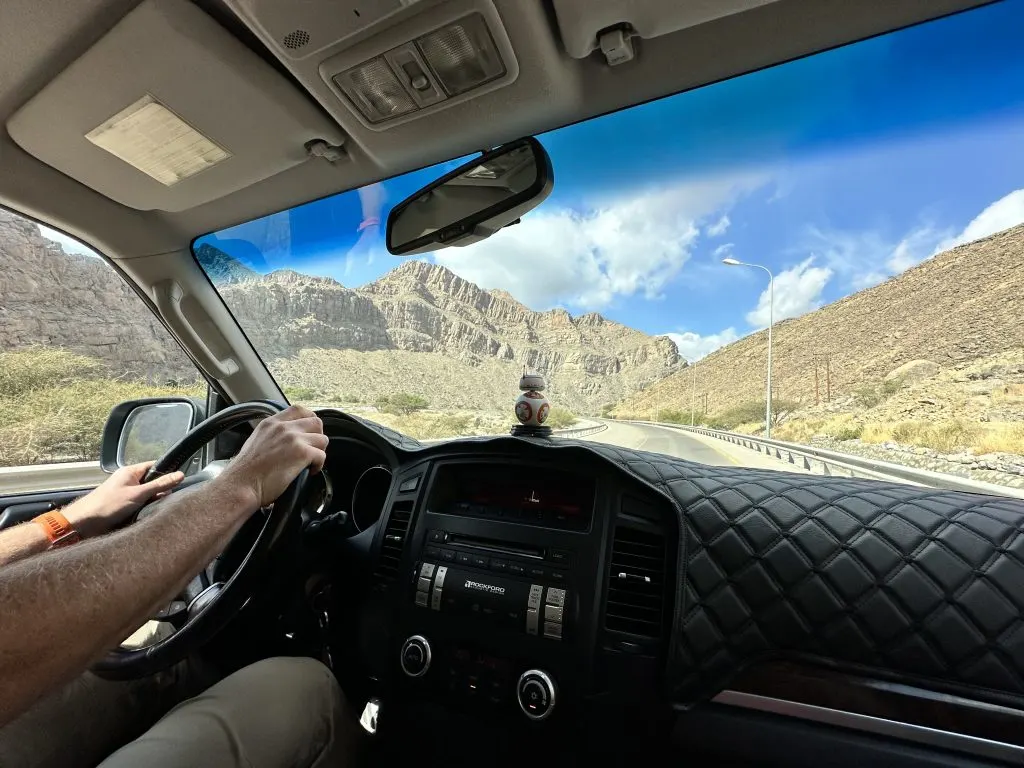 During our first six months in Oman we drove in the cities, on rural highways, in the Hajar Mountains and in the desert.
We completed a seven day road trip, drove from Muscat to Barr Al Hickman across salt flats and travelled Oman's roads after tropical downpours and during the 50°C heat waves.
Even after all this I'd not call us experts. We've travelled with friends and guides when going off road and would advise other people to do the same.
We also have plenty more places to see and things to do in Oman. But if you're here for a week or two this post will give you insight into the rules of the road and what to expect.
Need help planning other aspects of your trip?
Read my Oman travel guide.
Is driving in Oman easy? 
When we moved to Oman we were warned that driving here can be tricky. As UK drivers there's not just the switch from the left side to the right side of the road to consider.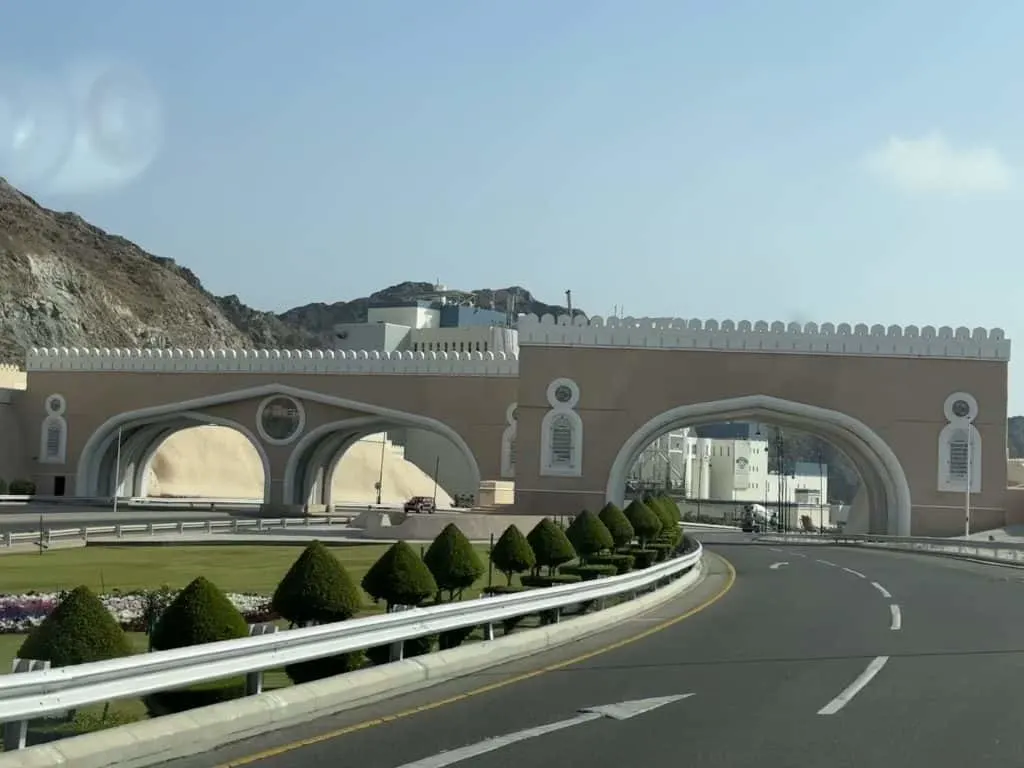 Until 40 years ago there were very few roads in Oman, so they are mostly in good condition. But rapid development of the road network means some of the layouts are spaghetti-like, particularly junctions along the urban highways.
Most road signs are in Arabic and English so are easy to read. But expect the spelling of place names to vary between your map app/SAT NAV and signs. 
Sometimes the same place can be spelt differently on signs at several points along the same road.
For navigation we have found Waze to be the best app. But you will need a cost effective data roaming package or a local SIM card. You can pick up a SIM from the Omantel kiosk just after security in Muscat International Airport.
If you prefer to be off grid, you can download Google Maps but we've found even the live version isn't that up-to-date. 
Top tip: Be aware that in car mobile phone holders are illegal, even if you are using your phone for navigation. You'll need a good navigator in the front passenger seat to help you route find.
Is driving in Oman safe?
There are strict road safety rules in Oman and the number of accidents on Oman's roads has been decreasing according to government statistics. 
However, 434 people were killed in collisions here in 2021 compared to 1,558 in the UK in the same year. The population of Oman is less than seven percent of the UK's, so there's clearly extra risk to driving in Oman.
From our experience driving here every day, we have found the Omani driving style can be erratic.
Expect other drivers to manoeuvre without indicating. Cars will pull over on the side of the highway and then rejoin the carriageway without checking their mirrors.
Tailgating is common, as is undertaking and mobile phone use while driving. All these things have been made illegal in recent years but in practice they still happen.
Something you're extremely unlikely to see is road rage. Omani's only honk their horns in extreme circumstances (it's also illegal to honk without good reason). So, keep calm and keep your wits about you.
Hiring a car in Oman
Unless you're a family on a slow travel adventure you're probably limited for time. This is why we recommend hiring a car if you are visiting Oman with kids.
This will give you more freedom and allow you not to be tied to timetables. You'll also be able to see more of the country and maybe even experience wild camping.
You can hire vehicles of all sizes from Europcar, Enterprise, Dollar, Budget and Alamo at Muscat International Airport and Salalah International Airport.
To hire a car you'll need your UK or home country drivers license, your passport, a credit card and your Oman Visa. 
If you are headed to the mountains you will need a 4×4, even if you don't intend to go off road. The main mountain roads are steep and windy, and there are police check points at the bottom. They stop you to make sure your vehicle is fit for the journey.
Hire cars won't necessarily come with sat nav, so make sure you have an alternative means to navigate whether that's a paper map or a navigation app. But don't forget that mobile phone holders are illegal.
Compare car hire prices*
Can you drive in Oman with a UK license?
Yes. As a tourist you can drive in Oman for up to three months on your UK license – that's more than enough for a seven or 10 day road trip. You don't require an International driving license for Oman.
If you're travelling from another country check the requirements with your Foreign Office.
Speed limits in Oman
Speeding is the main cause of accidents in Oman so you'll find lots of mechanisms in place to deter drivers from being too heavy with their right foot.
All cars are fitted with an alarm that will beep at you if you go over the maximum national speed limit of 120 kmph. This is the limit on major highways.
On urban roads the limit is usually 50 kmph. 
There are loads of speed cameras on the highway and traffic light cameras on smaller roads.
However, there's only minor penalties for speeding. Get caught and the fine is 20 OMR.
Traffic lights
The traffic light sequence in Oman is slightly different to the UK. When the lights are green they will flash green before going to amber and then red. Do not be tempted to squeeze through on a flashing green light. As they change very quickly.
When stopped at traffic lights the sequence will go from red to amber to green as you might expect in the UK. Again, don't move off until the lights go green.
The timing of the traffic lights can also vary depending on the time of day and weight of traffic.
On large roundabouts you may see the traffic lights flashing amber. This means that the roundabout is not being controlled by the traffic lights at that time. These tend to be roundabouts that get busy during rush hour.
Driving through a red traffic light carries a penalty of up to 500 OMR and up to a year in prison. There are cameras at almost every set of traffic lights.
Stealth speed bumps
Speed bumps are common on smaller roads and they can creep up on you without warning.
They can vary in size and there are rarely signs to warn you about them. Often the yellow stripes are completely warn away making them very hard to spot.
If you're really lucky you might even come across double bumps.
So, keep your eyes peeled.
Child car seats in Oman
If you're visiting Oman with kids under the age of four it is a legal requirement for them to have a car seat in private and hired cars as well as taxis. 
If you are hiring a car you can check with the rental company whether they can supply a seat.
However I'd strongly advise you to bring your own, especially for children over the age of four. As these are not a legal requirement in Oman they are not widely available for older children.
Airlines will allow you to bring a car seat per child for no additional charge. Buy a car seat bag for some extra protection. 
We can recommend the Roam and Rove car seat bag*. It has ruck sack style shoulder straps so you can carry your seat hands free at the airport.
Going off road in Oman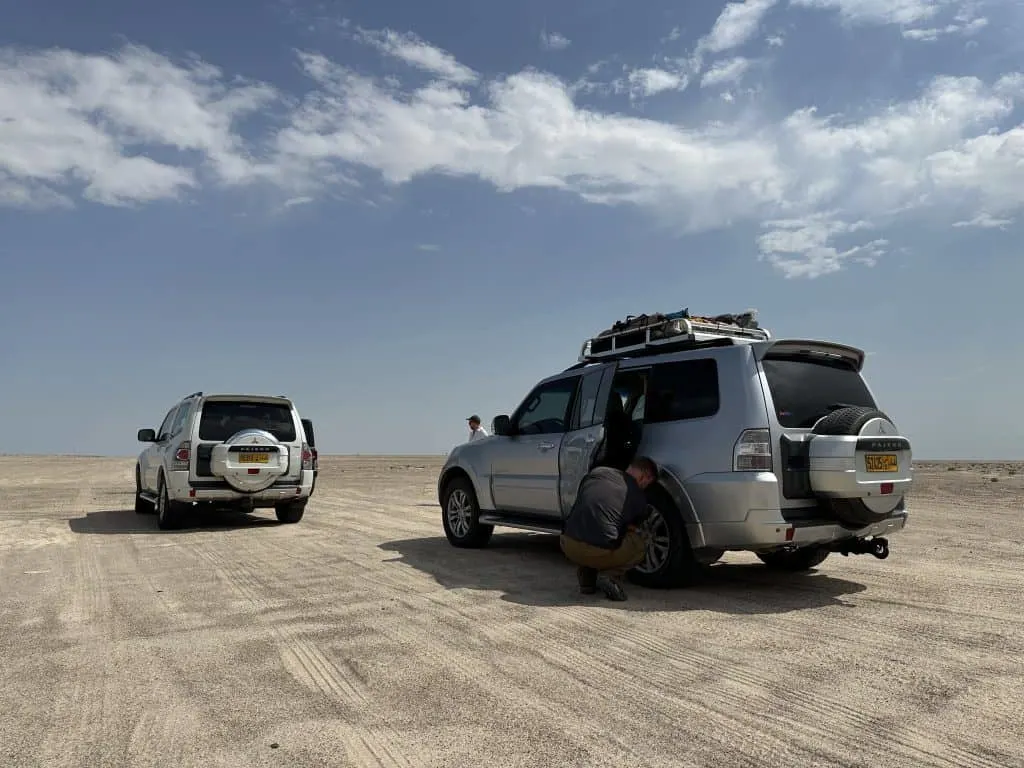 If you fancy an off road adventure in Oman it's best to organise these with a guide or tour company.
We booked a guide to go off road across the salt marshes to camp on the white sands of Barr Al Hickman.
You could find yourself in a risky situation going off road and getting stuck in the desert or mountains. You might also find your car hire company prohibits you from off roading.
Goats, camels and pedestrians
You'll find them all on Oman's roads – the camels and goats more so outside the cities. The goats are a regular feature at Wadi Shab.
In Muscat it's common for pedestrians to cross roads in dangerous places, even six lane highways, rather than walk to the nearest underpass or foot bridge. Watch out for them dodging between traffic.
Parking
There's lots of free parking in Oman. You won't be charged at tourist sites or in the shopping malls. 
Parking in commercial areas like Muttrah Corniche is free on Fridays and Saturdays but not in the working week, so keep an eye out for signs. You'll need to pay by phone.
Fuel prices in Oman
Let's end on a positive! Fuel is much cheaper in Oman than outside the Middle East. 
At the time of writing this guide a litre of petrol was 0.229 OMR, which works out at about 46p per litre.
Fuel prices don't vary between petrol stations so there's no need to shop around.
This makes hiring a car in Oman a cost effective way to see the country.
Petrol stations are well sign posted and have pump attendants.
Final thoughts on driving in Oman
'Defensive driving' is a phrase often used about driving in Oman. And I think as long as you keep that in mind you'll be fine.
The challenge is worth it for the freedom it gives you to explore a country that otherwise has pretty limited public transport. The landscapes you'll see along the way are incredible.
For route inspiration take a look at our Oman road trip itinerary.
If you'd like to find out more about holidaying in this part of the Middle East check out my Oman travel guide. It includes tips on visiting with your family, what to pack and places to visit including the best wadis in Oman and Sultan Qaboos Grand Mosque.
Disclosure: this post contains affiliate links marked with *. If you click on one of these links and make a purchase I may earn some commission. This doesn't affect the price you pay.
Source link
[gs_pinterest id=1]