UK Travel
The world's most popular honeymoon destinations, according to TikTok and Instagram
By Paul Johnson on Jun 30, 2023 in Asia, Europe, Honeymoons, Indonesia, Italy, Maldives, Regions, Speciality Travel, Western Europe, Worldwide
The pandemic is officially over, the world has opened up again, and travel is back to normal – finally. With the return of normalcy – and despite the cost-of-living crisis – travellers are desperate to get away, none more so than the thousands of couples getting married and looking forward to their honeymoons.
As we enter the 2023 wedding season, new research by Asda Money Travel Insurance reveals the world's most picture-perfect honeymoon destinations – at least according to TikTok and Instagram.
The exhaustive study looked at all the countries in the world, as well as some of the most popular destinations (e.g. Santorini, Bali, Paris), to find the most popular on social media – and thus, where to go if you want to stay on trend with the influencers. Or maybe where not to go if you want to avoid them – we don't judge.
Top of the list on Instagram is the Maldives, with over 134,000 posts, followed by Italy with nearly 32,000. The opposite is true of TikTok, as Italy leads the way with an incredible 16.5 million views, closely followed by the Maldives with 11.9 million.
It's not surprising that the Maldives is the number one destination for Instagram enthusiasts. With its floating pool breakfast trays, long white sandy beaches, crystal clear waters with views of manta rays and the glitter-bomb of stars to light your evening dinner, the Maldives has been a favourite of celebrities and influencers alike for years.
The Maldives being beaten by Italy on Gen Z's favourite social media platform, TikTok, is interesting and matches research conducted by American Express in 2022 that found Italy to be in high demand among younger Millennials and Gen Z. With romantic gondola rides along the Venice canal, vineyards of Tuscany, and ancient cities all to be found just a short train ride from each other, it's not hard to see why.
Road trip honeymoons are also on the rise, and an Italian road trip through long swathes of open countryside and ocean views, stopping intermittently for vineyard tour is the trip of the moment. It's no wonder Charles and Diana chose to take their second honeymoon there.
The top 5 countries for a romantic honeymoon, according to Instagram are:
The Maldives (134,006 posts)
Italy (31,921 posts)
Greece (14,790 posts)
Thailand (12,858 posts)
Japan (10,785 posts)
The top 5 countries for a romantic honeymoon, according to TikTok are:
Italy (16.5 million views)
The Maldives (11.9 million views)
Greece (8.6 million views)
Malaysia (1.9 million views)
Mexico (1.4 million views)
Asda Money also investigated the most popular destinations for a honeymoon, which included specific cities and areas of a country. Across the board, Bali was the favourite, with Hawaii and Paris placing second and third respectively.
The top 5 destinations for a romantic honeymoon, according to Instagram are:
Bali, Indonesia (121,981 posts)
Hawaii, USA (48,282 posts)
Paris, France (16,314 posts)
Santorini, Greece (9,523 posts)
Rome, Italy (6,097 posts)
The top 5 destinations for a romantic honeymoon, according to TikTok are:
Bali, Indonesia (6.9 million views)
Hawaii, USA (5.1 million views)
Paris, France (4.4 million views)
Cancun, Mexico (4.1 million views)
Bora Bora, French Polynesia (2.1 million views)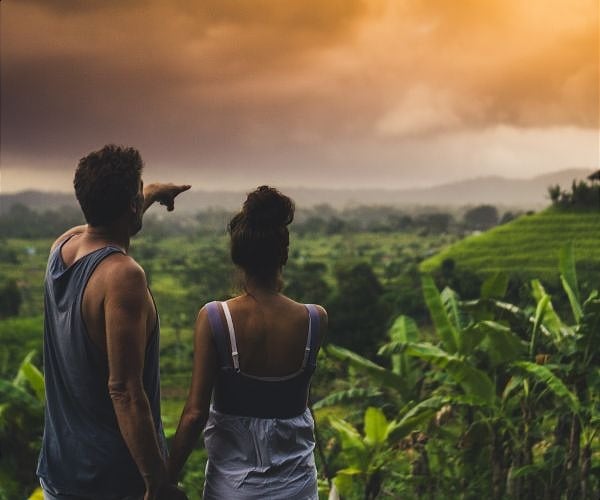 No matter where you're planning on going for your honeymoon, Asda Money recommend that you have a travel insurance policy that covers all your travel needs. Their travel insurance includes UK and overseas cover, alongside cover for COVID-19, so you can be protected wherever you choose to go.