As an exclusive guest invited to Kurumba Maldives' celebration of World Chocolate Day, I had the pleasure of experiencing a delightful 4-course chocolate-themed menu. Set on the beautiful private island of Kurumba, this resort holds a special place in the history of Maldivian tourism, being the first private island resort to open its doors back in 1972.
The evening commenced with an enticing starter, the Poached Salmon with Manjari Chocolate Polenta. The combination of tender salmon, creamy polenta infused with Manjari chocolate, and the subtle sweetness of carrot puree and caramelised onions created a unique flavour profile. The surprising addition of white chocolate-dipped sea asparagus added a touch of elegance to the dish.
Next came the White Asparagus Cappuccino, a soup that blended the earthiness of white asparagus with a luxurious coconut foam and a sprinkle of cocoa powder. The accompanying sunflower hazelnut crostini provided a delightful crunch, complementing the creamy texture of the soup. This creative combination showcased the chef's ingenuity and ability to infuse chocolate into unexpected dishes.
The main course, Lamb Rump, was a true highlight of the evening. The succulent lamb, cooked to perfection, was accompanied by a medley of flavours and textures. The mint custard added a refreshing twist, while the crispy potato, stuffed morel mushrooms, baby carrots, beetroot, broccoli, and butter-poached white turnip created a vibrant and visually appealing plate. The bitter chocolate sauce brought a touch of richness to the dish, accentuating the savoury flavours of the lamb.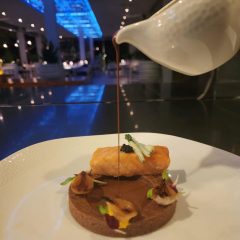 To conclude the meal, the Kurumba Chocolate Fondue was a decadent and indulgent dessert. The combination of fresh strawberries, homemade marshmallows, orange cake, and toasted almond pavlova made for a delightful dipping experience. The richness of the chocolate fondue paired perfectly with the fruity and nutty accompaniments, providing a satisfying conclusion to the chocolate-themed feast.
Throughout the evening, the ambiance at Kurumba Maldives was enchanting. The resort's commitment to providing a wide range of dining experiences was evident, with eight different restaurants, three bars, and a shisha lounge to choose from. This variety ensures that guests can find the perfect setting to suit their tastes and preferences. Whether you seek a romantic atmosphere for a honeymoon or a family-friendly environment, Kurumba has something for everyone.
In addition to the culinary delights, Kurumba offers a plethora of recreational activities and entertainment options, ensuring a well-rounded and memorable holiday experience. The natural beauty of the surroundings, combined with the vibrant atmosphere, creates the perfect balance between relaxation and adventure.
As I reflect on my experience celebrating World Chocolate Day at Kurumba Maldives, I can't help but appreciate the resort's dedication to providing exceptional hospitality and unique dining experiences. The thoughtfully crafted chocolate-themed menu showcased the chef's creativity and skill in integrating chocolate into each course. Combined with the resort's idyllic location and a wide range of activities, Kurumba Maldives is indeed a paradise for those seeking a memorable vacation experience.
Source link
[gs_pinterest id=1]