UK Travel
The world's first ultra-luxury electric super coupé
Iconic luxury car manufacturer Rolls-Royce has unveiled Spectre, its first fully electric vehicle. This groundbreaking ultra-luxury electric super coupé represents a monumental achievement in engineering and design, marking a significant milestone in Rolls-Royce's transition towards a fully electric future. Spectre combines cutting-edge technology, exquisite craftsmanship, and a commitment to sustainability, setting a new standard for automotive excellence. This article provides an overview of Spectre's key features and the impact it has on the marque's legacy.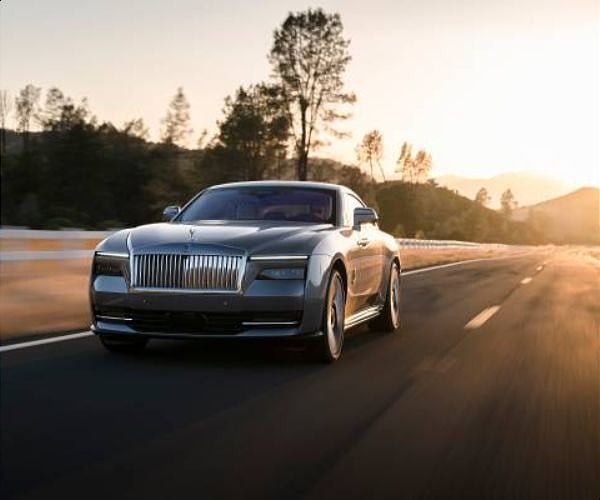 Redefining luxury and performance
Spectre is not just an electric car; it embodies the essence of Rolls-Royce's uncompromising commitment to luxury, performance, and unparalleled craftsmanship. Designed as a two-door fastback, this ultra-luxury super coupé offers a spacious and meticulously designed interior that can be personalized through Rolls-Royce's renowned Bespoke program. The illuminated fascia, adorned with thousands of stars, and the innovative Starlight Doors create an ethereal atmosphere inside the car.
Engineering marvel
Spectre is built on the Rolls-Royce 3.0 platform, representing a new era in the company's engineering prowess. The Architecture of Luxury, an all-aluminium spaceframe developed by Rolls-Royce, provides the foundation for Spectre's design. This flexible platform was specifically designed to accommodate an electric powertrain, showcasing the company's foresight and commitment to embracing new technologies.
Cutting-edge electric powertrain
Spectre boasts an all-electric powertrain that delivers exceptional performance and range. Equipped with two Separately Excited Synchronous Motors (SSMs), Spectre generates an impressive 430kW (584 hp) of power and 900Nm of torque. Accelerating from 0 to 60 mph in just 4.4 seconds, it offers a thrilling driving experience. With a range of 530km (329 miles) on a single charge, Spectre provides ample driving flexibility for Rolls-Royce clients.
Innovative battery and charging capabilities
Spectre's 102kWh lithium-ion battery, manufactured using sustainably sourced cobalt and lithium, has been rigorously tested in extreme conditions to ensure optimum performance. The car's thermal management system maintains the battery's operating temperature within the optimal range. Spectre can be charged from 10% to 80% in just 34 minutes using a 195 kW (DC) fast charger. Additionally, the vehicle features a braking recuperation function, enabling single-pedal driving and efficient energy regeneration.
Decentralised intelligence and advanced connectivity
Spectre leverages a sophisticated software architecture called Decentralised Intelligence, allowing for faster processing of data and more precise response to changing road conditions. With three times as many sender-receiver signals as previous models, Spectre is the most connected Rolls-Royce ever, providing an unparalleled driving experience.
---
IMPORTANT NOTICE:
If you are reading this article anywhere other than on A Luxury Travel Blog, then the chances are that this content has been stolen without permission.
Please make a note of the web address above and contact A Luxury Travel Blog to advise them of this issue.
Thank you for your help in combatting content theft.
---
Exquisite design and attention to detail
The design of Spectre draws inspiration from various sources, including modernist sculpture, contemporary art, and nautical styling. Its signature Pantheon grille, largest ever fitted to a Rolls-Royce, and sharp, vertical bow line give the car a striking presence. The luxurious interior, characterized by fine materials and meticulous craftsmanship, showcases Rolls-Royce's dedication to creating a serene and opulent driving environment.
A bold step towards a sustainable future
Rolls-Royce's commitment to sustainability is reflected in Spectre's eco-friendly manufacturing processes and materials. The company sources cobalt and lithium from controlled and sustainable locations, and the battery cells are produced using 100% green electricity. Spectre's electric powertrain contributes to a significant reduction in carbon emissions, aligning with the growing demand for eco-conscious luxury vehicles.
With the introduction of Spectre, Rolls-Royce has set a new standard in the luxury automotive industry. This ultra-luxury electric super coupé embodies the perfect blend of opulence, performance, and sustainability. As Rolls-Royce embraces its electric future, Spectre serves as a testament to the company's unwavering commitment to excellence, pushing the boundaries of what is possible in the world of luxury automobiles.