UK Travel
6 of the most amazing wellness retreats in Asia
By Mat Lewis on Jul 23, 2023 in Accommodation, Asia, Hotels, Indonesia, Maldives, Philippines, Regions, Resorts, Spas & Pampering, Speciality Travel, Sri Lanka, Thailand, Vacation Rentals, Vietnam
We believe that making time for relaxation is an absolute must. If you're looking to splurge and indulge in a luxurious wellness holiday, we've shortlisted six of the most amazing hotels in the world for you where you can experience ultimate pampering. Welcome to a world of serenity and rejuvenation, where luxury experiences seamlessly intertwine with wellness. At these enchanting retreats, every detail is thoughtfully curated to enhance your well-being. From breathtaking natural landscapes to state-of-the-art spa facilities, each destination offers an oasis of tranquillity. Discover ancient healing traditions in the heart of Bali, indulge in mindful practices amidst Sri Lanka's forests, or surrender to the healing atmosphere at one of the most opulent resorts in the Maldives. These wellness hotels invite you to restore harmony, embrace self-care, and embark on an unforgettable path to wellness.
JOALI BEING, Maldives
A prestigious luxury wellness resort nestled in the Maldives, JOALI Being embraces the concept of "weightlessness" while surrounded by the natural splendour of the pristine Raa Atoll. This extraordinary resort is the first of its kind in the Maldives and offers an immersive experience that harmonizes guests with the natural ebb and flow of energy, fostering exploration and personal growth. Crafted by esteemed well-being experts, the transformative experiences are elevated by thoughtfully designed spaces that inspire tranquillity and serenity. At Joali BEING, the Wellbeing Programme revolves around four fundamental pillars: Mind, skin, microbiome, and energy. Delve into a range of tailored programs aimed at achieving deep relaxation, stress recovery, preventative skin care, energy replenishment, enhanced yoga practice, weight management, and specialised programs catering to expectant mothers and individuals with sleep issues. Moreover, Joali Maldives embraces responsible luxury and ethical sourcing, proudly incorporating a turtle sanctuary within its remarkable offerings!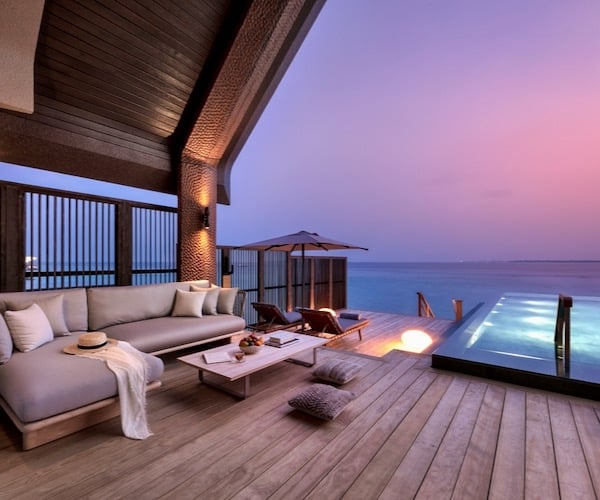 TIA Wellness Resort, Vietnam
At TIA Wellness Resort, you can immerse yourself in their comprehensive Wellbeing Experiences, carefully curated to enhance your overall wellness. Discover an array of tailored programs, including mindfulness meditation, yoga, detoxification, and nutritional guidance, all led by expert practitioners. This luxury beachfront wellness resort in Da Nang, Vietnam invites you to engage in invigorating fitness activities such as hiking or cycling through breathtaking landscapes or indulge in soothing spa treatments that restore balance and promote relaxation. With a deep understanding of the importance of individual needs and preferences, TIA Wellness Resort offers personalised programs that cater to your unique goals. Whether you seek stress reduction, weight management, improved sleep, or simply a deep sense of rejuvenation, their dedicated team will guide you towards optimal well-being. After your bespoke wellness journey, retreat to your gorgeous pool villa and enjoy a relaxing night's sleep.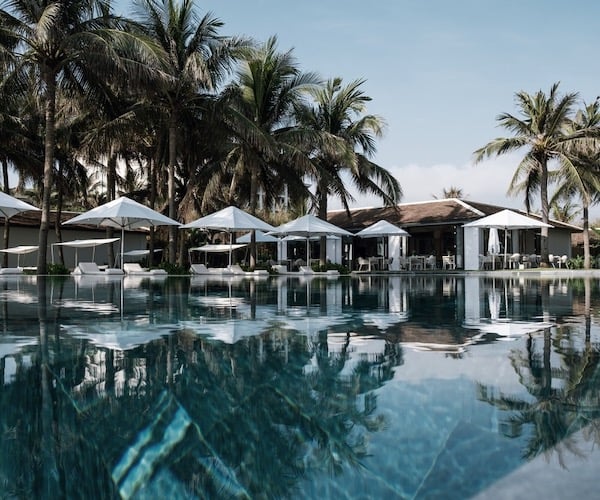 Amatara Welleisure Resort, Thailand
Amatara Welleisure Resort in Phuket Island, Thailand, is a serene wellness haven offering luxurious accommodations, world-class spa treatments, and a range of wellness activities for rejuvenation and self-discovery. On-site, guests at Amatara can immerse themselves in a comprehensive wellness experience, indulge in rejuvenating spa therapies inspired by Thai healing practices, and engage in invigorating fitness activities like yoga, Pilates, and aqua aerobics. The resort's luxurious and meticulously designed villas provide a serene sanctuary with stunning views of the Andaman Sea. After engaging in your choice of wellness activities or simply exploring the pristine beaches and crystal-clear waters, continue your wellness journey at any of the resort's two signature restaurants that offer nutritious cuisine crafted from locally sourced ingredients. Enjoy authentic Thai favourites as you recharge with every bite!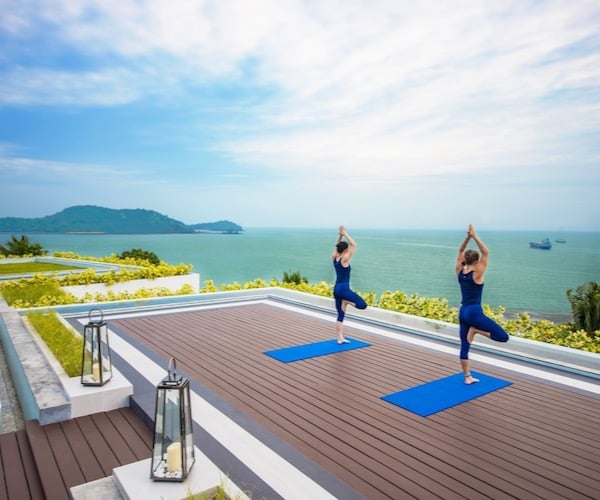 Santani Wellness Kandy, Sri Lanka
Often overlooked for its more popular neighbour, Sri Lanka is a hidden gem with amazing beaches and secluded hideaways—perfect for that remote and more exclusive atmosphere. It's a wonderful choice if you want to avoid more touristy destinations while still enjoying the tropics. We recommend Santani Wellness Kandy for anyone who wants to disconnect and be away from the world, literally. Its minimalist rooms are inspired by the nearby Buddhist meditation caves, providing you with your own calm space where no distractions are allowed. With no television and plenty of fresh mountain air circulating in your room, reattuning yourself to your senses come as second nature at Santani Wellness Kandy. On-site, you can choose from a range of holistic practices, including yoga, meditation, and Ayurvedic treatments that all aim to rebalance you while surrounded by the beauty of the mountainside.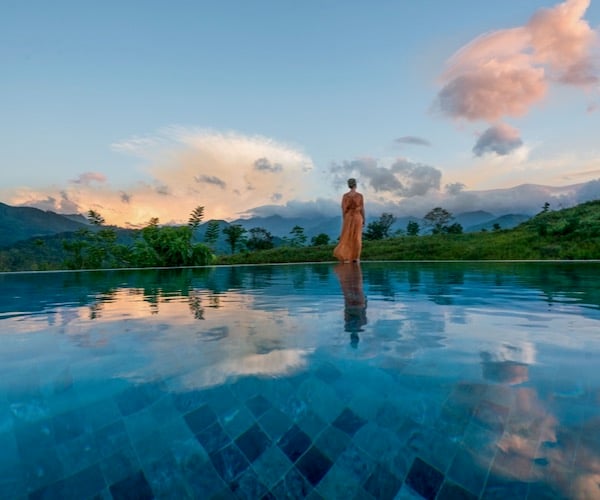 The Farm at San Benito, Philippines
Tucked away in a lush 52-hectare jungle in the Philippines, The Farm at San Benito stands as a beacon of tranquillity and holistic wellness and is one of only a handful of eco-luxury hideaways in the country. This exceptional resort offers a transformative experience that rejuvenates the mind, body, and spirit, making it an exceptional wellness destination. On-site, this luxury wellness resort boasts beautiful villas that put you in the embrace of nature. Comprehensive and personalised wellness programmes await and are conducted by internationally trained integrative medical doctors. Some of the therapies The Farm at San Benito offers include holistic detox care, immune intelligence, and their yoga and raw food retreat. What sets The Farm apart is its commitment to sustainable and organic practices. The resort boasts an organic farm where nutrient-rich produce is cultivated, ensuring that each meal is a delightful and healthful experience. From farm-to-table cuisine to revitalising juice cleanses, the culinary offerings at The Farm nourish the body and delight the palate.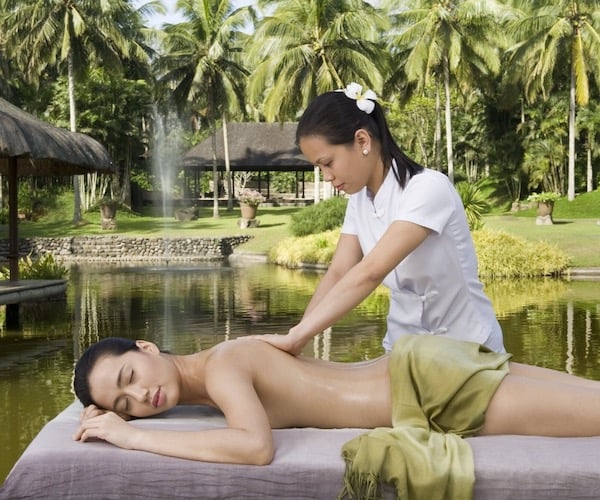 ---
IMPORTANT NOTICE:
If you are reading this article anywhere other than on A Luxury Travel Blog, then the chances are that this content has been stolen without permission.
Please make a note of the web address above and contact A Luxury Travel Blog to advise them of this issue.
Thank you for your help in combatting content theft.
---
Revivo Wellness Resort, Indonesia
Nestled amidst the breezy hills of Nusa Dua in Bali, Indonesia, Revivo Wellness Resort is a luxury transformational wellness retreat that takes its guests on a journey towards health and happiness. Derived from the Latin word "revivo" which means "I live again," this luxury eco-resort offers signature retreats that encourage rebalancing, rejuvenation, nourishment, and even restorative emotional therapies. Incorporating Ayurveda and Chinese medicine with holistic practices, the goal of Revivo Wellness Resort is to deliver lasting changes that their guests can continue to foster even after their stay. While you're there though, expect ultimate serenity in the 3-hectare teak forest, with lush gardens, and relaxing pools. The luxurious accommodations offer a sanctuary of comfort and tranquillity, providing the perfect retreat for relaxation and self-rediscovery too.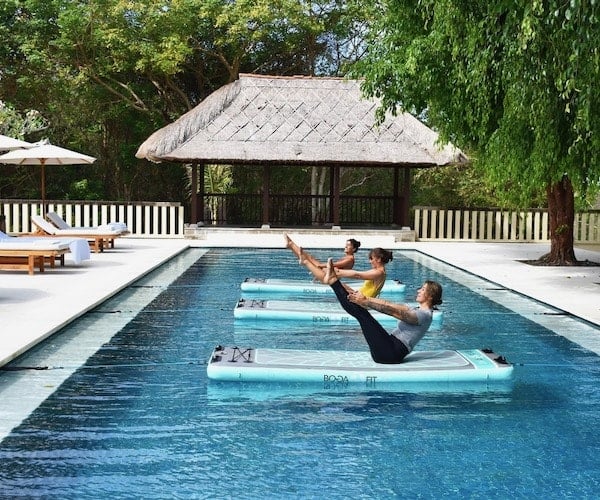 For your next holiday, consider a stay at these wonderful wellness resorts for a truly indulgent experience that will leave you feeling renewed.
Mat Lewis is Co-Founder & CEO of View Retreats. View Retreats is a luxury travel agency offering a handpicked collection of the world's best hotels, resorts and villas.
If you would like to be a guest blogger on A Luxury Travel Blog in order to raise your profile, please contact us.