UK Travel
The best rooftop bars and restaurants in Philadelphia
The temperatures are rising — and your happy hour game should be, too. It is rooftop bar season, after all. There's nothing quite like taking in the stunning views atop the Philadelphia region's best drinking and dining establishments with a bite to eat and a drink in hand.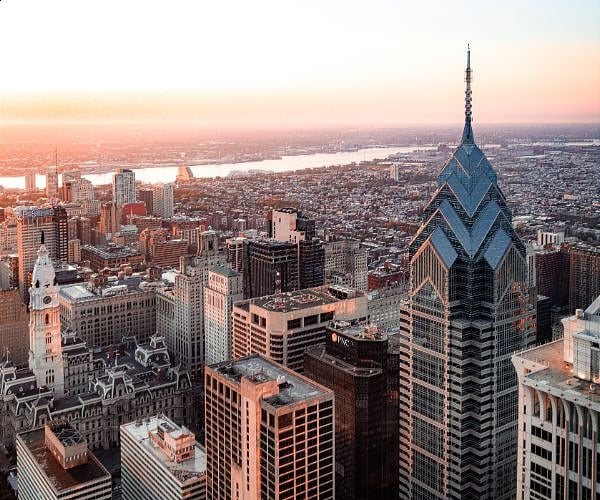 Philadelphia's skyward hospitality reaches impressive heights with the bird's-eye views at places like Victory Brewing Company's taproom on the Benjamin Franklin Parkway, Bok Bar in South Philadelphia and El Techo in Rittenhouse Square.
And in the surrounding Greater Philadelphia region, stunning views can be easily paired with craft beers (East Branch Brewing Co.), margaritas (Mas Mexicali Cantina), lawn games (Off the Rail) and more. Below are some great spots to catch a few rays over bites and brews during what is arguably the best time for alfresco eating and drinking. Just don't forget your sunglasses and sunscreen.
Assembly Rooftop Lounge: Al fresco drinks and small plates nine floors up
Modern luxury is what it's all about at Assembly Rooftop Lounge at The Logan, Philadelphia's Hotel. Far beyond your average hotel bar, Assembly is situated nine floors above street level, is open year-round, and offers plenty of seating nests and firepits. As if picturesque views of the Benjamin Franklin Parkway aren't enough, craft cocktails (frozé, anyone?), charcuterie, fondue and more add to the appeal.
Where: Assembly Rooftop Lounge, 1840 Benjamin Franklin Parkway
Attico Rooftop Lounge: A stylish rooftop bar with prime balcony seating
Perched on the 16th floor above the Cambria Hotel on Broad Street, Attico offers Center City views from dozens of feet over the street. The stylish year-round outdoor balcony is the perfect spot for epic parties, including brunch parties (arguably the best kind of party), as well as happy-hour selections like $2 oysters, $3 shrimp cocktail, and $6 baked ham and cheese, or eggplant toasts.
Where: Attico, 219 S. Broad Street
Bok Bar: A bustling rooftop beer garden in South Philly
Each spring, summer and fall, the rooftop of South Philadelphia's former Bok High School turns into a spacious beer garden with stellar skyline views. The seasonal watering hole serves a variety of drinks (including a mostly local can list) alongside bites from monthly chefs in residence. Even better? No reservations are required, so drop in whenever you'd like to feel the wind in your hair and a cold drink in your hand.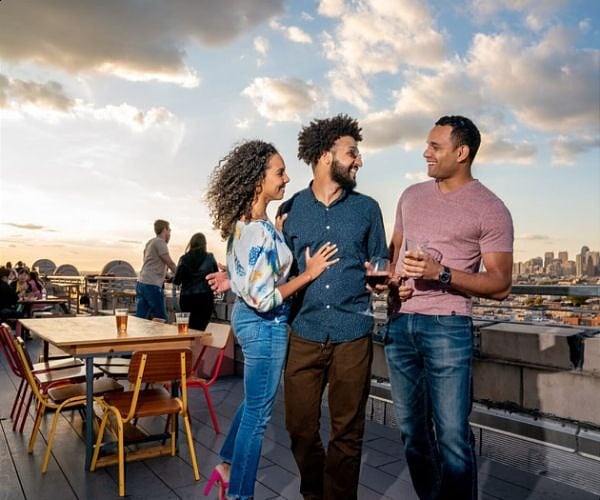 Where: Bok Bar, 800 Mifflin Street
The Continental Mid-town: Retro rooftop vibes in Rittenhouse Square
Just off Rittenhouse Square, Stephen Starr's classic eclectic restaurant features a retro rooftop lounge — the spot's pièce de résistance. With its 1960s vibe (think comfy sofas and firepits), the rooftop is partially enclosed so that it's serviceable year-round. The lush deck area is uber popular during warmer months, particularly with the Saturday and Sunday brunch crowd.
Where: The Continental Mid-town 1800 Chestnut Street
East Branch Brewing Co.: Breezy brews and bites in Downingtown
Chester County brewery East Branch Brewing Co. is one of those neighborhood spots you hit up for laidback craft beer and bar fare. On warm days (double check their straight-to-the-point Instagram account), the brewery's rooftop is opened for diners and drinkers. While there aren't skyscrapers to gaze upon, there are great sunsets to watch. The menu includes banh mi, burgers, mac and cheese and, of course, beer and cocktails.
Where: East Branch Brewing Company, 202 E. Lancaster Avenue, Downingtown
El Techo: Rooftop tacos and tequila in Center City
Queso fundido, tacos, frozen cocktails, oh my! Add in the smattering of downtown skyscrapers peering overhead and you've got yourself the whole package at El Techo. Condesa's taqueria spans the 11th floor and offers rooftop dining all year long thanks to a retractable glass roof. Reservations aren't mandatory, but it's smart to have one — especially for brunch.
Where: El Techo, 1826 Ludlow Street
Emmy Squared Rooftop: Rectangular pizza served rooftop
Detroit-style pizza and frozen cocktails on a roof? Yes, please. In the warmer months, Emmy Squared offers tons of rooftop seating at its spot in Queen Village, where diners can take their pick from the seasonal cocktails and beer list and, of course, pizza. Seating is first come, first served.
Where: Emmy Squared Pizza: Queen Village – Philly, 632 S. 5th Street
Far East Descendant: Cantonese cuisine on a private rooftop patio
Chinatown's Far East Descendant specializes in Cantonese fare, with a menu of small plates, claypot rice, Montao sandwiches, family-style meals and unique cocktails. We suggest sampling all of it up on their rooftop, a year-round oasis tucked between buildings and removed from the bustle down below.
Where: Far East Descendant, 251 N. Clarion Street
The Great American Pub Rooftop: Great pub food and drink served sky-top
The Great American Pub is a Conshohocken staple, and guests looking to pair their pub fare with some sunshine can opt for a spot at the rooftop bar. Cocktails, wine and beer go well with the Montgomery County views. Roof seating is first come, first served, so get it while it's … hot.
Where: The Great American Pub, 123 Fayette Street, Conshohocken
Irwin's: Sicilian tastes and vino with a view
Bok Bar's more formal counterpart, chef Michael Vincent Ferreri's Irwin's — named one of the best new restaurants in the country by Bon Appétit — serves Sicilian cuisine paired with natural wines — that are best enjoyed on its eighth-floor rooftop terrace. The outside space — open May through September — isn't available to walk-ins, so be sure to make a reservation.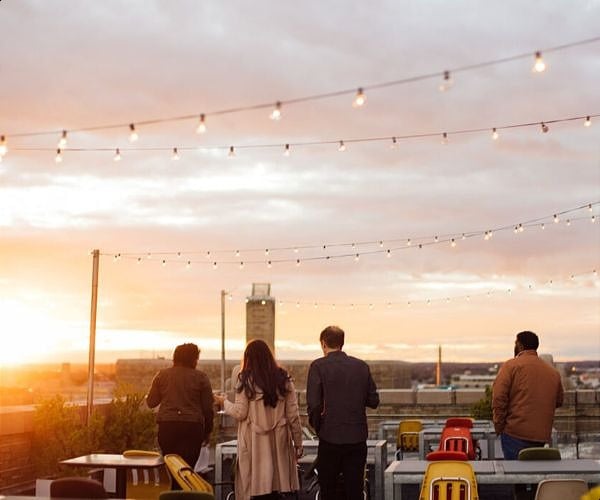 Where: Irwin's, 800 Mifflin Street
Lark: Rooftop romance in Bala Cynwyd
The rooftop terrace at this restaurant offers stunning views of the Schuylkill River. On the menu: seafood-forward cuisine such as striped bass ceviche or squid ink chitarra decked out with mussels, black truffle, preserved tomato and chili.
Where: Lark, 611 Righters Ferry Road, Bala Cynwyd
Liberty Point: Wind down on the waterfront
Billed as the city's largest restaurant, Liberty Point has enough space to seat 1,400 people across three indoor-outdoor levels. The Delaware River waterfront-located establishment boasts multiple elevated outdoor deck areas for dining, dancing and live entertainment — perfect for views of the river while vibing and sipping.
Where: Liberty Point, 211 S. Christopher Columbus Boulevard
Más Mexicali Cantina: Rooftop tacos, anyone?
Taco 'bout a view. The fiesta goes outdoors at Más Mexicali Cantina in West Chester. The expansive rooftop can fit 150 people eager to catch a glimpse of downtown West Chester from above over a pitcher of margaritas and enchiladas.
Where: Más Mexicali Cantina, 102 E. Market Street, West Chester
Off the Rail: A down-the-shore feeling in Delco
With a huge rooftop patio giving off major shore vibes — but in Delco — Off The Rail is a spring and summer staple for those looking for warm-weather vibing and imbibing. Live bands and DJs set the scene on weekends and for more chill nights, there's plenty of seating, lawn games, beer, wine, cocktails and pub fare to go around. Sports fans can catch all the action alfresco on an impressively large projector.
Where: Off the Rail – Media, 109 W. State Street, Media
Patchwork at the Hyatt Centric Center City: Locally sourced eats in a central location
On the second floor of the Hyatt Centric Center City is the New American spot Patchwork. In addition to the menu, focusing on locally sourced ingredients, the restaurant has a tight list of cocktails, wine and beer — all available to be enjoyed on the patio. Smack dab in the middle of Center City high rises, you'll feel teeny tiny — in the best way — among all the brick, glass and steel.
Where: Patchwork, Hyatt Centric Center City, 1620 Chancellor Street
Positano Coast by Aldo Lamberti: Elevated Italian eats
Positano Coast's Italian eats taste even better from the elevated seating on the spot's second floor. While taking in great views of Old City — and admiring the restaurant's stylish new renovations — diners can enjoy tasty snacks such as seafood boards and burrata paired with fine wines or signature cocktails from the bar.
Where: Positano Coast by Aldo Lamberti, 212 Walnut Street
Rams Pint House and Rooftop Lounge: Beer and American fare in the open air
With its impressive beer list and laid-back vibes, Rams Pint House and Rooftop Lounge is a top pick in Perkasie. Guests find fresh air at the spot's rooftop lounge, where burgers, beers and frozen cocktails await.
Where: Rams Pint House and Rooftop Lounge, 606 W. Chestnut Street, Perkasie
Revolution House: For comfort food and creative cocktails overlooking the Historic District
On warmer nights, patrons of Old City's Revolution House take advantage of the spot's roof deck, offering a prime view of Christ Church's steeple. (Christ Church is where Ben Franklin, Betsy Ross and many other colonial notables worshiped.) The restaurant's full menu of comfort food and creative cocktails are all available from the higher perch.
Where: Revolution House, 200 Market Street
Standard Tap: Widely considered one of the first gastropubs in America
Tucked away from the bustle of 2nd Street in Northern Liberties is Standard Tap's always inviting, always laidback second-floor porch. The neighborhood mainstay serves up delicious gastropub fare and a thoughtful supply of craft beer that serve as a perfect pairing to the breezy balcony.
Where: Standard Tap, 901 N. 2nd Street
Stratus Rooftop Lounge: A posh spot atop the Hotel Monaco
The trendy Stratus Rooftop Lounge sits on the 11th story of the Kimpton Hotel Monaco Philadelphia. A curated cocktail menu pairs perfectly with light bites and shareable snacks. Adding to the ambiance: leather seating, low lighting and a "green wall" that serves as an Instagram-friendly backdrop.
Where: Stratus Rooftop Lounge, 433 Chestnut Street
Sunset Social: A high-altitude hangout in West Philly
High atop West Philly's Cira Center, Sunset Social offers drama and relaxation in equal measure. The fast-casual menu includes a selection of bowls, burgers and fries, plus beer, wine, and frozen and bottled cocktails that patrons can enjoy along with the epic view.
Where: Sunset Social, 129 S. 30th Street
Vango Lounge and Skybar: Rendezvous with a view all year long
Drinks, hookah and rooftop views: There's little else you need at Center City's Vango Lounge and Skybar. The restaurant and hookah bar keeps its third-story deck open all year round for eats, drinks and high style.
Where: Vango Lounge and Skybar, 116 S. 18th Street
Victory Brewing Company Philadelphia: What's better than craft brews with a view?
As if its 14,000-square-foot interior wasn't enough, Victory Brewing Company taproom on the Benjamin Franklin Parkway boasts a rooftop patio with panoramic views of the Parkway. In addition to all the Victory beers you could ever imagine, guests can fill up on brisket meatballs, kebab naan, smoked chicken pot pie and more.
Where: Victory Brewing Company Philadelphia, 1776 Benjamin Franklin Parkway
XIX (Nineteen): French Renaissance rooftop vibes
High above the city streets, this spot on the 19th floor (hence the name) of The Bellevue Hotel features a balcony overlooking Broad Street. Enjoy pre-dinner drinks with a view, or get gussied up and grab a few friends for a picture-perfect happy hour.
Where: XIX (Nineteen), 200 S. Broad Street