UK Travel
Ecuador's top 5 whale-watching spots
Are you ready for an unforgettable adventure? Clearly, a must-do experience for nature lovers and adventure seekers is whale watching. Previously, we looked at whale watching across South America. This month, though, we're focusing on this thrilling activity in the inviting waters of our own country: Ecuador.
Imagine a luxury cruise through the Galapagos archipelago or a romantic getaway on Ecuador's sunny mainland coast. In either instance, you'll be surrounded by breathtaking scenery and able to experience the thrill of spotting these magnificent creatures in their natural habitat. Witnessing these gentle giants breach out of the water is a sight that will leave you in awe.
The best time to visit is from the June to September season (when the male whales breach out of the ocean in June and July to attract females, while in August and September, you'll have more chances to witness the young calves). During this five-month summer season, whales complete an incredibly long 4,000-mile voyage from feeding grounds in Antarctica, making their way to Ecuador and even as far as Mexico. This journey is actually the longest migration route taken by any mammal. Humpback whales come to Ecuador thanks to the warmer waters close to the coast, where it's shallow and safe, which are ideal conditions to mate, give birth, and nurse their young.
If you're looking for the best spots to catch a glimpse of humpback whales and orcas, you're in luck! Ecuador is home to some of the most incredible whale-watching opportunities in the world. Throughout the country's waters, you can find these giants of the sea in the thousands (!), though they're only easy to spot in a few places. Based on our 25 years of providing tourism services here in Ecuador, we've identified what we've found to be the five best whale-watching sites in our country.
1. Machalilla National Park: The mainland's best whale-watching site
The most fantastic whale-wa tching location in Ecuador has got to be Machalilla National Park, located on the country's southern coast. In the park's coastal zone, you can witness these majestic creatures breaching and tail slapping in the warm waters of the Pacific Ocean.
During the summer months, more than 7,000 humpback whales pass through the park's shallow waters between the small fishing village of Puerto Lopez and the mesmerizing Isla de la Plata, making this area one of the best whale-watching locations in Ecuador – as well as the world.
---
IMPORTANT NOTICE:
If you are reading this article anywhere other than on A Luxury Travel Blog, then the chances are that this content has been stolen without permission.
Please make a note of the web address above and contact A Luxury Travel Blog to advise them of this issue.
Thank you for your help in combatting content theft.
---
The hub for the park's whale-watching tours is Puerto Lopez, where you can go out in small boats to find and admire the whales from up close for about two hours. As you sail through these waters, you'll be awestruck by the sheer size and power of these gentle giants.
You'll witness the awe-inspiring behavior of humpback whales as they migrate along the country's coastline. Apart from breaches, you might also observe tail slapping, where the whales lift their tails out of the water and forcefully slap them on the surface. The whales may also engage in pectoral fin slapping, "spy-hopping" (raising their heads above the water), or "fluking" (diving and showing their tail flukes). Just a few feet away from your boat, it all adds up to an experience that'll stay with you for a lifetime.
On the same tour, experienced guides will explain in depth all aspects of the diverse range of whales, including orcas and giant Blue whales, as well as humpbacks. They will also point out the unique features of the area's diverse local marine ecosystem.
It's an unforgettable experience that will leave you with a newfound appreciation for the beauty and wonder of nature. So grab your binoculars, hop on a boat, and get ready for the adventure of a lifetime!
2. The Galapagos Islands: A must-visit destination for whale lovers
If you're any type of nature lover, then the Galapagos Islands should be at the top of your bucket list. These volcanic islands are located in the Pacific Ocean, about 600 miles off the coast of Ecuador, and are home to an incredible variety of marine life, including several species of whales.
For those looking to see Sei and Sperm whales, the waters off the coast of the Galapagos Islands are the perfect spot. In fact, Galapagos is also one of the few places in the world where you can see these species along with humpback whales and enormous Blue whales all in one place.
The Galapagos archipelago is also an ideal location for those hoping to see orcas in the wild. You might even witness these powerful predators hunting for their next meal.
Like along the mainland's coast, the best time to visit the Galapagos for whale watching is from June to September, when the humpback whales migrate to the area to mate and give birth. You can take a boat tour to get up close and personal with these magnificent creatures, or you can even swim with them if you're feeling adventurous.
The Galapagos Islands is, of course, also home to a variety of other marine life, including sea lions, sea turtles, and dolphins, so you're sure to have an unforgettable experience. But don't miss out on the opportunity to see the giants of the sea in their natural habitat.
3. Salinas: Cetacean sightings off the "Miami Beach of Ecuador"
Known to many as the Miami Beach of Ecuador, Salinas is a bustling stretch of sand where you can enjoy a host of water sports and swim in the warm sea, or simply lay back and relax. The oceanside resort town is situated just 70 miles from Ecuador's largest city (Guayaquil). With its lively Malecon (boardwalk) lined with restaurants and bars a stone's throw from the beach, this is perfect for a spot of luxuriating.
From Salinas, you can go whale watching from late June to early October to catch sight of the incredible humpback whales who migrate here to breed. Anywhere from 400 to 2,500 whales make the journey all the way from Antarctica. Before setting out to sea, you can visit the small whale museum to learn more about these incredible mammals. Then, on a yacht tour, you can set sail to observe these fascinating animals that can reach up to 50 feet in length and weigh up to 50 tons. Witnessing the whales swimming in pods and launching themselves out of the sea is truly a spectacular sight.
4. Atacames: A fun-filled town with fascinating sights
Atacames is located in the northwest corner of Ecuador and is a favorite weekend destination for residents of the country's capital city, Quito, because of the party atmosphere it offers throughout the year, especially during the high season in July and August. However, Atacames is bustling with celebration year-round, and it's infectious.
Certainly enough, fun and revelry show themselves in full force on the Atacames beachfront, with every square inch of space filled with sun-lovers, swimmers, and kite flyers, all supported by countless juice bars, cabana restaurants, a market walkway offering handicrafts, and backing that up a full complement of hostels and hotels.
For your whale-watching boat tour, plan on spending a whole afternoon or even a full day on a voyage carrying 6 to 12 people. The likelihood of a perfect meeting with a large adult male performing impressive displays — including arching, chest flapping, flipper exposing, tail-waving, head-slapping, and breaching — is obviously increased by longer trips.
5. Isla Santa Clara Marine Reserve: For a scenically remote getaway
At the entrance to the Gulf of Guayaquil is a protected Marine Reserve area that includes the small island of Santa Clara Island as well as the surrounding islets within two nautical miles around the island.
Santa Clara's main inhabitants are thousands of seabirds. Among these are Frigate birds, Blue-footed boobies, and pelicans. which have all found the island to be an ideal setting to eat, rest, court, and nest. The island and islets are interconnected by a platform on which you can walk at low tide.
The reserve is noted for its rich marine life, which is explained by the abundance of nutrients in its waters, reportedly one of the highest levels on Ecuador's continental coast. Thanks to the plentiful sources of food, countless marine species converge here, including all types of whales.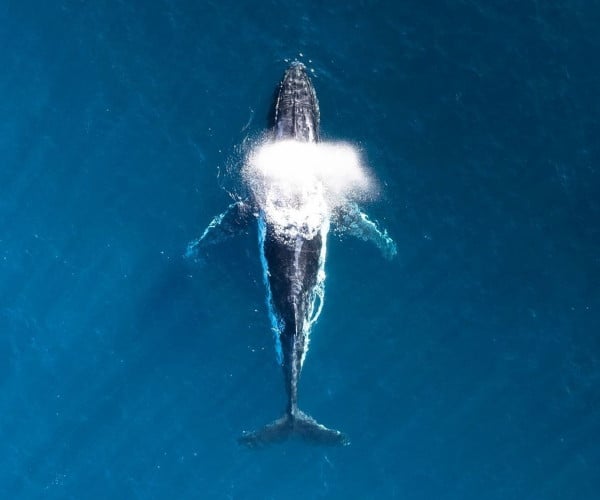 All of this makes the Santa Clara Marine Reserve Here a convenient stopover for the cetaceans on their south-to-north voyages. For a chance to experience them for yourself, you'll first set sail from the small mainland fishing village of Puerto Bolivar, and then navigate to the island.
But there's even more. Not only is this scenic marine reserve a sanctuary for humpback whales, but it's also home to large colonies of barking sea lions and pods upon pods of bottlenose dolphins. On the island itself, you can sight more than a few seabirds, as the reserve can proudly boast one of the largest colonies of marine fowl in all of continental Ecuador.
For whale watching, you'll have to keep in mind the old saying, "Patience is bitter but the fruit Is sweet," as it can sometimes take a little while to spot these magnificent creatures. But believe us, the wait is well worth it. Hearing their haunting songs or witnessing a humpback whale breaching the surface of the ocean is an experience you'll never forget. So get ready to be amazed, and enjoy the wonders of Santa Clara's whale-watching opportunities!
Conclusion: Discovering the majestic giants of the sea in Ecuador
In conclusion, Ecuador is a true paradise for whale-watching enthusiasts. There are several great spots to watch these magnificent creatures in Ecuador, each offering amazing opportunities to observe whales in their natural habitat. Remember, from June to September, visitors can witness the majestic giants of the sea, including humpback whales, orcas, and blue whales, as they migrate to the coast of Ecuador. Travelers can even take boat tours to get up close and personal with these gentle giants.
With so many whale species to see and so many great locations to do so, Ecuador is a must-visit destination for any whale-watching enthusiast. Whether you're an experienced whale watcher or a first-timer, Ecuador's whale-watching scene is sure to leave you in awe. Don't miss out on the chance to witness these magnificent creatures in their natural habitat and create memories that will last a lifetime.
Alfonso Tandazo is President and CEO at Surtrek Tour Operator. Surtrek Tour Operator is a well-established firm, specializing in custom-designed luxury tours in Ecuador, the Galapagos and throughout the rest of South America.
If you would like to be a guest blogger on A Luxury Travel Blog in order to raise your profile, please contact us.