UK Travel
10 reasons why you will fall in love with Plitvice Lakes National Park
Considered one of the most beautiful natural wonders of Europe, the Plitvice Lakes National Park is located in the very heart of Croatia. Those who visit the Plitvice Lakes will surely enjoy their natural beauty and create unique memories that will last a lifetime. In this blog post, we will name 10 reasons you will also fall in love with the Plitvice Lakes National Park.
1. Natural beauty
The Plitvice Lakes National Park is one of the most impressive natural wonders of Croatia, encompassing 16 stunning lakes interconnected through a series of cascades and waterfalls. The lakes are known for their crystal-clear water and they are surrounded by lush vegetation, making them a picture-perfect natural oasis. Visitors can explore numerous trails leading them through the park and enjoy spectacular views. With each step, you will reveal a new natural attraction, and the scent of fresh air and the sounds of water will create a soothing ambiance.
2. UNESCO
The Plitvice Lakes National Park was inscribed on the UNESCO World Natural Heritage List in 1979 and thus recognized as a site of outstanding cultural and natural significance, as well as one of immense beauty and aesthetic value. The formation of tufa, the most prominent phenomenon of the park and part of the "outstanding universal value" recognized by UNESCO, necessitates the clearest water and pristine flora.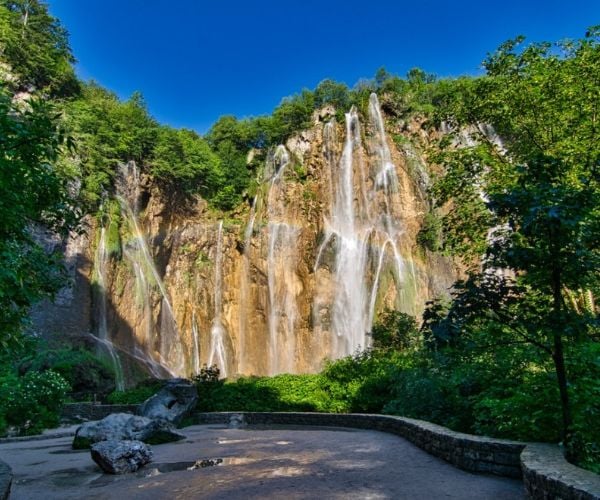 3. Photography paradise
Taking photos at the Plitvice Lakes National Park is a real treat for all photography and nature lovers, as this stunning park will delight you with its marvellous views and natural attractions – a recipe for perfect photos. Keep in mind that, despite the perfect conditions for outstanding photos, the best way to experience the beauty of the park is with your naked eye.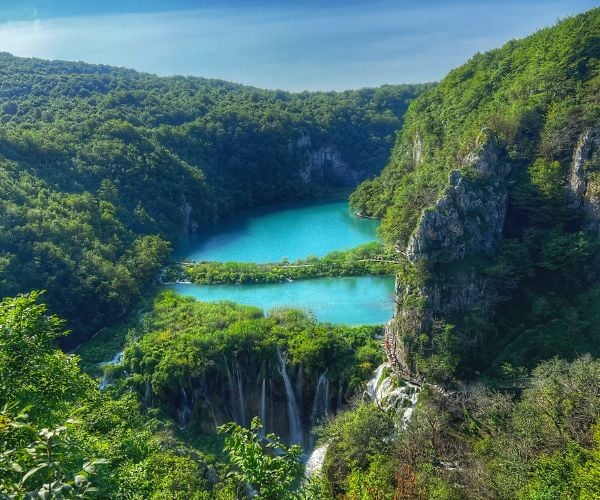 4. Natural diversity
The Plitvice Lakes National Park boasts an immense diversity of its flora and fauna and its lush forests, lakes, and cascades are home to over 1200 plant species and a wide variety of wild animals. From bears to wolves, lynx, and a variety of bird species, the park boasts a rich and lively ecosystem. The park's flora is especially diverse, ranging from intact rainforests to exotic orchids. If you are a nature lover, do not miss the opportunity to explore this natural wonder and discover the amazing flora and fauna of this veritable paradise on earth.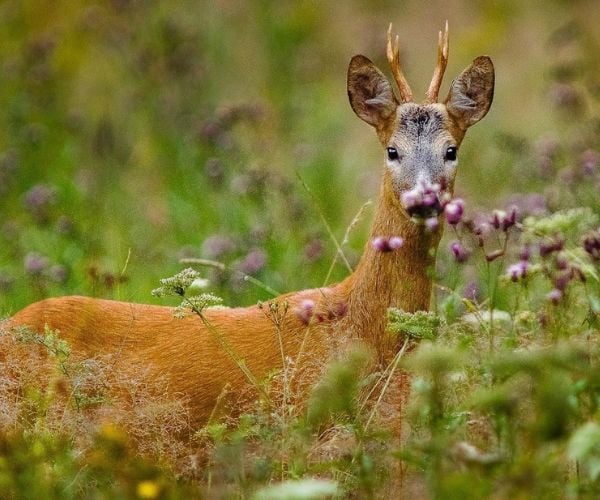 5. Unique wooden bridges
One of the most important elements of the Plitvice Lakes National Park are its unique small wooden bridges and paths made of chestnut wood. These signature bridges take the park's visitors on a tour of its natural attractions in the best way possible – from the close proximity.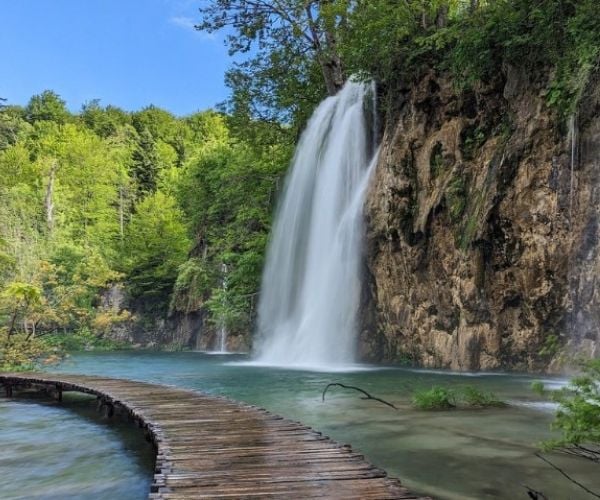 ---
IMPORTANT NOTICE:
If you are reading this article anywhere other than on A Luxury Travel Blog, then the chances are that this content has been stolen without permission.
Please make a note of the web address above and contact A Luxury Travel Blog to advise them of this issue.
Thank you for your help in combatting content theft.
---
6. Romantic aura
The beauty of the Plitvice Lakes will inevitably fill your heart with love and romance, creating a unique romantic aura felt throughout the park, down to its smallest paths and corners, enticing you to fall in love. The scent of fresh air, sounds of nature, and marvellous views create a relaxing atmosphere for enamoured couples. This may be the beginning of your own fairy tale – you may propose to the love of your life at one of the viewpoints or even hold your wedding here.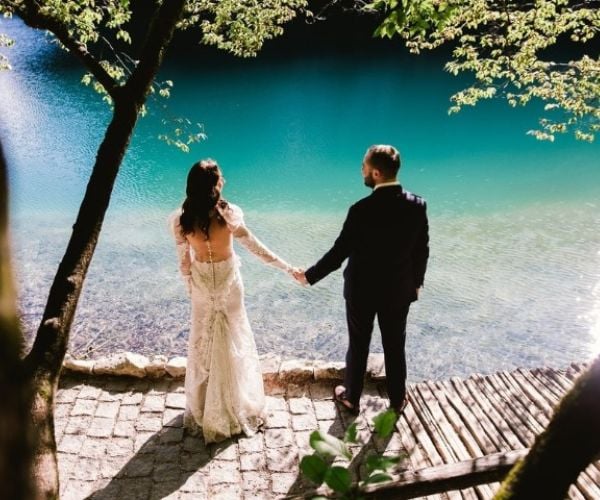 7. Stunning lake colours
The Plitvice Lakes are renowned for the turquoise-emerald colour of its water, which is the created by a combination of minerals, sunshine, and microorganisms from the lakes. The water reflects and refracts light in a specific way, creating astonishing shades of blue and green, which are sure to enchant the visitors. Moreover, given that the lakes are located on different altitudes, the water flowing over the rocks and falling into the lakes below creates a spectacular visual experience.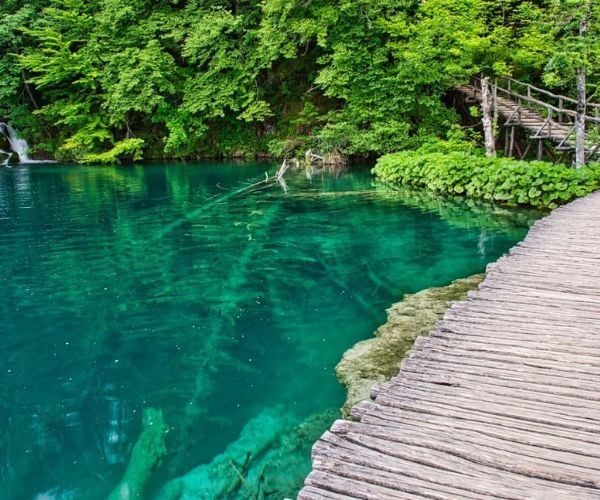 8. Waterfall diversity
The park boasts a great number of waterfalls, the largest of them being Veliki Slap (The Great Waterfall), measuring at 62 metres in height and towering over the smaller ones which are no less impressive.
Waterfalls, their networks, and tufa barriers all result from a natural process of limestone sedimentation.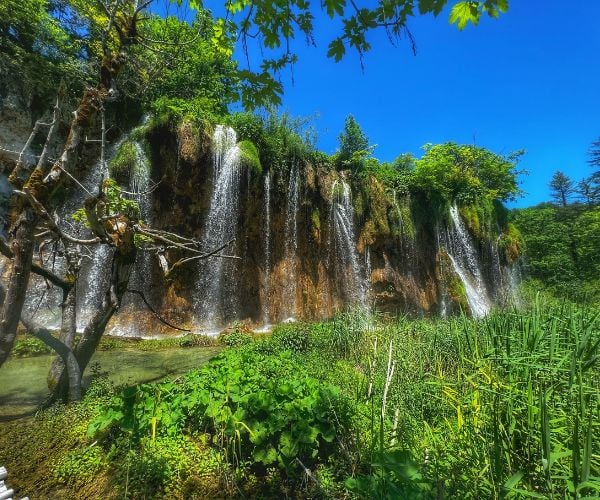 9. Winter magic
The park is open all year round, including winter, when it becomes a veritable fairy tale setting. White snowflakes flutter over the frozen waterfalls while the lakes flow into one another amongst an environment which appears frozen in time, having spent the autumn painting each leaf its own colour.
The mystical silence of winter gives the environment a dream-like aura and the visitors a chance to see the lakes from viewpoints normally hidden from sight by a lush forest. In the nearby Mukinje Ski Resort, you can recharge your batteries by sleighing and skiing on pure, natural snow covering the gentle slopes.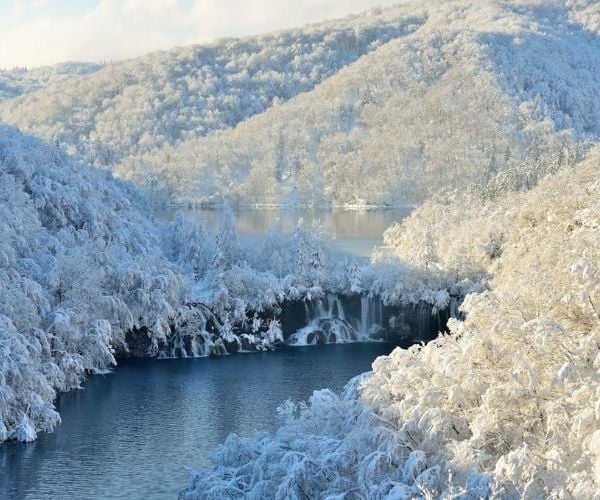 10. Picturesque walking trails
Start your tour by following the clearly marked park trails through lush forests and enjoy a panoramic view of the surrounding landscape. Whether you are an experienced hiker or prefer a casual walk, a marked trail awaits you. A leisurely stroll will take you on a tour of picturesque viewpoints, a fragrant green forest, and across paths made of chestnut wood located near waterfalls, whose murmur hides centuries-old tales.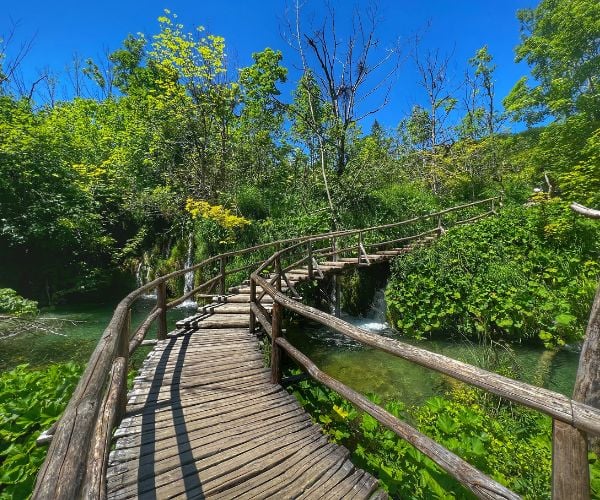 Conclusion
Although there are more than 10 reasons to fall in love with the Plitvice Lakes National Park, we outlined the main few in this blog post. It is up to you to experience the unique beauty of the park and discover your own special treasures.
Tomislav Kovačević is General Manager at Plitvice Lakes National Park. Plitvice Lakes National Park is the oldest and biggest national park in Croatia.
If you would like to be a guest blogger on A Luxury Travel Blog in order to raise your profile, please contact us.