UK Travel
Top 10 most Instagrammable tourist destinations in Britain
The Lake District is officially Britain's most Instagrammable tourist attraction, a new study has shown. The study, conducted by InsureMy, analysed hashtags on Instagram to establish the most famous destinations and attractions in Britain.
The Lake District has been revealed as Britain's most Instagrammable destination, with #lakedistrict surpassing over 4.9 million postson Instagram. The Lake District is a national park based in Cumbria, a popular vacation spot with an array of lakes and mountainous scenery, making it a popular attraction for hikers or those seeking a beautiful view.
The second most Instagrammable attraction is the London Eye. There are currently more than 3.4 million posts using #londoneyeon Instagram. The London Eye is an iconic representation of London and, therefore, a popular post for Instagram users worldwide when visiting.
Big Ben is Britain's third most Instagrammable attraction, amassing over 3.3 million hashtags on the platform for #bigben. The famous clock tower is a mainstay of the London skyline and, therefore, popular with Instagram users visiting the capital.
The Cotswolds is the fourth most Instagrammable destination in Britain, with #cotswolds surpassing over 2.4 million posts on Instagram. The area is beloved for its typically green English landscapes and stone walls, and is a popular wedding destination within the country, with #cotswoldswedding raking in 102,000 Instagram posts.
The Peak District is the fifth most Instagrammable destination, with #peakdistrictamassing over 2.1 million posts on Instagram. Known for its natural beauty, the Peak District national park has an abundance of lakes and waterfalls, making a picture-perfect Instagram post with many posts of users taking a swim.
The New Forest is Britain's sixth most Instagrammable destination, with #newforestreceiving just over 1.8 million Instagram posts. The national park is famous for its unique set of pony breeds named 'New Forest Ponies.' This contributes to its placement on this list with Instagram posts featuring snapshots of ponies accompanying the park's beautiful landscape.
Buckingham Palace is Britain's seventh most Instagrammable attraction, with #buckinghampalace amassing 1.8 million posts on Instagram. Many of these posts commemorate the late Queen Elizabeth as well as a selfie in front of the gates, so the home of the royal monarch was sure to be on this list.
Snowdonia is ranked eighth as the Britain's most Instagrammable destination, with #snowdonia having a total of over 1.2 million Instagram posts. Many of these posts display the mountainous region, with users also posting themselves on the mountain peaks at sunrise.
---
IMPORTANT NOTICE:
If you are reading this article anywhere other than on A Luxury Travel Blog, then the chances are that this content has been stolen without permission.
Please make a note of the web address above and contact A Luxury Travel Blog to advise them of this issue.
Thank you for your help in combatting content theft.
---
Dartmoor National Park places ninth as the most Instagrammable attraction in Britain with over 1,095,000 million posts, with users posting pictures of the standing stones, which are stones preserved from historic times.
Finishing of the list is Scotland's Isle of Skye as the tenth most Instagrammable with over 993,000posts. Instagram users post captions and uploads of the Isle of Skye as a must visit destinations for hikers, as well as uploading posts of the 'fairy pools.' The fairy pools are natural small waterfalls with aqua blue water streaming down making them a scenic and popular Instagram post.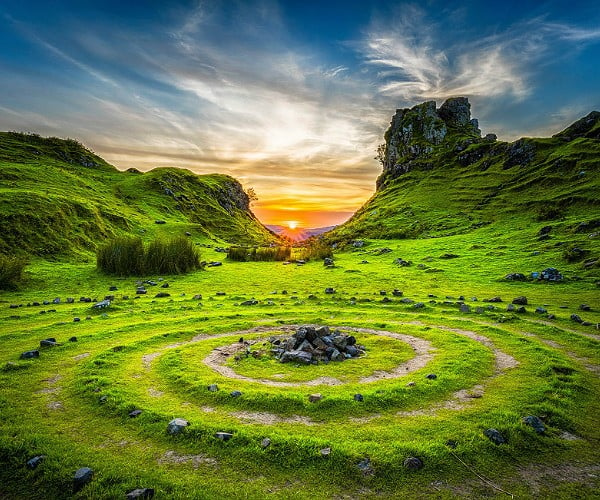 An InureMy spokesperson commented on the findings: "With the ongoing cost of living crisis, many people are choosing to forego a trip abroad and stay in Britain. These findings feature various iconic attractions or destinations in the country. For instance, the Lake District and Peak District are great spots for hikers and campers, while Big Ben and Buckingham Palace are ideal for those interested in historical attractions. The list has something suitable for every Brit, with a harmonious blend of cultural significance, historical importance, and natural splendour, vividly portraying the essence of Britain.
A summary of the top 10 most Instagrammable tourist destinations in Britain according to the study can be found below:
| | | |
| --- | --- | --- |
| Rank | Attractions | Instagram posts |
| 1. | Lake District | 4,932,000 |
| 2. | London Eye | 3,400,000 |
| 3. | Big Ben | 3,300,000 |
| 4. | Cotswolds | 2,400,000 |
| 5. | Peak District | 2,100,000 |
| 6. | New Forest | 1,855,000 |
| 7. | Buckingham Palace | 1,800,000 |
| 8. | Snowdonia | 1,200,000 |
| 9. | Dartmoor Park | 1,095,000 |
| 10. | Isle of Skye | 993,000 |