UK Travel
The 6 destinations you should include in your land-based itinerary in Galapagos
What do you imagine when you hear about the Galapagos Islands? The Enchanted Islands, located about 1,000 km off the Ecuadorian coast of the Pacific Ocean, are a top tourist destination due to the diversity of fauna, plants and charms that each island and islet offers.
The archipelago is made up of 13 main islands, each of which offers wonderful destinations for your visit. In addition to cruise programs, you can also choose a land-based itineraries. Below are some destinations you should consider including in your itinerary.
Santa Cruz Highlands: A cultural experience
Located in the central part of Santa Cruz Island in the Galápagos archipelago. It is a fascinating and diverse area known for its lush vegetation, volcanic formations, and unique wildlife. One of the highlights of the Santa Cruz Highlands is the giant tortoise population. These iconic creatures can be found roaming freely in their natural habitat. Visitors can observe these magnificent animals up close, witnessing their slow and gentle movements.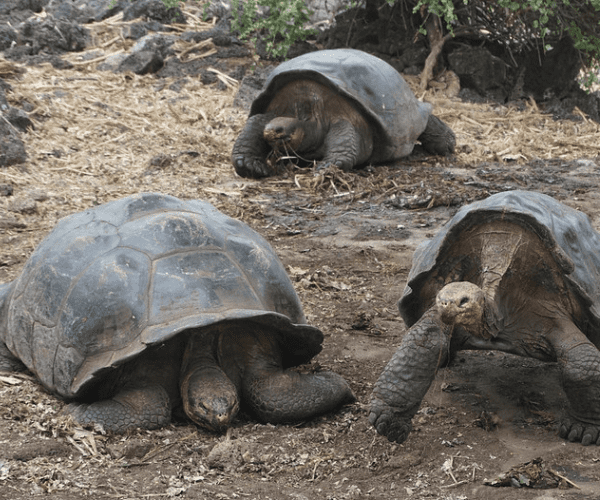 There are several reserves and farms in the Highlands like Charles Darwin Station, El Chato and Manzanillo Ranch. Furthermore, it is possible to visit Los Gemelos (The Twins), which are two significant sinkholes that were derived from the collapse of lava chambers. These iconic geological features provide an insight into the volcanic history of the islands.
Would you like to climb to the top of the island?
Tortuga Bay: A paradisiacal destination
To reach Tortuga Bay, visitors usually start their journey from the town of Puerto Ayora, located on the island of Santa Cruz. From there, it's about 2.5 km along a well-marked trail through arid vegetation and cacti, or you can take a boat to the beach. The trail is relatively easy to follow.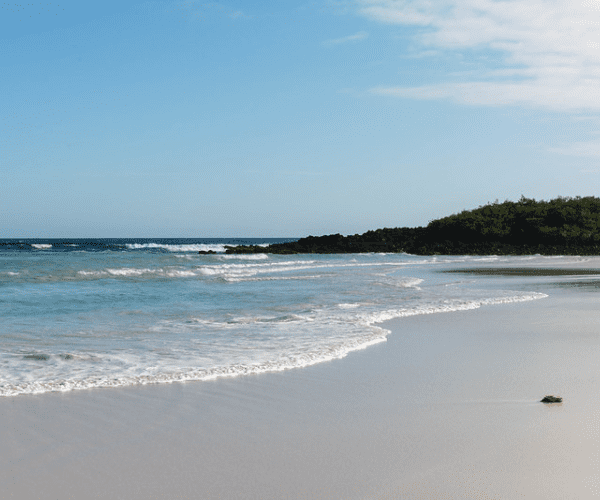 Sea turtles, after whom the place is named, lay their eggs seasonally, as do marine iguanas, which can also be found here, as well as birds such as pelicans, Darwin's finches, mockingbirds and doves. Tortuga Bay offers a pristine and picturesque beach experience, allowing visitors to enjoy the natural beauty and biodiversity of the Galapagos Islands. It is an ideal destination for surfing, snorkelling and trekking.
Would you visit this place?
Leon Dormido: An iconic place in the archipelago
Leon Dormido or Kicker Rock, located off the coast of San Cristóbal Island, is named after its striking resemblance to a sleeping Lion. The two large rocks that make up the body and head are shaped like the bones. This geological formation, which stands at approximately 148 meters (485 feet) high, is visible from a distance of miles.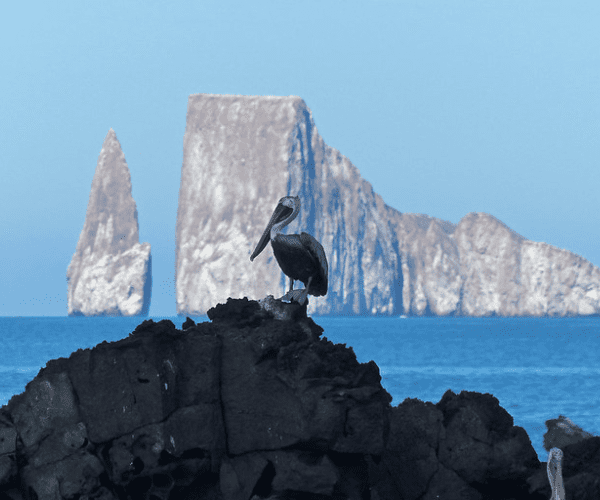 Divers will encounter many species, including hammerheads sharks and Galapagos Sharks. They can also see rays, turtles and tropical fish. Diverse seabirds' nest on the rocks, such as blue-footed, Nazca, and frigate birds.
Would you dare to dive into the waters of this beautiful place to discover life under the sea?
Española Island: An ideal daily tour
Española Island is in the extreme southeast of the Galapagos Archipelago, 2 hours to the southwest of San Cristobal Island. The oldest island of the Galapagos Archipelago is Española, which dates back over 4 million years. This island is home to a wide variety of bird species, including masked and blue-footed boobies, Galapagos Gulls, red-billed tropical birds swallow-tailed geese, and of course home of the endemic waved albatrosses. Gardner Bay is known for its beaches, which rank among the best 100 in the entire world.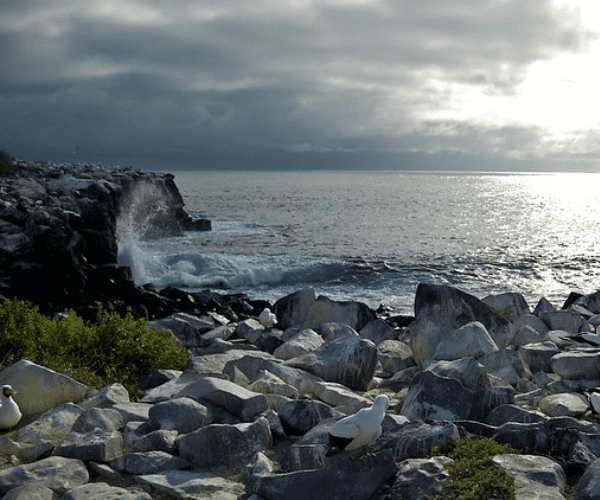 Visit other places like Islote Tortuga, this small island is shaped as a turtle and in this beautiful place you can see sea turtles, fish species, and sea lions swimming in the water. Manzanillo is another destination that you should consider visiting. It's a beautiful beach where you can relax and go snorkelling.
Los Tuneles: A window to the marine life
Deep beneath the pristine waters surrounding Isabela Island in the Galapagos archipelago lies a hidden wonderland known as Los Tuneles. This unique geological formation is a labyrinth of lava tunnels and arches that have been shaped by the forces of nature over time, creating a surreal underwater paradise. Snorkelling in Los Tuneles offers a window into an underwater wonderland.
The shallow, turquoise waters are home to an array of marine species, including sea turtles, reef sharks, rays, and an abundance of tropical fish. The clear channels allow snorkelers to glide through and admire the intricate coral formations that give a vibrant backdrop to the aquatic dance of life.
Sierra Negra volcano: A special adventure
The Sierra Negra Volcano is located about 21 kilometers (13 miles) away from Puerto Villamil which is the main settlement on Isabela Island. Sierra Negra, one of the Galapagos' most active volcanoes, has one of the world's largest volcanic calderas. A visit to this area is also a great opportunity to experience the ongoing volcanic activity. It is possible to see lava tubes and feel the hot air that comes out of natural vents.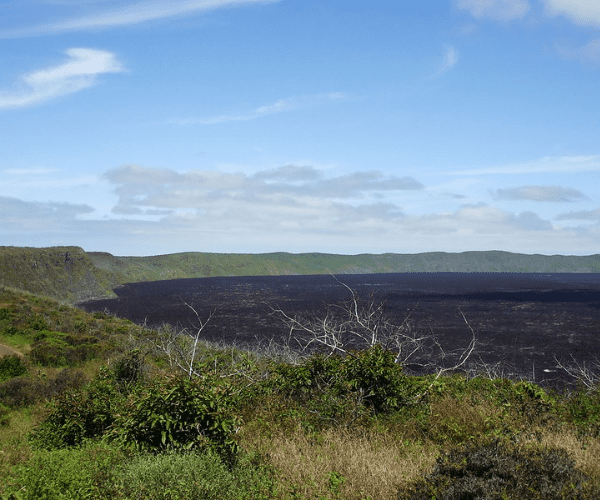 The crater of the volcano is over six miles wide, and creates a breath-taking panorama as far as you can see. The name "Sierra Negra", which translates as "Black Mountain," describes the dark volcanic terrain that dominates this area. Sierra Negra offers an experience unlike any other. Hiking trails lead visitors through the volcanic landscape to the edge and crater, offering stunning views.
Prepare your hiking gear, and get ready for an adventure!
The Galapagos Islands never disappoint their visitors, now you know more about certain destinations that you should include in your bucket list, comment if you are interested and if you would like to read about more destinations you should visit in the Enchanted Islands.
Marcel Perkins is CEO at Latin Trails. Latin Trails is an incoming destination management company specialized in bespoke tours, with a focus on offering unique experiences throughout Ecuador, the Galapagos Islands, and Peru.
If you would like to be a guest blogger on A Luxury Travel Blog in order to raise your profile, please contact us.