UK Travel
Review: Riviera's French Riviera and Corsica aboard Star Clipper
But the French Riviera and Corsica is only half the story. Throw in Elba and Rome too. Seven nights on the sails-billowing Star Clipper are wrapped with hotel nights in Nice and Rome.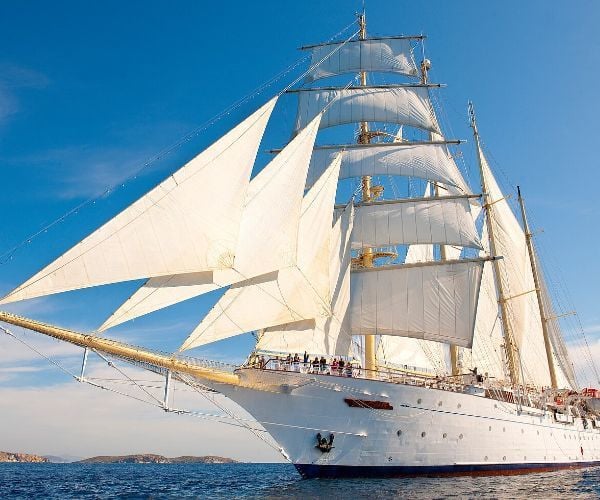 Nostalgically rekindling the golden age of sail, the four-masted 366-feet long clipper sails through the Mediterranean. From the bikini and jet-ski hedonism of Nice to the pure white cassocks and imperial grandeur of Rome.
This fairy-tale tall-ship calls in on the French island of Corsica on its voyage from the Côte d'Azur to Italy.
The welcome
A month before departure, a personalised cruise booklet drops through the letter box. From flight times through cabin number to dinner dress code, everything is included.
On arrival at Nice airport, Riviera's representatives guide guests to a coach for transfer to a city centre hotel.
On Day 2 we leave Nice for Cannes, driving past the last foothills of the Alpes-Maritimes and Hemingway's beloved Antibes. This is a landscape where you can ski in the morning and swim in the afternoon.
A tour of glittering Cannes takes us past the famous red carpet, cleaned thrice daily during the Film Festival. Handprints recall stars of the movie world. We walk along a short stretch of the elegant Croisette promenade and then into a market where stalls are laden with the produce of Provence.
Late afternoon, a tender crosses to the Star Clipper moored in the bay. Cool flannels, an iced punch and afternoon tea welcome us aboard.
The cabin
Smoothly lacquered rich mahogany blends with warm brass to create admiral chic. Staff service the cabin twice a day. Most cabins can be configured as twins for friends travelling together.
Space at sea is at premium so there is room under the bed for cases as well as many drawers for storage to keep everything ship-shape. In true Hornblower style, a porthole gives an ocean view. But Hornblower never had a wall-mounted television with DVD player, air-conditioning and en-suite bathroom with shower.
The facilities
Cooled by sea breezes the open-air Tropical Bar is the venue for drinks throughout the day and post-dinner dancing, quizzes and shows. It leads into a book lined library, the sort of room  with green baize bridge tables, where Nelson would have planned strategy.
Breakfast and lunch are grand buffets served in the restaurant. An egg chef flips omelettes whilst other guests mix-and-match from fruit, continental and a traditional English breakfast. Undoubtedly, high quality food is one of the Star Clipper's strengths.
Usually lunch is a buffet in the Clipper Dining Room. Though a deck top buffet, served in the limestone amphitheatre port of Bonifacio, has to be one of Corsica's most beautiful lunch spots.
There is open seating for the a la carte dinner service which stretches over two hours. Clipper guests tend to be adventurous souls, often well-travelled, and they enjoy the opportunity to swap yarns. A Captain's Dinner, with lobster and steak on the menu, and a waiter's procession of flaming baked Alaska desserts is a memorable occasion. Throughout the cruise, waiters in blue-hooped sailor attire provide discrete and efficient service.
Two splash pools, on sun and aft decks, are surrounded by sun-loungers. Alternatively, there is the bowsprit net for soaking up the sun. Guests seeking the ultimate in relaxation sign-up for an Asian massage.
Then for a true Hornblower heart-stopping moment, harnessed guests learn how to climb the rigging, if they wish.
Excursions
Tenders take guests to a beach, near St Tropez, for a morning of swimming, paddle-boarding and kayaking.
Arriving in the billionaires' playground of arty St Tropez, the yachts are more mega, the bronze tans deeper and the bikinis briefer than in Nice and Cannes. Helicopters buzz overhead.
It may well be that Brigitte Bardot's performance in the 1956 movie, "And God created woman" now shapes this tiny town's decadent personality more than when the body of Christian martyr St Topaz was washed ashore in AD 55.
Five excursions on Corsica deserve a post of their own on another day. From Ile de Russe there is a drive through the mountain villages, a full day in Ajaccio to explore Napoleon's legacy, stunning views from the limestone peninsula of Bonifacio, water sports and swimming on a beach stop and finally historic Bastia.
Three hundred days, the length of Napoleon's exile, encouraged travellers on the Grand Tour to include Italy's third largest island. After docking at Portoferraio, a scenic drive takes us to Porto Azzurro, known as Little Portofino.
Arriving at the working farm of Tentua Chiusa, where the vineyards run down to the beach, cypress and olive trees bring a feel of Tuscany to the landscape. A wine tasting is accompanied by cheese, olives, salami and bread dipped in the estate's extra virgin olive oil. Drunk cake made from Tentuta Chiusa's sweet red wine, with almonds and grapes, encapsulates the flavours of this beautiful estate.
---
IMPORTANT NOTICE:
If you are reading this article anywhere other than on A Luxury Travel Blog, then the chances are that this content has been stolen without permission.
Please make a note of the web address above and contact A Luxury Travel Blog to advise them of this issue.
Thank you for your help in combatting content theft.
---
Rome is the grand finale. Walking round St Peter's basilica, immaculately restored after an 1826, our guide introduces us to a world of architecture where every colour, pose and texture has meaning.
A coach tour introduces the remains of ancient baths and city walls, the Coliseum and Mussolini's rail terminus. And the Circus Maximus that once offered chariot races now hosts the likes of Bruce Springsteen. It's a journey from The Emperor to The Boss. Then it's a walk through piazzas and pizzas to the Pantheon, the Piazza Navona and the Trevi Fountain. But don't clamber in for a cooling dip the fine is €800.
Other nice touches
Importantly, when Riviera charter the Star Clipper, just one language is spoken. English. A daily programme, delivered to every cabin, features a potted history on each port of call, often with a map too. Self-service tea and coffee are available in the Piano Bar. In addition, there is an early bird breakfast available and also late night snack. On the last evening, a copy of a book "The Star Clipper World," is left on the bed during the turn down service, as a farewell gift.
The best bit
Riviera take care of everything. Booking the flights and sending the check-in codes. Transfers are seamless. Luggage is delivered and collected to and from rooms and cabins.
Two French-speaking Riviera staff are on hand to advise on the daily programme and sort out any issues. Setting up their impromptu "office" in the Piano Bar, they are on hand to help with any problem from a blocked sink to a medical emergency.
The cost
On July 12th 2024, Riveria will offer The French Riviera and Corsica: From Rome to Nice via Sardinia and Corsica, this time on The Star Flyer. Beginning in Rome, the 11-day journey concludes in Nice, calling at Portoferraio, Bonifacio, Alghero, Ajaccio, Calvi, St Tropez and Cannes.
Prices begin from £2,799, which includes flights, transfers, full breakfast, buffet lunch, afternoon tea and a la carte dinner whilst onboard, breakfast with hotel stays and an expert tour manager. View the itinerary here.
The final verdict
Riviera's epic journey from Nice to Rome, by land and by sea, is perfect for the traveller wanting to relax with the experts taking care of organising an adventurous itinerary staffed with knowledgeable and enthusiastic local guides.
As almost all excursions are included in the price, there is no need to book ahead. Travellers have the freedom to make up their mind on the spur of the moment.
This intimate small ship, where cruisers quickly make new friends, is able to access coves and ports beyond the reach of the large cruise ships.
Disclosure: Our voyage was sponsored by Riviera Travel.