UK Travel
5 lesser-known spots for holidays in Spain
For those ready to break free from cliched summer breaks and immerse themselves in the hidden gems of sun-drenched Spain, Paradores Hotels & Restaurants offers stays in unforgettable properties in lesser-known spots. From staying in a king's Summer residence, to exploring wildlife on a mountain peak to soaking up the vibes of a modern maritime city, here's where travellers can go to experience a Spanish holiday like no other.
La Gomera in the Canary Islands: To enjoy nature and discover diverse wildlife
Where: La Gomera is a relatively unexplored island in the Canaries, and the last point of call for Columbus before setting off to the New World.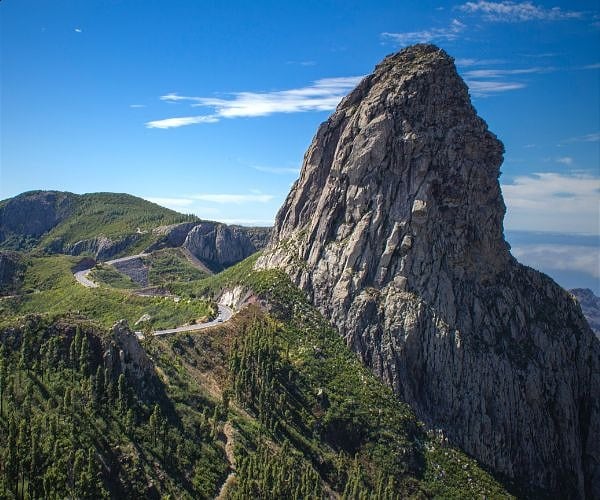 Don't miss: A hike through Garajonay National Park. It's a prehistoric rainforest and UNESCO World Heritage Site. With the island's sub-tropical climate, there are thousands of species of fauna and flora, with misty laurel trees straight out of a fairytale.
Stay in: Parador de la Gomera. It's a traditional Canary Island manor house, with wooden ceilings, fountain-laden inner courtyards and gardens full of cactus, palm trees and other subtropical species. Its swimming pool offers panoramic views of the Island, Atlantic Ocean and Tenerifes Mount Teide. Prices start from €100 per night on an accommodation-only basis.
How to get there: Fly to Tenerife or Gran Canaria and hop on a ferry to La Gomera .
Baiona, near Santiago de Compostela: To revel in coastal charm
Where: Baiona is a picturesque, coastal town in Northern Spain, with a medieval historical centre.
Don't miss: Jumping aboard a boat trip to the Cies Islands, an unspoiled natural paradise with century-old pristine beaches and crystal-clear waters.
Stay in: Parador de Baiona. It's a traditional Galician manor that overlooks the Atlantic Ocean and the Cies Islands. Housed within the walls of a medieval historic fortress, it was originally built to ward off pirates and even, deterred Sir Francis Drake back in 1585 from reaching Baiona's Shores. Its stone walls, timber beams and regal central staircase transports guests back in time. Prices start from €110 per night on an accommodation-only basis.
How to get there: Fly to Vigo.
Benicarló, near Valencia: To indulge in Mediterranean delights
Where: Benicarló is an important fishing port and distinctly Spanish tourist hub on the Costa del Azahar in Eastern Spain. It has a long beach, and a pedestrianised historic quarter filled with remarkable examples of stately architecture.
Don't miss: The Benicarló artichoke. It's a local speciality found in many of the dishes here. The same goes for the Mediterranean cuisine in the Paradors' onsite restaurant. With its proximity to the sea, there's no shortage of fish, and as for its abundance of local fruit trees, guests can sip on freshly picked and squeezed orange juice.
---
IMPORTANT NOTICE:
If you are reading this article anywhere other than on A Luxury Travel Blog, then the chances are that this content has been stolen without permission.
Please make a note of the web address above and contact A Luxury Travel Blog to advise them of this issue.
Thank you for your help in combatting content theft.
---
Stay in: Parador de Benicarló. It's a balcony-lined property with bright, sea facing bedrooms, just 30-metres from the city's sandy beaches and blue waters. With a large garden that stretches down to the beach, numerous sunbeds, an outdoor pool and tennis courts, it's the perfect spot for getting a taste of the Mediterranean. Prices start from €85 per night on an accommodation-only basis.
How to get there: Fly to Valencia.
Limpias, near Bilbao: To relive centuries of history
Where: Limpias is a small town on the Cantabrian coast, about half-way between Bilbao and Santander. Its town centre is lined with the stately homes of the Spanish that made their fortunes in Latin America.
Don't miss: A tour of the nearby prehistoric Covalanas caves, a cave network discovered only in 1903 with beautiful red-hued animal paintings dating back to around 20,000 BCE.
Stay in: Parador de Limpias. It's a majestic 19th century palace, once the summer home of King Alfonso XIII, and is surrounded by UNESCO World Heritage listed trees and the Limpias estuary. The warm, regal rooms, luscious gardens and tennis courts invites guests to walk in the footprints of royalty. Prices start from €100 per night on an accommodation-only basis.
How to get there: Fly to Santander or Bilbao.
Mojácar, near Almeria: To amuse all the family
Where: Mojácar is a traditional southern Spanish town outside of Almeria with a wild, natural beach where sailing, fishing and water skiing is commonplace.
Don't miss: A visit to the Natural Park of Cabo de Gata. Just 20 minutes away, the park is an area marked by volcanic cliffs, coves and beaches. It's a hotspot for water sports like surfing, as well as birdwatching and hiking.
Stay in: Parador de Mojácar. It's a modern property that blends seamlessly with the traditional, white-washed buildings that fill the town's maze of narrow, winding streets. With family friendly rooms, a children's play area and paddling pool yet wellness areas, including a sauna and solarium, the Parador caters for the whole family. Prices start from €100 per night on an accommodation-only basis.
How to get there: Fly to Almería.
About Paradores Hotels & Restaurants
Established in 1928, Paradores is a network of Spanish state-run hotels found in some of the most beautiful settings on the Iberian Peninsula spanning converted monasteries, Manor Houses, Moorish castles, luxurious resorts as well as some exceptional modern properties.
Paradores is committed to providing travellers with the opportunity to explore top cities, regional gems and experience nature while discovering the absolute best in Spanish culture, leisure activities, and gastronomy. Paradores is driven to protect the country's historical and cultural assets, breathing new life into prestigious buildings, and putting lesser-known regions onto the map.