UK Travel
Best Greek Island holidays for families
If you're searching for Greek island holidays for your next family trip it's likely you're feeling a little overwhelmed by the choice. After all, with 227 inhabited (and 6,000 uninhabited) islands, where do you start?!
There are so many different ways to enjoy these incredible destinations nestled in the Aegean and Ionian Seas including all-inclusive hotels, self-catering villas and cruise holidays.
If you are looking for ideas then this post includes ideas for some of the best package holidays to consider when visiting Greece with kids.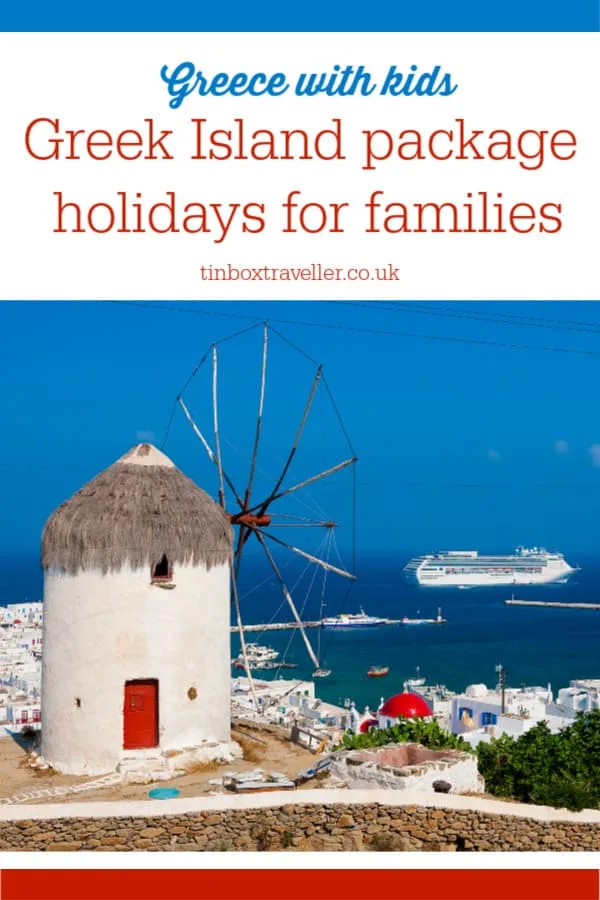 *This post contains affiliate links*
Greek Island all-inclusive hotels for families
Kiani Beach Resort in Crete
We couldn't have asked for a better family hotel in Crete for our first trip to the Greek Islands. Kiani Beach Resort is a 4 star all-inclusive resort geared towards kids. It's less than an hour transfer from Chania Airport and is right on a blue flag beach. 
As well as being able to take a dip in the sea and enjoy water sports right in front of the hotel, there are two swimming pools and two toddler splash pools.
Our girls loved the kids clubs and the evening entertainment. Plus, there is an excellent selection of rooms to accommodate families, and interconnecting apartments for larger family groups.
We had a great time exploring the Chania region in western Crete too. Here's some of the things to do in Chania that we can recommend. And, if you are planning on hiring a car, here's our guide to driving in Crete.
Read more of our Kiani Beach Resort review and take a look at our superior maisonette loft room tour below:
Check prices for Kiani Beach Resort* with Booking.com or book direct through the hotel.
Find more of the best places to stay in Crete with kids.
Cruises around the Greek Islands
We love cruising and have been to the Western Mediterranean, Europe and the Caribbean. Another destination we can highly recommend is the Eastern Mediterranean. Cruises to this area will inevitably visit the Greek Islands.
Cruises out of Venice* regularly stop in destinations like Katakolon, Santorini and Mykonos allowing you to get a taste of more than one island in the space of one or two weeks.
Imagine being able to tick off more than one of these amazing places to visit in Greece in one holiday!
Greek Island villas for families
If you prefer holidaying at your own pace then a villa holiday in the Greek Isles could be the perfect answer. Even better if it comes with its own pool where you can hang out as a family and enjoy sundowners after the kids have gone to bed. 
Booking.com has plenty of options for Greek Island holidays including villas by the beach, villas with hot tubs and ones that are perfect for babies and toddlers. There are too many options to list them all, so why not search for your perfect villa holiday in Greece*.
Have I whetted your appetite for one or more Greek Island holidays? I'd love to hear what you have planned.
Disclosure: This post contains affiliate links marked with*. If you click on one of these and make a purchase I may earn some commission. This does not affect the price you pay. Images courtesy of Pixabay and Shutterstock with the exception of the Kiani Beach Resort image.
If you are planning your family holiday then why not pin this post about Greek Island holidays for future reference.
Source link
[gs_pinterest id=1]