UK Travel
Our 2 week Sri Lanka itinerary: coast to coast with kids 
When I started planning our Sri Lanka itinerary I had two criteria: avoid the monsoon and strike a balance between experiencing the country's most famous sights while building in time to relax.
*This post contains affiliate links*
Our trip rolled straight on from a month visiting family in the UK and a week in Budapest, so skipping the 'relaxing' part would have been a recipe for pre-teen meltdowns. 
We still managed to pack a lot into our two weeks in Sri Lanka, starting in the capital Columbo, traveling to the ancient cities in the central region, going on safari, parking ourselves next to the beach on the East Coast, and returning via the tea plantations of the Hill Country and the kingdom of Kandy.
Sri Lanka is like nowhere we have been before with its lush landscape teeming with wildlife and Buddhas at every turn. Its ancient civilisations left the most incredible legacy while the Sri Lankans of today fall over themselves to welcome you.
We experienced a lot of firsts here too – temples, an elephant safari and sunrise family swims. So Sri Lanka will always be special to us.
After sharing snippets from our trip on Instagram I know that lots of people are keen to hear the details, good and not so great. If you are planning a family trip to Sri Lanka then I hope this travel diary will give you inspiration for your own adventure. 
So here we go…
Summary of our Sri Lanka itinerary
Here's a quick guide to our 14 days in Sri Lanka:
Days 1 to 2: Columbo – a whistle-stop tour of temples, the colonial Fort area and the capital's newest attraction, the Lotus Tower.
Days 2 to 5: Sigiriya – climbing the 'Lion Rock', visiting a local village by ox cart and boat, and going on an elephant safari in Kaudulla National Park.
Days 5 to 9: Pasikuda – four indulgent days of sunrise swims and chilling by the pool.
Days 9 to 12 Koslanda – an incredible jungle lodge stay compete with monkeys, swimming at a waterfall and infinity pool time.
Day 12: a journey through the Hill Country by train and road to the ancient city that's home to the Buddha's tooth.
Days 13 to 14: climbing the Ambuluwawa Tower in Gampola, visiting the Temple of the Tooth relic and returning to Columbo via the Royal Botanical Gardens at Peradeniya.
Not backpacking around Sri Lanka
We arranged our trip ourselves, so this isn't a package holiday. It's also not a backpacking itinerary, which a lot of people come to Sri Lanka to do.
I decided our route based on places I wanted to visit and booked hotels close by through booking.com.
Reading Travel Mad Mum's guide to Sri Lanka with Kids gave me the confidence to put together our own itinerary rather than book through a tour company. Karen is also a good source of information for larger families visiting Sri Lanka as she lives there with her family of six.
If you would like some advice on how to slow travel with your family I can recommend reading Travelynn Family's Sri Lanka back packing itinerary.
While Jenny and I travel a little differently, we do share a love of camper vans and she inspired me to book our accommodation in Koslanda. Spoiler alert: we loved it.
We got around with a driver who took us to all the sites, helped us arrange tours and transported us between our hotels. He was another tip from Karen which saved us money on hiring our own car.
When we visited Sri Lanka
We took our trip to Sri Lanka in August. This is monsoon season in the south and west. We planned our itinerary to avoid this. The central region and east coast are the best places to visit at this time of year. 
The Ancient Cities were hot but not unbearable. We started excursions early on the days we knew we were going to be walking a lot and left the hotter afternoons for the pool or less strenuous activities. 
The Hill Country was cooler but dry and the East Coast was hot. We didn't do much during apart from relax beside the hotel our four days there – but that was always the plan.
Our 14 day Sri Lanka itinerary
Here is a day by day guide to the places we experienced during our two weeks in Sri Lanka. We didn't cover a fraction of what there is to see, so have been left very tempted to return.
Days 1 to 2: Columbo
Our flight into Columbo's Bandaranaike International Airport landed in the evening, so rather than start our journey East we checked into a city hotel. 
This gave us a full day to explore Columbo. Although four hours was plenty for the kids, even with a pitstop for ice cream at one of Sri Lanka's top dessert spots, Rio Ice Cream on Wellawatta Beach.
Temples
We began our whistle stop tour of Columbo with a look around the treasures of the colourful Gandaramaya Temple. It was the first of several temples we visited during the fortnight and a good place to introduce the kids to Buddhism.
For tourists like us, Gandaramaya feels more like a museum than a temple with an eclectic mix of offerings on display.
Glass cases are lined with antique fire arms, jewellery and vintage Rolls Royce cars, while the floors are strewn with statues, furniture and random animal tusks. The hundreds of thousands of unannotated donations would be a curator's nightmare. 
The most fascinating piece we admired was Sri Lanka's smallest Buddha statue. You can inspect the detail using a magnifying glass built into its tiny case.
From Gandaramaya we took a short walk to Seema Malaka – the temple on Beira Lake.
This is a much more tranquil place. Or so I thought until I had to do a dance across the bridge when I realised how hot it had become under the full glare of the August sun.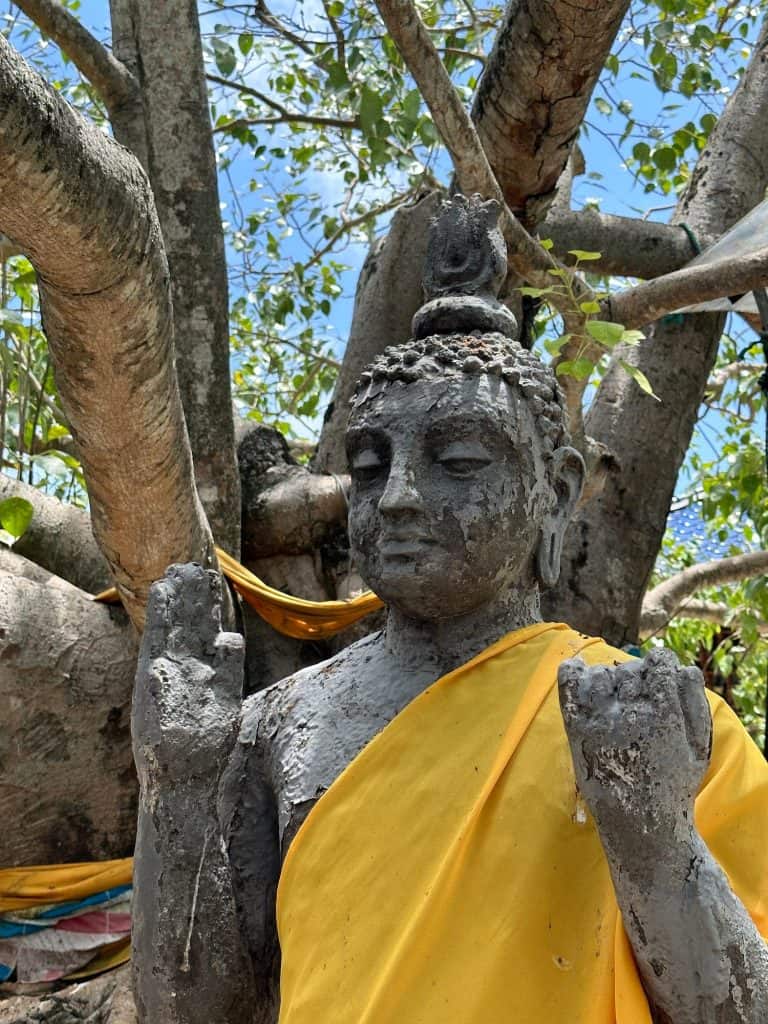 You don't need long to explore Seema Malaka. It is much more as I imagined Buddhist temples to be – floating in a sea of calm, albeit in the centre of busy Columbo with a shopping mall across the road.
There has been a temple here much longer than the mall. One hundred and twenty years to be exact. Geoffrey Bawa, Sri Lanka's most famous architect, built the current one in the 1970s.
Independence Square
Next up was a bit of national history and a visit to Independence Square. 
This opened in 1948 when Ceylon became independent from the British Empire. Next to it is a huge pavilion where we dove for shade. It's modelled on the audience hall at Kandy, which we were to see towards the end of our trip. 
Columbo's Lotus Tower
The kids were flagging at this stage so we decided to draw a line under our cultural sightseeing for the day and instead take a trip up the Lotus Tower.
This 350-metre tower opened in September 2022 and is the 11th tallest tower in Asia with an open air observation deck on the seventh floor, 244m up.
This was our biggest expense in Columbo at $20 per adult and $10 for children up to the age of 10-years-old, but you get a brilliant view of the city. There wasn't much else open within the tower when we visited although there are lots of spaces for other entertainment and businesses to open. 
The tower looks fantastic when it is lit up at night.
Where we stayed in Columbo
Zest Metropole* is in a great location in the Fort area of Colombo. It's close to the seafront, the Lotus Tower and is right next to the 17th Century Dutch Hospital where colonists were once treated for malaria. It's now home to bars and restaurants. 
Of course, close to bars also means 'noisy on the weekends' but it didn't keep our girls awake. 
Our rooms were modern, clean and had excellent free wifi. There were also views of the sea and Lotus Tower.
Days 3: travel to Sigirya 
The next morning we set off through Columbo's melee of morning traffic for a four hour drive to our second base not far from the ancient palace of Sigiriya. 
Outside Columbo we got our first glimpse of Sri Lanka's lush green landscape. We passed coconut palms, banana trees and white houses with terracotta tiled roofs.
After an hour we joined the road North to Kandy and then towards Sigirya. The towns along the way were bustling with people selling battery operated toys, fruit and Buddha statues on the side of the road. 
Families of four whizzed past us on single mopeds and I amused myself reading each tuk tuk's bumper. 'Wise is speed' and 'off road express' were among the laminated messages.
Despite the promises, you don't get anywhere fast on Sri Lanka's roads. But there's always something going on.
Not long before we reached our next base we spotted monkeys, which was quite a treat for our girls who haven't seen them in the wild before.
And then an elephant crossed the road. Minds were blown. It was all a very surreal introduction to the incredible wildlife we were to see during this part of our Sri Lanka itinerary.
Day 4: Sigirya and Dambulla
I'd originally planned just two nights stay near the UNESCO World Heritage Site of Sigiriya, but realised the area was worth at least three if we are to continue on our mission to not push the kids too hard. 
Even so, we were up at 5am on day four so we could climb Sigiriya rock.
Sigiriya – Sri Lanka's Lion Rock
Sigiriya is a fascinating place both from a geological and historical point of view. It stands proud in the jungle landscape because it is the magma plug of a volcano that eroded away more than two million years ago.
Closer to modern times – a mere 1,600 years ago – the Sinhalese King Kashyapa decided to turn the rock into a palace complex complete with a crocodile-filled moat, swimming pools and fearsome fortifications.
Not long after building his new capital King Kashyapa lost power to his brother and committed suicide. Buddhist Monks took over the rock and it later fell into disuse.
You can read more about the rock's history and see some of its vibrant frescos that remain today on the National Geographic website. 
Practicalities of visiting Sigiriya
While planning our visit I'd read that the best times to climb the rock were early morning or evening to avoid the biggest crowds and being caught in the sun. There is no shade as you ascend the metal steps drilled into the granite or at the palace ruins at the top.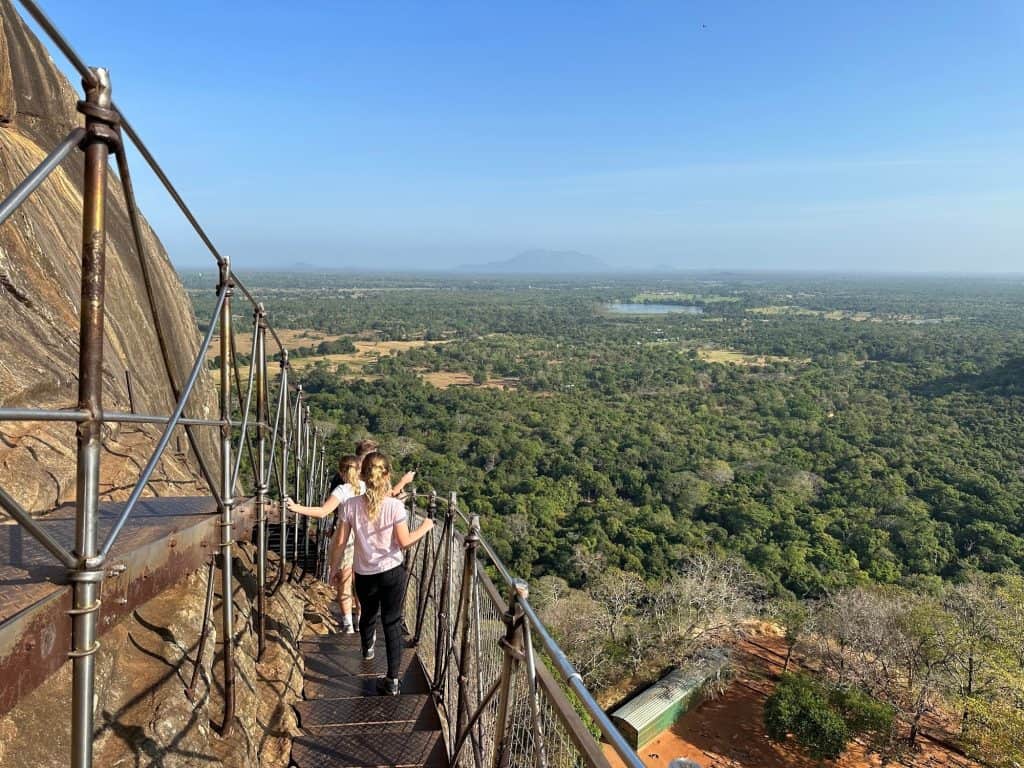 I was prepared for a difficult climb but it was much easier than I had built it up to be. There were still complaints from the kids, obviously.
If you have a fear of heights it might be more of a challenge as the steps hang out over the side of the rock.
At the top you can see the outline of the palace and 360 degree views of the plateau that surrounds it. 
The ticket office opens at 6.30am but our Friends of Sigirya guide told us it was possible to climb the rock from 5am. Lots of people come for sunrise.
If you plan to do this yourself it's best to check in advance as it may only be possible during the peak tourist season and you'll have to buy your tickets the night before.
We arrived at 6.30am and were up and down the rock by 8.45am.
Dambulla cave temple and Golden Buddha in Dambulla
It was still early in the day and despite some grumps from the kids, we decided to visit Dambulla before lunch.
The Dambulla cave temple is actually a series of temples built at different times in natural or manmade caves in the hills above Dambulla. Yes, we made the girls climb another hill!
But they quickly perked up when they spotted monkeys hanging around the ticket office. 
The climb up to the temples is short but steep with small rest areas where you can admire the view. During the climb there are wafts of incense and ladies selling lotus flowers for you to offer to the Buddha when you reached the top.
We arrived at 10.15am had a very rushed tour with one of the temple guides. We only realised why after we'd handed over our cash. The temples close between 10.30am and 10.45am, so he wanted to show us around quickly and find some other customers when the temples reopened. 
But to be fair, the kids would have happily looked in a couple of the temples and left. As amazing as they are, one reclining Buddha was merging into the other for the kids by mid-morning.
They were much more excited by the monkey families that trotted past us as we descended back down the other side of the hill to the front of the Golden Buddha Temple.
We decided to admire this from the outside only and were back at our hotel by lunchtime with a whole afternoon to dedicate to the pool. 
Day 5: Hiriwidunna Village and Kaudulla National Park
It wasn't just the 10.30am start that the kids loved about today. They declared it to be their favourite day of the entire trip. 
I've made a mental note that wildlife, food and several modes of transport are the necessary ingredients for a niggle-free day out.
Hiriwidunna Village tour
Our driver recommended a tour company that could take us to visit a local village and an elephant safari. The village hadn't been on my bucket list but the safari most definitely was, so we went with it.
We began with a tuk tuk ride into the jungle where we picked up an Ox cart ride through wadi fields to an estuary of Hiriwidunna lake which we crossed by catamaran to reach the village. The girls were already loving this excursion.
At the village we met two lovely ladies who showed us how to make coconut roti (I've since tried to replicate them at home but I have at lot of work to do) and how to dehusk rice to make flour.
We also got a tip on how to encourage the mango tree in our garden in Oman to fruit. Fingers crossed for next year!
After the village we boarded another canoe catamaran for a wildlife watching cruise around the lake. We saw very little wildlife but our guide entertained us by making us all hats from lily pads.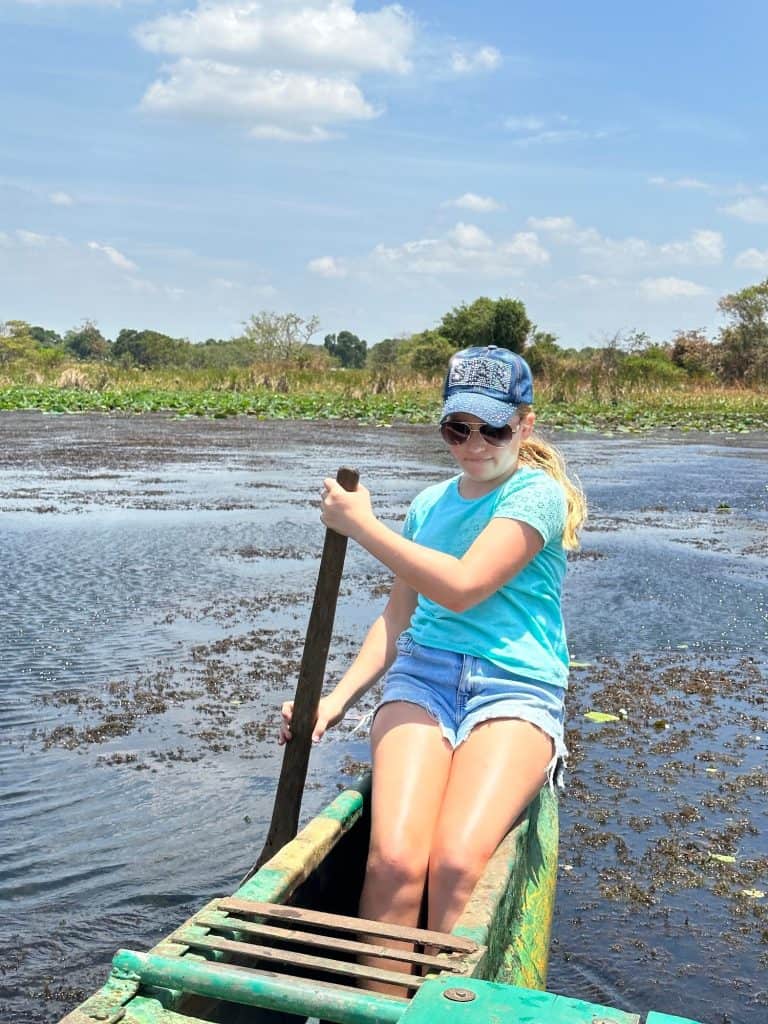 We completed our visit with a Sri Lankan curry lunch at another family's home. Our host was well versed in pointing out the less spicy and more fiery dishes.
It was all delicious and a wonderful experience for us all to find out more about how traditional dishes were made using ingredients from the forest and nearby lake.
Kaudulla National Park elephant safari
Our tummies full, it was time to go on our first ever safari.
I'd originally planned on visiting Minneriya National Park but we were advised there weren't many elephants despite it being migration season. Instead we hopped in a jeep and travelled just a bit further away to Kaudulla National Park.
It appeared that everyone else had the same idea as when we arrived there was an hour long wait for tickets to enter the nature reserve.
Thankfully our tour guide was the one who joined the queue while we waited in the jeep.
But the pause was totally worth it. Inside the reserve we saw more elephants than we could count as well as water buffalo, monkeys, eagles, giant squirrels and peacocks.
Our first safari was a very special experience. I think zoos have been ruined for us forever.
But I can't gloss over the fact that the reserve was incredibly busy! There was no racing at the animals or irrate driving but there were A LOT of jeeps! 
Where we stayed near Sigiriya
We stayed at Amaara Forest Hotel* for three nights bed and breakfast. This was the only hotel we booked during our Sri Lanka itinerary where family rooms were available. 
This is a quiet location, about a 15 minute (bumpy) drive off the main road between Dambulla and Habarana, with two storey accommodation, a swimming pool and restaurant.
The food in the buffet was good and the staff were very friendly. The only let down was the service was slow during al a carte meals. The food prices were very reasonable.
Our family room had a good sized bathroom and comfortable beds. We didn't really unpack because there was nowhere near enough wardrobe space, but there was plenty of floor space to lay our cases open around the edge of the room.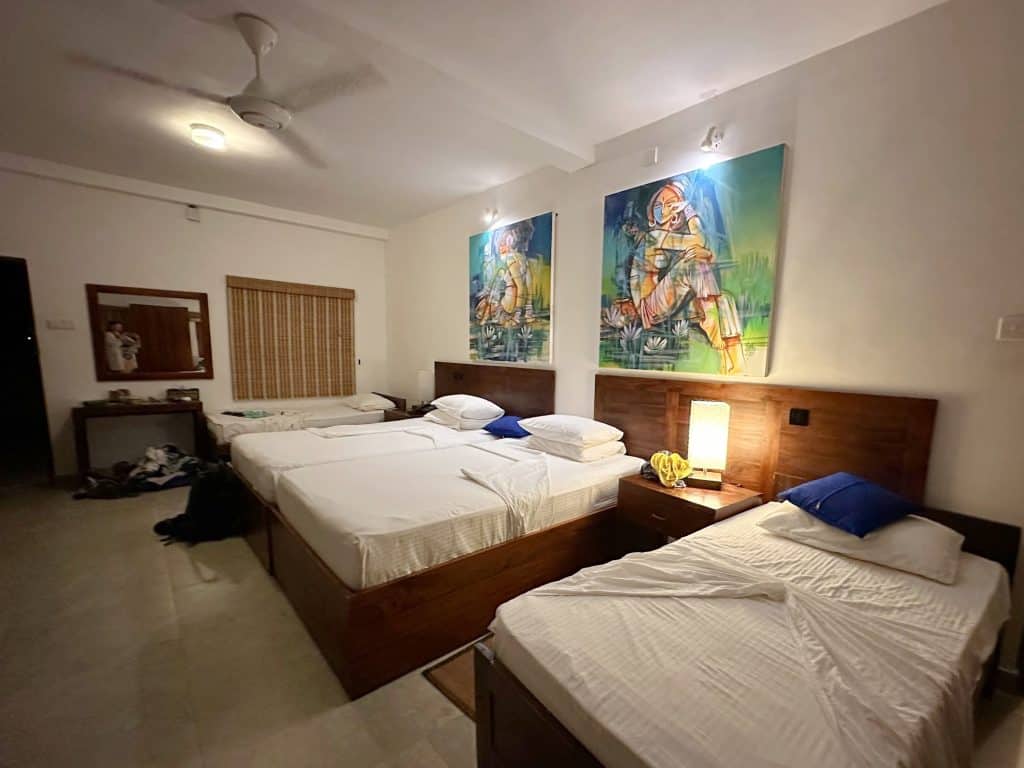 We enjoyed having a terrance and seating outside our room where we could sit once the kids had gone to bed and, thankfully, the mosquitos weren't too bitey.
Amaara is a good base for seeing the sites of the Central region. 
Day 6 to 10: Pasikudah
After breakfast we set off again for the next, more relaxed stage of our Sri Lanka itinerary. We traversed the jungle, passed huge lakes, roadside Buddha statues and bustling towns until we reached the East Coast.
The journey was just two and a half hours but it showed us a completely different side to Sri Lanka. The East Coast is less touristy but has plenty of beach resorts and surf in the summer months.
We went just to sit beside the pool, go for sunrise sea swims, read multiple books and let the days roll into each other. This is almost an alien concept for us but by the end of the fours days I'd happily add more 'down' days into our future travels.
Where we stayed in Pasikudah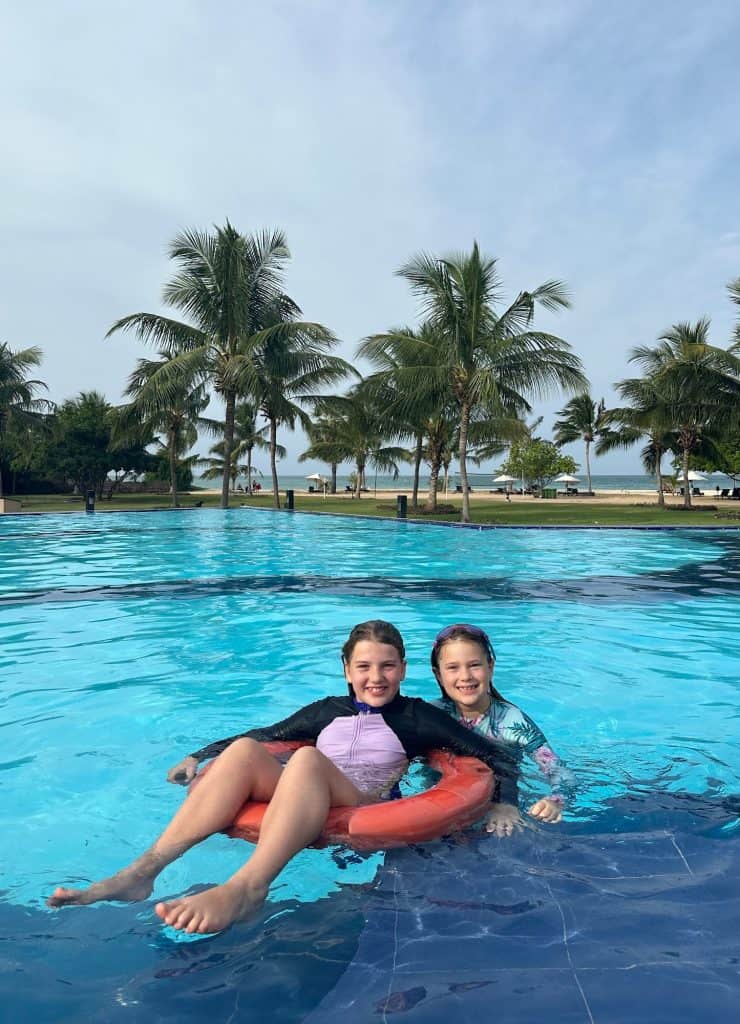 We splashed out on our stay at the four star Calm Resort & Spa*. While it was a nice hotel, with good rooms in a great location on Pasikudah Bay, the service was well below the four star price bracket.
It's not somewhere I'd particularly recommend. I'll not go into details here but I did leave a fuller review on Booking.com if you want to find out more.
Days 10 to 12: Koslanda
The next destination on our Sri Lanka itinerary was the polar opposite in every respect. 
We drove south along the coast road before turning inland where we could see the horizon starting to rise. We were heading into the Hill Country with its winding roads, tea plantations and wetter climate.
After five hours we started to make our final ascent to our accommodation for the next two nights, Living Heritage Koslanda*.
Where we stayed
I first heard of this place from my friend Jenny, who runs the Travelynn Family website. She stayed here about six years ago and it sounded incredible. Read Jenny's Koslanda review. When I started planning our trip to Sri Lanka I knew we had to go.
Living Heritage Koslanda is a boutique hotel modelled on traditional Kandy rest stops with pavilions where you can hang out and meet other travellers. Its restaurant and nine rooms sit within an 80 acre estate that has its own private waterfall.
There's also an infinity pool, gourmet dining and incredible views. It has all the ingredients for a couple's romantic retreat but manages to ace being family-friendly too.
With games on the lawn and in the main meeting pavilion, as well as a camp fire for toasting marshmallows we felt super welcome.
We booked two of the forest pavilions – they are like treehouses – with views out over the canopy.
The only sounds that interrupted the buzz of the forest were monkeys theatrically falling through the trees, the odd rumble of thunder and the early morning melody of the choon paan truck delivering fresh bread.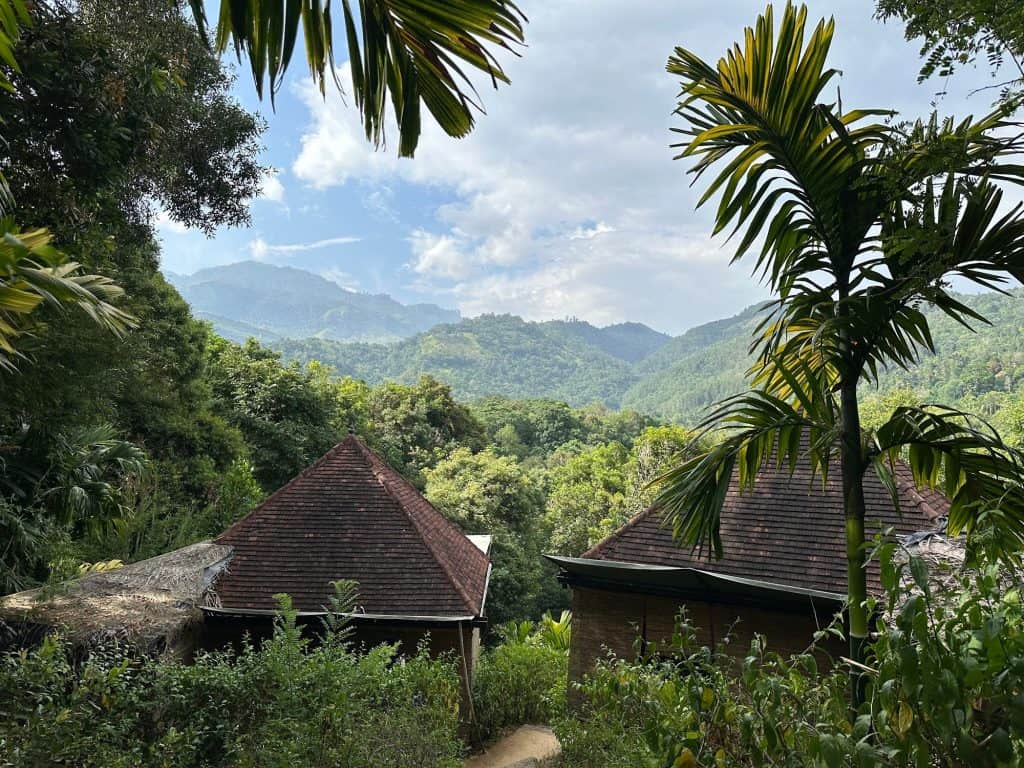 We loved Koslanda so much that we extended our stay by a night so we could fully immerse ourselves in its amazing location and be pampered by its brilliant team.
On the morning we left the girls and I were given bouquets of wild flowers. I got a bit teary. Koslanda was by far and away the best place we stayed in Sri Lanka.
Days 12: the Hill County 
We left Koslanda early to catch what's billed to be one of the world's most scenic train rides. It's certainly one of the most Instagrammed activities in Sri Lanka and I was looking forward to seeing it for myself.
Train from Hapetale to Nanuoya
However, this was one of the big disappointments of our trip. We don't have much luck with trains! Have a read about our experience on the sleeper train from Cairo to Aswan in Egypt. 
So what went wrong this time? 
We didn't book tickets in advance, despite knowing this was the thing to do. Doh!
What happened was some miscommunication with our driver who said he was arranging our tickets. But what he meant was that he'd buy them for us at the station. This was without doubt cheaper but we missed out on the best carriages. 
Tip: book your tickets a month in advance when they are released. The third class pre-booked carriage behind us looked ideal. Everyone had a seat and could move around the carriage to look at the views.
We ended up with second class tickets in an unreserved carriage. When the train arrived we had to scramble over the backpackers sat in the doorway and ended up huddled in the vestibule as people were already standing between the rows of full seats. 
There was a bit of a view while the people in the open doorways were sat down. But when they stood up and all we got to see was the backs of their heads.
The kids were soon totally disinterested. By the end of the two hours we were all a bit fed up. 
This is a part of our Sri Lanka itinerary that we'd definitely do differently if we had the chance!
Little England and the tea plantations 
We met up with our driver at Nanuoya station to continue the rest of our journey by road. This saved us several hours on the train and allowed us to see the tea plantations of the Central region on our way to Kandy.
We started with a quick tour of Nuwara Eliya – an area nicknamed 'Little England' because of its colonial characteristics. It's also the best place in Sri Lanka for strawberries. We stopped at the Adma Agro farm for strawberry pancakes and fruit juices.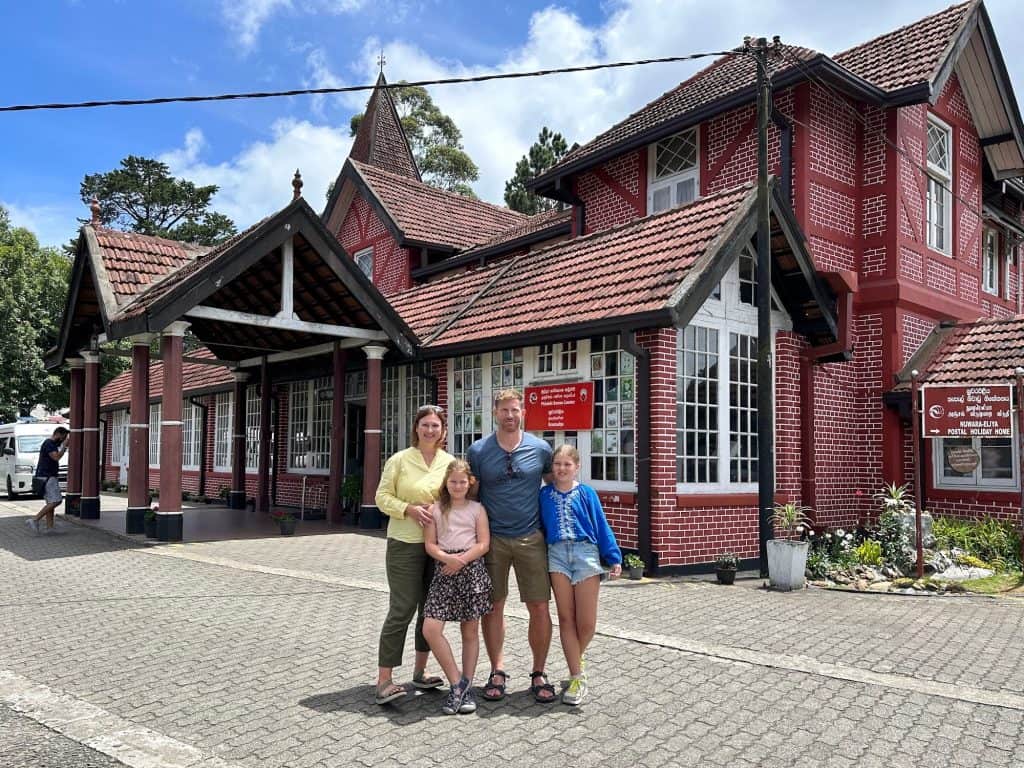 Nuwara Eliya is also where you can find Sri Lanka's oldest post office. The girls sent a card to their teachers back in the UK although I would have quite liked to have received it myself as the stamps were very pretty.
Damro Tea
Hopping back in the car we wound through the plantations until we reached a factory belonging to Sri Lanka's oldest and largest tea company Damro. The leaf sorting and drying machines here are more than 100 years old and still in use.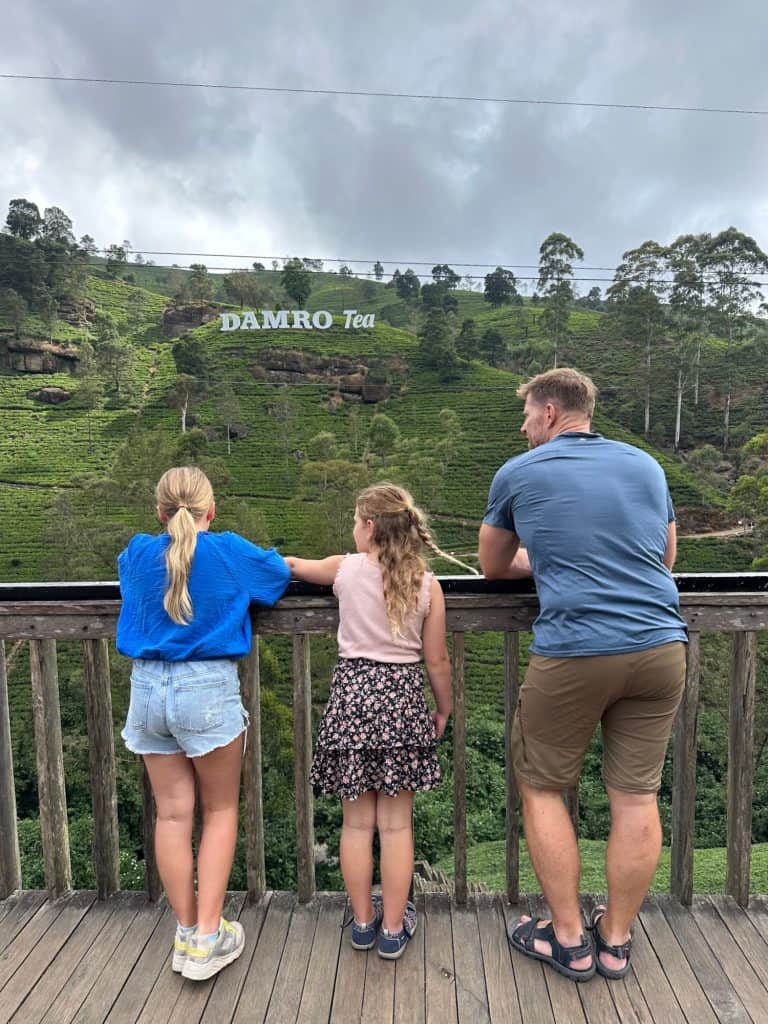 If you are into tea and are not visiting with kids this is worth a tour for lots of interesting brew facts. But there's not much here to entertain little ones other than a slice of cake in the cafe.
Rambola Falls
Our last stop before we made our final push towards Kandy was Rambola Falls. This 109m high cascade is best seen from the grounds of the Ramboda Falls Hotel, which is down a steep hill.
Pay 100 rupees per adult and there's a shuttle bus to take you down to reception from where you walk through the lobby and go down a lift to the waterfall path. 
The falls are pretty but I'd have preferred to have seen the famous Nine Arches Bridge.
At this point the girls had had enough. There was no way they were getting out of the car again to look at 'a bridge'. 
We were all very happy to arrive at our next hotel for our last two nights in Sri Lanka with views of Kandy Lake and Sri Dalada Maligawa – the Temple of the Tooth Relic.
If we could do this day again we'd have definitely made a few changes.
Booking our train tickets in advance, switching the tea factory tour for a look around an estate and seeing the Nine Arches Bridge rather than the waterfall.
Days 13 to 14: Kandy
When we decided to stay an extra night in Koslanda we took a day off our time in Kandy. So we knew we had a busy 48 hours ahead of us.
Our driver recommended starting with a visit to Ambuluwawa Tower in Gampola, which is an hour outside Kandy. 
It's not somewhere that had been on my radar but we went with the flow and were very glad we did. 
Ambuluwawa Tower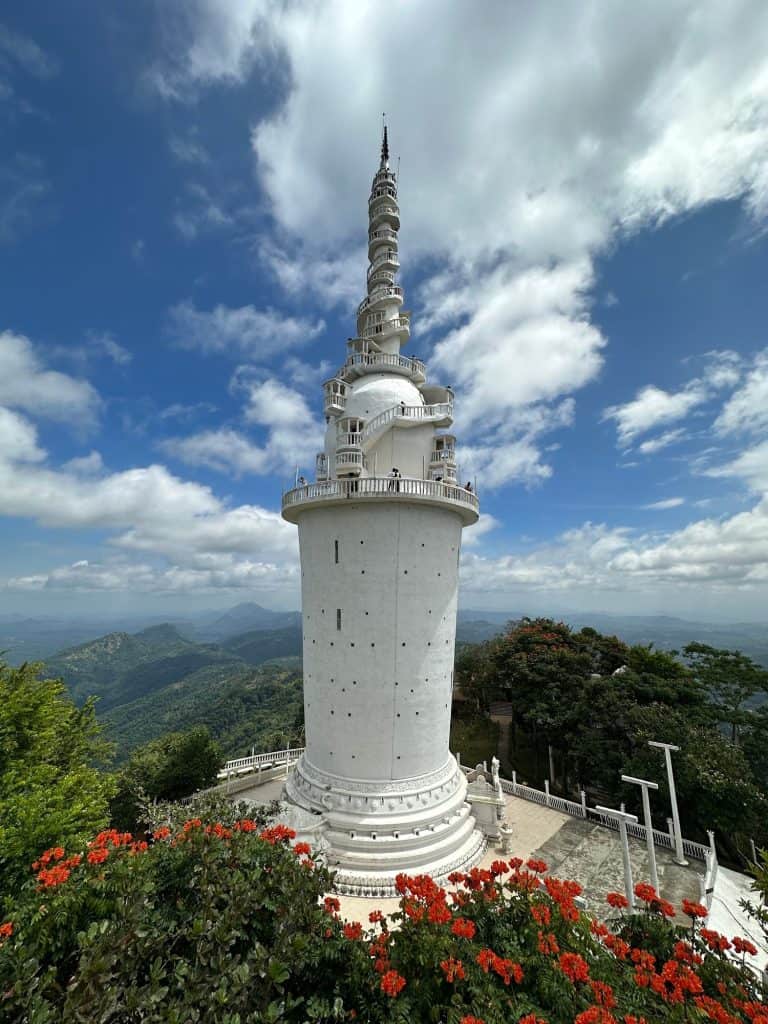 Ambuluwawa Tower sits at the top of a mountain alongside a smaller star shaped tower, a church, mosque and temple as well as a panoramic view point. It is Sri Lanka's only multi-faith complex.
The 48 meter tower looks like something out of a fairy tale with its irregular spiral stair case and needle like spire. Despite appearing to come from a magical age it is only about 15-years-old. 
We opted to take a couple of tuk tuks up the mountain to save our legs for the tower.
The climb isn't actually too tiring but it is hairy if you don't like heights. Our 10-year-old was struggling as the steps on the outside began to narrow.
As you climb higher there are no passing places so you have to get very friendly with your fellow climbers or turn around. We didn't make the summit and it wasn't that busy.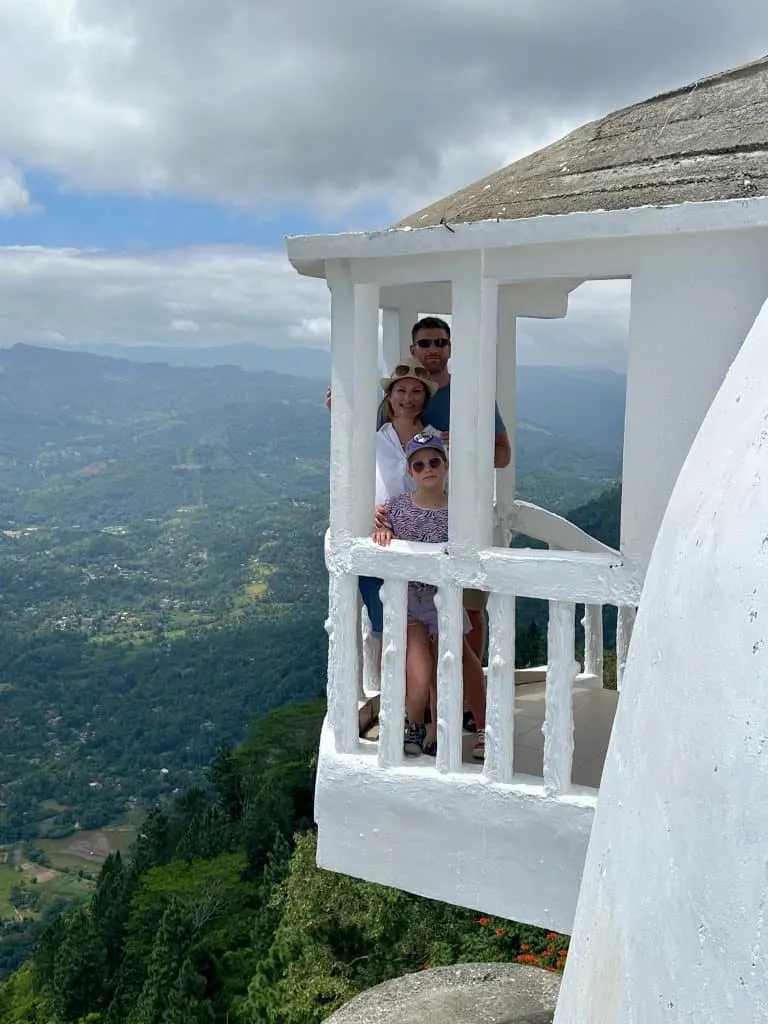 It's advised the families with children under three do not climb the tower and having been up there I can understand why. There are lots of toddler-sized gaps between the concrete bannisters! 
On the way out of the complex we walked past a snake charmer. Our seven-year-old had seen him on the way up and wanted to take a closer look. She was as mesmerised as the dancing cobras and thrilled to have a python draped around her neck.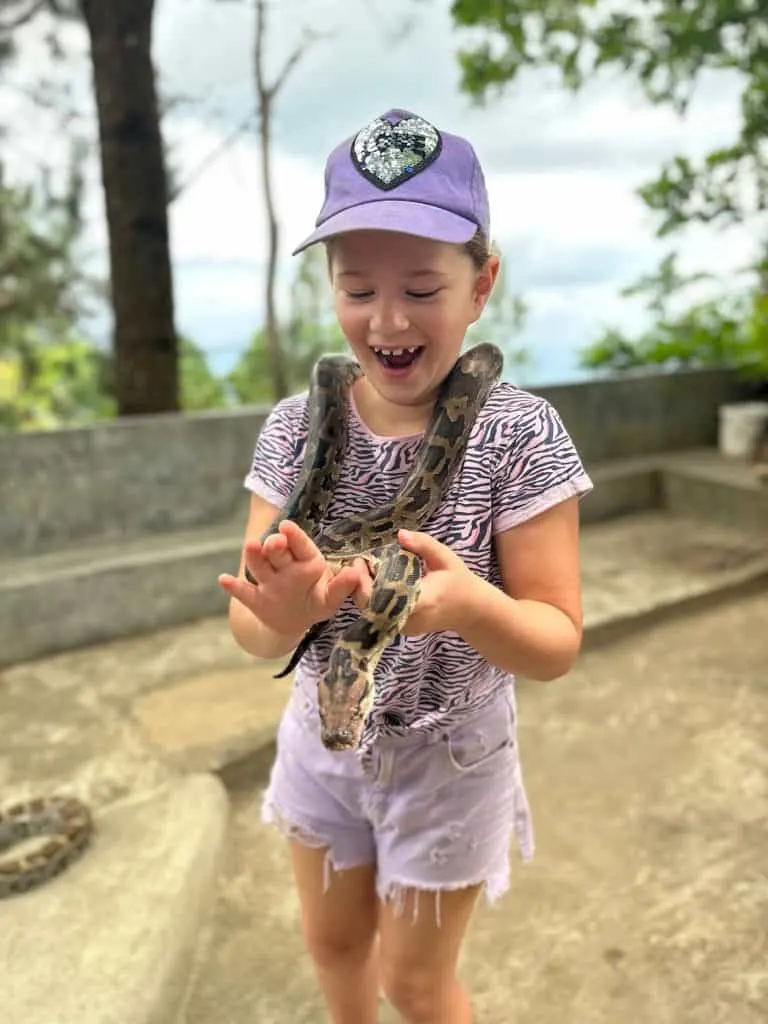 Esala Perahera processions
On the way back to Kandy we stopped for lunch and for a couple of factory tours that we'd managed to avoid up until this point in our trip. Next time we'd make a point of saying we didn't want to visit anywhere like this. 
A happy accident was that as we were making a polite exit from a jewel factory (that had bored the pants off the girls and Mr Tin Box) we saw a procession passing by.
It was a prelude to the Esala Perahera festival that takes place in Kandy every July or August. 
In 2024 the Buddha's tooth will be part of the main Esala Perahera procession and hundreds of thousands of people are expected to converge on Kandy to try to get a glimpse of the casket.
Temple of the Tooth
By early afternoon we were back in the ancient city and ready to visit its main historic site, Sri Dalada Maligawa, also known as the Temple of the Tooth Relic. 
We'd heard the story of how the Buddha's tooth came to Sri Lanka a few times during our trip, so we were intrigued to see where it was kept.
We had a guide to show us around, which made me feel more comfortable as many more people were here for spiritual reasons than as tourists.
The tooth relic itself is protected by a Russian doll-like case inside a two-storey shrine at the centre of the temple. People bring flower offerings and sit to pray close to the shrine. 
In the evening the shrine doors are opened so you can see the casket. I'm glad we visited earlier in the afternoon as it was less busy and it didn't feel quite to intrusive.
Outside the temple we walked through the pavilion that inspired the one in Colombo's Independence Square and visited the shrine dedicated to Raja, an elephant who took part in the Esala Perahera procession for 50 years. 
He was so loved that when we died in 1988 there was a day of national mourning. Raja was then mummified and given his own shrine here.
We completed our day with a visit to the Kandyan Cultural Centre where we saw a traditional dance performance. This was very touristy but fun. The kids loved the fire walking finale.
Royal Botanical Gardens 
All too soon it was our final day in Sri Lanka. We had an evening flight so there was enough time to visit the Royal Botanical Gardens before we departed from Kandy to the airport.
The modern gardens at Peradeniya were opened by British in 1821 but there has been a historic Sinhalese royal garden here since the 14th Century.
It is a fantastic place to wander for a few hours with plenty of shade and open spaces for kids to play as well as some interesting wildlife.
We took an anti-clockwise walk around the grounds, seeing the orchid house and conservatory for rare tropical plants before walking down the picturesque Cabbage Palm Avenue. 
After this we entered the arboretum where we noticed lots of huge black seeds handing high in the trees.
Then one of the large seeds flapped its wings. It was a bat!
The gardens have a colony of about 24,000 of these Sri Lankan Flying Fox mega bats that have a wing span of 1.2 to 1.5 meters. We were totally wowed and got stiff necks looking up as we walked under tree after tree full of them.
The Royal Botanical Gardens were a great way to complete our two weeks in Sri Lanka and a must if you are visiting Kandy with kids.
Where we stayed in Kandy
We booked into SWP Eco Lodge which is a short walk up a steep hill beside Kandy Lake. From here you could easily get to the city's restaurants, shops and to the Temple of the Tooth Relic on foot. 
Our two double deluxe rooms had views of the lake and temple, and came with connected balconies.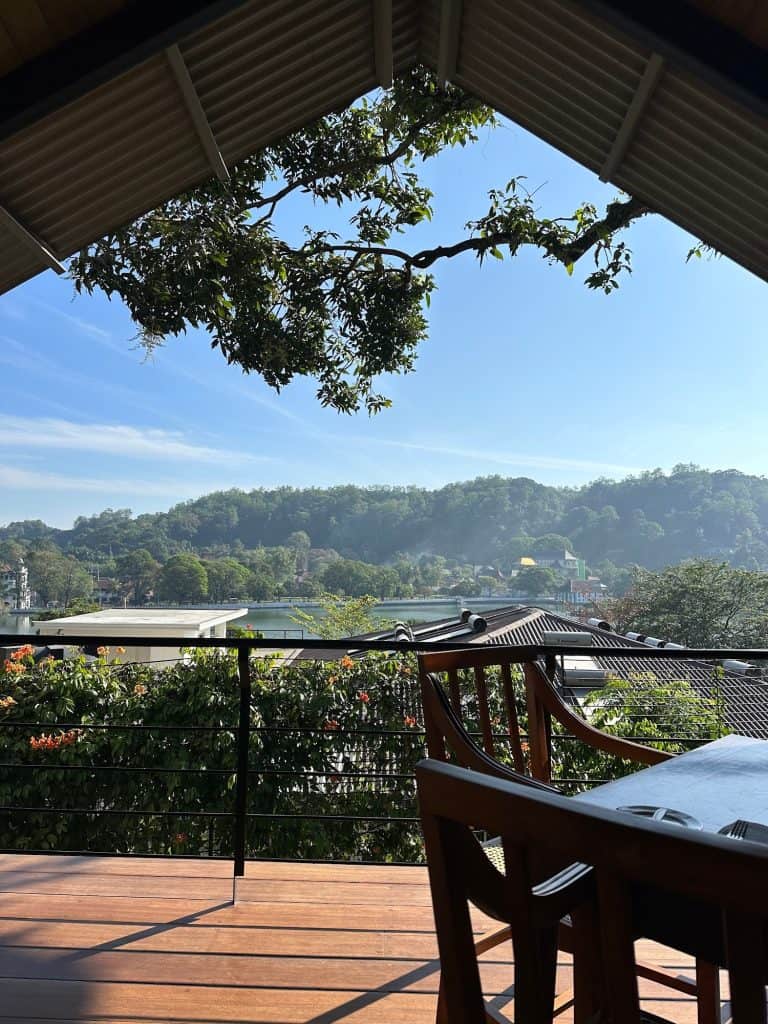 We liked our rooms but they wouldn't have been suitable for young families. The bathroom was located downstairs and there was no bannister at the top of the steps to stop little ones falling.
We'd recommend eating out if you stay here. Breakfast was OK, but the evening meals were pretty poor.
Summing up our 14 day Sri Lanka Itinerary 
As I mentioned right at the beginning, Sri Lanka was a totally new country to us so we were determined to come away feeling like we knew it a bit better. But we also wanted down time to relax. 
I think we achieved both and had some incredible experiences. 
I'll never forget the girls' excitement at seeing elephants, monkeys and enormous bats in the wild. Or the utter exhilaration of swimming in the Indian Ocean while watching the sun rise.
Or the views from the top of the Lotus Tower, Sigiriya and the Ambuluwawa Tower.
And without a doubt the absolute luxury of staying in the forest at Koslanda.
I know Sri Lanka has so much more to give. We didn't touch on the South, West Coast or the North. I hope we'll have a chance to experience these areas another time and put into practice some of the lessons we learnt from this trip.
Is Sri Lanka on your bucket list? Let me know if you have any questions about our 14 day Sri Lanka itinerary. 
More holiday itineraries for families
If you enjoyed this itinerary you might also like to read these:
Disclosure: this post contains affiliate links marked with *. If you click on one of these and make a purchase I may earn some commission. This does not affect the price you pay.