UK Travel
Luxury family vacation: The ultimate guide to planning your perfect trip
In recent years, the allure of luxury family vacations has grown exponentially, offering the ideal fusion of opulence and activities suitable for all generations. With meticulous planning and attention to detail, you can embark on a journey that will etch indelible memories in the hearts of your loved ones. In this comprehensive guide, we will equip you with the knowledge to orchestrate the perfect luxury family vacation—from selecting the ideal destination to ensuring every moment is maximised for pure enjoyment.
How to choose the right destination
Selecting the right destination for your luxury family vacation is essential to your adventure. Here are some important points you can consider to help you make the right choice:
Keep your family interests in mind: To cater to everyone's preferences, consider your family's interests and passions. Whether it's pristine beaches, the thrill of outdoor adventures, or the enchantment of cultural immersion, pick a destination that promises something special for each member of your family.
Don't forget about accessibility: When traveling with young children, the ease of getting to (and from) your destination is paramount. Long, complex journeys can be exhausting for little ones, so opt for destinations with convenient transport options.
Pick a family-friendly infrastructure: Ensure your chosen destination is equipped with family-friendly infrastructure. Look for readily available medical facilities, child-friendly restaurants, and efficient transportation systems to simplify your stay.
Consider the weather and seasons: Nothing dampens a luxury vacation like unfavourable weather conditions. So do some research on the climate and seasons of your chosen destination to avoid unexpected surprises.
Cultural sensitivity: If your itinerary entails immersing yourselves in a different culture, it's essential to familiarize yourself with the local customs and traditions. This ensures that your family is not only respectful but also fully prepared for the cultural experience ahead.
Tips on finding family-friendly luxury accommodations
Once you've discovered your dream destination, it's time to delve into researching some options for family-friendly luxury accommodations. These tips can help you figure out what you want to get out of your stay:
Consider resorts with family-friendly amenities: Seek out resorts that cater to families – if that's your thing. These gems often feature spacious suites, exciting kids' clubs, and reliable babysitting services – it's the little things that will make the most of your family holiday.
Don't write off private villas or vacation homes: If you're part of a larger family or prefer ultimate seclusion, consider renting a private villa or vacation home. These hidden treasures come complete with fully equipped kitchens and an abundance of space to accommodate everyone comfortably.
Check out some all-inclusive resorts: Simplify your vacation by selecting an all-inclusive resort. These luxurious spots bundle meals, activities, and entertainment into a comprehensive package, allowing you to budget effectively while indulging in opulence. But make sure you do your research!
Get travel agent assistance: Don't hesitate to enlist the help of a travel agent. These experts can uncover the best luxury accommodations tailored to your family's specific interests and requirements.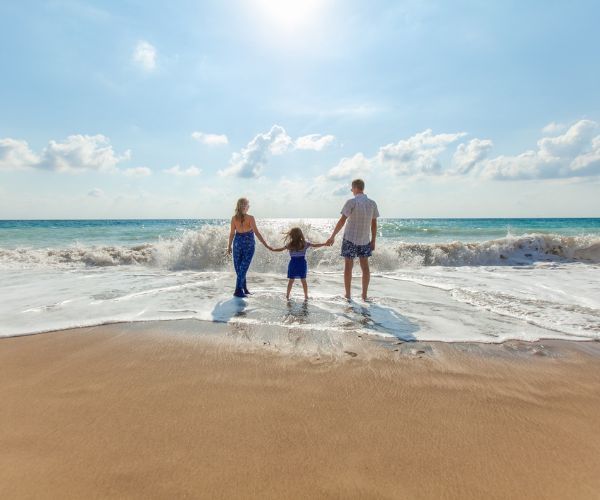 It's all about the activities for families on a luxury vacation
Luxury family vacations are teeming with plenty of activities that will keep every member of the family busy. Some of these might be just right for you and your loved ones:
Thrilling adventures: Many luxury destinations offer an array of exhilarating adventures, from heart-pounding zip-lining through lush canopies to captivating underwater snorkelling escapades and exhilarating ATV rides. These activities not only foster bonding but also create enduring memories.
Cultural immersions: Immerse your family in the local culture by embarking on journeys to historical sites, museums, and vibrant local markets. Consider doing activities as a family like cooking local cuisine or mastering a few phrases in the native language.
Marine bliss: It comes as no surprise that most luxury beach destinations offer a smorgasbord of water-based activities suitable for all ages. If you're into exploring the crystal-clear waters of your chosen paradise, take up paddleboarding or embark on a family sailing adventure.
Wildlife encounters: Plan wildlife safaris or treks to observe local fauna in their natural habitats. Witnessing nature's wonders first-hand can be both educational and awe-inspiring for children and adults alike.
Spas and wellness centers: While on your luxury vacation, you might want to indulge in a little self-care at a spa or wellness centre. After all, you'll want to ensure everyone experiences the pinnacle of relaxation and rejuvenation.
Tips for making the most of your luxury family vacation
Here are some other tips to help ensure your luxury family vacation goes to plan:
Plan well: Initiate your preparations well in advance to secure the best deals, availability, and avoid any last-minute surprises.
Keep your itinerary flexible: Although planning is essential, allow room for flexibility in your itinerary. This empowers you to seize spontaneous opportunities and adjust your plans as circumstances evolve.
Pack smart: Create a packing checklist that includes essentials such as sunscreen, insect repellent, and items tailored to your family's needs. Don't forget to pack chargers and adapters to stay connected while exploring paradise.
Budget with precision: Luxury vacations can be lavish affairs, so it's crucial to establish a budget and adhere to it closely. This will help you manage your expenses while enjoying the opulence of your chosen destination.
Engage your children: Empower your children by involving them in the vacation planning process. This not only fosters excitement but also nurtures a sense of ownership and adventure.
Additional tips for crafting the perfect luxury family vacation
For those seeking to elevate their luxury family vacation even further, here are some additional pearls of wisdom:
Private tour guides: Consider enlisting the services of a private tour guide. This personalised touch ensures that your family enjoys a tailored experience, all while bypassing the intricacies of planning activities yourself.
Leverage family-friendly discounts: Many luxury resorts and attractions offer enticing discounts for families. Be sure to exploit these offers to maximize the value of your vacation.
Embrace flexibility: When traveling with children, it's essential to embrace spontaneity. Events may not always unfold according to plan, so maintain a flexible and adaptable attitude.
Prioritise downtime: To prevent over-scheduling and ensure that your family has ample time for relaxation and bonding, schedule moments of downtime throughout your vacation.
Obviously when it comes down to your ideal luxury family vacation, the canvas is blank. Now you are equipped to embark on a journey that promises opulence, adventure, and quality family time—an experience that will undoubtedly become a cherished chapter in your family's history.
Efrat Sagi-Ofir is CRO & Founder of Air Doctor. Air Doctor is a startup that connects travelers to a global network of 20,000 local medical doctors through an easy-to-use app, to receive appropriate medical care from anywhere in the world.
If you would like to be a guest blogger on A Luxury Travel Blog in order to raise your profile, please contact us.