Step into an enchanted world this festive season at Conrad Maldives Rangali Island, featuring a whimsical Christmas theme that celebrates the holiday season in a unique and unforgettable way – The Tree of Life.
Drawing inspiration from the spectacular marine life that graces the Maldives' shores, entwined with magical tales of fairies, Conrad Maldives Rangali Island's Tree of Life festivities promise a journey into a world where reality merges with fantasy whilst also paying homage to the wonders of nature and the interconnectedness of life on earth.
A show-stopping illumination of the resort's real Tree of Life with hundreds of twinkling lights will commence the festivities. The majestic Banyan tree – nature's very own masterpiece, located at the main island's welcome reception will symbolize the Tree of Life. Meanwhile, an array of interactive installations, captivating performances and whimsical character experiences will be available throughout the festive season, alongside popular ocean adventures and marine excursions, spa retreats, wellness workshops and activities for kids and teens. Conrad Maldives' guests may even be lucky enough to spot Santa on 25th December as he arrives on the island bearing gifts. An enchanted gala to ring in the New Year, complete with a spectacular fireworks display, will end the celebrations with a bang and capture the spirit of the holiday season.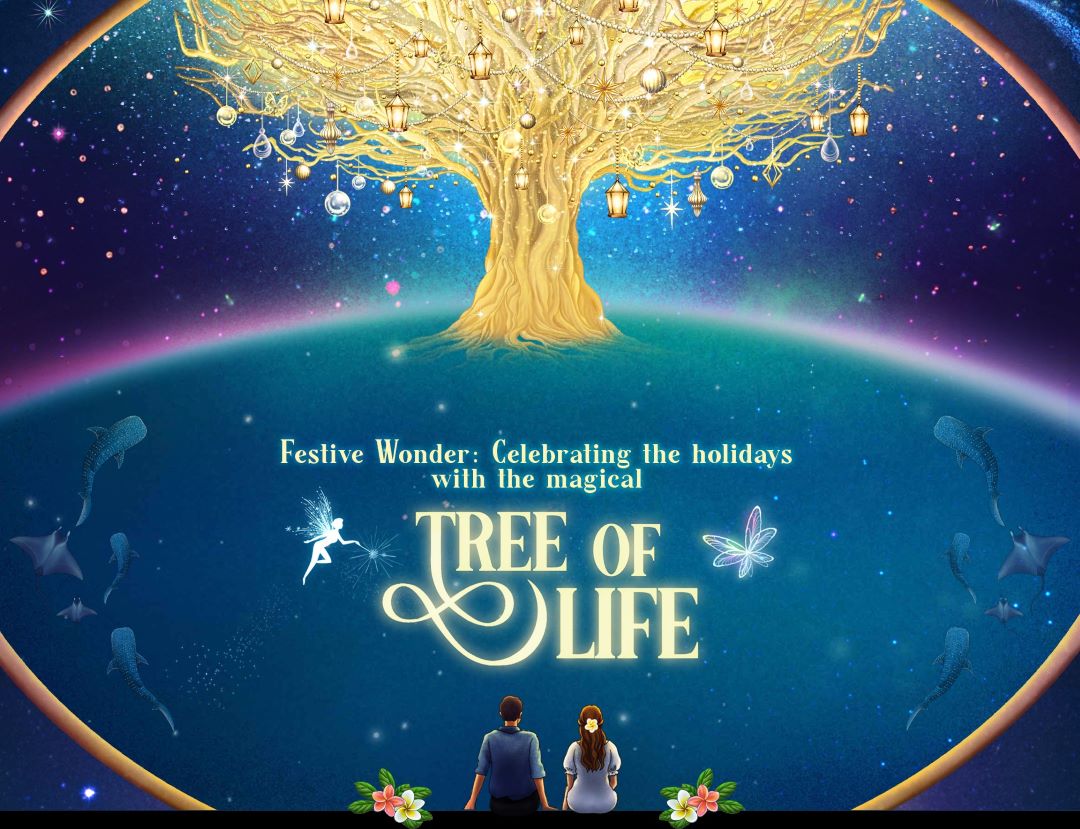 Festive highlights at Conrad Maldives Rangali Island include:
Tree Lighting Ceremony: The Festive Tree of Life
Kick off the festive season in style on 21st December with the sparkling Tree Lighting Ceremony – an enchanting evening that celebrates the joyous spirit of spending Christmas with loved ones. This centerpiece symbolizes the warmth, unity, and connection the resort  hopes to share with its guests. As the sun sets below the horizon, live performances by talented local artists and Christmas carolers, as well as tantalizing canapés and cocktails, will see guests celebrating long into the night.
Christmas Eve Culinary Journey: Atoll Market, Ithaa Undersea Restaurant and Vilu
Experience a special Christmas Eve dinner at each of these venues offering exquisite cuisine, a unique ambience and impeccable service. Whether guests prefer a grand feast under the stars, an underwater dining adventure, or a romantic dinner with a thoughtfully crafted menu, the resort has a plethora of dining options that cater to all tastes.
From the North Pole to Paradise: Santa's Arrival
Santa Claus makes his grand arrival at Ufaa Beach on Christmas Day. This occasion will see children receive presents from Santa, and thanks to the teams at Majaa Explorers Hub and Furaavaru Teens Club, an array of exciting actives and surprises will be aplenty. Guests can expect a day filled with Christmas music, festive treats and seasonal performances that will leave them filled with wonder and excitement.
Christmas Day Feast: Sunset Grill, Mandhoo and Koko Grill
Dedicate Christmas Day to an immersive, gastronomic journey in paradise. Enjoy a sumptuous feast at Sunset Grill above the turquoise waters of the Indian Ocean and with spectacular views of the Maldivian sunset. Celebrate the joy of the season at Mandhoo with a curated and well-balanced menu that infuses traditional festivities with island charm. Savor delectable dishes prepared with the finest ingredients at Koko Grill and dine under a blanket of stars in the night sky.
Dreaming of a white sand Christmas: Beach dining including Lobster & Champagne, Fisherman's BBQ and Grand Maldivian Night
For discerning travelers seeking an unforgettable Christmas experience, a series of exclusive events await. Indulge in luxury beach dining set against the stunning backdrop of the Indian Ocean accompanied by the soothing sound of the sea. From an intimate Lobster & Champagne evening and a lively Fisherman's BBQ dinner to a flavorful Grand Maldivian Night, each event promises a unique experience to remember.
Majaa Explorers Hub and Furaavaru Teens Club: Festive activities for young guests
The holiday season brings an array of exciting activities for younger guests, from thrilling ocean adventures to creative workshops. At Majaa Explorers Hub, for the littlest of Conrad guests, a range of fun-filled festive activities including coconut painting, seashell art, mini-Olympics and kids' yoga will spark the imagination. Meanwhile, the Furaavaru Teens' Club will showcase an immersive program from beach volleyball, kayaking and table tennis to arts and crafts like snow globe-making workshops.
Water sports and Dive Center: Fun under the sun
Explore the azure waters surrounding the twin-island resort with exhilarating activities to be enjoyed above and beneath the ocean. From Jet Ski adventures, diving and paddle boarding to snorkeling and parasailing, Conrad Maldives Rangali Island's certified instructors ensure safety while providing endless fun under the sun.
Wellness & Relaxation: Spa Treatments and Fitness Journey
Amidst the festive atmosphere, the hotel's award-winning spa wellness venues – Spa Retreat and Over Water Spa – beckon as a haven of relaxation. From rejuvenating massages to detoxifying body scrubs, expert therapists promise to refresh and invigorate. Take fitness to the next level and join the hotel's resident fitness experts at island boot camp, beach boxing or during aqua stretch and Asthanga yoga flows.
Beginnings and Farewells: New Year's Eve Celebration
Step into a world of unrivaled glitz and glamour as Conrad Maldives Rangali Island plays host to a showstopping New Year's Eve Gala dinner on the starlit beach. Guests are invited to indulge in a sumptuous buffet spread showcasing a wide array of culinary delights carefully crafted by the hotel's team of talented chefs. Live music ranging from soulful melodies to high-energy sets will be performed by talented artists and the night promises to be filled with enchantment as whimsical characters from the land of fairies and captivating performances ignite the imagination and capture the spirit of the holiday season. As the clock strikes twelve, a magnificent fireworks display will illuminate the night sky, ringing in the New Year in a burst of color and sparkle.
Conrad Maldives Rangali Island is part of Hilton Honors®, the award-winning guest loyalty program for Hilton's 18 world-class brands. Hilton Honors members who book directly through preferred Hilton channels have access to instant benefits, including a flexible payment slider that allows members to choose nearly any combination of Points and money to book a stay, an exclusive member discount that can't be found anywhere else and free standard WiFi. Members also have access to contactless technology exclusively through the industry-leading Hilton Honors mobile app, where Hilton Honors members can check-in, choose their room and access their room using Digital Key.
For more information or to book your experience, please visit www.conradmaldives.com/ or email mlehi.maldives@conradhotels.com or contact +960 6680629.
Source link
[gs_pinterest id=1]