UK Travel
Beautiful Glamping in Battle Sussex
Some posts on this site contain affiliate links. If you book or buy something through these links, I earn a small commission (at no extra cost to you). Take a look at my privacy policy for more information.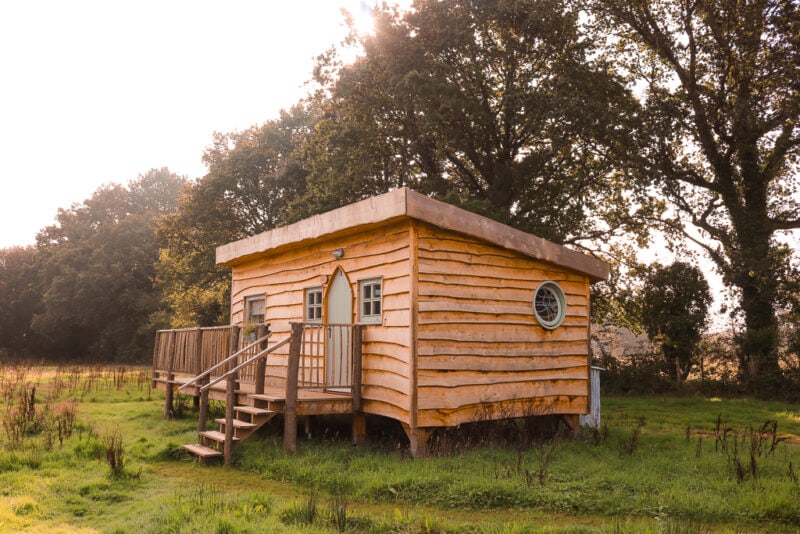 A review of the stunning Starcroft Farm Cabins – the perfect place for glamping all year round in Battle, East Sussex…
Just as summer began melting into Autumn, I headed up to 1066 Country in East Sussex for a dreamy getaway that was all about history, nature, and relaxing in the great outdoors.
My first stop, at Starcroft Farm Cabins, was the perfect blend of all three.
This stunning glamping site near the picturesque town of Battle (home of Battle Abbey and the famous "Battle of Hastings" battlefield) is absolute perfection.
Three beautiful eco cabins tucked into a field of wildflowers next to the ancient Powdermill Wood, with stargazing skylights above the beds, and quirky decor inspired by different historic periods… it was glamping gold!
Here's my review of Starcroft Farm Cabins in East Sussex to tell you everything you need to know. Seriously, you need to add this spot to your England travel wish list right now!
This review was created as part of a sponsored trip supported by Swallowtail Hill and 1066 Country. As always, all words and opinions are my own.
Starcroft Farm Cabins Review
Where is Starcroft Farm? Glamping near Battle
Starcroft Farm Cabins is a gorgeous glamping site on the outskirts of the village of Catsfield – about 7 minutes drive from Battle in East Sussex.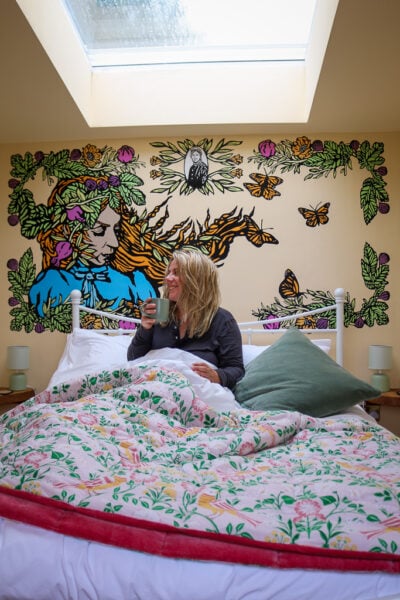 The farm was once part of the Battle Abbey Estate – the site of the iconic 1066 Battle of Hastings battlefield – and lies on the 1066 Country Walk (a 31-mile walking route from Pevensey Castle to Rye via Battle Abbey). You can walk into Battle straight from your cabin's front door through some beautiful woodlands.
It's the ideal place to stay to immerse yourself in local history. Spend the day exploring Battle Abbey and learning the story of one of England's most pivotal battles, then spend a peaceful night surrounded by countryside that's likely changed little since the Norman conquest.
The Concept: Eco cabins blending history and landscape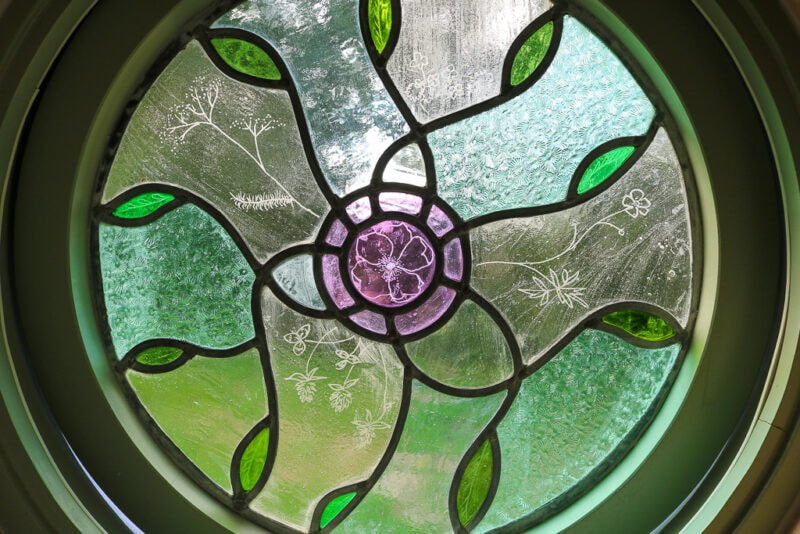 Since glamping took off in the UK, bell tents and fancy shepherd's huts have become increasingly ubiquitous. But Starcroft Farm Cabins is special. These are three totally bespoke, locally crafted, eco-friendly cabins – luxuriously decked out, beautifully decorated, and perfectly capturing the local spirit.
The design is inspired by the history and landscape of the surrounding 1066 Country. That concept was brought to life by a local builder who sourced sustainable, local materials for the project. In fact, most of the wood came from Powdermill Wood, a few steps from the cabins' field.
Local artists created custom works for the cabins, including stunning stained glass windows for the bathrooms and murals for the bedrooms.
Historic Vibes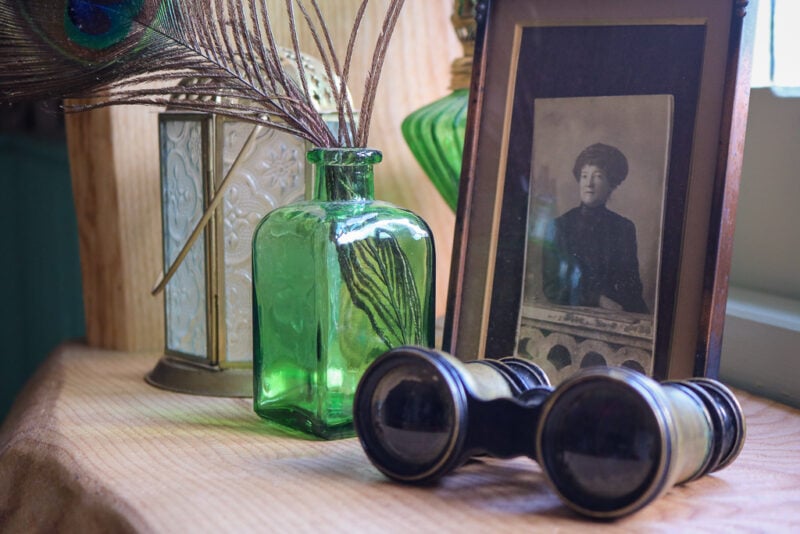 Inside, each cabin is completely unique, and each one is themed around a different historical period – inspired by the history of the land they're built on, and especially the stories of women from that period.
Matilda is themed around medieval life and folklore, Catherine was inspired by female Victorian travellers and botanists from East Sussex (specifically Annie Brassey and Marianne North), and Lucy by the bohemian artists and writers of the 1920s like Virginia Woolf.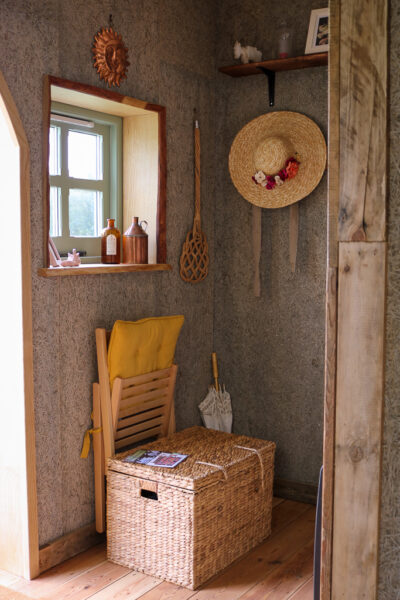 Ornaments, antiques, and artworks help set the vibe. It's all interactive – and there are even a few dressing-up pieces! The lace parasol and straw bonnet in the Victorian-themed Catherine cabin definitely made an outing while I was staying!
I absolutely loved this unique, female-inspired historic theming. Glamping is all about escapism and getting away from the everyday. What better way to do that than by immersing yourself in a different era – whilst still having plenty of home comforts and luxuries (like modern beds and a flushing loo!)?
It's worth chatting to owner and history enthusiast Hannah, who designed the concept, to learn more about the women who inspired each cabin's personality.
The Cabin: My Stay at Starcroft Farm's Catherine Cabin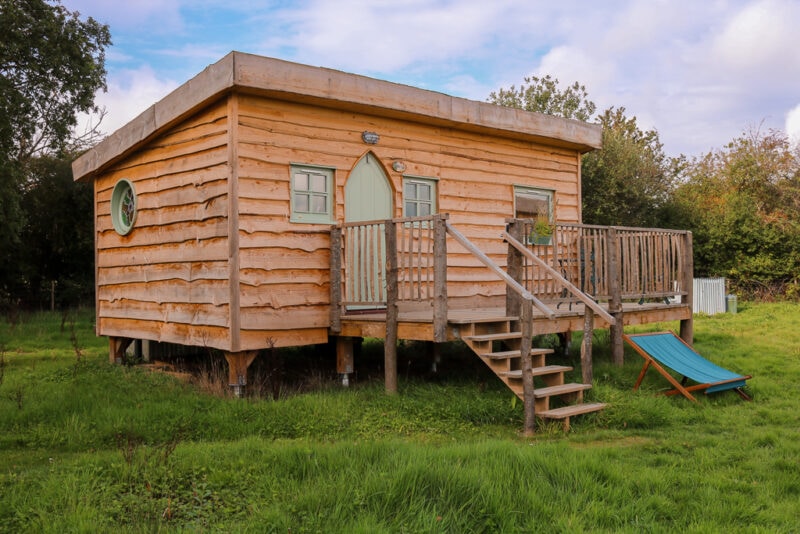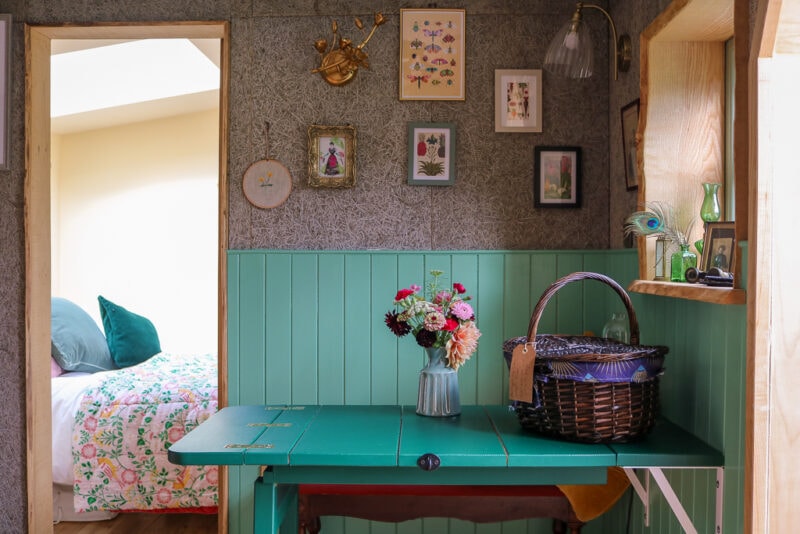 So, that's the vibe – but what are the cabins actually like to stay in? Peaceful, luxurious, and absolute heaven, that's what!
From the moment I arrived, I was blown away by how pretty my cabin, Catherine, was. Cosy, countryside vibes with lots of cute touches and quirky nods to the Victorian period.
It's also very practical. This might be a small cabin, but it doesn't feel cramped at all, and all the amenities are full-size. The compact kitchen – with beautiful wooden countertops – has two hobs, a fridge-freezer, a sink, and a mini-oven. This last one is unusual for a glamping stay in my experience, and made a big difference.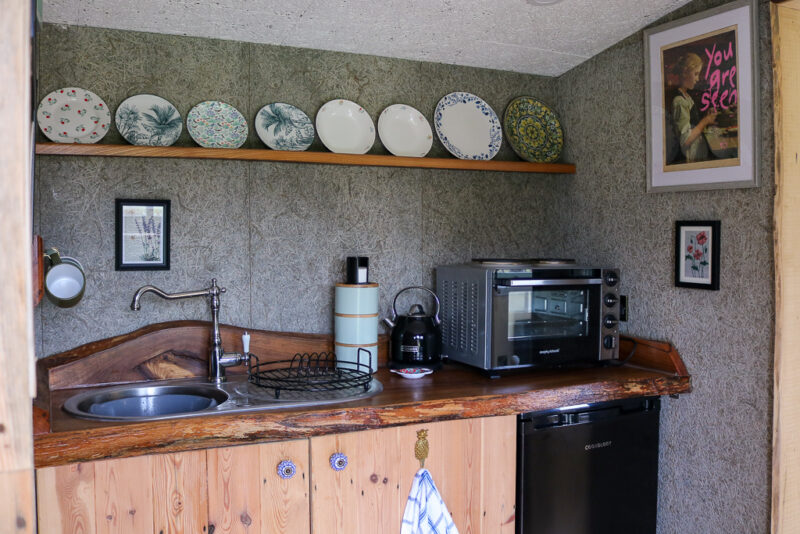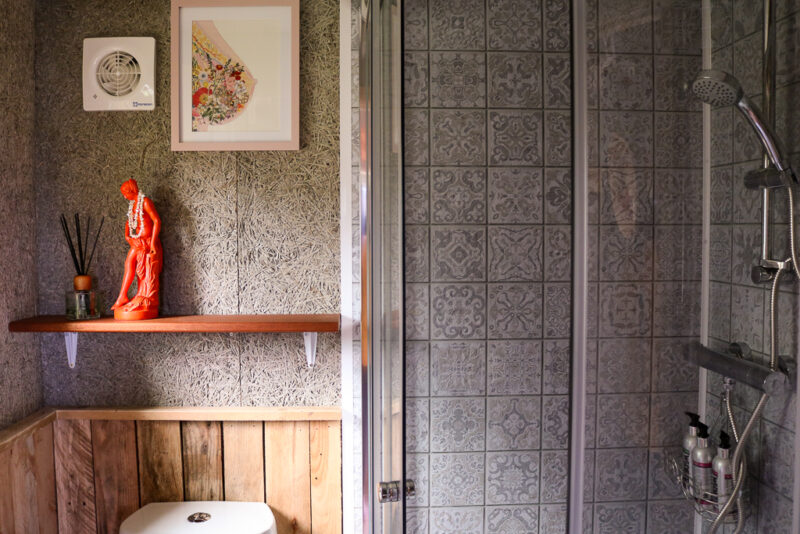 The bathroom is small but more spacious than many other glamping huts I've stayed in. There's a full-size shower cubicle, a "proper" loo, and a sink.
I'd recommend bringing a hanging toiletries bag to help save on space – but there is a small shelf for storing some stuff. Get more tips in my glamping essentials packing list.
A bedroom with a view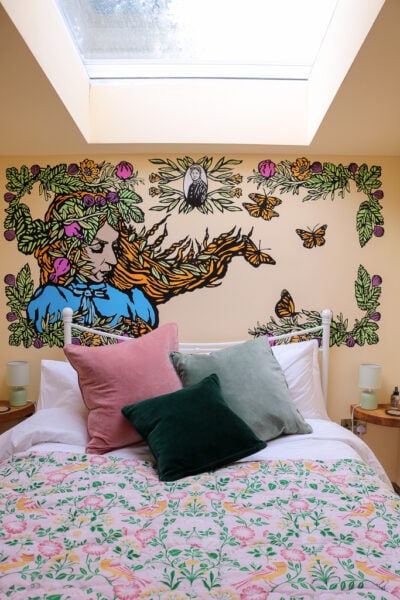 I adored the bedroom, which was surprisingly spacious, with a soft, cosy double bed covered with plush bedding. There's a carefully curated bookshelf that's perfectly on theme for the cabin's aesthetic, and a colourful and evocative mural of a Victorian botanist by local artist Droobie.
One of the highlights is the stargazing window above the bed. Starcroft Cabins sits within the High Weald AONB, home to some of the darkest skies in the South East. And there's surely no better way to enjoy them than from bed!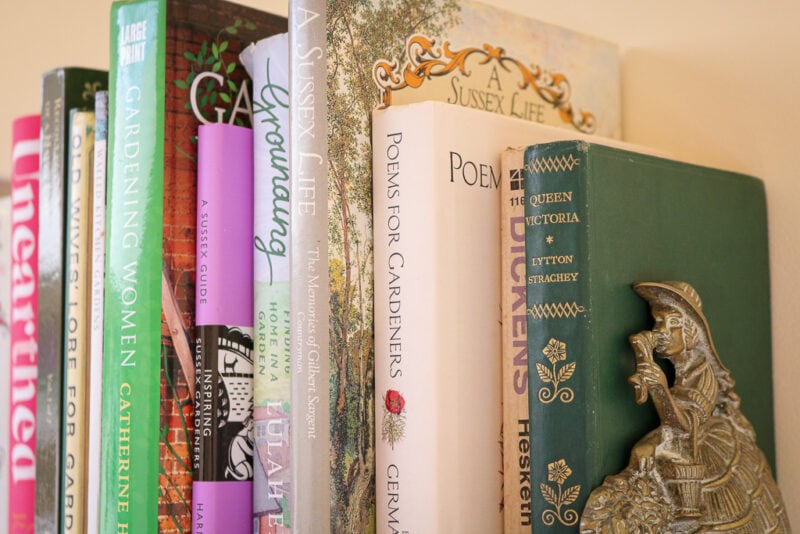 The skylight also adds so much light to the room. Along with the bright yellows and pinks, makes for a really welcoming, bright space. There is, however, an electric blackout blind, so you won't be woken up at sunrise (unless you want to).
The window at the foot of the bed has a gorgeous view of the wildflower meadow, framed by woodland. Waking up here was an absolute joy!
Comfy all year round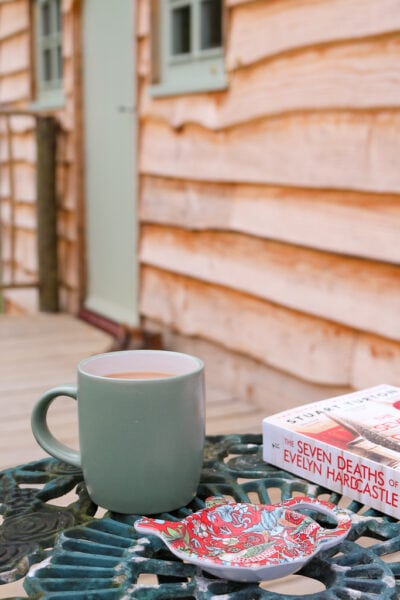 Unlike some glamping options, these tiny homes are perfect all year round. They're well-insulated and have heaters, hot water, and indoor bathrooms.
I'd LOVE to come back in the middle of winter for a restful solo stay – waking up to a view of frosty fields would be amazing.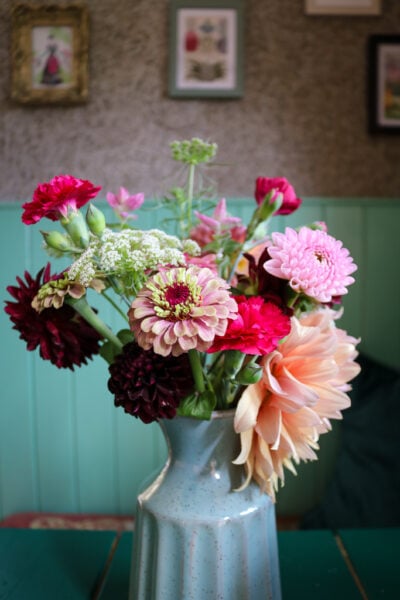 Small travel businesses allow for a much more personalised service. At Starcroft Farm Cabins, you can pre-book special add-ons, or ask the owners to help you make a special occasion even more special
I tried out three of the optional add-ons. First: a gorgeous bouquet of Starcroft Farm's garden-grown flowers was ready to greet me on arrival, making the whole aesthetic feel even more romantic. This would be perfect if you're planning a couple's getaway for a special occasion.
Then there was the breakfast hamper: a massive spread of local treats, including bacon and eggs from the nearby farm shop. I'd HIGHLY recommend adding this onto your stay – the food was all delicious and it's a great way to discover some locally made goodies, too.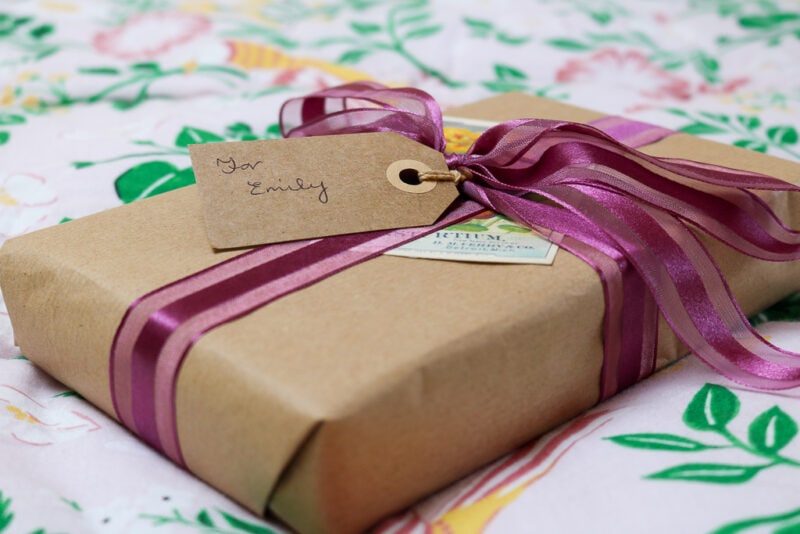 Finally, I trialled the Book Service. Before arrival, Hannah sent me a few questions about my reading interests. She then sent these over to the local independent bookseller, who picked out a book he thought I'd like. This was waiting for me, gift-wrapped, when I arrived.
I loved the surprise element and how personalised this service was. And the selection, The Seven Deaths of Evelyn Hardcastle, was the PERFECT choice. Very me!
Why Starcroft Farm is great for solo female travellers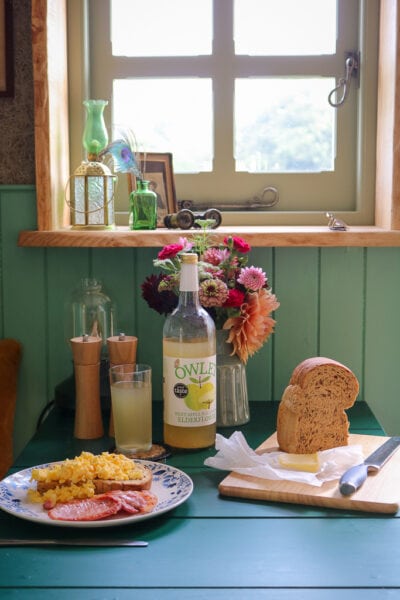 If you fancy a solo glamping getaway, these beautiful cabins are the perfect spot. Because there are just three cabins on the site, you really can make the most of some alone time.
But with the farmhouse so close and the owners just a phone call away, you never get the sense that you're "too" alone. There's also a village around the corner and a lovely farm shop right next door. It's a great way to enjoy solo glamping whilst still retaining a nice sense of security. Best of both worlds!
Then there's the lovely female inspiration behind each cabin. Those gorgeous murals and brilliant bookshelves make it feel like the cabins were built for women!
If you get a chance to learn more from Hannah, there are some really interesting stories behind each cabin's aesthetic – and I'd strongly recommend checking out the Annie Brassey exhibit at Hastings Museum to find out about a local female explorer from the Victorian era.
Starcroft Farm Cabins Review: The Quick Version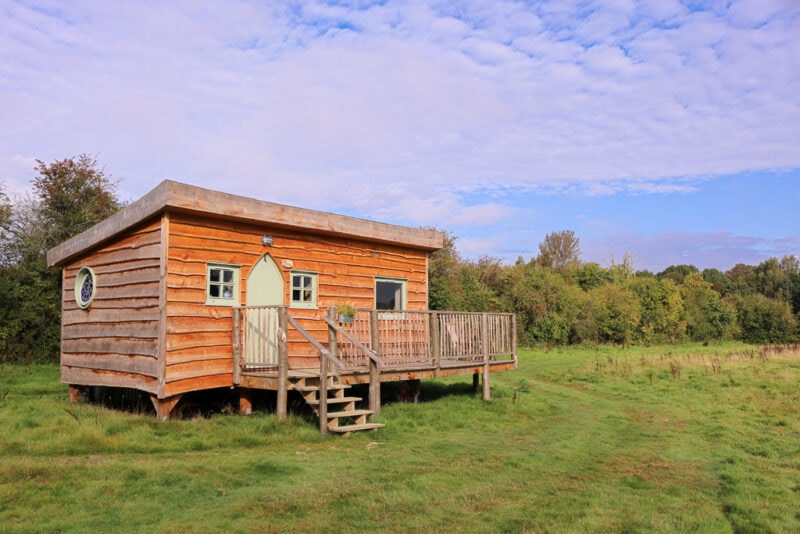 Beautiful, hand-crafted eco cabins made with local materials, by local craftspeople.
Historic-inspired decor with lots of cute and colourful touches
Stargazing windows over the bed
Peaceful and secure: perfect for solo female travellers
VERY cosy bed and luxurious bedding
Plenty of space for a tiny home, with a well-fitted kitchen and ensuite bathroom.
Walking distance of Battle Abbey – and about halfway along the long-distance 1066 Country Walk.
Ideally located for the annual Battle of Hastings reenactment.
One of the best things about my job as a travel blogger is discovering amazing small businesses and meeting the passionate people behind them. Hannah is one of those passionate people, and the love and attention to detail she's poured into the beautiful cabins at Starcroft Farm really tells.
If you're looking for a peaceful, get-away-from-it-all getaway that immerses you into the local landscape and spirit, Starcroft Farm Cabins is perfect. I already want to go back!
The Info
Cabins from £100 a night (based on a 7 night stay). Click here to check prices and availability.
Check out @starcroftfarmcabins on Instagram to see the other cabins. Watch my reel for a video showcasing exactly what my stay in Catherine was like.
Contact: [email protected]
Starcroft Farm Cabins
Horns Corner
Catsfield
Battle TN33 9DT