UK Travel
Unique, Fairytale Glamping near Rye
Some posts on this site contain affiliate links. If you book or buy something through these links, I earn a small commission (at no extra cost to you). Take a look at my privacy policy for more information.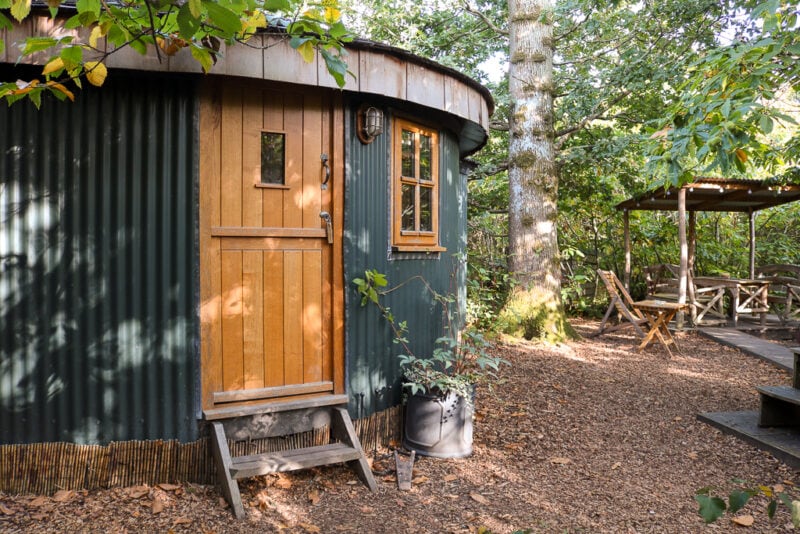 A review of my magical, nature-filled glamping stay at Swallowtail Hill near Rye in East Sussex.
Something stirs me from sleep just before 7am. There is no alarm, no street noise, no noisy neighbour slamming her door on the way to work. Just the soft early morning sunlight – filtered through the leaves of the woodland that surrounds my cabin – creeping around the edges of the curtains at the foot of my bed.
It takes me a moment to realise that the sound that woke me is a loud, insistent knocking. Which turns out to be a robin perched on the cabin's front door, tapping on the window like some magical woodland alarm clock.
So I get up, feeling like a cartoon princess at the start of a Disney movie.
The wood-fired hot tub is still warm from last night, so I climb in. And as I sit there, relishing the indulgence of an outdoor bath before breakfast, something magical happens. A deer steps into view, less than ten feet away from me. It seems to make eye contact for a moment, then walks on, followed by another, and another.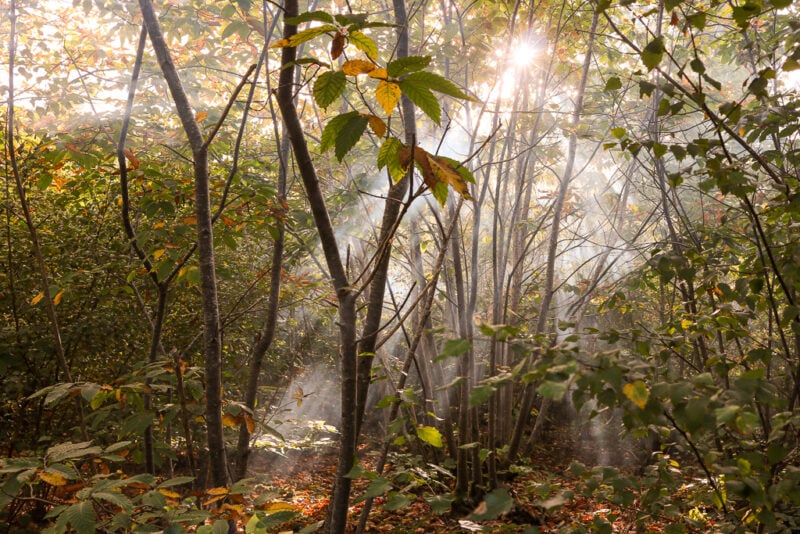 Part of me is convinced that the owners of Swallowtail Hill staged all this for my stay. But the truth is, this is just what happens when you take time to slow down and immerse yourself in nature.
With a handful of beautifully designed, completely unique glamping accommodations set within 50 acres of private nature reserve, Swallowtail Hill is the perfect place to do just that.
This review was created as part of a sponsored trip supported by Swallowtail Hill and 1066 Country. As always, all words and opinions are my own.
Swallowtail Hill Glamping Review
The BEST glamping near Rye, East Sussex
Even without those magical animal encounters, Swallowtail Hill is easily one of the best places to go glamping near Rye in East Sussex.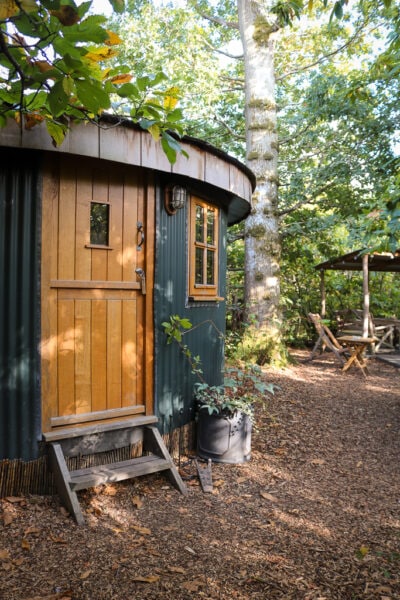 There are six unique cabins spread across a rewilded farm turned nature reserve. Surrounded by the stunning landscapes of 1066 Country, this really is the ultimate glamping escape.
The location is absolutely perfect. The farm is just 15 minutes drive from the historic town of Rye, with its cute cobbled streets and timber-clad buildings, and 20 minutes from the famous beaches at Camber Sands. There's loads to see and do in the area: like exploring the ruins of Bodiam Castle, paddleboarding on the River Rother, or taking a seal-spotting boat tour along the coast.
Or, if you'd prefer to simply do nothing at all, you could easily while away a whole day exploring Swallowtail Hill's nature reserve and enjoying the peace and quiet surrounding your glamping cabin.
The Concept: Sustainability, nature, and slowing down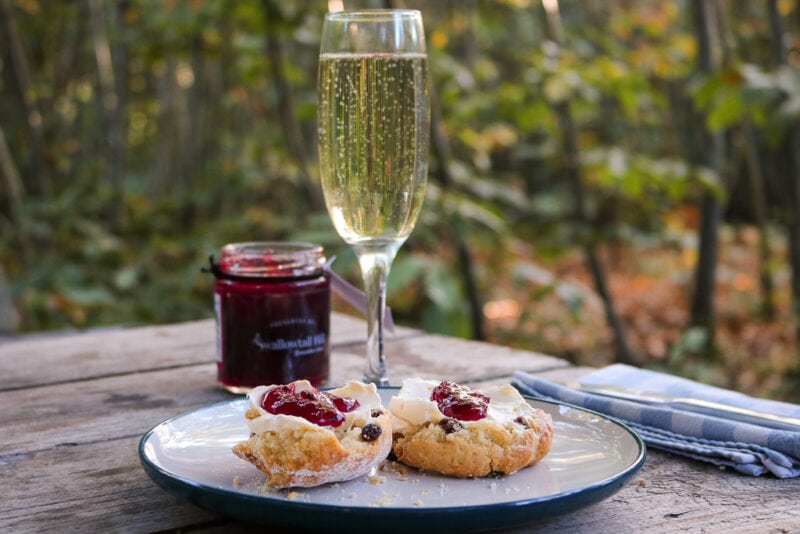 Owners Sarah and Christopher first began their conservation project at Swallowtail Hill around 35 years ago. Today, the farm is a 50-acre private nature reserve encompassing woodland, grassland, ponds, and wildflower meadows. It's run solely for conservation (no crops or livestock) and is regarded as a beacon site for biodiversity.
After spending so long creating such a special, wildlife-rich landscape, the husband-and-wife team launched sustainable glamping at Swallowtail Hill in 2010 – long before glamping had become one of the UK's biggest travel trends.
They knew that this magical place would be perfect for people looking to get away from it all and enjoy nature. And they were 100% right!
Each cabin is unique, built to be as sustainable as possible, and made from mostly local materials. The farm is carbon-positive, and the site is mostly off-grid. Click here to find out more about Swallowtail Hill's sustainability efforts.
The Roundhouse cabin at Swallowtail Hill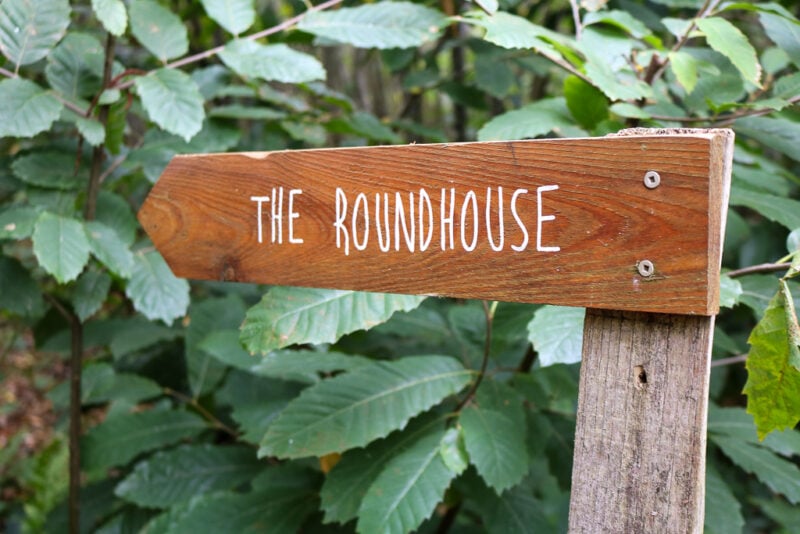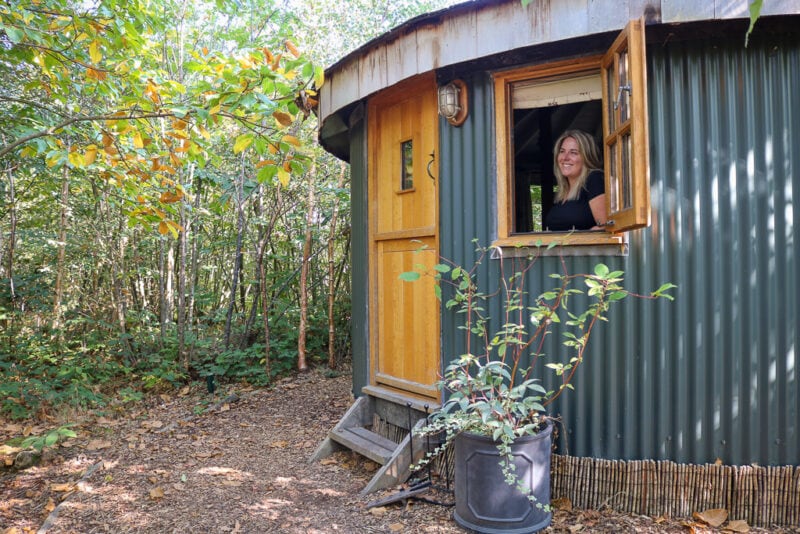 I was staying at the Roundhouse Cabin, one of six quirky cabins which can be found dotted around Swallowtail Hill.
As the name suggests, it's completely circular. This unusual, bespoke cabin is nestled in a clearing deep within the woods, set well back from the main track that runs through Swallowtail Hill. It feels completely cut off: the perfect place to enjoy some solitude and immerse yourself in nature.
Indoors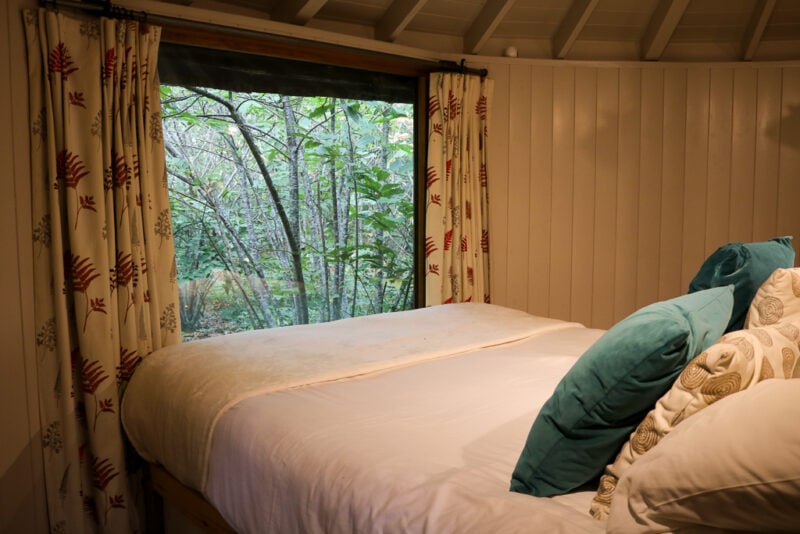 This cabin's quirky design is bespoke to Swallowtail Hill, and it has so much character. It feels like a country cottage combined with a treehouse, with serious fairytale vibes (perfectly in keeping with my morning robin wake-up call!).
The cabin looks tiny from the outside, but there's a lot of room inside. Everything is very cleverly designed to make full use of the space. There's tons of under-bed storage, for example, so you can pack your luggage away to keep the room clear.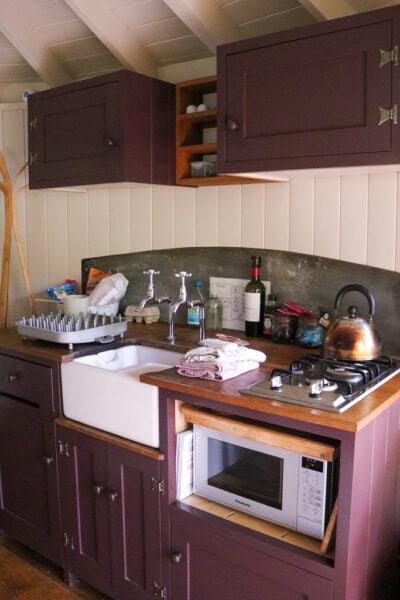 The kitchenette is much bigger than any other glamping accommodations I've stayed in. There are several cupboards, a two-ring gas hob, a mini fridge and a microwave with a grill. Combined with the outdoor BBQ equipment for the fire pit, you really have everything you need for cooking.
There's also a compact ensuite bathroom, with a proper flushing loo and hot running water, so you really do have all the home comforts. It's still sustainable: the toilets are linked to a water treatment system that returns safe, clean water to the land.
Top tip: I'd recommend bringing a hanging toiletries bag to help save on space. Get more tips in my glamping essentials packing list.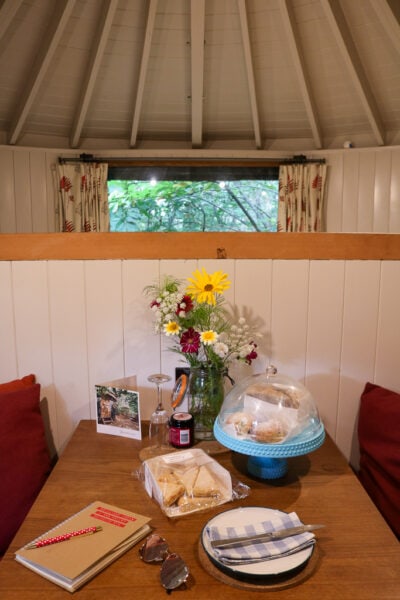 A bed with a view!
Although the space is all one room (except the ensuite bathroom), the bedroom area is kept separate by a room partition formed by the enormous headboard. This is made of reclaimed wood – some of which came from a historic pub in my hometown of Dorchester!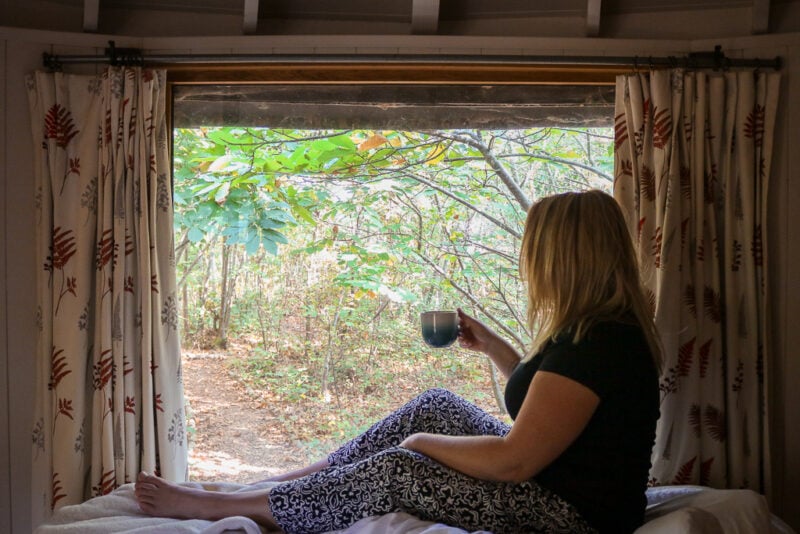 At the foot of the bed, there's a huge window which looks out into the woodland. I loved waking up to the soft, green-tinted forest light and watching the squirrels leaping from branch to branch.
Between the luxurious bedding, super comfy king-sized bed, and silence of the woodland, I slept like an absolute log the two nights I was at Swallowtail Hill!
Outdoors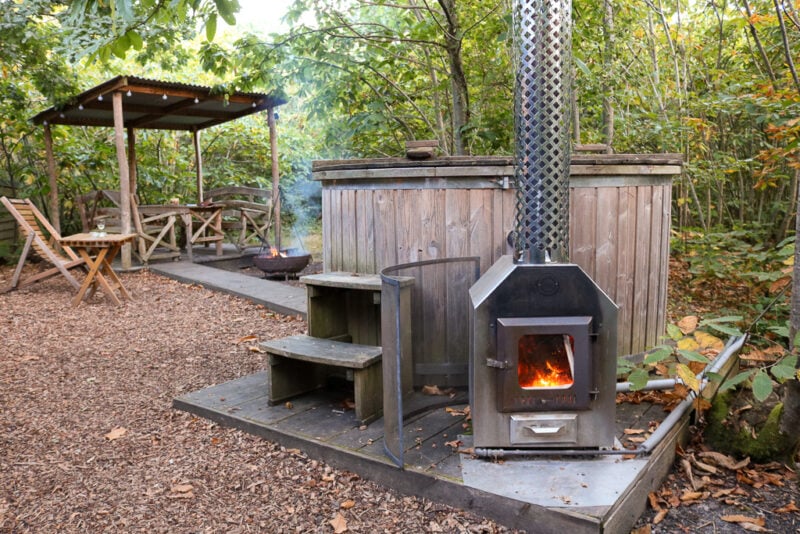 Outside, you have your own private woodland glade as a back garden. There's everything you could possibly need for the perfect glamping stay here: a covered wooden dining area for al fresco meals, reclining seats for sitting back and watching the local wildlife, and a fire pit for evening campfires.
There are woodland trails leading right from your front door, so you can set off on a walk to explore the surrounding nature reserve. Or just sit back with a book and enjoy the peaceful sounds of the woods around you.
But the best part? The large, wood-fired hot tub on the edge of the clearing. Ideal for unwinding after a day exploring 1066 Country – or for an indulgent morning dip if the water stays warm enough!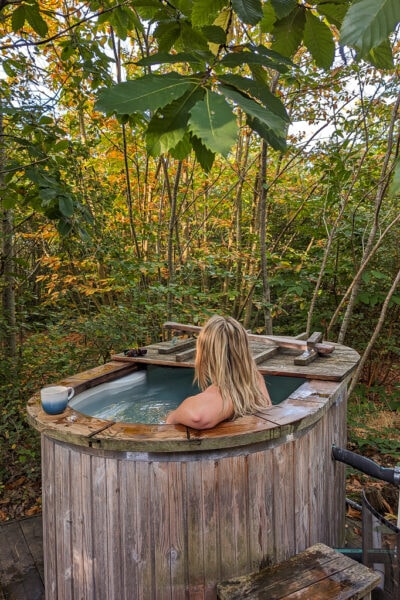 It takes a couple of hours to heat up, and it's not an exact science. Thankfully, Sarah gave very thorough instructions – and there's a video in your downloadable digital guide.
I still managed to seriously overheat the hot tub, and had to add cold water from the hose! But building the fire and manually heating the water is all part of the "slowing down", back-to-nature experience – and it really makes you feel like you've earned your time relaxing!
There was something magical about sitting in the hot tub at night with a glass of wine, watching the steam rising from the water in the glow of battery-powered lanterns and looking up at a scattering of stars through the trees overhead. There was absolutely no sound of civilisation, only the noise of the forest. That's an experience I'm not going to forget for a while.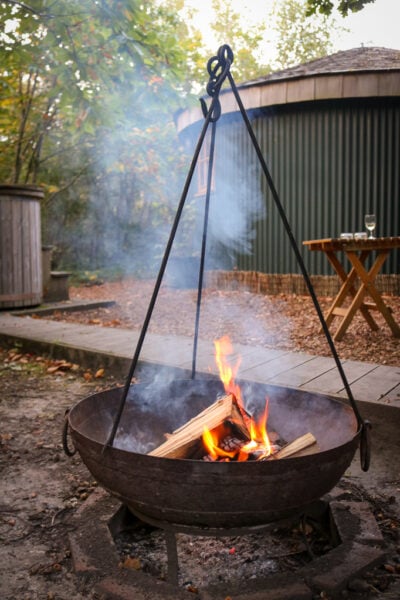 The rest of the site
All the cabins at Swallowtail Hill are dotted around the site, so each one has its own private landscape. While I definitely think the Roundhouse is the best, I also loved the look of the Long View – which has a stunning view across a sloping wildflower meadow from the window at the foot of the bed – and the cute, Disney-cottage vibes of the Meadow Keeper's Cottage.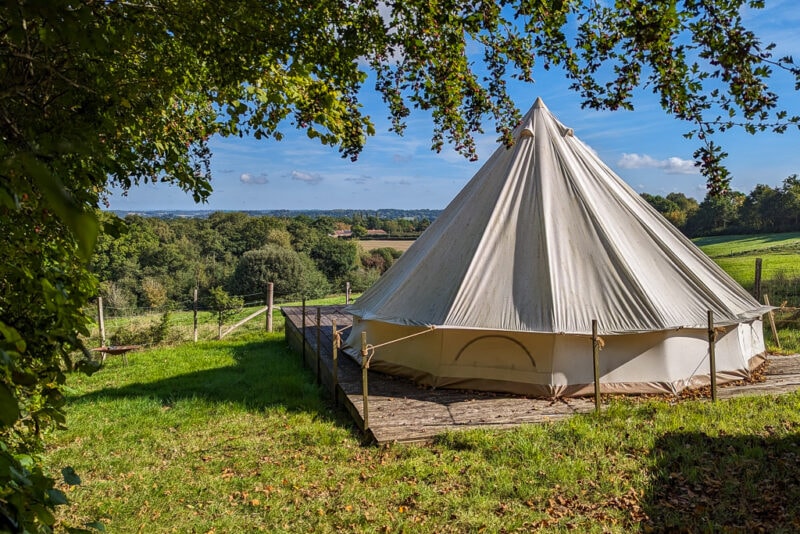 You can't drive to your cabin – which adds to the adventurous feeling of being cut off from it all. There's a carpark at the farm entrance – about 10 minutes walk from the cabins, depending which one you're staying in – and, on arrival, you'll be taken down to your cabin in a golf cart.
The barnyard area at the entrance sets the tone of your stay: there's a stunning view of the countryside, and several rustic wooden buildings dotted around. Among them is a Log Store and a Farm Shop filled with useful essentials as well as yummy local produce, both of which operate on an honesty basis.
You're also free to explore the rest of the nature reserve, and go wildlife spotting around the woods, wildflower meadows, and ponds. You really could just spend your whole stay on site, completely immersing yourself in nature.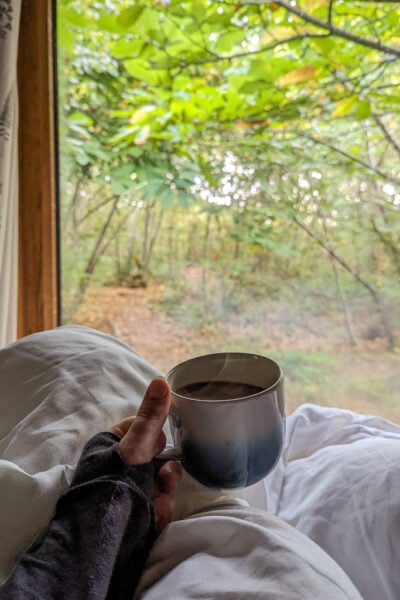 Why Swallowtail Hill is great for solo female travellers
If you fancy a solo glamping getaway, Swallowtail Hill really is the ideal place. Because the different accommodations are so spread out, you can enjoy total solitude and peace. No noisy neighbours or nearby barbecues: just the sounds of the woodlands and a few busy squirrels for neighbours.
But with the farmhouse so close and the owners just a WhatsApp message away, you won't feel too isolated. Staying in a cosy, secure cabin (with a lockable front door) feels much less intimidating than camping solo – so you have the best of both worlds.
And that sense of being completely alone in the woods is perfect for anyone in urgent need of some me-time.
Swallowtail Hill Glamping Review: The Quick Version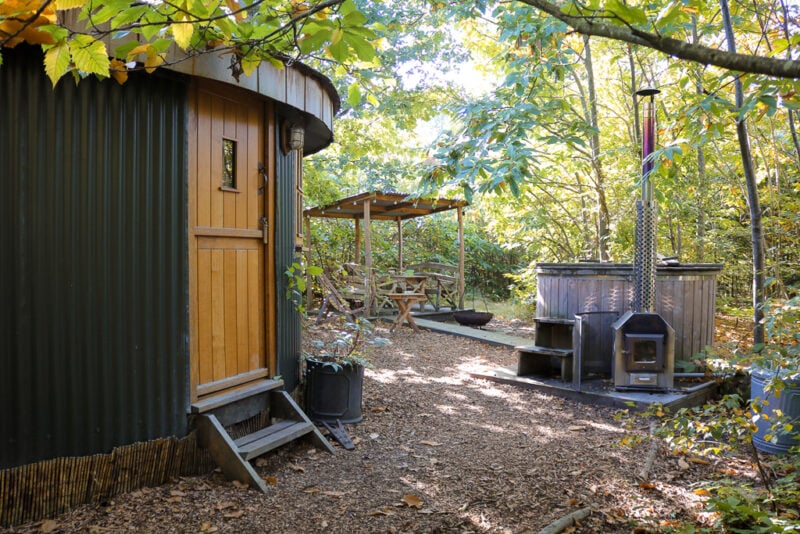 Conservation-led nature reserve on rewilded farmland.
Sustainable glamping.
Spread-out accommodation for total peace and solitude.
Log-fired hot tub.
Bed with a view!
Plenty of space for a tiny home, with a well-fitted kitchen and ensuite bathroom.
Quirky, bespoke cabins – each with its own personality.
Peaceful and secure: perfect for solo female travellers.
Next door to a vineyard (within walking distance for tastings!)
Ideal location near Rye, Camber Sands, and the surrounding 1066 Country.
I absolutely loved my stay at Swallowtail Hill. Owner Sarah is an inspiration: one of those incredible, passionate people whose love for what they do is infectious.
The farm and the cabins are all truly gorgeous – and they're exactly what glamping should be: the perfect combination of getting back-to-basics with home comforts and luxurious details (like that hot tub). If you're looking for a tranquil glamping escape in East Sussex with total immersion into nature, Swallowtail Hill is the place for you.
The info
The Roundhouse Cabin starts from £235 per night. Click here to check prices and availability.
Check out @swallowtailhill on Instagram to see the other cabins and the rest of the site. AND watch my reel for a video showcasing exactly what my stay in the Roundhouse was like.
Contact: 01797 260 890 or [email protected]
Swallowtail Hill Farm
Hobbs Lane
Beckley
East Sussex
TN31 6TT