UK Travel
11 Great Things to do in Neath Port Talbot
Some posts on this site contain affiliate links. If you book or buy something through these links, I earn a small commission (at no extra cost to you). Take a look at my privacy policy for more information.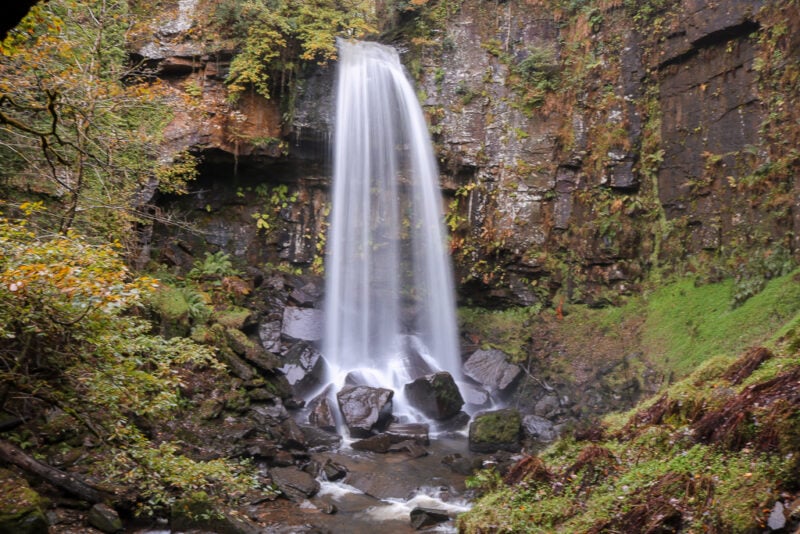 Adventure, industrial heritage, and epic landscapes… discover the Dramatic Heart of Wales with these top things to do in Neath Port Talbot!
The brilliant nickname, the "Dramatic Heart of Wales", tells you exactly what you can expect from this fabulous hidden gem in South Wales.
Combining miles of coastline with a lush interior laced with rushing rivers and plunging valleys… this truly is a land of adventure. Crashing waterfalls, dense forests, fairytale castles, and sweeping sandy beaches provide a perfect backdrop for all kinds of outdoor pursuits.
Underrated, and all too often skipped by visitors flocking to bigger towns like Cardiff and Swansea, Neath Port Talbot still feels very much a hidden gem. Which means you'll often have those glorious trails and sweeping landscapes all to yourself.
And once you've worn yourself out with all the hiking, biking, surfing, horse riding, and adventure you can manage, there are cosy country pubs to unwind in, cute villages to explore, local history to soak up, and tranquil glamping sites for nights of stargazing.
Discover South Wales' coal mining history at the oldest mining museum in the country, wander through ruined abbeys, and soak up the valley views from a historic aqueduct.
In this post, I've shared my pick of the top things to do in Neath Port Talbot to help you make the most of the Dramatic Heart of Wales. Whatever you get up to, you're sure to enjoy exploring this incredible hidden gem.
This post was created as part of a sponsored trip supported by Dramatic Heart of Wales. As always, all words and opinions are my own.
Where is Neath Port Talbot?
Neath Port Talbot is a borough in the county of Glamorgan in South Wales. The region sits on Swansea Bay, just east of Swansea and about 35 miles west of Cardiff, and is bordered to the north by the Brecon Beacons National Park.
The main towns are Port Talbot and Neath. Coastal Port Talbot feels a little industrial, dominated by the Port Talbot Steelworks, but the area around Aberavon (especially the long, sandy Aberavon Beach) is lovely. A little ways north, Neath is a bustling market town clustered around the River Neath.
Beyond these two hubs, the rest of the region is largely rural – with a scattering of smaller towns and villages, and LOTS of countryside for enjoying the great outdoors!
Top Things to Do in Neath Port Talbot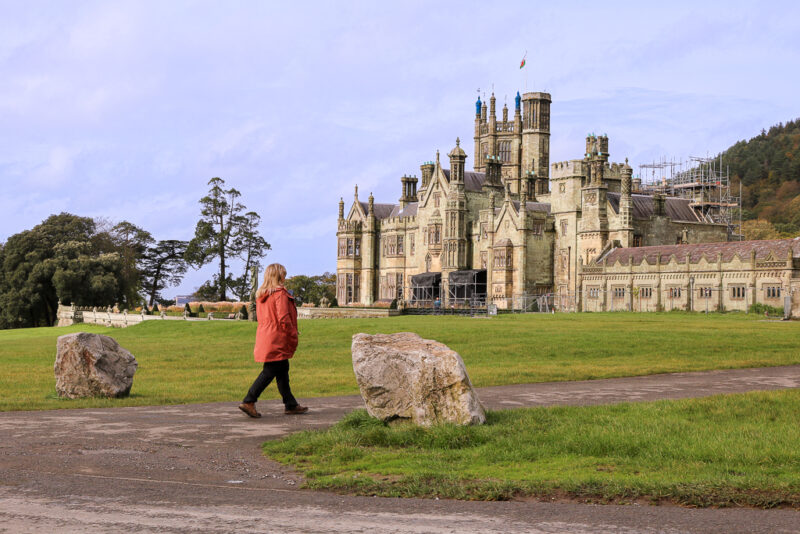 Whatever time of year you visit, there are plenty of outdoor adventures to get your adrenaline pumping in Neath Port Talbot!
Soak up the amazing views on countryside hikes (with routes to suit all levels) or try the thrills of mountain bike trails and coastal surf. There's plenty of local history and culture to discover at various museums and historic buildings, too.
1. Glamping in Neath Port Talbot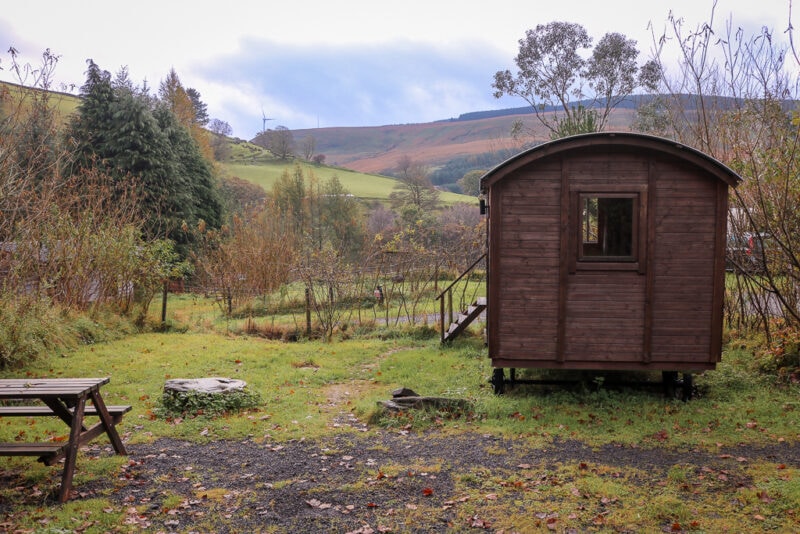 There's no better way to soak up the abundance of natural beauty in Neath Port Talbot than by staying right in the midst of it at one of the many glamping sites in the area.
I headed to Willow Springs Campsite for an overnight stay at the start of Autumn – and was absolutely spellbound! This family-run, eco-friendly campsite is perched on a hillside within Afan Forest Park, with sensational views across the valley. Just getting there felt like a bit of an adventure: winding up the hillside through the forest really gave the sense of leaving the world behind!
There are a handful of rustic shepherd's huts at the campsite. They're small and fairly simple, but very cosy, with electric heaters and a comfy double bed. Perfect for a back-to-basics stay completely immersed in nature.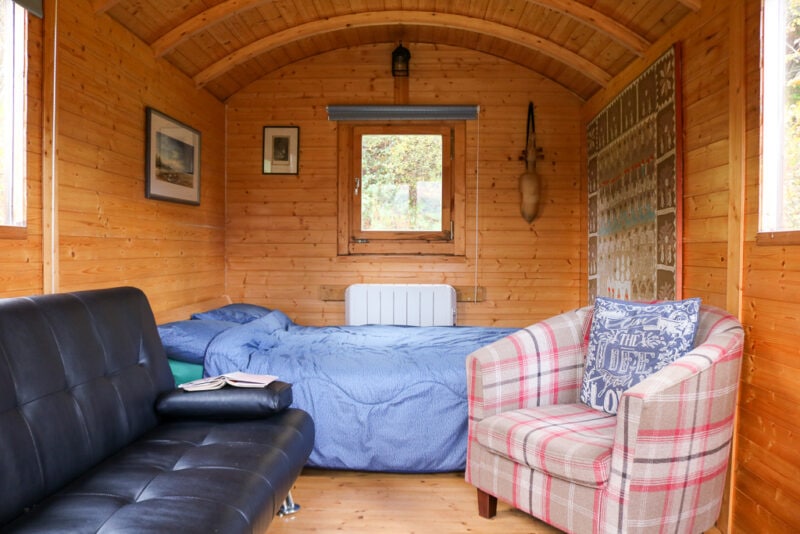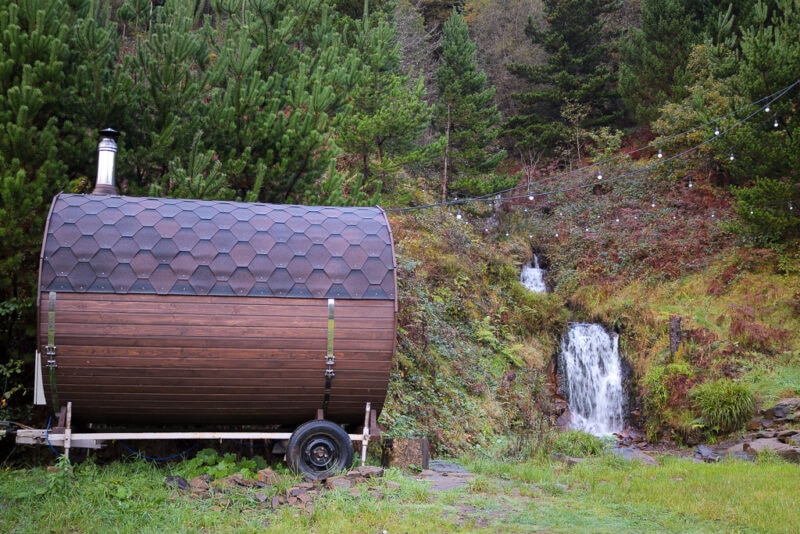 But the best part? Renting the campsite's private, wood-fired sauna, which is tucked into an isolated spot beside a waterfall and a spring-fed plunge pool. These were pretty icy in late October – though I'm not sure they're ever particularly warm! The idea is to warm up in the sauna, then brave the cold waters of the waterfall or plunge pool, then back to the sauna, and repeat.
If you're looking for a well-priced, quiet, cosy place to spend a few days completely getting away from it all – Willow Springs Campsite is JUST the place!
2. Afan Forest Park: Woodland Trails and Valley Views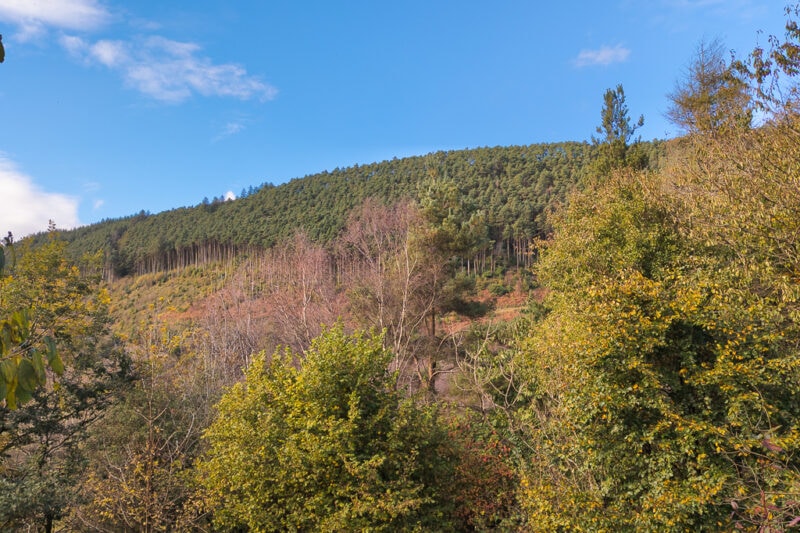 Afan Forest Park is the jewel in Neath Port Talbot's crown. This 48-square-mile forest park in the glorious Afan Valley is the region's premier outdoor activity destination.
With lush forest crowding the valley slopes on either side of the winding Afan River, this beautiful Forest Park is the perfect place to escape into nature. The ideal setting for adventures such as hiking, biking, fishing, trail running, camping and glamping.
The park is best known for its mountain biking trails (see the next section), but it's not all about adventures on two wheels. There are numerous way-marked walking trails, ranging from a gentle one-mile stroll through the woods to longer and more strenuous hikes. Many of these start from Afan Forest Park Visitor Centre, so head there first for more info.
By night, you can seek another adventure in Afan Forest Park: stargazing. The rural location and limited light pollution make this a great place to marvel at the night skies. Book a stay at one of the campsites around the park, like Willow Springs (above), for a night of stargazing.
3. Mountain Biking: Get the Adrenaline Pumping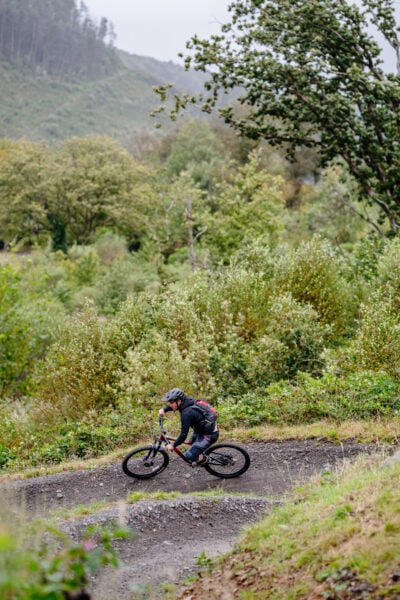 As mentioned above, Afan Forest Park is the main destination for mountain biking in Neath Port Talbot. With 130km of biking trails and more all-weather single tracks than any other mountain biking centre in Wales, this really is an adventure playground for bikers.
As well as the six trails ranging in length from 7km to over 40km, there's also an extreme-graded bike park, where advanced riders can test their skills on several shorter, highly technical runs.
I'm more of a flat, paved-trail biker myself, so I didn't give mountain biking a go! But I did have fun watching others hitting the trails, which looked in great condition and were well signposted. And I can absolutely attest to the beauty of the Afan Valley, especially on sunny autumn days when the light catches the soft golden colours of the forest.
Where to Rent Bikes in Afan Forest Park
Afan Valley Bike Shed – at the Afan Forest Park Visitor Centre.
Afan A Blast – at Glyncorrwg Mountain Bike Centre near the top of the valley.
Campbell Coaching offers lessons and coached rides for beginners (or experienced riders looking to hone their skills).
4. Go Chasing Waterfalls in Neath Port Talbot (Melincwrt Waterfall & More)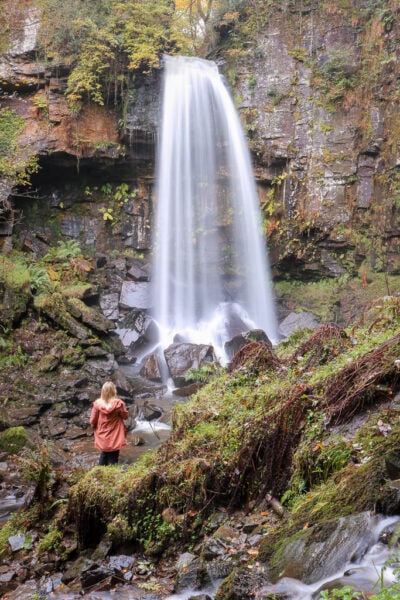 With all its mountains, rivers, and rolling hills (not to mention all that Great British rainfall) Wales is simply riddled with waterfalls! And Neath Port Talbot is no exception.
Melincwrt (or Melincourt) Waterfall is one of the best in the area. Like many of the attractions in Neath Port Talbot, it's a bit of a hidden gem – which is surprising as it's just downriver from the popular Waterfall Country area in the south of the Brecon Beacons.
This is a spectacular, 80ft waterfall sweeping down a sheer rock face in a steep-sided wooded valley. From the carpark, it's a pleasant, 15-minute stroll along a river to reach the falls, and it's a fairly easy walk. Just bear in mind that the trail can be slippery in wet weather!
The surrounding valley forms the Melincourt Nature Reserve, home to an abundance of wildlife. The humidity created around the falls allows for a diverse array of rare ferns, while the tranquil woodland is a great place to spot birds and butterflies.
More Waterfalls in Neath Port Talbot
Aberdulais Waterfall in the Dulais Valley (northeast of Neath)
Rhyd y Fro Waterfall in Cwm du Glen gorge, Pontardawe
Waterfall Country – a triangular area between the villages of Pontneddfechan, Ystradfellte and Hirwaun home to a high concentration of waterfalls, gorges and caves.
Henrhyd Falls – just outside Neath Port Talbot in the Brecon Beacons. This was a stop-off on my epic Wales Road Trip a few years ago and one I'd highly recommend.
5. Visit the Castle and Abbey at Margam Country Park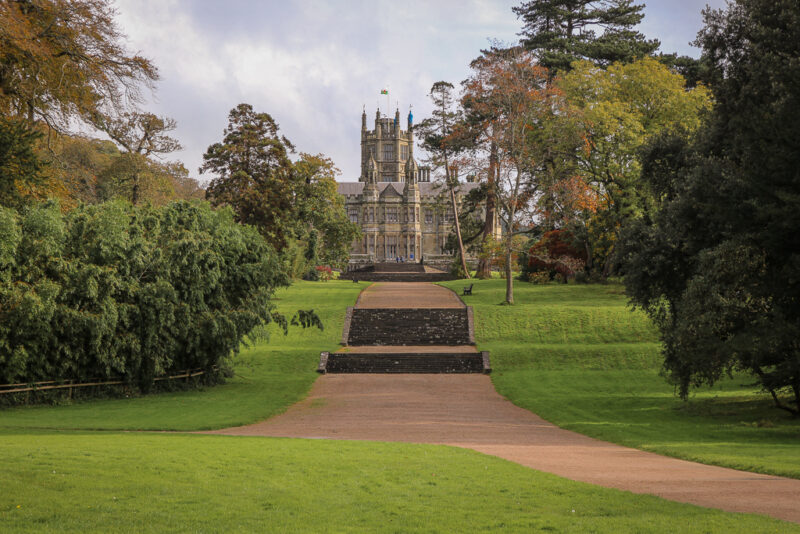 As well as waterfalls, the other thing Wales is famous for is castles! With more than 600 of them, the country apparently has more castles per square mile than anywhere else.
Margam Castle is the one to see in Neath Port Talbot. It's actually a 19th-century Tudor-style Gothic mansion; a dramatic, fairytale-esque affair built from local sandstone in 1830.
The 850-acre country estate on which it stands was originally home to a striking Norman Abbey until the dissolution, when the abbey was destroyed and the land passed to different owners. Many ruins of the old abbey still stand on the grounds, including the twelve-sided chapter house and part of the undercroft. Explore inside the evocative ruins for a glimpse of a long-lost past.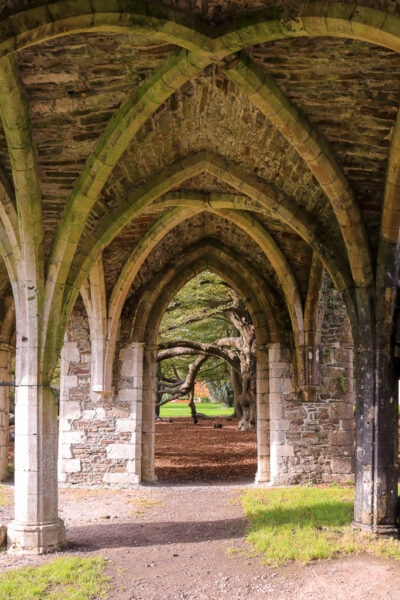 Today, the castle and surrounding parkland form Margam Country Park – a gorgeous area for walks, bike rides, and other outdoor adventures. There's also a Go Ape treetop trail, and in summer you can kayak and paddleboard on the lake with Margam Park Adventure.
The estate is also home to a large herd of deer, which roam freely across the parkland. To see them, I highly recommend taking one of the signposted walks into the wider estate. I loved the 2.25-mile Pulpit Trail, which climbs the hill alongside Margam Castle for exceptional views of the Neath Port Talbot coastline.
6. Go Horse Riding in Cimla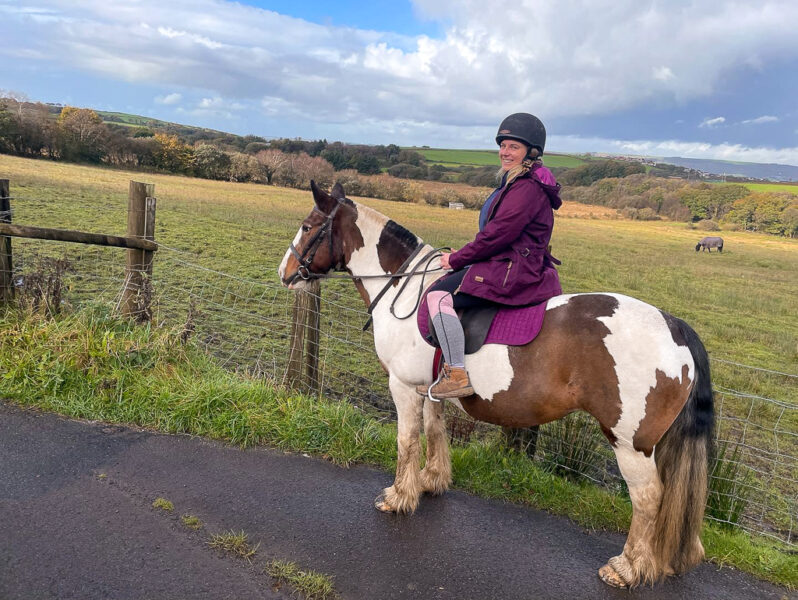 Fancy trying something a little different on your trip to Neath Port Talbot? Horse riding offers a bit of gentle adventure and a new way of seeing the region's gorgeous landscapes.
I can HIGHLY recommend Cimla Equestrian Centre. Based just outside of Neath, they offer horse riding lessons for all ages and abilities.
If you've never ridden before, Neath Port Talbot could be the perfect place to give it a go. There's really nothing better to do on your travels than try something new and get out of your comfort zone a little. And who knows, it could be the start of a new lifelong passion!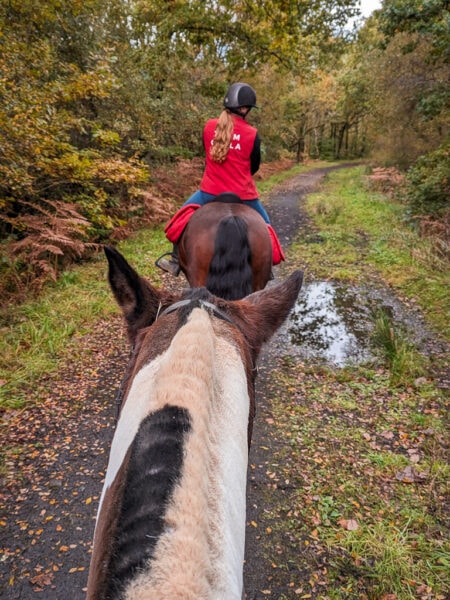 More experienced riders can contact the Centre to arrange guided horse trekking or hacking around the farm and surrounds – for some incredible views of the rolling hills and wooded valleys. My guide, Megan, was awesome (and very forgiving of my incredibly rusty technique). Our hack through the woods was easily one of the highlights of my trip to Neath Port Talbot.
7. Soak up the Views from Pontrhydyfen Aqueduct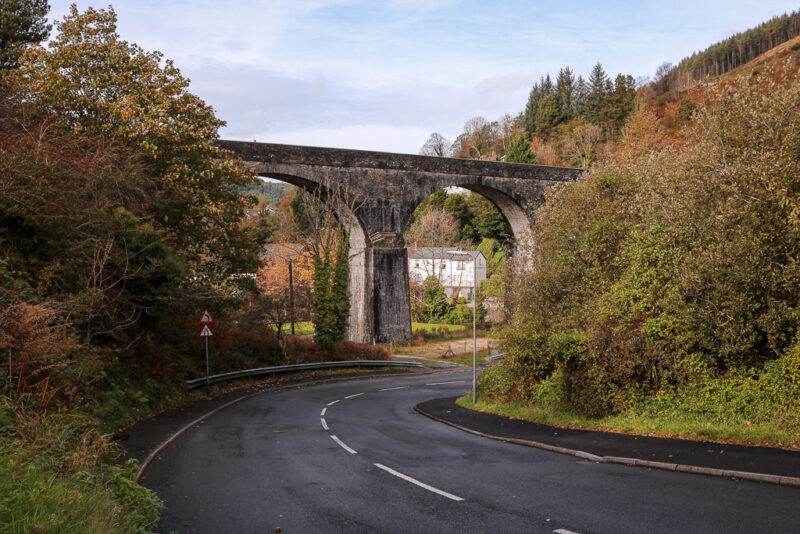 Nestled near the entrance to the Afan Forest Park, the tiny village of Pontrhydyfen is clustered across the steep sides of a valley, with the River Afan running through its centre.
And connecting the upper "shelves" of the village, the historic, Grade-II-listed Pontrhydyfen Aqueduct affords fantastic views of the Afan Valley.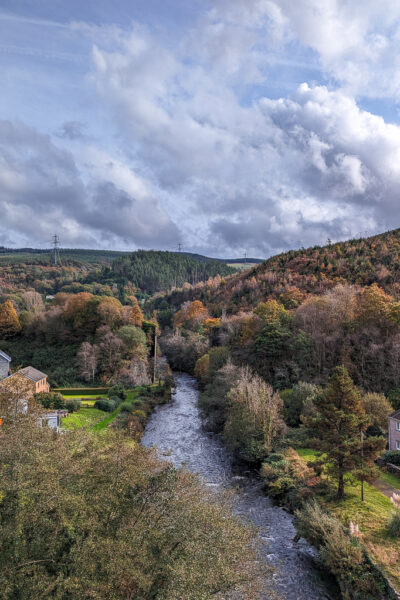 Actor Richard Burton CBE was born in Pontrhydyfen – his birth home lies just a stone's throw from the aqueduct – and a photo of him crossing the bridge in the 1950s gave the village a blast of fame.
The aqueduct was built in 1827 to carry water to a nearby ironworks. It was later converted into a viaduct, and today it forms a much-used foot and cycle path which is part of the Sustrans National Cycle Network.
Top Tip: Follow the Richard Burton Trail to explore the aqueduct, village, and surrounding valley. Information panels along the walk highlight points of interest connected with the actor and his childhood in the area.
8. Swimming, Surfing, and Beach Walks at Aberavon Beach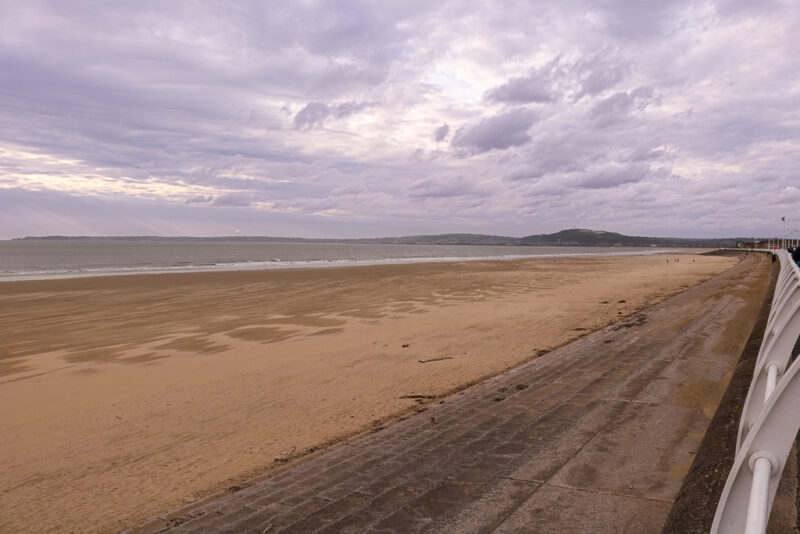 It's not all about the countryside in Neath Port Talbot – there's also a fantastic coastline! Head to Aberavnon Beach to make the most of it: this 3-mile-long stretch of golden sand is ideal for beach days!
Sitting on Swansea Bay, it's a hub for surfing and other watersports such as windsurfing, kite surfing and kayaking. The beach is a surfing hotspot all year round. Take a class, or on blustery days simply walk along the beach and watch the surfers riding the waves.
As you may have noticed from my photos, I was visiting Neath Port Talbot in autumn, so it wasn't exactly beach weather! But Aberavon seafront is a great place for a walk no matter the time of year, especially thanks to the fab eateries along the promenade. Soak up the sea views from popular indie bar-restaurant The Front whilst enjoying some local food and drink.
9. Take a Tour at the South Wales Miner's Museum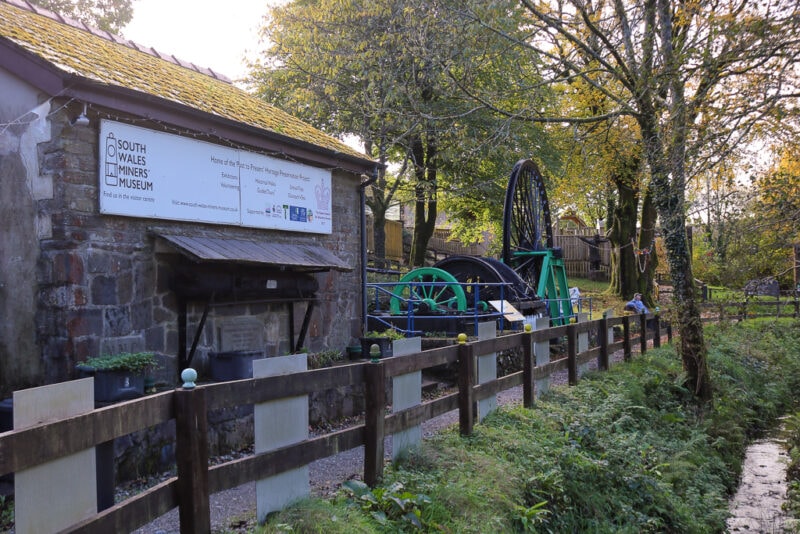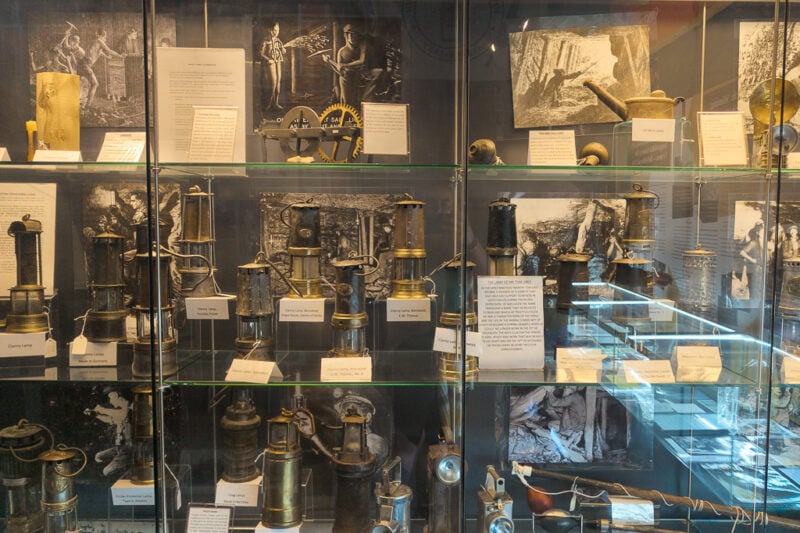 South Wales was shaped by the mining industry – both literally and metaphorically – particularly the thriving coal mining industry of the 19th and early 20th century. The dozens of mines left a mark not only on the landscape, but also on the people, towns, and on the country as a whole.
In fact, a Medical Aid Society set up by the South Wales Miners even inspired the creation of the NHS!
Tucked within the stunning Afan Forest Park, the South Wales Miner's Museum is the oldest mining museum in Wales. This small, volunteer-led museum gives an excellent insight into the coal mining industry with some brilliant exhibits – including an immersive "underground tour" designed to give the sensation of walking through a mine.
If you're offered a guided tour, take it! Many of the guides are former miners, so they can give a first-hand account of what working life as a miner was like.
Info: Tickets cost £3 (£2 children and seniors, under 5's free). The museum opens Tuesday to Saturday and opening hours vary, so check their website before visiting.
10. Neath Abbey & Ironworks: Discover Local History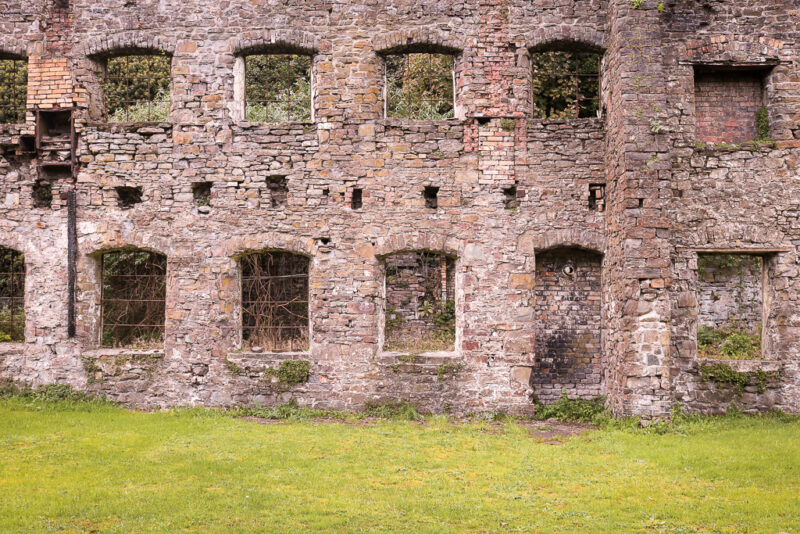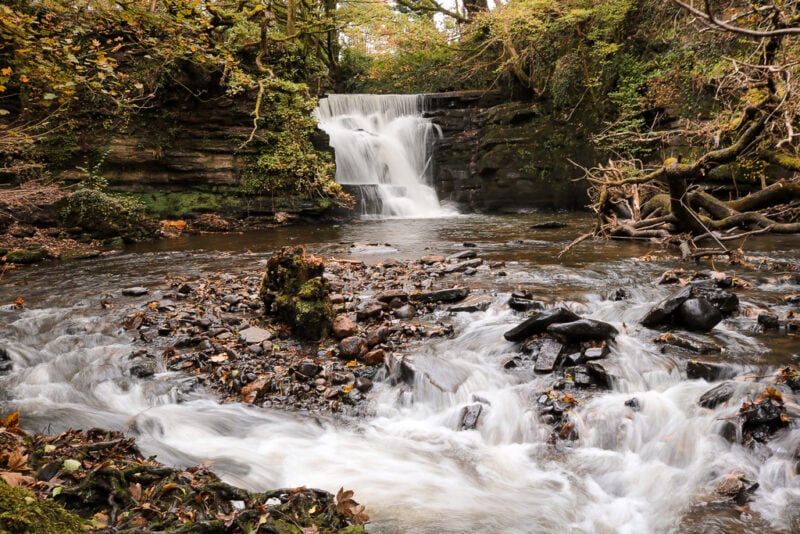 Neath's lively town centre hides a few surprising secrets. First, the ruins of the 12th-century Neath Abbey, which lend their name to a neighbourhood of the town.
The abbey ruins are concealed on the edge of that neighbourhood, surrounded by commercial buildings. It feels very much a hidden gem, tucked away behind some industrial estates alongside the Tennant Canal.
But what feels like even more of a hidden gem is the walk along the River Clydach, at the foot of a small, tree-lined gorge running straight through the town between two housing estates.
This river is dotted with traces of the old Neath Abbey Ironworks. First established in 1792, these ironworks were one of the country's largest and most important iron-making sites during the Industrial Revolution.
Today, the ghostly ruins of these industrial buildings, with their eerie empty windows and overgrown red brick walls, are a scheduled monument. Walking upriver from the Ironworks leads through a tranquil pocket of woodland to a small, pretty waterfall, where it's easy to forget that you're in a town centre!
Info: Searching for Neath Abbey on Google Maps often brings up the neighbourhood instead, so click here for the exact location. For Neath Abbey Ironworks, there's a small amount of free parking in the lane nearby (click here for the Google Maps location) – or park on Penyard Road which is opposite the footpath down to the river.
11. Walk through Cwm Du Glen and Glanrhyd Plantation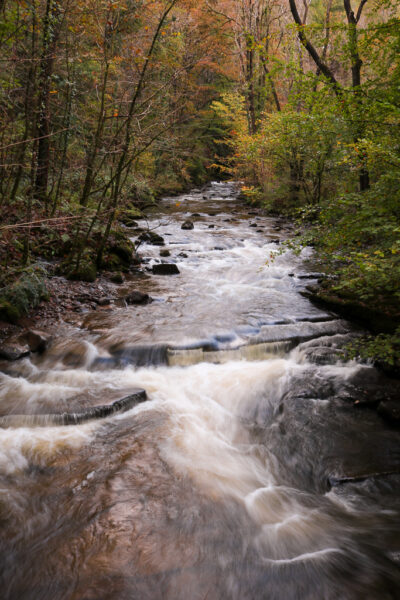 Nature lovers won't want to miss the stunning walk through Cwm du Glen gorge to the Glanrhyd Plantation. This is a relatively easy walk that can be completed in around an hour – taking in some gorgeous sights along the way.
First, you'll follow the picturesque Upper Clydach River through a narrow gorge carved by Ice Age glaciers. It's worth extending the walk to stop off at Rhyd y Fro waterfall at the end of the gorge, before climbing up to the Glanrhyd Plantation.
Perched above the gorge, the plantation lies on the grounds of the now-demolished 19th-century Glanrhyd House.
Today, it's a local nature reserve where the tranquil woods are dotted with exotic trees planted on the former estate. There's even a Giant Coastal Redwood and a towering Monkey Puzzle tree. Follow the circular trail through the woods and look out for the signs which identify these historic specimens.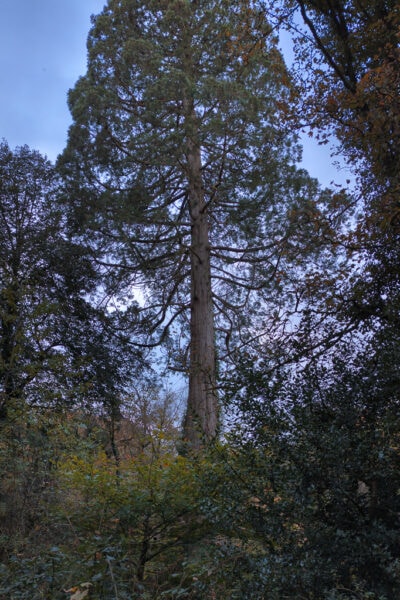 Info: Click here for walk instructions. The trail starts at Herbert Square in Pontardawe (opposite the Dillwyn Arms). The closest carpark and public toilets are at Herbert Street Upper Car Park (SA8 4EB). Entry to the nature reserve is free.
When to Visit Neath Port Talbot?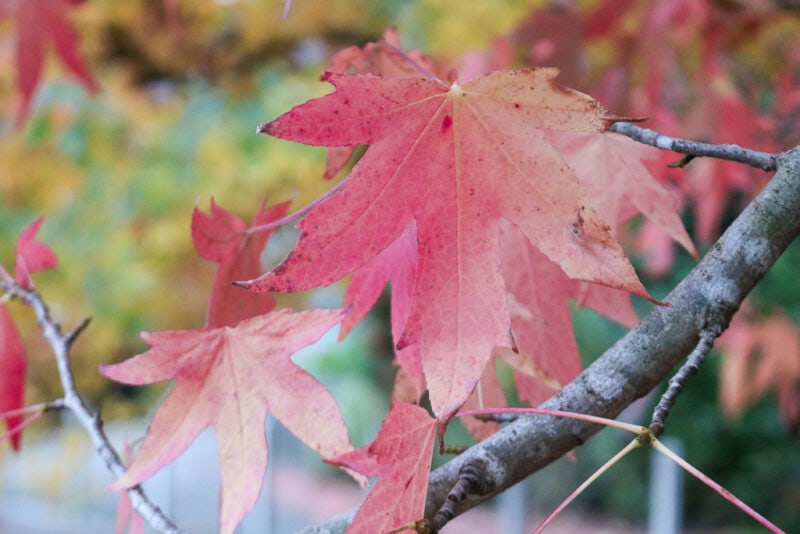 There's really no wrong time of year to visit Neath Port Talbot!
Summer is your best chance of good weather (though in the UK there are no guarantees). This is also the busy season, especially during the school holidays (July and August) and any bank holiday weekends. You might find accommodations more booked up and prices a little higher during this time.
Autumn is a great time of year for hiking, biking, and adventure sports – with cooler weather and swathes of golden colours across the countryside. It's also the prime season to enjoy the region's waterfalls, because heavier rainfall makes rivers swell and creates spectacular falls. This is when I took my glamping trip to Neath Port Talbot and I can confirm it's a stunning time of year.
Spring can mean mild weather (again great for hiking and biking), as well as colourful wildflowers in the forests and valleys. Winter weather can be wet, windy, and cold, and many attractions close from October – Easter, but you'll benefit from fewer crowds and lower prices. Plus, there are plenty of cosy, traditional pubs where you can hole up by the fire with a glass of wine to warm up!
Best time of Year to Surf in Neath Port Talbot
For surfers, there are waves year-round, though spring and autumn are perhaps best (according to Surf Atlas). Summer's warm temperatures and tame waves are great for beginners, while the huge swells of the harsh winters are only for experienced surfers (with very good keep-warm gear!).
Places to Eat in Neath (and Nearby)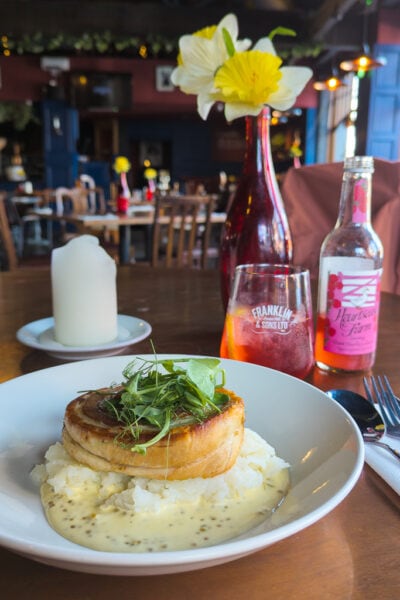 Brew & Co – great little artisan coffee shop in Neath with friendly service and really good cakes. Good for quick lunches and light bites. I LOVED their brownies!
Dyffryn Arms – cosy country pub on the road between Neath and Pontardawe, with a warm and welcoming atmosphere. The varied menu mixes foreign flavours with elevated pub classics.
The Welsh House – independent regional chain of restaurant-bars based in Neath, Swansea and Cardiff with a focus on supporting Welsh suppliers. The Neath branch is a lovely space with classic wood panelling and deep blue walls. Expect a wholesome, seasonal menu packed with traditional Welsh dishes made using top-notch local ingredients. 
Are there any more great places to eat in Neath (and beyond)? Let us know in the comments below!
How Many Days in Neath Port Talbot?
I spent two days exploring Neath Port Talbot, which was enough time to pack in a lot. It's quite a small area, so you don't have to drive too far between the different sights and activities.
However, I'd say at least two nights would be the ideal length for a visit. Especially if you want the trip to have a more relaxed pace. I've shared an example itinerary below to show how much you can fit into two days:
Neath Port Talbot 2 Day Itinerary Suggestion
Day 1
Margam Country Park. Visit the abbey and castle, take a walk on the grounds, then stop for lunch at the cafe. Time needed: 2-3 hours (minimum).
Swing by Pontrhydyfen Aqueduct on the way to Melincwrt Waterfall. You'll need around 15-20 mins for the aqueduct (unless you do the Richard Burton Trail) and about an hour for the waterfall.
Visit Neath Abbey and Ironwalks, or take a walk along the seafront at Aberavon. Either option will take about an hour.
Dinner at Dyffryn Arms
Day 2
Hiking or biking in Afan Forest Park (allow 2-3 hours). Alternatively, try horse riding at Cimla Equestrian Centre (1-2 hours).
Don't miss the South Wales Miner's Museum if you're visiting Afan Forest Park – you'll want at least 30 minutes for this (longer if you have more time).
Lunch at The Welsh House in Neath
Cwm Du Glen & Glanrhyd Plantation Walk (about an hour).
---
So, that's my guide to the best things to see and do in Neath Port Talbot.
Explore the picturesque countryside, rich mining history, and outdoor adventures of this stunning corner of South Wales. This truly is one of Wales' top hidden gems!
If you've got a question – or a recommendation of your own – please leave a comment at the end of this post.
Source link
[gs_pinterest id=1]