UK Travel
15 magical places to experience a Winter wonderland
Have you got a soft spot for snow-covered landscapes, cosy vibes, and the magic that winter brings? Then, you're in for a treat.
Here are 15 places around the globe that turn into literal winter wonderlands during the holiday season. From the snowy peaks of Lapland to the charming streets of Quebec City, these destinations are ready to make all your winter dreams come true.
So, grab a cup of hot cocoa and let's travel to these 15 magical places where winter transforms the ordinary into the extraordinary.
1. Lapland, Finland
What if I told you, you could experience enchanting landscapes, meet Santa Claus, and witness the Northern Lights in this magical winter wonderland?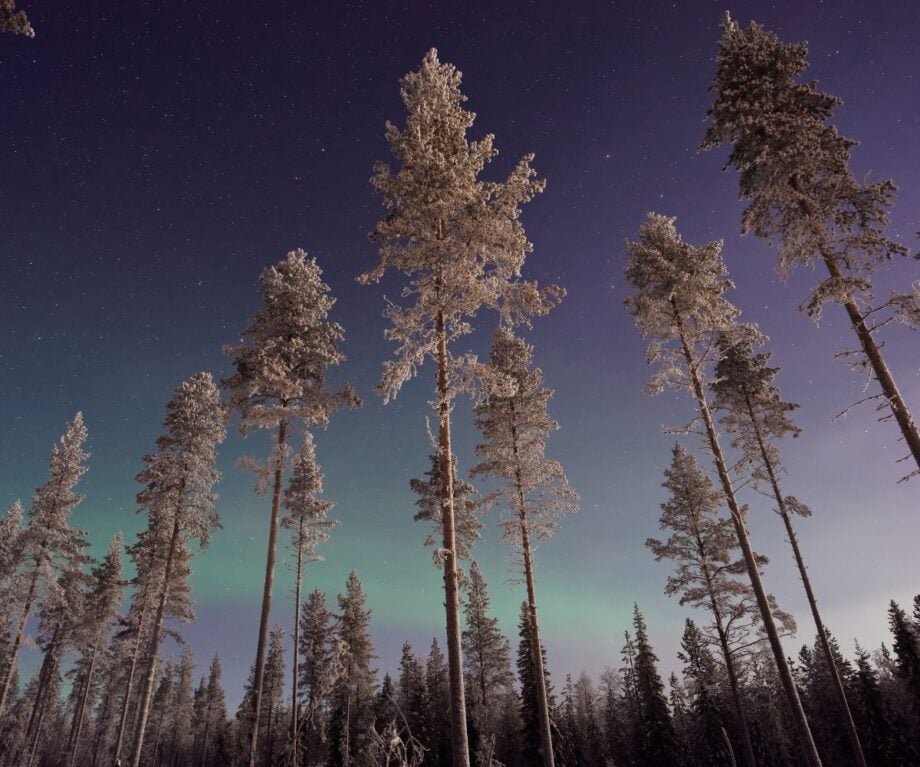 Lapland, Finland, is a winter wonderland that goes beyond the ordinary.
Picture yourself surrounded by jaw-dropping landscapes blanketed in snow, where the air is crisp, and the scenery is straight out of a holiday postcard. And as night falls, don't miss the mesmerizing spectacle of the Northern Lights painting the sky in hues of green and pink – this is undoubtedly a once in a lifetime experience.
2. Banff National Park, Canada
Nestled in the Canadian Rockies, Banff offers visitors stunning snowy landscapes, frozen lakes, and the chance to spot wildlife against a winter backdrop.
Banff National Park is a haven for winter lovers and wildlife enthusiasts.
The park transforms into a breathtaking landscape of snow-covered peaks and evergreen forests. Making it an ideal place to venture into the great outdoors for a chance to spot wildlife against the pristine winter backdrop. Whether you're a seasoned skier or just looking for a peaceful winter retreat, Banff offers an array of activities, from skiing and snowboarding to serene walks along snow-laden trails.
3. Reykjavik, Iceland
How does relaxing in geothermal hot springs sound?
Good? Good!
Reykjavik, the capital city of Iceland, is the epitome of winter wonderland experiences. Explore mesmerizing ice caves, formed by centuries of natural sculpting. Or take a dip in the geothermal hot springs, like the iconic Blue Lagoon, to warm up amidst the wintry chill and enjoy a spa day. And embrace Icelandic Christmas traditions by strolling through the city's festive markets, where you can indulge in local delicacies and handcrafted treasures.
This one is definitely a bucket-list item.
4. Zermatt, Switzerland
Home to the iconic Matterhorn, Zermatt provides a picturesque setting for winter sports enthusiasts and those seeking a charming alpine ambiance during the festive season.
Naturally, Zermatt's charm extends beyond the slopes and into the quaint village – which provides a cosy atmosphere to enjoy the festivities. Whether you're an avid skier or simply seeking a romantic winter retreat, Zermatt offers an array of activities, from skiing and snowboarding to scenic hikes and even horse-drawn carriage rides. Yes, exactly like something out of a fairytale.
5. Harbin, China
You can't miss the Harbin International Ice and Snow Sculpture Festival, where ice sculptures transform the city into a winter wonderland.
Harbin hosts the International Ice and Snow Sculpture Festival, turning the city into a magical winter wonderland. Its intricately carved ice sculptures, illuminated in a myriad of colours, transform the cityscape into a breathtaking festive display. Immerse yourself in the holiday cheer by exploring the festival's vast ice and snow exhibits, trying your hand at winter sports, and indulging in local culinary delights.
6. Tromsø, Norway
Found in the Arctic Circle, Tromsø offers visitors the chance to experience the most magical views of the Northern Lights and various winter activities.
Tromsø offers a winter wonderland experience like no other. With its breathtaking displays of the Northern Lights, the city has become a prime destination for aurora enthusiasts around the world. Besides waiting for the Northern Lights, you can also embrace the winter chill by participating in various activities, from dog sledding to reindeer sleigh rides.
Tromsø's snowy backdrop provides the perfect setting for creating lasting winter memories.
7. Munich, Germany
If you've never had the chance to experience the magic of German Christmas markets, now's your chance!
Munich, Germany, is a city that comes alive during the holiday season. The magic of German Christmas markets fills the air, with festive decorations, twinkling lights, and the aroma of traditional treats. Why not take a stroll through the market stalls, and browse tables adorned with handmade local crafts and gifts? And you'll definitely want to warm up with a cup of mulled wine as you immerse yourself in the enchanting atmosphere that defines Munich during winter.
Bottoms up!
8. Aspen, USA
Renowned for its world-class ski resorts, Aspen is a winter haven for skiing, snowboarding, and enjoying the luxurious mountainscape atmosphere.
Each year, as soon as the first the snow falls, Aspen, begins to beckon winter sports enthusiasts. The town's luxe feel is complemented by its iconic snow-covered peaks. Whether you're an expert on the slopes or a novice looking for a winter escape, Aspen offers a range of activities, from skiing and snowboarding to enjoying the apres-ski scene in the charming mountain village.
9. Sapporo, Japan
Enjoy the Sapporo Snow Festival, featuring impressive ice sculptures, delicious local cuisine, and a vibrant winter atmosphere.
The Sapporo Snow Festival in Japan is simply put, a celebration of winter's beauty. Here you can marvel at impressive ice sculptures that dot the cityscape, each a testament to the skill and creativity of local artists. And as you stroll through the festival grounds, make sure to try some delicious local cuisine from food stalls lining the streets. Overall, the vibrant winter atmosphere, coupled with the stunning sculptures, makes Sapporo a must-visit destination during the snowy season.
10. Quebec City, Canada
Step into the historic charm of Old Quebec, where cobblestone streets and centuries-old architecture create a captivating winter ambiance.
Another winter wonderland, after your own heart.
This winter wonderland's festive spirit comes to life during the holiday season, with Christmas markets, twinkling lights, and plenty of seasonal events. Make sure you indulge in traditional French-Canadian delicacies while you explore the winter wonder that blankets Quebec City in a snowy glow.
11. Salzburg, Austria
In Salzburg, Austria, you'll find a unique winter wonderland, where you can explore the birthplace of Mozart.
During the festive season, the beautiful city is adorned with festive lights and Christmas markets, and the city warmly welcomes visitors to experience the magic of the season. Why not explore the historic Old Town, where medieval architecture is dusted with a layer of snow? Or embrace the Austrian holiday traditions, from savouring warm chestnuts to attending classical concerts in this winter wonder?
All of them sound good, don't they?
12. Rovaniemi, Finland
Another Finnish gem on this winter wonderland list, Rovaniemi is the official hometown of Santa Claus, which offers a magical experience.
Beyond the magical encounters with the man in red, Rovaniemi offers a host of winter activities suitable for all ages. From husky sleigh rides to snowmobile safaris, the snowy landscapes become a playground for winter adventures. Here, you can experience the true magic of Lapland in Rovaniemi, where Christmas dreams come alive.
13. Prague, Czech Republic
The historic city of Prague transforms into a fairy-tale setting during winter.
Prague, the historic city of a hundred spires, is charming year-round – but once its medieval architecture is coated in a layer of snow, it only adds a magical touch to the cityscape. You shouldn't miss out on the opportunity to explore the charming streets of Old Town, where festive markets showcase local crafts and seasonal delights. Prague's winter ambiance, coupled with its rich history, creates a unique destination for those seeking a winter wonderland steeped in tradition.
14. Yellowstone National Park
Experience the serene beauty of snow-covered landscapes and the unique geothermal features that make Yellowstone a winter wonderland.
Believe it or not, Yellowstone National Park is not just a summer destination.
In winter, the park transforms into a serene landscape of snow-covered forests and geothermal natural wonders. You can actually discover another side to the unique beauty of the park as you witness the steam rising from hot springs against a snowy backdrop. Enjoy in winter activities, from snowshoeing to wildlife watching, and experience the tranquility that blankets Yellowstone during the colder months.
15. Stockholm, Sweden
The Swedish capital's picturesque old town, Gamla Stan, is an ideal place to enjoy the festive spirit in one of Europe's most charming cities.
Stockholm, the Swedish capital, is picturesque enough, but its charming old town, Gamla Stan is extra magical during the winter months. The city comes alive with festive decorations, twinkling lights, and a palpable sense of holiday cheer. Fully immerse yourself in local traditions, from sampling Swedish holiday treats to attending winter events to get the full experience.
Trust me, Stockholm's charm and warmth make it a delightful destination for those seeking a winter wonderland in the heart of Europe. But no matter where you decide to experience winter this festive season, I hope it's warm, cosy, and beautiful.
Please drop your favourite winter wonderland spots in the comments below!
Did you enjoy this article?
Receive similar content direct to your inbox.
Please enable JavaScript in your browser to submit the form
Source link
[gs_pinterest id=1]